Post-pandemic, couples are rethinking the big wedding.  Be it the complications of Covid or just the expense, the trend is towards smaller weddings.  Central Park is one of the most practical venue options if you want to downsize your nuptials.  Whether you choose to say 'I do' privately in the Ramble or publicly in front of the Bethesda Fountain, you have plenty of beautiful locations in which to say your vows.  In today's blog post, I will tell you how to elope in Central Park.  From where to go, to what paperwork to fill out, I have everything you need to know before you tie the knot.
Meet Zeynep and David
Let's begin with an introduction to today's lovebirds: Zeynep and David.  These two met six years ago in school – The Julliard School, that is.  Zeynep is an accomplished pianist and David is an equally talented horn player.  The couple fell in love in New York, so they knew they wanted to say their vows in an iconic NYC location.  They don't, however, consider themselves to be traditionalists and didn't want a full-sized, church wedding.  Rather, they wanted an unconventional, yet completely private, ceremony where they would be surrounded only by close friends and family.  The perfect wedding venue does indeed exist in New York City: Bow Bridge Beach in Central Park.
Zeynep and David's Central Park Elopement
The day started at 8:30 a.m. when I met the couple, their friends, and family at the 77th Street entrance to Central Park.  I photographed the couple and guests as they walked through the Ramble until we finally made it to the ceremony location.  It was quite bright – and I mean BRIGHT – that morning, so it was a very tricky lighting situation.  The forest area was quite dark in comparison to the intense highlights coming off the lake.  Nevertheless, it was a beautiful ceremony with the groom's father serving as the officiant.
After the ceremony, we took family portraits by the lake.  Portraits of the bride and groom followed along the same route through the Ramble as we exited back out the 77th Street entrance.  If you haven't taken photos in this part of Central Park, I highly recommend a visit.  While the 72nd Street corridor with the Bethesda Fountain, Bow Bridge, and the Mall gets all the usual attention, this forested area of the park is a lot less busy and can produce some spectacular images.
Following the portraits, Zeynep and David kept it classic with a lunch reception at Tavern on the Green.  I haven't visited Tavern on the Green since I first came to New York City 20 years ago, but I am pleased to report that the restaurant is still going strong.  It was quite busy when we were there and quite beautiful.  The service was excellent, and the restaurant had prepared a lovely spot to showcase the wedding cake.
How To Elope in Central Park – Budget Basics
If you would like to follow suit and plan your own small wedding in Central Park, here are my top tips for how to elope in Central Park.
The sky is the limit if you keep it small.  I once photographed a wedding of just 22 guests, including the bride and groom (check out Carol and Chris's wedding photos here).  The full day wedding included all of the following: a full ceremony at All Souls Church with a performance by the David Letterman Show Gospel Choir, brunch at Bergdorf Goodman, and two – TWO!  – after parties at rooftop bars in the city.  Keeping your guest list manageable is a license to completely splash out for a wedding.  The key is to keep your event small.  Remember: you can do more with less people in terms of menu and location.
Pick a budget and stick to it. That said, you can also go the other route and keep it a strictly small – and economical – affair.  You decided to elope in order to keep things simple, so make sure that your wedding budget doesn't snowball out of control.
How To Elope in Central Park – Paperwork, Permits, and Rules
You still have paperwork you need to fill out.  Even though your wedding may be small, there's still paperwork to complete.  If you were thinking about getting married at City Hall (in any borough), read my articles with all the details here and here.  In short, New York City has a 24-hour wait to receive a marriage license.  If you are having someone perform the ceremony, then the officiant needs to fill out the paperwork and send it back to the Manhattan Marriage Bureau.  A friend or family member can definitely serve as your officiant, and I recommend the Universal Life Church if you are going to go this route.  (Read all the details of how to become an officiant here.)
Have a witness ready.  In New York City you do need to have a witness for any marriage.  Keep in mind though, that your photographer can also serve as your witness.  I have had the pleasure of serving as a witness on at least two occasions.
Locations are on a first come, first served basis.  If you have 20 people or less at your event, then you do not need a permit to get married in Central Park.  However, without a permit you also can't reserve a spot in the park.  Thus the only way to 'reserve' a ceremony location in Central Park is to get there first.  Your other option is to actually pay for a permit through the Central Park Conservancy.  The only spot in the park that always requires a permit is the Conservatory Garden.  Read more about my favorite locations in Central Park for your ceremony here.
Remember the rules.  Central Park does have specific rules, but the main takeaway is that the park is first and foremost a public space.  As such, please be considerate of others.  That means leaving nothing behind when your ceremony ends.  One particular pet peeve of mine is throwing fabric rose petals.  Please do not use these.  All you are doing is leaving trash behind you in petal form.
Here is the official list of 'don'ts' in Central Park:
No set-up (includes tents/tables/chairs); chuppahs may be hand-carried in and out with prior permission
No amplified sound (acoustic music is permitted)
No vehicles or pedicab drop-off permitted
No alcohol
No flowers, balloons, or decorations
No banners or signs affixed to Park property or trees; no staking into the ground
Cleanup is required; the venue should be in the same condition as it was before the event
The public must always have access to the park
How To Elope in Central Park – Where and When to Go
Your time of day will determine your best Central Park location.  For Zeynep and David, privacy was of upmost concern.  So the place they selected in Central Park – Bow Bridge Beach – was perfect. You have the water on one side and forest surrounding you.  The only problem was the time of day.  Zeynep and David chose to get married early in the morning for privacy concerns.  The problem is that the forest at that time is quite dark, so the bride and groom are in almost complete shade on the beach in contrast to the sunny shore.
My recommendation is that you visit your preferred location in the park at the same time of day during which you want to get married.  This way you will essentially have an exact rehearsal for what the lighting will be like on your wedding day.
Get off the beaten path.  I am a big fan of small weddings, and Central Park is a fantastic venue.  The most popular spots in Central Park include Cop Cot, the Ladies Pavilion, and the Shakespeare Garden.  However, make sure you don't forget about the rest of the park.  If you go up north above 100th Street you will find hidden waterfalls and caves where you can truly get away from it all to say your vows.  Some of my favorite locations include the Pool, Glen Span Arch, and Huddlestone Arch.
Pay heed to the weather.  Unfortunately, Central Park doesn't really have a weather back up location.  Sure, you can duck into a tunnel or the Dairy portico, but you're pretty much screwed if it starts to rain.  With that in mind, pay special attention to the weather and reschedule as necessary.
How To Elope in Central Park – Portraits and Post-Ceremony Plans
Plan your path through the park for photos.  Central Park offers countless photo opportunities.  Make sure you have a solid plan for portraits either before or after your ceremony.  Bear in mind that the 72nd Street corridor (Bethesda Fountain, Bow Bridge, and the Mall) is going to be your most popular location with tourists, so plan for crowds if you are going to be taking photos in this area.
Don't be afraid to step out of the park for photos.  One of the most unique aspects of Central Park is that you could have your cake and eat it too, location-wise that is.  Take plenty of photos within the park and enjoy the lush greenery.  But make sure you also take photos along the sides of the park to capture the bright lights, big city background.
Plan to party.  Just because your wedding is small doesn't mean you shouldn't have a fun reception planned.  Zeynep and David chose to celebrate with a private dinner at Tavern on the Green.  Other fantastic reception venues nearby include The Plaza, the rooftop of the Empire Hotel, Harry Cipriani, or the Metropolitan Museum's Dining Room.  You can also plan a picnic, weather-permitting.  Of course, thanks to the subway, you can really go anywhere for your reception.  And photos in the subway or a classic taxi are a great addition to any New York City wedding portfolio.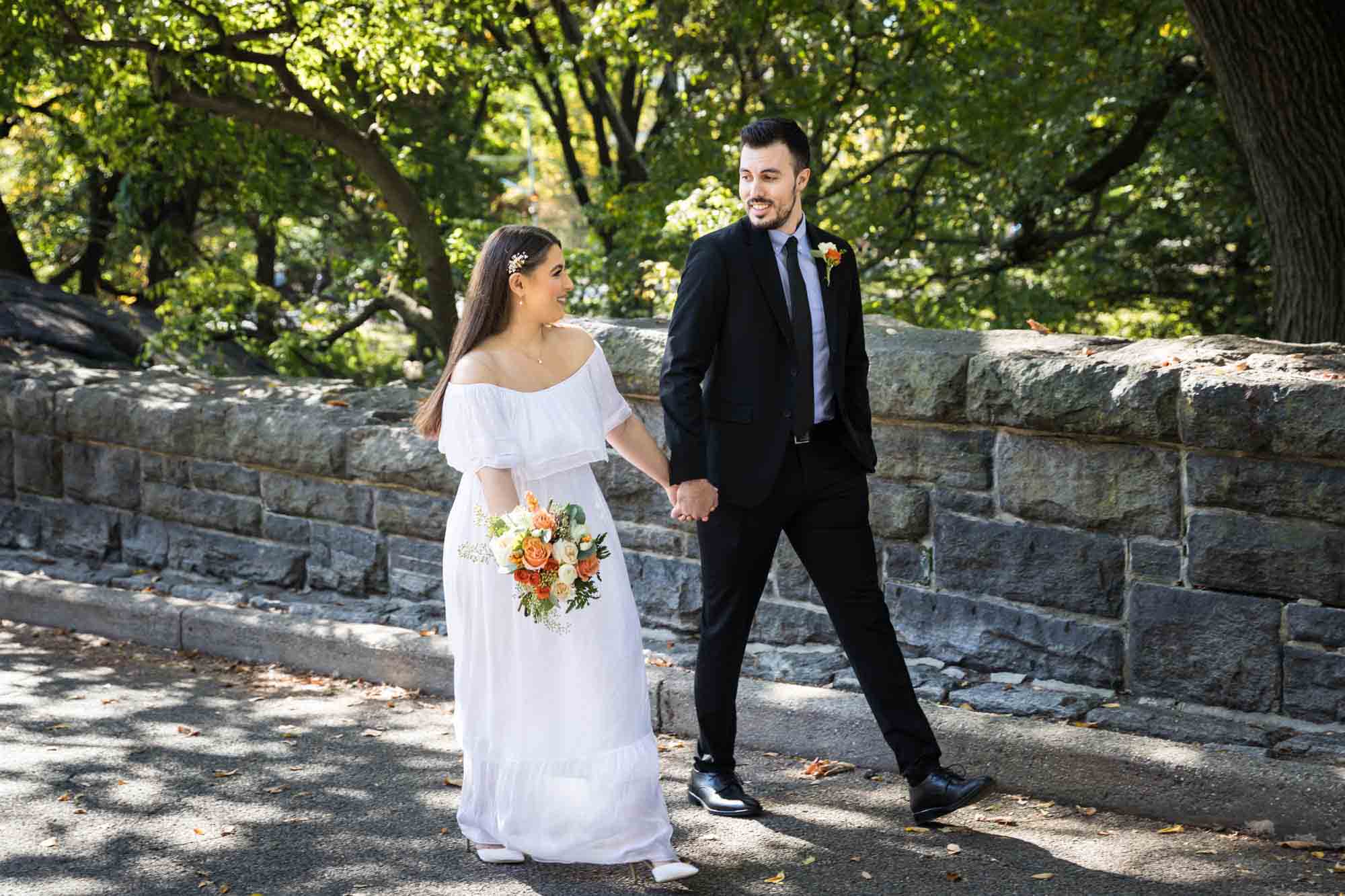 I have had the pleasure of photographing many, many weddings and family portraits in Central Park.  If you want to see more examples of my work – and 2022 was a particularly busy year in Central Park – check out my blog posts here, here, and here.
Every wedding is different and beautiful in its own way.  I wish Zeynep and David the best as they move forward in married life, and I look forward to sharing more photo adventures with you all next week!
_________________________________________
Are you planning to tie the knot in Central Park?  Drop me a line and let's talk about your photography needs.
If you would like to view more images from my wedding portrait portfolio, then please visit my website – KellyWilliamsPhotographer.com
Vendors