It's the new trend that is sweeping the wedding industry: having a friend or family member preside over your ceremony and officially declare you married. How do you get ordained quick?  Today's blog will tell you all you need to know about how to become a wedding officiant in NYC.
How to Become a Wedding Officiant in NYC
First things first, in order to be eligible to perform a marriage ceremony in Gotham you have to qualify as one of the following:
Clergy members or ministers of any religion (age 18 years or older);
Leaders of the Society of Ethical Culture;
The Mayor or any former Mayor of the City of New York;
Federal, state, or local judges or justices, elected or appointed in the State of New York, who are currently serving or retired;
The Clerk of the Appellate Division of the First or Second Department; and
The County Clerk of any of the five counties in the City of New York
So unless your name is Bill de Blasio or you are a judge, you probably will need to qualify under the first option, and become a minister. Never been a very religious person? Perhaps you skipped out on Sunday school as a kid? No matter. You can say your prayers at the church of the internet.
Where to Go Online to Become a Wedding Officiant
There are several non-profit, interfaith organizations online designed to help you earn your street cred as a minister. In the case of the American Marriage Ministries, the organization believes strongly that everyone has a right to be married. As such, they are looking to spread the gospel, so to speak, and want to get everyone ordained. To become an officially ordained minister with American Marriage Ministries, all you have to do is to agree to uphold these basic tenets:
All people, regardless of race, gender, or sexual orientation, have the right to marry.
It is the right of every couple to choose who will solemnize their marriage.
All people have the right to solemnize marriage.
You then submit your application (completely free), and that's it. You are ordained! I did it myself and received my ordination certificate electronically in a few seconds. Other popular online resources for ordination certificates include:

Documentation Required by the NYC City Clerk's Office
to Become an Officiant
Now here's the kicker: while the ordination certificate from your chosen 'church' is free, the City Clerk's office also requires you to produce two letters:
You must attach a letter from your local congregation that verifies that you are the pastor or associate pastor of the congregation and that your congregation consents to your registration with the Office of the City Clerk; and
You must attach one of the following documents:

A copy of the church's Articles of Incorporation; or
A statement that lists the location of the church, the reason for the church's founding, the number of trustees of the church, the approximate size of the congregation, and how often the congregation meets.
And this is how these organizations make their money. In the case of the American Fellowship Church, a copy of the membership directory was on sale for $25, and a letter of good standing on church letterhead was $10. (The same letter of good standing through American Marriage Ministries or the Universal Life Church Ministries was $18.) For each of these online organizations, you can receive all of the documentation in a packet at a cost of around $35. If you would like to splurge on your new title as 'Reverend,' there are a myriad of trinkets that await you including the all important bumper sticker and hanging parking tag just so you get noticed.
Once you are ordained, the next step is that you need to officially register with the City Clerk's office as an officiant. That means filling out an application online and either mailing in the form or turning it in to City Clerk's Office — conveniently located by City Hall at 141 Worth Street.
City Clerk's Office Marriage Officiant Online Registration
If you don't want to fill out the application online, you can download the application here and submit it through the mail.
Once you have filled out your application, you will receive from the City Clerk's office a confirmation number and instructions detailing the proper identification and any required documents you need to bring with you to the Office of the City Clerk. You have 21 days from the day your application is submitted to visit the City Clerk's office and complete your registration. [In the case of an international applicant, mailing in your details is permissible and you can find the details online.] Your application will also need to be accompanied by a $15 fee to the Register paid via credit card or money order made payable to the City Clerk. No personal checks or cash allowed.

Details, Details, Details and Location, Location, Location
And that's it. New York City is a bit like Las Vegas in the ease with which you can get married, or marry someone else. [Pretty much the same requirements in Vegas, but a few different items in their officiant kit. Seriously – check out the fascinating online gift shop at ULC.]
One important item to note: the above information applies to any marriages taking place in New York City.  If you will be officiating at a wedding in Suffolk, Nassau, Westchester, Putnam, or Dutchess counties in New York State, than an online ministerial license is not recognized, and the wedding will not be a legal union. For these five counties you need to get a minister from a recognized church to oversee the ceremony and sign the documents.
Finally, once you have declared the couple married, don't forget that it is the officiant's job to fill out the marriage license paperwork and return it to the place where it was issued. If a couple applies for their marriage license in any of the five boroughs, they have the option to be married anywhere in New York State. That said, the marriage license must be signed and returned to the place from which it was originally issued. So if you applied for a marriage license in Manhattan, and were married in Albany, your officiant would need to return your paperwork to Manhattan – NOT Albany.
Online Wedding Officiant Resources
Some helpful links:
The Foundry Wedding Photos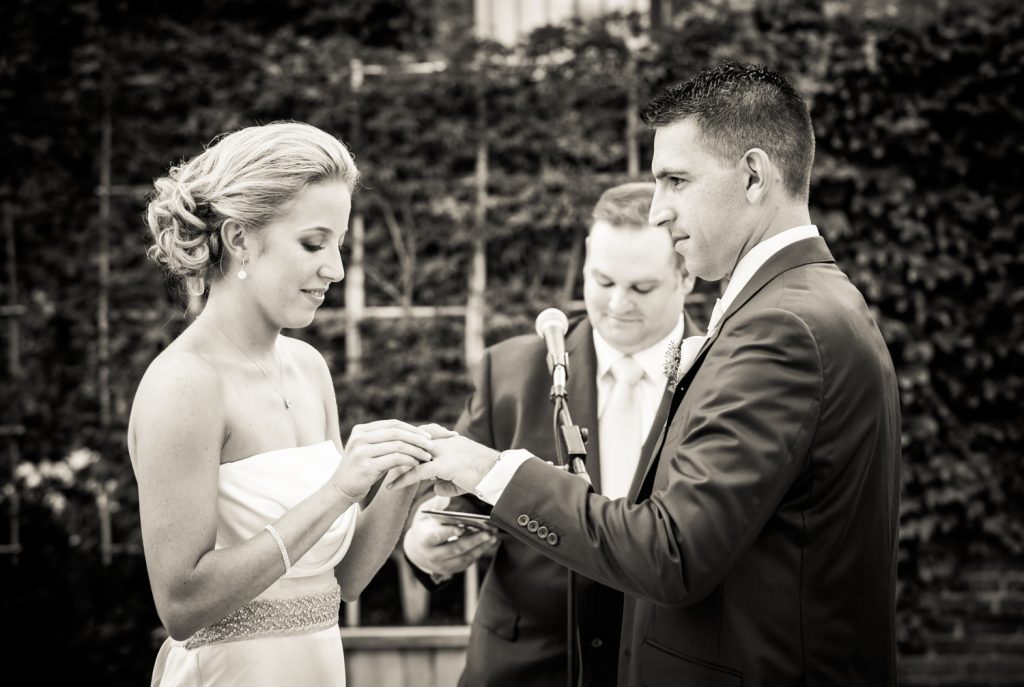 The photos accompanying this article are of Barbara and Greg, whose wedding at the Foundry was officiated by a friend of theirs. Their beautiful ceremony took full advantage of this gorgeous venue, which looks just as good at night as it does during the day. Enjoy the photos!
Ceremony and reception venue: The Foundry, Long Island City, Queens
Caterer: Real Food Catering
Wedding dress: Vera Wang purchased at The Bridal Garden
Bride's shoes: Jimmy Choo
Hair & makeup: Betty Salinas
Groom's suit maker: MySuit
Bride and groom's jewelry: Joseph Calderone, Downing Diamonds (engagement ring, wedding bands, bride's necklace)
Florist: Floresta NYC
Band: Silver Arrow Band
Want to see where it all began?  Check out photos from Barbara and Greg's Brooklyn Bridge Park engagement shoot here.
Are you planning on having your wedding at The Foundry?  Drop me a line and let's talk about scheduling.
If you would like to see more images from my wedding photojournalism portfolio, then please visit my website — KellyWilliamsPhotographer.com.