I am sure you've seen how popular sunflowers are on Instagram.  These big, bold flowers make a fantastic family portrait background.  In today's blog post, I'll be sharing with you some sunflower photo shoot tips from a recent session with Mary and her family.  From where to go and what to wear, I've got all the details to help you get the best sunflower photos possible.
When Are Sunflowers in Bloom?
Sunflowers are in bloom mid-summer through to autumn.  You will see your earliest flowers in July and the season sadly comes to an end in early October.  Your best bet for really big sunflowers is early to mid-August.
Sunflower Photo Shoot Tips – Timing is Everything
All of the sunflower photos you see online show people swimming in a sea of flowers, bathed in a golden aura of light.  The trick to achieving this golden aura is simply to time your session for the end of the afternoon.
As I have harped on endlessly in numerous blog posts (here and here), you always want to time your photo shoot for 'golden hour.'  This time of day occurs one hour after sunrise or one hour before sunset when the sunlight is at its softest point.  Since most sunflower farms aren't open that early in the morning, you should time your shoot for the end of the afternoon.
In the case of my recent session with Mary and her family, we arrived at the farm at 5:30 p.m.  Note that individual farms often have different hours of operation, so make sure to double check how late a farm is open.  We visited Waterdrinker Family Farm and Garden in Manorville, NY, which is open until 8:00 p.m. on weekends.  It took us two hours with traffic to arrive, so make sure you factor in drive time.
I would also double check the closing time with your venue because several of these forms are rented out for private events.  It would be horrible to drive two hours from New York City and arrive at the farm only to find out you have 15 minutes before the place closes.  Do yourself a favor, and double check before you leave the house.
Sunflower Photo Shoot Tips – Patch Logistics
What was surprising to me when we rolled up to Waterdrinker Farm is that the patch of sunflowers is actually quite small.  Luckily, the farm wasn't very crowded on the day we visited.  But if the farm had been very crowded, then it would have been difficult to not have strangers in the background of our photos.
The one thing I learned from this photo shoot is that the area beneath the big sunflower leaves is really not that pretty.  The prettiest part of the sunflower is always going to be at the top, so be prepared to get an arm workout lifting the kids above your head.  Mary's twins are too little to rise above the flower blooms.  So for us, the best photos involved lifting the kids above the main stalks.  I did get some great photos of the kids underneath the greenery, but a lot of this had to be faked with AI.
A Little Help With Some AI Fakery
Artificial intelligence has indeed invaded the photography world.  Adobe Photoshop has a new feature call Generative Fill.  I used it for the first time during Mary's sunflower portrait session to fill in some ugly gaps underneath the flowers.
As you can see in these photos, Mary's little ones weren't tall enough to get above the big sunflowers.  The blooms proved to be phenomenal light filters, however, when Mary bent down with the kids.  This meant that there was some ugly areas to the left and right of each child.  Photoshop made it very easy to fill in these patches simply by selecting the area and then requesting 'big sunflowers' with the generative fill function.  I think the photos turned out very realistic, and for most of the photos, you can't tell at all that the images were faked.  This is a trick I will definitely be using in the future.
Sunflower Photo Shoot Tips – Activity Options
When we arrived at the farm, Mary's twins were not as enamored with the field of flowers as all of the adults.  Indeed, Mary's little boy was much more fascinated by rocks and dirt on the ground.  The good news is that if this happens on your photo shoot day, you have lots of activity options to keep the kids focused in front of your camera.  Waterdrinker Farm has a cute little playground and a petting zoo.  Most of these farms fall along the same lines and have plenty of different activities to keep your kids entertained.  In Waterdrinker Farm's case, there was even a food truck in case you got hungry.  Make sure you explore all your options before selecting your fam and check out what the farm has to offer besides just the foliage.
Sunflower Photo Shoot Tips – What to Wear
Since you are going to be taking photos on a farm, you should definitely choose a more casual attire.  No one is going to be wearing heels while walking amongst the flowers.  In terms of colors, you want to make sure that you pop from the flower background.  This means that you should try to stay away from head-to-toe green or yellow.  Instead, select a contrasting, complimentary color.
In Mary's case, she chose light beige and browns for the kids with a few hints of pink and green.  You will note that everyone in the family is wearing a touch of the same shade of beige or brown so that each family member blends with one other but no one is matchy matchy.  This is the golden rule of family portrait attire.  You always want to look like you belong together as a family, but you don't want to look like a 90s photo session with everyone wearing the same outfit.  Personally, I think you could also go for much brighter colors if you want, but just make sure you don't go overboard with green or yellow.
Where Are Sunflower Farms Located?
In the New York City area, you have lots of options on both Long Island and in New Jersey.
·      Stunning Sunflower Fields In Long Island, NY (From A Local)
·      The Best Sunflower Farms and Mazes Around New Jersey
When you search for farms online, you will want to research the additional activities offered by the farm – such as a playground or petting zoo.  You will also want to see if you can find how big the sunflower patch actually is.  The bigger the sunflower patch, the more privacy you have for your own portrait session.
Meet Mary and Her Family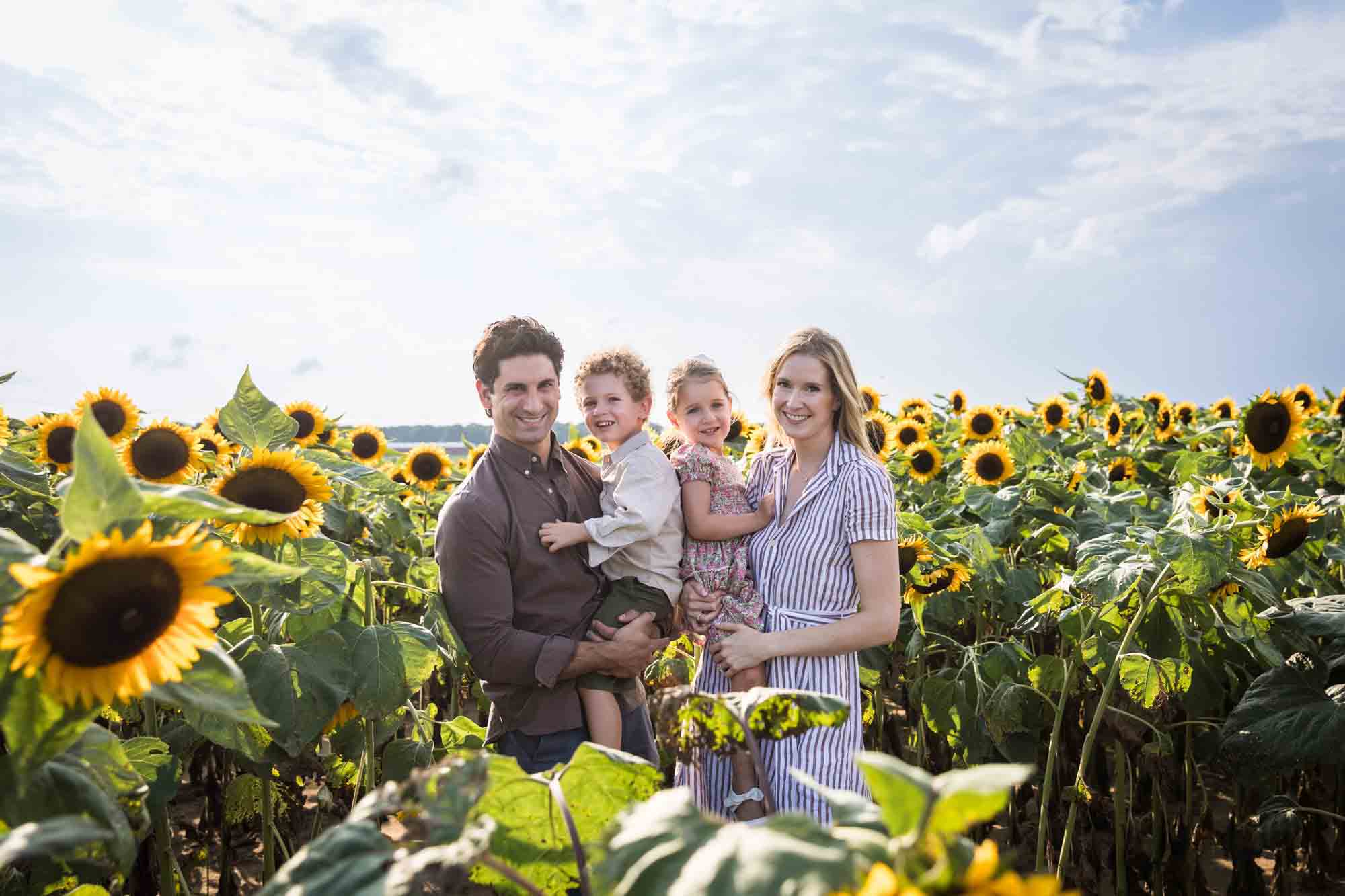 I have had the pleasure of photographing Mary since her twins were born in 2020.  She was one of my first clients during the height of the pandemic, and it seems like we've been through it all together.  She is definitely one of my most creative clients, and we have had adventures together from apple picking to a day at the beach.  I am definitely going to miss Mary and Chris's family, but I am hopeful that they will make a trip out to Texas.
Enjoy the images, and I'll have more photo adventures for you next week!
_____________________________________________
Interested in scheduling your own sunflower photo shoot?  Drop me a line, and let's talk about your photography needs. I will be in New York City until December 10th and after that I will be heading to San Antonio, Texas.
If you would like to view more images from my family portrait portfolio, then please visit my website — KellyWilliamsPhotographer.com