I recently had the pleasure of photographing the Hindu engagement ceremony of Kallema and Kevin. The service, called a sagai, is a special religious celebration announcing to the world that the couple is betrothed. It felt almost like a mini wedding, and even included the cutting of a cake. I've got all the details – and of course, all the sagai ceremony photos, in today's blog post.
Meet Kallema and Kevin
Let me start by introducing you to Kallema and Kevin. These two met and formed a strong bond when Kallema, a certified nurse, was hired as a caregiver for Kevin's late father. It has been a difficult year for Kallema and Kevin, but with a light at the end of the pandemic tunnel, these two are looking forward to finally tying the knot in September.
The Sagai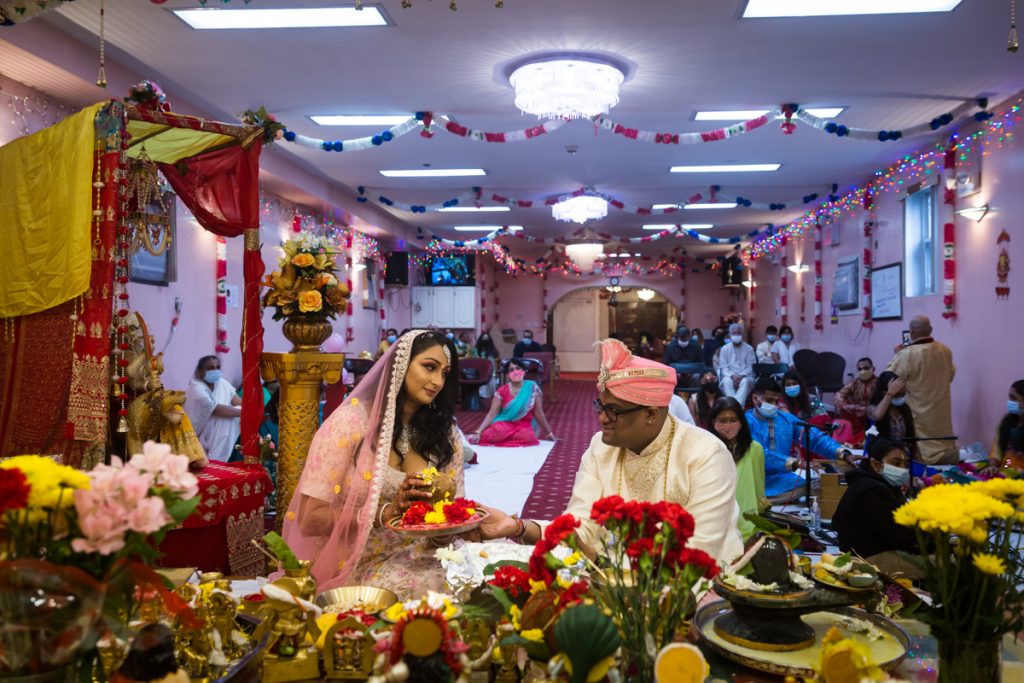 With a bright future ahead of them, Kallema and Kevin celebrated their engagement in the Shree Sundar Gopal Mandir in Queens surrounded by friends and family. During the ceremony, the couple offers prayers to specific Hindu deities in order to bless their future marriage. Parents of both the bride and groom attended, and gifts were exchanged between the two families.
The sagai marks the official betrothal of the couple, and as with Western cultures, jewelry is exchanged to signify the event. The groom gives the bride a ring, and his family also bestows other jewelry upon the bride. Equally, the bride and her family give the groom a piece of jewelry. In Kallema and Kevin's case, Kallema's family bestowed Kevin with a beautiful gold bracelet with Kallema's name on it. At the end of the sagai, the couple blesses the family members present.
I would be remiss if I did not mention one of the most beautiful aspects of the event: the henna artwork covering the bride. The detailed artistry, or mehendi designs, take hours to complete and is truly a thing of beauty.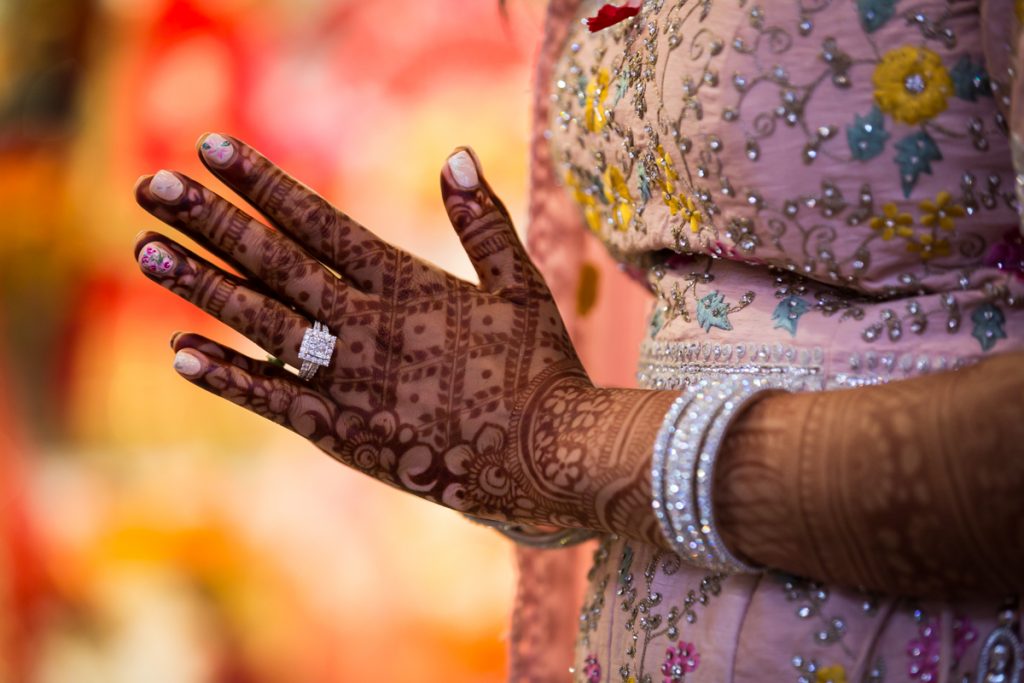 Typically the sagai ends in a grand feast, and Kallema and Kevin's ceremony was no different. A full buffet of excellent Indian food was offered, and Kallema and Kevin cut a cake in anticipation of their wedding.
If you would like to learn more about the sagai ceremony and how it differs with each cultural region of Indian, then check out this link at CulturalIndia.net.
Also, this link to the HinduWedding.info website gives more insight into the specific rituals performed during the sagai ceremony:
Enjoy all of Kallema and Kevin's sagai ceremony photos, and I'll have more adventures for you next week!
---
Are you going to be celebrating a Hindu engagement or wedding ceremony in the future?  Drop me a line and let's chat about your photography needs.
Interested in seeing what a Hindu wedding looks like, complete with fire ceremony?  Check out these photos from Rupa & Ian's wedding at the East Wind Inn.
If you would like to see more photos from my wedding portrait portfolio, then please visit my website KellyWilliamsPhotographer.com