Got a family event to plan that does not involve vows or the exchanging of rings? If you have no idea where to start the planning process for your family event, then you have hit the jackpot with today's blog. In this article you will find out how to find a venue along with a list of things you should consider before ever laying down a deposit.
Here's what you missed on Saturday: Lana's rock and roll, yet Broadway-themed bat mitzvah at the Hard Rock Cafe. This was a fun event to photograph, made even better by a talented cast of kids who are fantastic performers. When I was making my venue check at the Hard Rock Cafe a few weeks ago with Amy, Lana's mom, I asked Amy if she had any questions or concerns when she was putting together the bat mitzvah. She said the most challenging part of the process was finding a creative venue that fit the event's specifications. And thus a blog topic was born…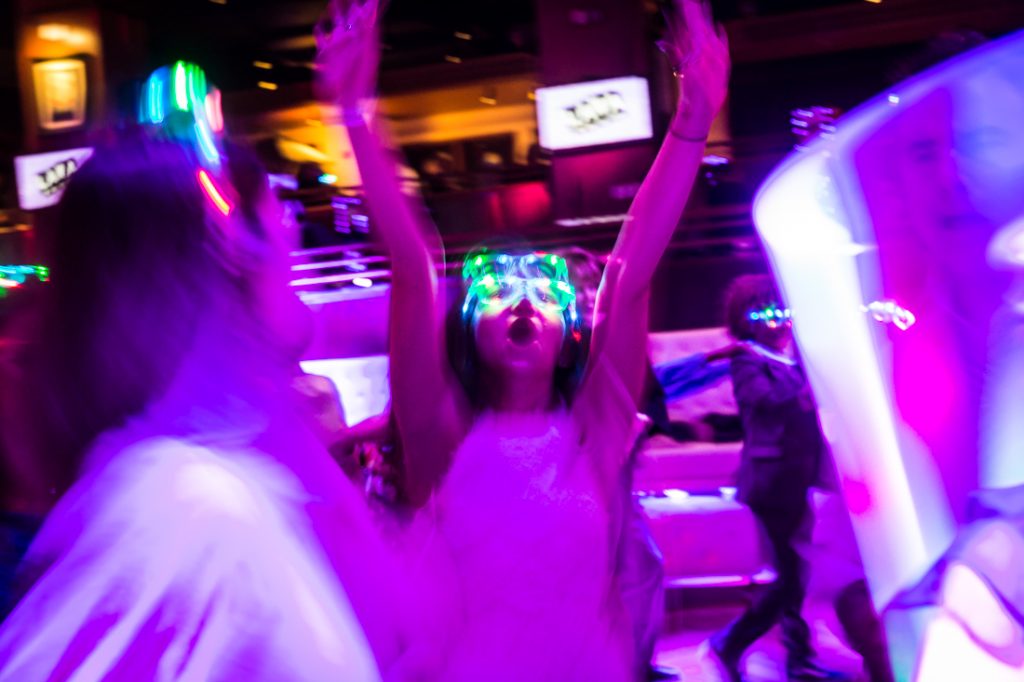 How to Find a Venue – Things to Consider
Mood. The first step in planning your event is to brainstorm what you want to express to guests in terms of atmosphere. Are you throwing a sophisticated soirée where you want a view over the Manhattan skyline? Then maybe a high-end hotel private dining space is for you. If you want to rock out all night and have space to let kids run around – as in Amy's case – then the Hard Rock Cafe is the perfect venue. The bottom line is that guests need to get the theme of your event as they walk through the door. So think about the ambience you want to convey, and then make a list of the ideal locations.
The compromise of dream vs. reality. This is where reality kicks in. Let's say you are planning a kids birthday party and want it to be held at the circus, but there are no big tops for miles around. In this case, you want to think about substitute locations that offer the right amount of compromise. A windowless ballroom is not going to lend itself to the imagination needed for a kids party, but holding the event at the zoo or having an animal wrangler come to a park might be just the ticket. Do what you can with what you have. Also, don't be afraid to transform spaces into what you need. Libraries and art galleries are overlooked spots that can morph into Harry Potter's den or a unique adults-only birthday party location with the right amount of ingenuity and decorations.
Seating capacity. A large guest list is going to require a large venue, obviously. But a growing guest list will also adjust the amount of staff needed, the number of bars serving drinks, and the size of the kitchen space required for any event. Make sure the venue you select can accommodate the size of your party. Every venue has a maximum seating capacity that has been set according to fire and safety codes. But more than that is the comfort level of your guests. Yes, you can squeeze 12 people into a round table that normally seats 10, but would you want to sit there? Also, make sure you are realistic when thinking about guests (and wait staff) moving around the room. If you can't easily walk between tables, then the waiters can't easily serve your guests food either. Likewise, take a serious look at the size of your dance floor. If your dance floor is the size of a napkin, then you will be endangering guests seated in close proximity to drunken limbs flying.
Cost of transformation. Making your event dreams a reality can get very expensive. If the space you select is completely empty, like 26 Bridge or the Dumbo Loft, then you will need to supply everything for the party, including tables, chairs, napkins, tablecloths, silverware etc. Often the venue itself has a working relationship with vendors who supply these items and may be able to get you a discount so check with your venue first, but also compare the prices of other vendors. Keep in mind that the venue may require certificates of insurance from outside vendors, so ask ahead of time. Also, the venue may have requirements where you must use their in-house catering team or have a food and beverage minimum (called a 'F&B minimum' in your contract). In this case, make sure you taste the food ahead of time and check reviews specifically for the food because you are stuck with the caterer. Furthermore, if your guests have any special dietary needs (such as being kosher or vegan), then make sure that the in-house catering team can make provisions for these requests. If you can bring in outside catering, then ask about the kitchen facility needs of the venue. The health department will require the venue to have running water, clean up stations and areas for prep work. If you have selected a venue that does not supply any food – for instance, Sarah and David's rehearsal dinner/cocktail party at Dream Baby bar in the East Village – ask if you can bring in food yourself, such as a plate of desserts.
Services provided. Keep in mind that if you are required to bring everything to transform a venue, you will also be held accountable for clean up and break down of the event at the end of the night. Also, those appetizers aren't going to serve themselves so see if you need to provide wait staff and bartenders. You may also want to provide a security guard or coat check person. Finally, if you have specific audio/visual or internet needs for your event – such as needing a stage or a projector for a slideshow – then make sure to ask the venue what they can supply. It is usually simpler to work with the in-house A/V system then to try and wire in your own equipment.
Ease of getting to the party. Living in New York City, we have a wealth of venue options at our fingertips. But if you want to consider spaces a bit farther a field, then you need to take into account any transportation difficulties. Take for instance, Nancy and Jeff's Bear Mountain carousel wedding. The couple planned a unique event in a beautiful setting that is about an hour and 40 minutes away from the city. I love a good road trip, and in my opinion, this isn't too far out of the way. But the travel time will have an impact on your guests. Since most of us New Yorkers don't drive, we are all beholden to the Metro North train schedule. In Nancy and Jeff's case, the closest train station was in Peekskill, and the last train on the night of their wedding was 11:35 p.m. Since it cost over $200 to hire a private car service to drive back to New York, this meant that most guests are going to be catching the train. And though the event technically lasted until 11:30 p.m., most everyone left earlier to get to the train station on time. In short, keep your guests' comfort in mind. Provide guests with a map and transportation details, including public transportation especially if this is a NYC event. If guests are expected to be driving to your event, then check out the parking situation. You may want to provide a valet service or rope off a designated parking lot for your guests and then provide a shuttle from the lot to your venue. Also, consider picking up the tab for transportation as a gift to your guests. In the case of Lana's bat mitzvah, the Hard Rock Cafe was definitely within walking distance of the ceremony location at Feinstein's 54 Below. But having a group of 55 kids walk eleven blocks unattended seemed like a parents' worst nightmare. The solution? School buses were provided to take the kids (and adults) from point A to point B.
Noise pollution. Noise level and privacy are major factors to consider when looking at a venue. If you have a lot of speeches to make, or if you want guests to be able to talk privately, then you need to select a space that encourages quiet conversation. When I make a venue check, I always try and visit a space at the exact time of day when the event will be held. I want to see the space in the closest approximation of the same light and crowd levels as the actual event. If you are selecting a venue, you need to do the same thing. Visit your potential venue at the same time when your event will be held so that you can see what the light is like and what's going on around the space at the time of your event. This is absolutely crucial in the case of selecting a restaurant with a private dining space. If you visit the restaurant in the middle of the day when noise levels are low, you are in for a nasty surprise when on the night of your event you can hear the roar of the outside restaurant through the walls of your private dining space.
Yelp can help. Lastly, reviews count. Talk to your friends and colleagues to see what spaces they have used for similar events. Check out Yelp and Google for reviews. Make sure you take into account not only reviews regarding the space and the food, but also the staff and services provided. Nothing makes for a worse event than having great food but horrible service. If possible, ask the venue for references and see if you can talk to past clients to find out firsthand what their experience was like with the venue.
When is as important as where. One final word of advice: make sure you check the date of your event against a few calendars to confirm that your event date doesn't conflict with any major holidays or traffic jams. In New York City, the NYC marathon seems to always sneak up on my wedding clients, as does traffic from the annual United Nations General Assembly. Take a look at these calendars:
How to Find a Venue – Where to Look
Here is a list of places you can check to find a venue:
Wedding websites (such as Wedding Wire or the Knot)
New York Magazine list of restaurants with private spaces
Openhouse
Restaurants with private dining spaces: keep in mind that many restaurants will rent you the entire restaurant if you have a large enough party
Bars: again, you can rent the entire bar or simply reserve a few tables in the back
Art galleries
How to Find a Venue – Lana's Bat Mitzvah
As a great example of venue choice, let's take a look at Lana's bat mitzvah. Lana is a budding performer and a huge fan of musical theater. Finding a space that incorporated all of her loves – and talents – was key. The ceremony was held at Feinstein's 54 Below – a cabaret bar where Lana has performed in the past. While not a traditional location for a bat mitzvah, tradition was never in the cards anyway for this ceremony. The stage at 54 Below was perfect to accommodate all the speakers – and since music was an important part of the ceremony with no less than six songs performed – the presence of the piano and speaker system came in handy. For the reception, the Hard Rock Café had it all: the perfect location just a stone's throw away from 54 Below in the heart of Broadway, a giant stage for Lana and her band to perform, professional stage lighting and sound equipment, and plenty of space for adults and children to easily interact, yet remain separate. Indeed, the separation of guests by levels – adults were on the upper level where the bar and seating was located, while the kids had the run of the dance floor – made it ideal from a photography standpoint so that I could take photos of the entire space from any angle. The event planner for the event – Joanna Solazzo – wisely suggested providing lounge furniture near the dance floor so the kids had seating in their area as well. The buffets – and note that adults had a more mature menu of salmon and healthy items vs. the kids buffet that had tacos and french fries – were located on the upper level.
Speaking of food, the cocktail hour for Lana's bat mitzvah included passed hors d'oeuvres and a hot dog cart. Near the end of the evening there was a dessert buffet with a choice of ice cream toppings. Everything on the menu included gluten-free choices.
You will note the distinctive signage throughout the event from the ceremony to the reception. Those great Broadway-themed signs were designed by none other than Lana's father, David. But the talent doesn't stop there: Amy designed and created all of the centerpieces for the tables.
As far as activities for the event, the main focus was Lana performing her songs. Of course the day began with the wonderfully touching bat mitzvah ceremony during which Lana performed John Lennon's 'Imagine.' Afterwards the family celebrated a quick kiddush meal of challah and grape juice at 54 Below before bussing all of the guests to the Hard Rock Café. At Hard Rock, guests had their photo taken by me at a step-and-repeat in front of a personalized backdrop before going into the cocktail hour. Later events included four songs performed by Lana and her band, 'Lana and the Blackfires,' a photo booth, a wax hand creation station, and the presentation of two slideshows of family photos. At the end of the night, Lana raffled off gifts to her guests including a Hamilton mug, emoji pillows, and $5 gift cards to Chipotle and Starbucks. The MC for the night was excellent, and he had plenty of competitions to keep the kids occupied. There was also plenty of dancing. Like I said, this was a gifted bunch of kids, and here is a little snippet of some of the talent on display on the dance floor.
Um, can you do that? It's not often I say how much I enjoy a bat mitzvah – 13-year olds can be a bit challenging – but this was event was one of the highlights of my year. The quality of the songs that were performed, especially during the ceremony, had me applauding afterwards. In addition, these kids were amazingly polite and it was a real joy to interact with them.
So there you have it: the perfect bat mitzvah in the perfect venue. If you have questions about how to find a venue for your own event or if you would like to plan a photo shoot with me, then give me a call. I would love to hear from you.
Ceremony venue: Feinstein's 54 Below
Reception venue: Hard Rock Cafe, Times Square
Day-of coordinator: Joanna Solazzo, The Day Of Company
Catering: Hard Rock Cafe
Hot dog cart: Hard Rock Cafe
Centerpieces: Amy Schwartz
Signage: designed by David Schwartz
Emcee, DJ, and sound equipment:  Expressway Music Inc.
Wax hands station: Expressway Music Inc.
Photo Booth: Expressway Music Inc.
Band: The Blackfires
Videographer: Michelle Crafton, Reel Brooklyn
Lounge furniture: Aviance Lounge, Décor, Rentals
School bus transportation: Bus R Us Transportation
If you would like to see more bat mitzvah and bar mitzvah photos from my portfolio, then please visit my website – KellyWilliamsPhotographer.com
Save
Save
Save
Save
Save
Save