Yesterday, I had the sincere pleasure of photographing Bella's bat mitzvah at Covo Restaurant.  The love of family and friends was all around at this special celebration.  Ora, Bella's mentor and friend, helped to officiate the ceremony and provided the guitar accompaniment.  The biggest hit of the day, however, was Bella herself singing.  She has a beautiful voice which I'm sure we will be hearing more of in the future.
The ceremony was absolutely heartfelt, and included several responsive prayers and songs from the audience.  Of special note were the great toasts made by both Bella's grandparents and her older sister.  Bella's parents gave her a lovely necklace, reminding her to always live in the present, and two books: 'The Jewish Teenager's Guide to Life' and 'Do Unto Otters,' a book from her childhood.
The end of the ceremony was marked by a wonderful tradition where each of the guests connected — literally — to each other as the final blessing was said over the challah.  Incidentally, check out the enormous size of the challah, baked by none other than Bella's father, Zach!  Also, check out the havdalah set (wine glass and tray used in the Jewish sabbath ceremony) which was handmade by Bella.
And then the party began!  As with all good mitzvahs, the kids were allowed their own space — upstairs — while the adults had a great lunch downstairs.  The food was excellent.  Upstairs, the kids enjoyed the talents of Dr. K and his karaoke machine.  (He does a mean Elvis impression, by the way.)  Bella again wowed the audience with mic in hand.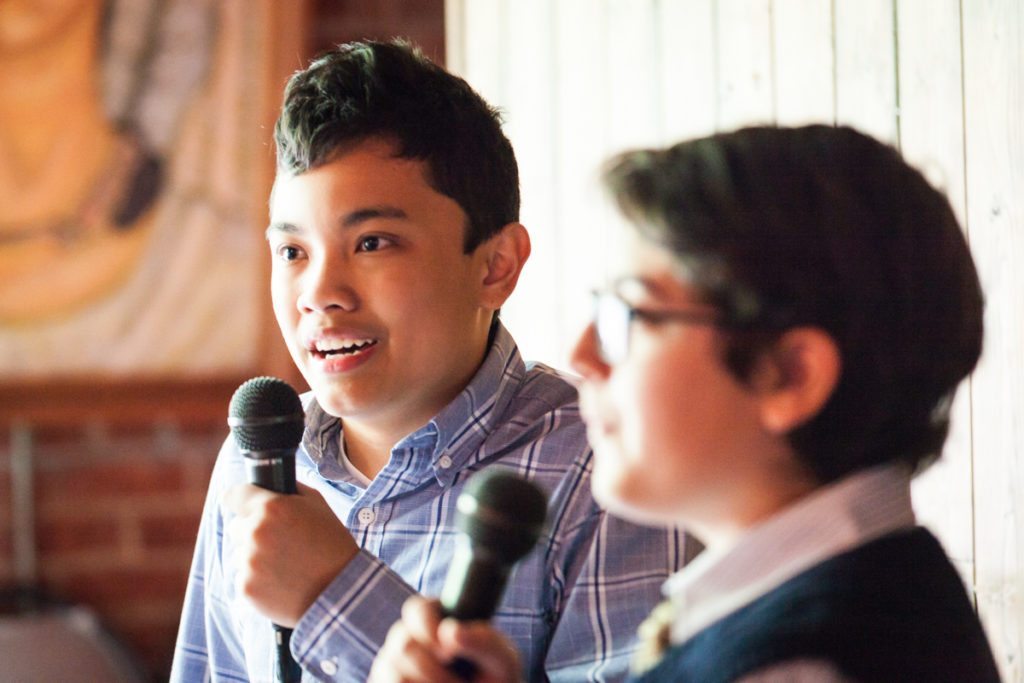 The standout performance, however, was this tribute to Guns n' Roses' 'Sweet Child O' Mine' — which was solid enough to get mom out on the dance floor.  Rock on!
Chocolate cake was the final touch on a great day.  Enjoy the pics!
Venue & catering: Covo Restaurant
DJ: Dr. K
Havdalah set: handmade by Bella
Challah: baked by dad, Zach
---
If you would like to view more recent photos by NYC bat mitzvah photographer, Kelly Williams, please visit her website.
Like what you're reading?  Why not subscribe to the blog so you never miss a post???