Today I'll be solving all of your NYC destination photo shoot location questions in one blog post.  Let's say you're a family of four from Canada traveling to New York City.  You want to prove to the folks back in Ottawa that you visited THE New York City.  So where do you go?  I'll tell you exactly where to go with this list of the best Manhattan family portrait locations.
Best Manhattan Family Portrait Locations – An Overview
I have written previously about where to go in New York City for a fun, family portrait session.  Whether you are a local, or simply don't want to look like a tourist, I have lists for everyone.  But let's say you want to embrace your role as a tourist with photos that highlight the landmarks of this great town.  Where do you go?
My perfect NYC family photo shoot begins in Herald Square and ends in Times Square.  Along the way you will hit nine landmark backgrounds to give you a classic view of the Big Apple.  Bear in mind that New York City embraces a lot of people and cultures (and that no local ever calls it the 'Big Apple), so this is mainly New York City from the perspective of what you see in the movies.  But this is a classic stereotype for a reason, so here we go.
Best Manhattan Family Portrait Locations – Macy's Department Store
Start off at the corner of 34th Street and Sixth Avenue.  If you are lucky, there will be wonderful window displays at Macy's department store and you can take photos here to start.  In the case of Nicole and her family, all the windows were covered over by curtains since they were in the process of transitioning to a new display.
Best Manhattan Family Portrait Locations – Empire State Building
It's a shame to see that the former Victoria's Secret located at the corner of 34th Street and Sixth Avenue is still covered over, but even with construction this busy intersection is your best spot to capture the iconic tower in the background.  You have lots of options here for photos with traffic speeding by.  Just bear in mind that this is a very, very busy corner.
My photo shoot with Nicole and her family took place on a Wednesday morning at 9:00 a.m.  While this start time avoids all afternoon traffic, unfortunately the express buses coming from 34th Street and turning onto Sixth Avenue blocked quite a few shots.  Pack your patience and be ready to fight the crowds and cars.
From this corner, you can walk down 34th Street towards Fifth Avenue to where you are directly in front of the Empire State Building.  Nicole and her family brought along these foam, Statue of Liberty hats, and of course we had to use them in this photo.
Best Manhattan Family Portrait Locations – New York Public Library
Your next stop is going to be the New York Public Library.  This building, better known as the Stephen A. Schwarzman Building, is located at 42nd Street and Fifth Avenue.  It is a quick eight-minute walk, but you could also take a classic New York City taxi if you want to zoom down to your destination.
Nicole's daughter is a big reader, so photos in front of the library were of upmost importance to her.  I have to say, these are the best photos I have taken in front of the New York Public Library in quite a while, simply because the crowds were not present.  Starting a shoot at 9:00 a.m. is the ticket to avoiding the tourist hordes.  Furthermore, since the library doors were closed, we didn't have crowds going in and out of the building in the background.
And in case you have someone in the family, like Nicole's son, who is a big fan of the local wildlife, this is your best place to feed the pigeons.  New York City pigeons will eat just about anything, including day-old granola bars, as found in the bottom of Nicole's backpack.
Best Manhattan Family Portrait Locations – Grand Central
42nd Street is going to be the gateway to Grand Central Terminal as well as the Chrysler Building.  From the library, head east to Grand Central and take some quick shots both in and outside of the spectacular building.  Morning provides great light, and little to no tourist traffic.
For Grand Central, your top images will be in front of the information booth clock tower, found in the main terminal, in front of the hallway with the huge chandelier, and a shot or two from the grand staircase with the windows in the background.  I'm also a fan of a wide shot showing your subject in the middle of the terminal chaos.  Quick reminder: you only view the lobby of the Chrysler Building.  The building is home to businesses and there is no access granted to tourists.
Best Manhattan Family Portrait Locations – Bryant Park
After this brief stop at Grand Central, we head west towards Times Square.  We first stopped off at Bryant Park for a few family photos.  While Bryant Park is technically the only bit of greenery you will have on this tour, bear in mind that this is normally a very crowded park, and there is not that much in the way of greenery.  The main patch of grass is currently closed.
Luckily, however, our early morning photo shoot helped us to avoid the lunch crowd and we were able to take silly photos on the benches.  This is the first time in a long time that I have been able to have actually access a bench in the park for photos.  Normally this park is chock-a-block with office workers and tourists alike.
Best Manhattan Family Portrait Locations – Times Square
The grand finale of the photo shoot is Times Square.  Again, the lack of tourists at this early morning hour meant that the neighborhood was bearable.  We got a set of steps all to ourselves, and it was easy to take a quick photo of Nicole and her crew with the billboards in the background.
Best Manhattan Family Portrait Locations – Broadway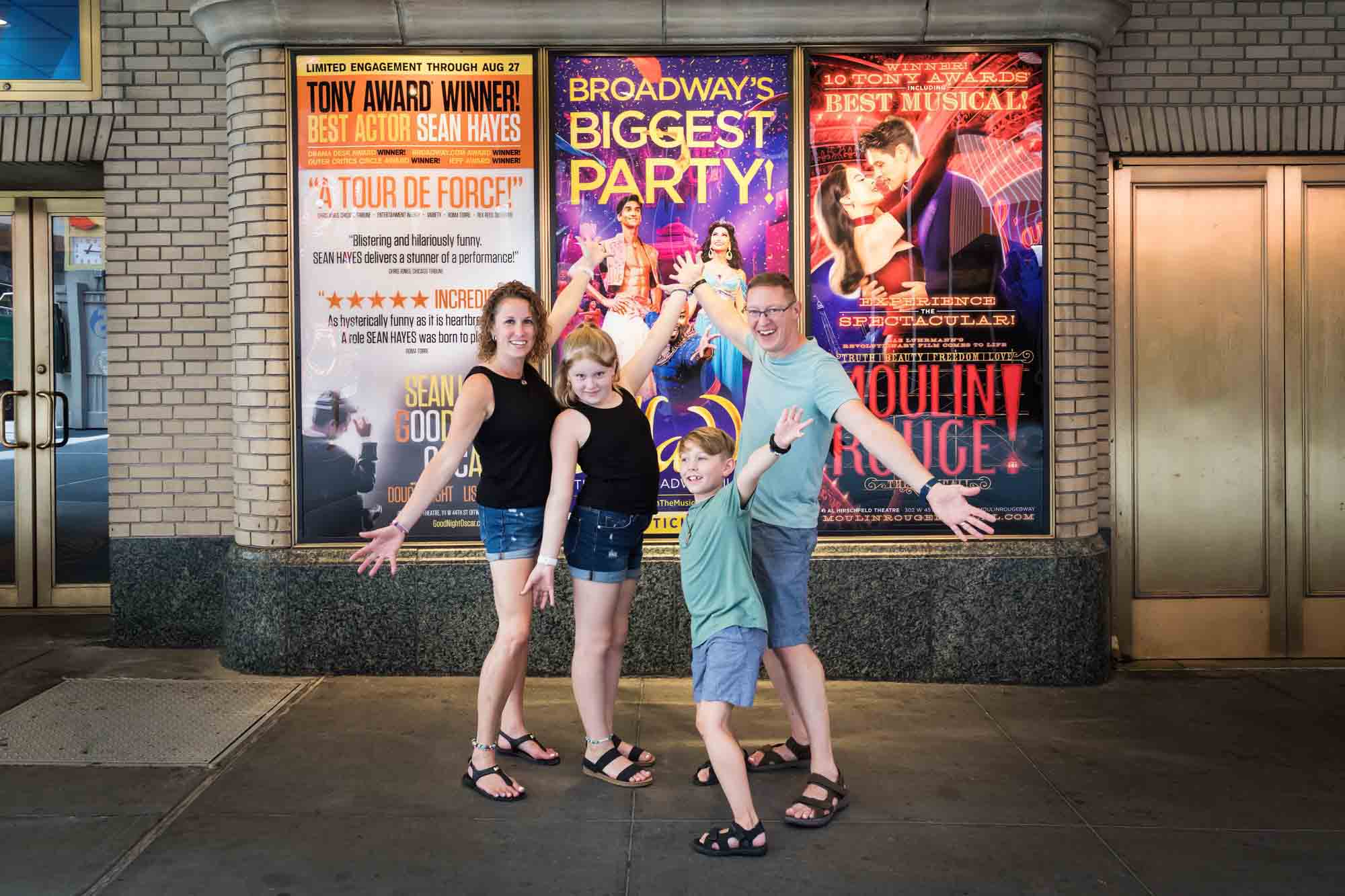 We next headed to 44th Street.  The alleyway between 44th and 45th Streets as you are walking towards Eighth Avenue has lots of Broadway posters along the wall.  This alleyway makes a great, quiet photo location.  Even better, we found a poster from the Aladdin show, which the family will be seeing together next week.
Best Manhattan Family Portrait Locations – Some Graffiti and the Subway
Our last stop was a very colorful graffiti mural that I found at the corner of 43rd Street and Eighth Avenue.  If I had a zoomed out my camera, you would see a pot distributor right next-door.  So as long as you can avoid the local 'ambience' and instead focus just on the mural, you will be fine.  You also have a subway stop here if you want to dip in and get some quick photos with the subway sign.
I had a fantastic photographing Nicole and her family.  I have to say it was a bit surprising because for local New Yorkers, visiting Times Square is its own special form of torture.  We actually had a delightful time, and I would happily do this photo shoot all over again.  As long as the shoot was scheduled for an early morning, that is.
Enjoy the images, and I will have more photo adventurous for you next week!
_____________________________________________
Are you heading to New York City and want to schedule your own family photo shoot?  Drop me a line (before December 10th), and let's talk about your photography needs.  For 2024, look me up in San Antonio, Texas.
If you would like to view more images from my family portrait portfolio, then please visit my website – KellyWilliamsPhotographer.com