So you want to get your family together for a portrait, but don't know where to go? Well then, today's blog post is for you. In this article I share with you my definitive list of the best NYC family portrait location ideas. Whether you are looking to turn your family portrait into a 'destination' photo shoot, or want to stay closer to home, here is my list of places you should go for your family portrait.
NYC Family Portrait Location Ideas:
Your Own Backyard
Never underestimate the beauty of your own backyard as a family portrait location. The best photo shoots happen at locations that are near and dear to your family, so it makes sense that you might plan to stay at home. Home is where the heart is, and this is where you can truly capture some happy memories. In addition to your backyard, try the playroom or even your kitchen and plan some activities with your family that you can do in front of the camera.
NYC Family Portrait Location Ideas:
Local Parks
If, like most New Yorkers, you don't have a backyard, then I recommend a park you frequently visit as a family. Here are some of the best parks in the city:
Central Park: always popular, but head north of 72nd Street for the best foliage and less crowds. My personal recommendation is to head up to the Pool at 100th Street and Central Park West.  (Check out my shoots here, here, and here.)
Brooklyn Bridge Park: very popular on the weekend and undergoing quite a bit of construction at the moment, but there are lots of unique locations within the park to explore such as Max's Garden and Old Pier 1. By the way, Jane's Carousel has reopened on May 1st after a very long closure due to the pandemic.
Riverside Park: one of the best parks in NYC (check out my shoots here, here, and here) because of the waterside views
Fort Tryon Park: my personal favorite park because of both the view over the Hudson River and the beautiful plants in the Shakespeare Garden
Roosevelt Island: a great spot to view cherry blossoms and the Manhattan skyline. Also, who doesn't love the tram???
Washington Square Park: a perfect starting point for photos in Greenwich Village, watch out for crowds and protests, though
Bryant Park: another good starting point if you want to head to Times Square or Grand Central after your day at the park
The High Line: there are special restrictions in place now due to Covid-19, but this is still a very special park in the city
Prospect Park: you have lots of different terrain to visit here, and I always recommend starting at Grand Army Plaza
Fort Greene Park: Brooklyn pride!
Governors Island: not enough people consider this spot for photos, and they definitely should; it's worth the ferry ride
Flushing Meadows Corona Park: who can resist the lure of the old World's Fair architecture?
Astoria Park: the view over the water is gorgeous and the architecture under the Hell Gate Bridge is really interesting
Forest Park: of course I have to list my local park and mention my neighborhood discount… (Check out my shoots here here.)
The bottom line is that you should select a park that you and your family frequent together. Everyone always goes to Central Park, but the truth is the park is crazy crowded, especially on weekends. If Central Park doesn't mean anything to you as a family, then it will end up looking just like any other park. So save yourself the hassle of fighting the tourists for green space and head to the park you know best. Or, if Central Park is still your jam, then head up above 72nd Street or schedule your session for a weekday. Trust me, you'll thank me later.
If you would like to read more about the underrated parks in New York City, then check out my article here.
NYC Family Portrait Location Ideas:
Local Landmarks
Perhaps there is a local landmark or venue that is significant to your family because it reflects your shared interests. Feel free to play tourist – we have lots of places in the city to explore. Here are some ideas:
Scenic or historic neighborhoods: (Harlem, West Village, East Village, Lower East Side, Times Square, Jackson Heights, Astoria, Chinatown, Wall Street, Carroll Gardens, Red Hook) tell the story of your neighborhood in your family portrait!
Times Square: a great option if your family are all theater buffs
Botanical gardens: (Brooklyn, New York, or Queens Botanical Gardens) photo permits are required (see below)
Zoos: (Bronx Zoo, Central Park Zoo): non-commercial photography is allowed, but check out this article for how to get the best photos of animals (and your family) at the zoo
Beaches: (Coney Island, Fire Island, Long Beach) make sure you go during 'golden hour' to avoid the harsh overhead rays of the sun. Also, know that currently the amusement parks at Coney Island are only open Saturdays and Sundays.
Industrial areas: (Greenpoint in Brooklyn or even a local junkyard) go for the grit
Local landmarks: (Grand Central Terminal, Statue of Liberty, Ellis Island, Rockefeller Center) in general, photo permits are required for any indoor landmarks. Also, I would not recommend photos on the Brooklyn Bridge due to crowds and construction. If you want a view of New York's most famous bridge, then head to Brooklyn Bridge Park.
Special transportation: LIRR/Metro North trains, subway, Staten Island Ferry; sometimes it's the journey, not the destination
Retro movie theater: you can rent an entire theater for your whole family now, thanks to Covid-19
School campus: your alma mater or the school your children attend; show your school pride or show off the school where your kids attend classes
Gardens surrounding museums or historical homes: any indoor photos will definitely require a permit, but lots of the gardens surrounding museums or historical houses (such as the Lyndhurst Mansion) are easily accessible for photos
NYC Family Portrait Location Ideas:
Documentary-Style
If you are not a fan of having your photo taken, then activity shoots are a great way to bring a more 'documentary' feel to your family photos. Here are my suggestions for totally unique, and photographable, activities that you can do together as a family in front of the camera:
Cook a meal together (prepare dinner, make candy, or bake a cake)
Prepare for holidays together (put up the Christmas lights, have a Fourth of July barbecue, or have a fun Easter egg hunt)
Take care of the family pet together (give the dog a bath, take the iguana for a walk)
Play a sport together you love as a family (go bowling or ice skating, take a bike ride)
Have a picnic
Take a road trip
Take part in an event (carnival, county fair, street fair, birthday party, or a child's sporting event)
Photo Permits May Be Required
In general, if you are going to be taking photos on any sort of private property, including non-profit botanical gardens and city-owned parks, then photo permits may be required. Photos inside of a museum, library, theater, restaurant, or shop will definitely require permission ahead of any photo shoot.
Most parks in NYC, on the other hand, do not require a photo permit for family portraits. Central Park, for instance, gives you free reign to take photos as you wish. Note, however, that filming in playgrounds is not allowed since other parents may not appreciate having their children filmed. The other areas of Central Park where filming is not allowed include the Bowling Green, the Hallett Nature Sanctuary, closed landscapes (see the rules on the Conservatory Garden below), restricted areas, and all NYC Parks facilities, including all comfort stations, and visitor centers. These rules would apply to all other NYC parks as well.
There are a few notable exceptions to permit-free photo taking in city parks: the Conservatory Garden in Central Park, Gantry Plaza State Park in Long Island City, and the FDR Four Freedoms Park on Roosevelt Island. All of these areas require photo permits.
As confirmed via email with the Central Park staff, the Conservatory Garden requires a $100 photo permit for a half-hour photo session. You can find more details on the Central Park website here, and get more information about the permit process from a wedding photo permit perspective in my blog post here. The Conservatory Garden is absolutely beautiful, but know that it is extremely popular during wedding season (April-June and September-October). So if you are going to schedule a family portrait here, then try for early morning to avoid the onslaught of brides. Oh, and don't even think about trying to sneak photos here – the guards will chase you out of the garden.
In the case of Gantry Plaza and FDR, these parks have different rules from city parks because they are run by the state and national government, respectively. Note, however, that for Gantry Plaza it has been quite a while since I have seen any guards taking a look at photo permits. Likewise, I have taken photos in the FDR park and not seen any guards. If you are doing a family portrait and have a small group, you are less likely to arouse suspicion than a bride wearing a white dress. You may just be able to get by without needing a permit after all.
In contrast, you generally do need a photo permit with the local botanical gardens. If you want a family photo and you have a small-sized group (3-4 people total), then you likely will be able to get by without needing a photo permit. But if you are planning a family reunion photo session, I would investigate the photo permits needed. This is especially true in the case of the Brooklyn Botanic Gardens or the New York Botanical Gardens.
As for photo permits required at NYC landmarks, you pretty much need a photo permit for any indoor photography. For outdoor locations, the only place you need to watch out is at the Empire State Building (outdoor because you are on the roof?). No professional photography of any kind is allowed at the Empire State Building, largely because it would interfere with the building's own photographic enterprises. That said, you can check out my posts here and here for information on how I have orchestrated some epic surprise proposals at the top of the Empire State Building.
Alice and Paven's Central Park Family Portrait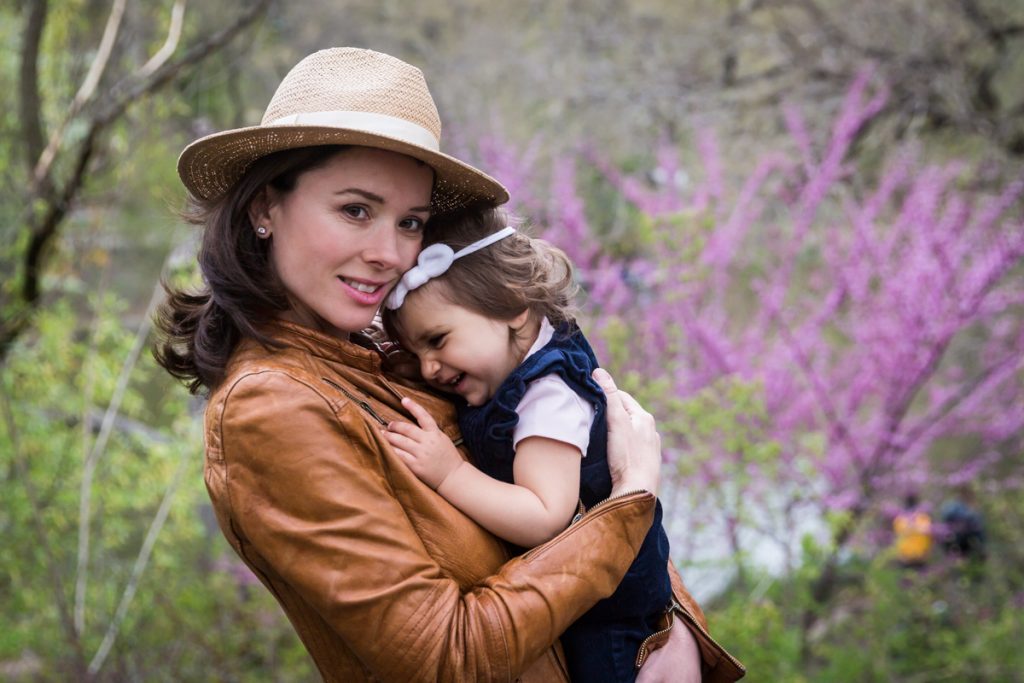 Accompanying this article are photos from Alice and Paven's recent family portrait session in Central Park. This is their local park and their close connection to the park made it worth it to brave the crazy weekend crowds. We started the session at the 72nd Street park entrance close to their home and worked our way towards Bow Bridge and back.
Two quick tips to take away from Alice and Pavan's family portrait session: if you are going to use a super cute headband on your little one, then make sure you practice using it before your family portrait session. Too often parents use a headband for the first time in a photo shoot. For a baby not used to having something on her head, that headband will get ripped off before I have time to focus my lens. To make things easier for the baby, and to make sure the headband stays put, try using the headband on a regular basis prior to the shoot.
Secondly, check out Alice's fabulous frock! She rented her dress from Rent the Runway, and I am a huge fan. Rent the Runway is a great idea if you want to liven up your wardrobe but don't want to break the bank.
Enjoy the images of Alice and Paven's family, and I'll have lots of new photo adventures to share with you next week!
---
Are you interested in scheduling your own fun, family portrait session?  Drop me a line and let's chat about your photography needs.
If you would like to see more images from my family portrait portfolio, then please visit my website – KellyWilliamsPhotographer.com