Normally I find that each year my family portrait sessions tend to all happen in one place. This year without question the most popular hotspot has been Riverside Park. I'm not complaining; this is probably my favorite park in the city. And as opposed to my last two family portrait sessions that were located at 61st Street, Megan and Jon's Riverside Park family photos were taken at 91st Street…my favorite section of the park. Find out why in today's blog post.
My Connection to Riverside Park at 91st Street
I like the Upper West Side of Manhattan. When I first moved to New York City, I moved to the Upper East Side at 81st Street and Third Avenue. I ended up spending a lot of time on the west side, however, and became a real fan of Riverside Park. The section of the park located at 91st Street has a beautiful area of plantings maintained by the Garden People. No matter the season, something beautiful and exotic is always in bloom here. In addition, the crabapple grove is here with its knobby trees and stunning views over the Hudson River waterfront.
Megan and Jon's Riverside Park Family Photos
Luckily, Megan and Jon are big fans at the park as well. They live nearby, and selected a fantastic time of year for their Riverside Park family photo shoot. The trees could not have been more beautiful, and we took full advantage of these stunning foliage.
This area of the park does have some challenges. In particular, there is some ugly fencing up near the crabapple grove, and currently the ground underneath the crabapple trees is very sparse. Instead, I decided to turn my attention for this portrait session to the section of trees located at the back of the Soldiers' and Sailors' Monument. Sadly, this interesting landmark is closed for renovations, and I don't know if it will ever be completed. The trees behind the monument are still beautiful and there were no fences in sight we began our photo shoot.
After letting Megan and Jon's little girl dance in the leaves, we turned our attention to the park pathway and the plant beds before heading straight for the hippo playground. This adorable playground has some precious sculptures. The light here in the morning is magnificent, by the way.
Tips for Your Riverside Park Family Photo Shoot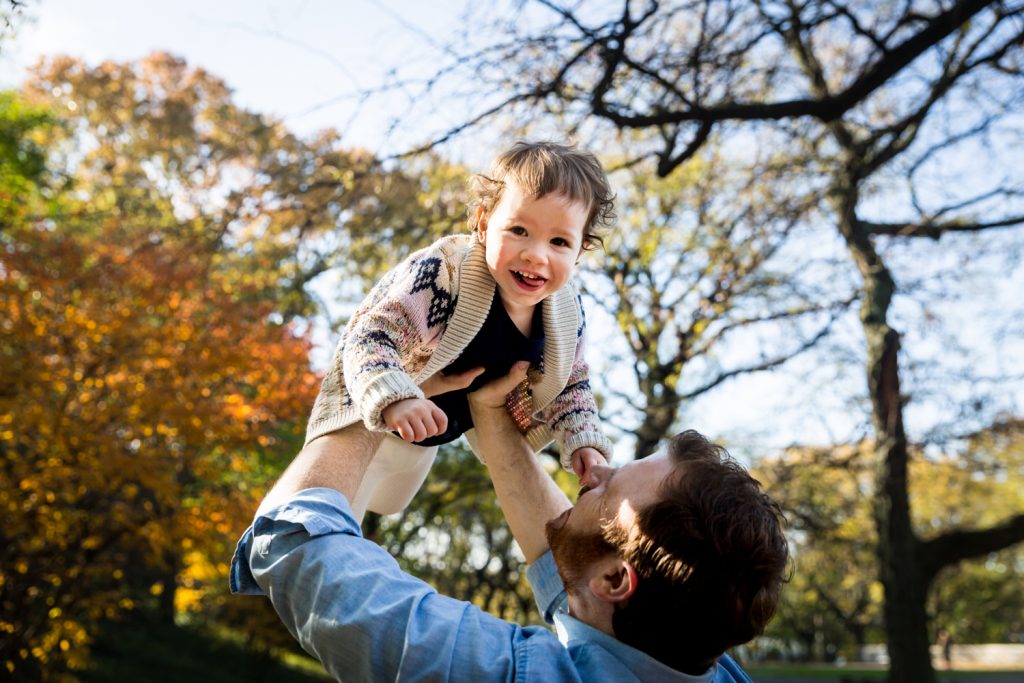 One thing to note is that Riverside Park is always popular. This is one of the best parks in which to view the sunset, so if that's your goal then don't expect to have the park all to yourself. Megan and Jon's family portrait began at 9:30 a.m., and the light could not have been more beautiful. So time your session and avoid weekends if you can in order to minimize crowds.
Enjoy the images, and I'll have more photo adventures for you next week!
---
Riverside Park is a lovely spot for a family portrait session; check out my other family portraits in the park at 61st Street here and here.
Interested in scheduling your own Riverside Park family portrait session?  Drop me a line and let's chat.
If you would like to see more images from my family portrait portfolio, then please visit my website – KellyWilliamsPhotographer.com