Did you know there is a (somewhat) secret garden located in the heart of Central Park? No, not the Conservatory Garden found at 105th Street and Fifth Avenue. I'm talking about the Shakespeare Garden found just behind the Delacorte Theater near 81st Street. For those unfamiliar, this tiny lot of land is almost always in bloom and has been the scene of many proposals. In today's blog post I have some fantastic Shakespeare Garden engagement photos to share with you as well as all the behind the scenes details from Wendy and Joe's fun day in Central Park.
The History of Central Park's Shakespeare Garden
Central Park's Shakespeare Garden is four acres in size and was originally known as the 'Garden of the Heart.' In 1916 the garden was renamed the Shakespeare Garden to mark the 300th anniversary of William Shakespeare's death. As with other Shakespeare-style gardens found across the US and Britain, the garden contains plantings that make reference to the bard's works and to Shakespeare's own private garden in Stratford-upon-Avon. Of note is a white mulberry tree that is supposed to have been grown from a tree graft planted by Shakespeare himself in 1602.
A Bad Start to a Fantastic Photo Shoot
Wendy and Joe's engagement photo shoot didn't start on the best note. The plan was to reenact their first date in which they visited the Metropolitan Museum of Art, walked through Central Park, and finally enjoyed some muffins and coffee at Sarabeth's cafe. As such, we were going to begin with photos on the iconic steps of the Met. Construction for the Met Gala, however, meant that we had to make other plans. Luckily I had arrived at the park two hours early (!) in order to do an extensive venue check for their portrait session and that of two other clients. I texted Wendy and Joe to come up with a new approach, and so we started off at the entrance to the Shakespeare Garden.
How to Have a Successful Shakespeare Garden Photo Shoot
From there on out, the photo shoot went off without a hitch. We had glorious weather and the crowd level was light. I cannot say enough times that the key to a successful photo shoot in Central Park is to avoid the crowds at all costs. That means avoiding the weekends if at all possible. Wendy and Joe smartly scheduled their session for a Wednesday afternoon. The Shakespeare Garden is a petite patch of park with narrow pathways so it is a tough area to navigate if there are a lot of people present. Indeed, while we were there another engagement session was starting just at the entrance as we were making our way further into the garden.
After walking a bit through the garden, it was time to break out the props. Joe is a singer and songwriter in his free time, and Wendy is a carefree hippy that loves to listen to Joe sing. These two make a fantastic couple. So of course we had to include Joe's guitar in a few photos. Better yet, he gave Wendy a very photogenic lesson on how to play chords.
Where to Go After Taking Your Shakespeare Garden Engagement Photos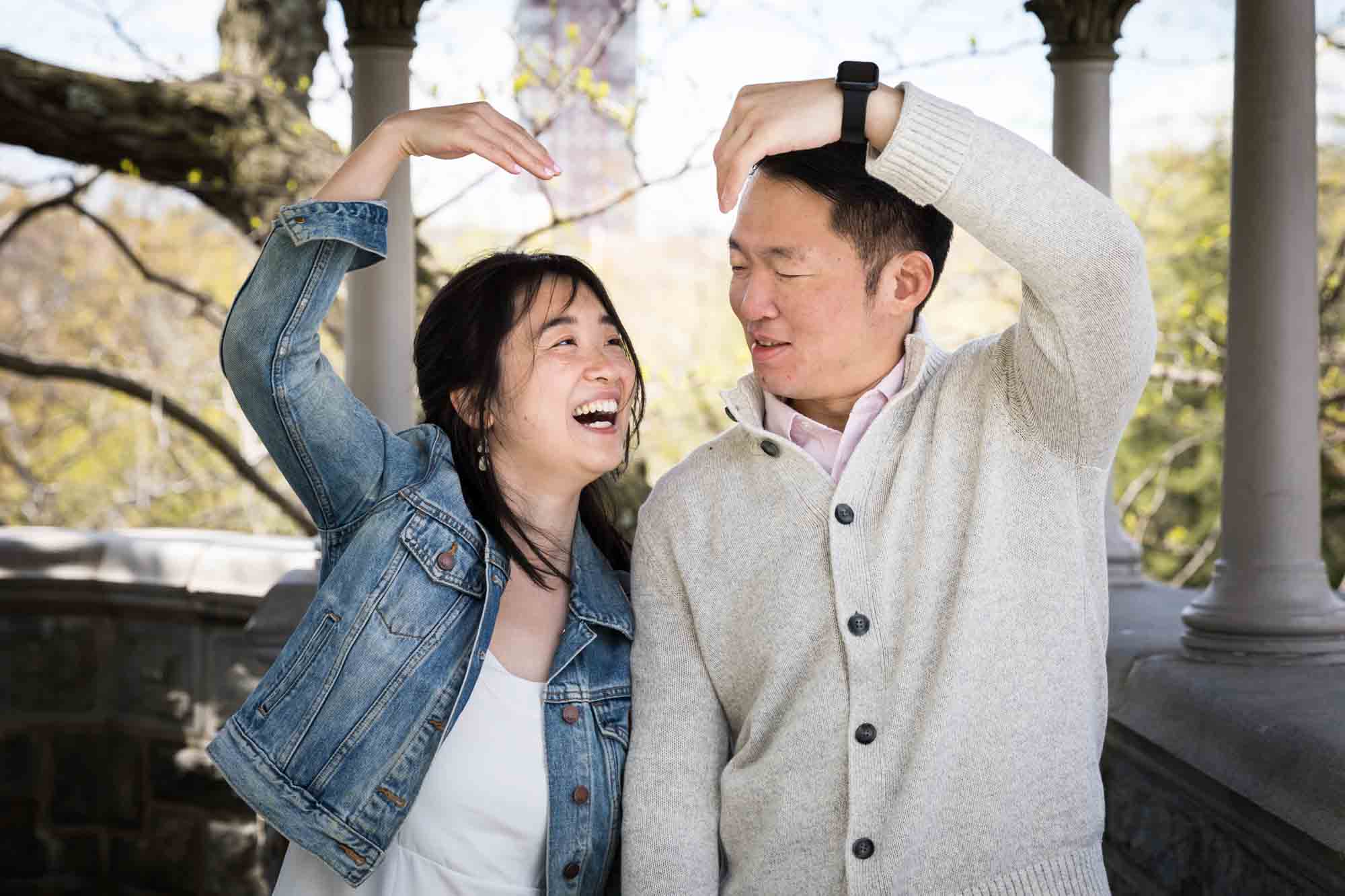 Once Wendy and Joe were done dancing in the garden, we walked back to Belvedere Castle. There were lots of crowds, but I managed to make it look like they had the place all to themselves by hiding tourists in the background and focusing on the side turret areas. These side turrets may now be considered 'stroller parking' according to the park signs, but they make for great shady niches.
Next up on the Central Park tour was a walk through the Ramble. We stopped on the Oak Bridge, which has just be renovated, and then hung out under the Stone Arch. If you have more time in the park, I recommend heading further into the Ramble and then over to Bow Bridge. From here you can head either to the Bethesda Terrace for more classic photos in Central Park or over to the 72nd Street entrance of the park for scenes of the NYC skyline.
For our final location we took a car service over to Sarabeth's on Central Park South. Wendy and Joe swear by the muffin platter, so of course I had to take a photo of the engagement ring on top of the baked goods.
About Wendy and Joe
Wendy and Joe are part of a fantastic friend group who all go to the same church. This is where they met two and a half years ago. This friend group includes the fun couple Nancy and Jeff (check out their cosplay engagement session here and their Halloween-themed wedding at Bear Mountain here) and Cindy and Alan (check out their Brooklyn restaurant wedding here). It has been so much fun photographing all of their friends, and I can't wait for their wedding this June in Flushing.
Enjoy the images and I'll have more photo adventures for you next week!
Looking for some more Central Park engagement photo tips?  Check out my articles here.
___________________________________
Interested in creating some Shakespeare Garden engagement photos of your own?  Drop me a line, and let's chat about your photography needs.
If you would like to see more images from my engagement portrait portfolio, then please visit my website – KellyWilliamsPhotographer.com