A Bacchus Bistro & Wine Wedding in Brooklyn
If good food is the top priority for wedding, then a restaurant would seem like the obvious choice for your venue. In today's blog, I go over all the details of Cindy and Alan's fabulous fete at Bacchus Bistro and Wine in Brooklyn to discuss the pros and cons of of a restaurant wedding. Bon appetit!
For small weddings, the choice of venues in NYC is virtually limitless. While on the one hand some of the larger venues are off the menu due to a required guest count of at least 100, on the other hand fewer guests mean more opportunities to get creative in your choice of spaces. Beyond the boring wedding hall are a whole host of spaces including art galleries, libraries, and restaurants. Cindy and Alan wanted a space that could accommodate their 85-person ceremony and serve excellent food in a garden environment. Bacchus Bistro and Wine Bar fit the bill perfectly. The space has a large, covered patio, and of course, the restaurant is well known in Brooklyn for its French fare.
Getting Ready
The day started off with the groom getting ready in the couple's Harrison, NJ apartment, and the bride getting ready in an AirBNB apartment steps away from the restaurant. In case you are not hip to the trend, people in New York City are using AirBNB apartments as their home away from home. My clients Ariel and Jeremiah rented an apartment for their cooking-themed engagement portrait so that they could stage the shoot in a grander kitchen. Why make a mess in your own apartment? Likewise, Cindy chose to get ready for her wedding at an AirBNB apartment because it was much cheaper than a hotel room not to mention closer to the ceremony site. The apartment was the perfect staging area for hair and makeup. Of course, the one major caveat to using an AirBNB apartment is that renting your apartment on the website is technically illegal here in New York. But until Cuomo cracks down, I say make smart use of the service for all your getting ready needs.
The bridesmaids' lovely locks were created by none other than the bride's sister, Wendy. Makeup for the day – done by The Misu Fix – was natural, and most importantly, completed on time. With all fancy eyelashes in place, we headed out the door to Brooklyn Bridge Park for portraits.
The First Look and the Wedding Dress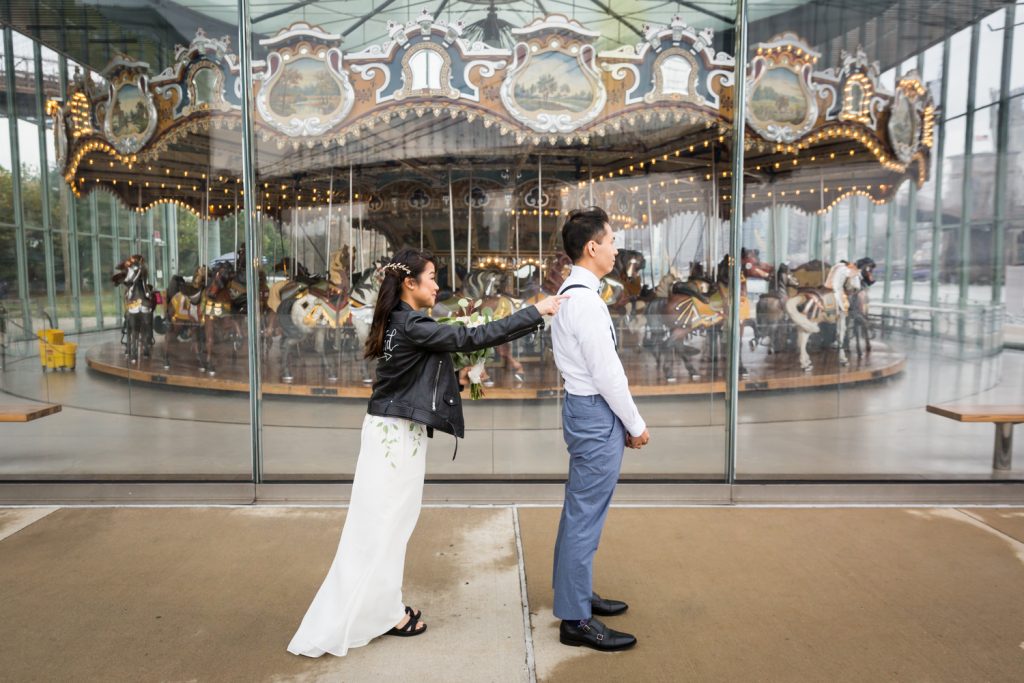 Jane's Carousel in the middle of Brooklyn Bridge Park holds a special place in Cindy and Alan's heart: it is the spot where Alan proposed. So, of course, this is the location where we had to set their 'first look.' While Alan had not seen Cindy in her dress yet, Cindy's dress ended up being a complete surprise… and a story that needs to be told. Originally, Cindy commissioned a young designer to create her dream wedding dress. She knew the designer through her church and everything was going according to plan. When she finally saw the dress for the first time, however, the fabric choice was unfortunately too shear. With her wedding day drawing near, Cindy decided to go another route and thankfully a creative option was available. Jeff's mother (of Nancy and Jeff's wedding at Bear Mountain) donated to Cindy a dress that was white with lavender flowers on it. It was too sizes too big and had a completely different neckline and straps, but no matter, two weeks later after alterations Cindy had a beautiful wedding dress that fit her to a T.
So the morale of the story is that if you are going to have your wedding dress made, have a backup in mind in case of catastrophe. I have actually born witness to two other cases where the handcrafted dress did not live up to the original dream. Make sure you and your designer are on the same page, use Pinterest or another visual mood board to concretely convey your vision, and be prepared just in case. By the way, finishing off Cindy's beautiful dress were gorgeous, 'semi-homemade' heels made by Nancy. The shoes were already beautiful, but Nancy took a gold applique crown and glued it to the heel of the pumps to add an extra dose of glamour to Cindy's big day.
The Portraits
After the first look and photos by the carousel, Cindy, Alan and I walked a short distance to the garden patio outside of St. Ann's Warehouse Theater. I have been taking photos in New York City for eight years, and St. Ann's has gone from a derelict ruin to a lush garden that is a joy to use as a photo backdrop. I have photographed proposals, family portraits, and of course, weddings here. It's a great setting, but of course, it is also very popular. We started taking photos in Brooklyn Bridge Park at 8:00 a.m., and crowds were already starting to form. The early bird gets the good photo, but if we had begun much later in the morning there would have been a line forming to take photos in front of the brick façade. Indeed, because there were so many people around Jane's Carousel that early in the morning, I elected to take the bridal party photos at St. Ann's Warehouse and not in front of the carousel.
The Bridal Party's Attire
So what's the story behind the bridal party's super cool outfits? First, let's talk about the groomsmen. Going without a jacket seems to be a new trend in bridal party attire. Only requiring the groomsmen to purchase pants, a tie, and suspenders definitely cuts down on the costs for the bridal party. In addition, with the heat and humidity we have been experiencing here in NYC, the look is a lot cooler.
For the ladies, those candy-colored, ombre dresses are hand-dyed originals. Cindy found the Kate Spade dresses at the annual Bridal Blowout sale at Housing Works. It was Nancy who came up with the idea to dye each dress a unique color. Cindy and her girls got to work dyeing each dress. It was a difficult process requiring a lot of careful planning and cleaning to make sure the dye did not spill on the upper portion of each dress. While the style lines of the dress are simple, the fabric is quite thick and required intense dye to get each final pale shade.
Furthermore, the thickness of the fabric meant that these dresses were difficult to steam. Most people have hand-held steamers that, while effective for a basic blouse, don't have the pressure required to steam out a dress made of stiff fabric. If you have a dress that will need to be steamed on your wedding day, make sure you have access to or can rent a professional steamer that has the pressure to really get out the wrinkles.
All of the bridesmaids' accessories – gold belt and gold and pearl hair pins – were purchased on Amazon. One brilliant tip I will personally take away from this wedding is that Cindy used three hair pins to get the single pin effect in each bridesmaid's hair.
Oh, and that leather jacket on Cindy has its own story to tell. The original 'Just Married' leather jacket was created by calligrapher Sylvia Wong. A few years ago, Sylvia designed this jacket for her own wedding and posted photos to social media. The jacket went viral, and a new project was launched where individual calligraphy artists create jackets in the same style from their respective cities.  Cindy's jacket was created by calligrapher, Ellen Liu Chan.  If you are interested in renting this leather jacket for your own walk down the aisle, check out the #TheJustMarriedJacketNYC website and read more about the jacket on the Huffington Post.
The Details
We finished the portraits early, and headed over to Bacchus. A few notes about the 'bling' for Cindy and Alan's wedding. Most of the details in Cindy's wedding were DIY projects lovingly created by family and friends. Alan put his creative skills on display with the wedding invitation. All of the signs for the wedding were done by Nancy, who also created the blooming ceremony altarpiece. The flowers, including the bridal bouquet and every centerpiece, were created by Cindy's friend, Jeane.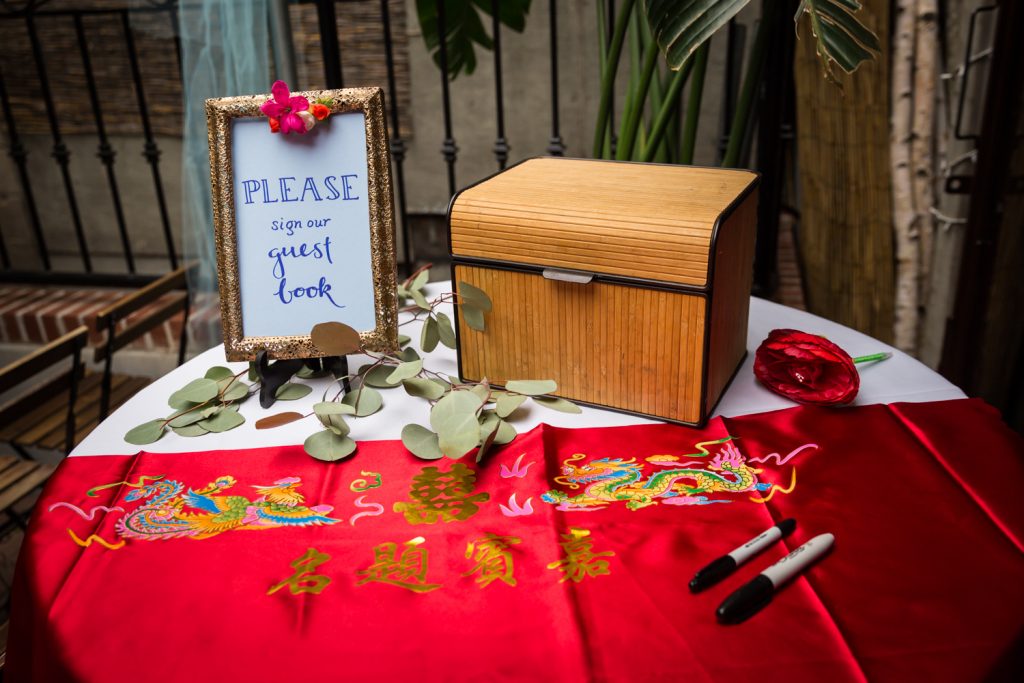 Finally, the guest book for the wedding was an exquisite piece of silk cloth which each guest signed. This is a Chinese custom, and Cindy wanted to honor her family's heritage by continuing the same tradition. She mentioned to me that she got the idea by coming across the wedding cloth of her parents not long ago.
The Ceremony
The ceremony was a fun affair, and the star of the show was Kori, Alan's nephew and all around fantastic ring bearer. He came running down the aisle like a bolt of lightning, ring box in hand. Hilariously, after such an auspicious start he got tired of the job mid-aisle, and decided to pass off his treasure to a nearby guest. After being persuaded to hand the rings over to Alan, he sat back in his seat.
Cindy was escorted down the aisle by her father, who carried a portrait of her mother as a touching tribute. At the end of the wedding, Cindy and Alan had guests toss tissue paper confetti, which was a beautiful way to end the nuptials. Cindy loves color, so confetti was absolutely the way to go.
The Reception
Since it was a brunch wedding, Cindy wisely chose to shorten her cocktail hour to only 30 minutes. It was a quick transition to the reception with introductions and the couple's first dance. Cindy and Alan are a model couple of what you should do during your first dance: look at each other. I'm sure Alan (and perhaps Cindy) was nervous on the dance floor, but you wouldn't know it by how the couple looked at one another. Cindy sang to Alan, and the intense connection between these two translated into beautiful photos. If you are wondering how to get the best first dance photos, follow Cindy and Alan's lead and read my blog post on the subject.
Towards the end of the reception, the Best Man and Maid of Honor gave toasts, and then Cindy and Alan said a few notes of thanks. Cindy spoke to her father and in-laws in Cantonese, and it was truly a touching moment, even if you didn't understand exactly what was being said.
The reception ended with the cake cutting. Rather than go with the usual overstated wedding cake covered in fondant, Cindy served three cakes from Whole Foods: red velvet, strawberry, and chocolate. (They chose to cut Alan's favorite, strawberry.) Cake and flowers are often the most overpriced items in a wedding, so this was a very smart decision. Plus, guests got to choose what flavor of cake they want. Win win!
Hosting a Restaurant Wedding: The Pros
Feeling inspired by Cindy and Alan's restaurant wedding? Well then let's discuss the pros and cons of holding a wedding at a restaurant. First and foremost, you know the food will be good.
Proven food quality. As opposed to some venues where you get a tasting that may or may not live up to expectation on the big day, with a restaurant you have the opportunity to taste test the food yourself more than once in order to judge both the quality and consistency of the chef. If you like what you have eaten after multiple dinners, there is a good chance that the restaurant will serve the same quality on your wedding day.
Neighborhood feel. Bacchus Bistro and Wine Bar is a popular restaurant on Atlantic Avenue. If you live in the area, you know the restaurant well. Guests coming from Brooklyn already got a sense of Cindy and Alan's wedding just from seeing the name of the restaurant on the invitation.
Easy to preview. While Brooklyn-based guests may already know the restaurant well, the Bacchus' online menu gave guests from out of town a preview of things to come. If you are holding your wedding at a restaurant, guests from all zip codes can go online and check out the restaurant's menu to dream of what will be served on your wedding day. If any guests have special dietary considerations, they can also view the menu to see how vegan or gluten-free friendly the menu is.
Ah, the memories. Wouldn't it be great to hold your wedding in the same spot where you had your first date? That can definitely happen in a restaurant. What better place to say 'I do' than in the same location where you first shared a glass of wine, as opposed to a sterile banquet hall that holds no memories for either of you other than perhaps being the spot where you last attended someone else's wedding.
Hosting a Restaurant Wedding: The Cons
Space can be an issue. In the case of Bacchus, the restaurant has a charming patio. Everyone had a great time and enough room to mingle, but it does lack a central spot where events can be viewed by all of the guests at the same time. For Cindy and Alan's wedding, the first dance was held near the entrance to the patio, and the cake cutting and toasts were in the central corner. Unfortunately, anyone seated on the far corner inside the patio area couldn't see any of the action. It was a small price to pay for such a lovely space, but bear this in mind when you preview your venues. Consider where the guests will be seated and where events will take place.
Service for a wedding is different. The staff at Bacchus worked super hard, and there were no complaints on service at all. It was clear that the restaurant was determined to provide each of Cindy and Alan's guests with the best experience possible. Still, it's important to note that banquet service for a wedding is different from one-on-one table service at a restaurant. Restaurant staff may not be used to taking orders for a large table and order mix ups may occur. Just keep this in mind when you interview the restaurant management for your own wedding and ask them how many large events they service on a regular basis. If the restaurant hosts large events often, then their staff will be well trained. If the staff at the restaurant does not seem up to the task, then consider opting for a buffet over table service.
Overwhelmed staff. Also take into consideration the fact that a wedding will max out a staff's capabilities. If the restaurant plans to keep the regular bar and table service open at the same time as your event, will they have enough staff to cover both sides of the restaurant?
A/V capabilities. Finally, most wedding-only venues have a range of A/V facilities capable of handling any microphone or slideshow needs. Most restaurants, do not. Make sure to ask your restaurant ahead of time if they have the required things you need for your toasts or for any presentation. If you will be hiring a DJ or band, have them get in touch with the restaurant directly to take care of any power and speaker needs before your big day.
Cindy and Alan had a fantastic wedding at Bacchus, and I would encourage all couples to think beyond the boring wedding hall and take another look at what their local restaurants can offer.
Coming up on the next blog: a community garden family portrait that would make Martha Stewart proud.
Vendors
Ceremony and reception venue: Bacchus Bistro & Wine Bar
Portrait venue: Brooklyn Bridge Park
Bride's dress: repurposed dress from a family friend
Bride's shoes: Poshmark for the actual high heels, then gold applique by Nancy Xu (found on Amazon)
Bride's leather jacket: Ellen Liu Chan, #TheJustMarriedJacketNYC
Bride and bridesmaids hair stylist: Wendy Truong (MOH!)
Bride and bridesmaids makeup: The Misu Fix
Groom and groomsmen's attire: Express (pants, suspenders, tie)
Bridesmaids attire: dress by Kate Spade found at Housing Works Bridal Blowout sale, hand-dyed by Nancy Xu
Bridesmaids accessories: Amazon (gold belts and hair pins)
Wedding rings: I.D. Jewelry
Floral centerpieces and all bouquets: flowers from FiftyFlowers.com and arranged by Jeane Tumbaga
Flower vases: TheRDStore.com
Invitations: Alan Tam
Ceremony altarpiece: Nancy Xu
Wedding signage: Nancy Xu
Caterer: Bacchus Bistro & Wine Bar
Wedding cakes: Whole Foods
Guest favors: Stumptown Cold Brew
Getting Ready lodging: AirBNB
If you would like to see more images from my wedding photojournalism portfolio, then please visit my website – KellyWilliamsPhotographer.com