Where to Go for Great Photos
I have lived in New York City for 16 years, and quite frankly, some parts of the city are simply crying out for an engagement shoot. While most people gravitate to Central Park and other iconic locations, there are a few spots around town that are underutilized – namely, Gantry Plaza State Park. In today's blog, I give you all Gantry Plaza State Park engagement portrait tips you need for a trip to the Long Island City waterfront.
Gantry Plaza State Park Engagement Portrait Tips – Overview
Let's start with a basic overview of Gantry Plaza State Park. The park runs along the East River, and you might know it from the Pepsi-Cola neon sign. Most people take photos just in front of the sign, but there's a whole wealth of landscape to explore in the park. I recommend starting your photo shoot in Long Island City, then working your way to the park, and finally ending the session back in Long Island City at a local bar or restaurant. This area has changed so much since I first came to New York, and it really is a hip and happenin' part of town (as the kids say).
Where to Begin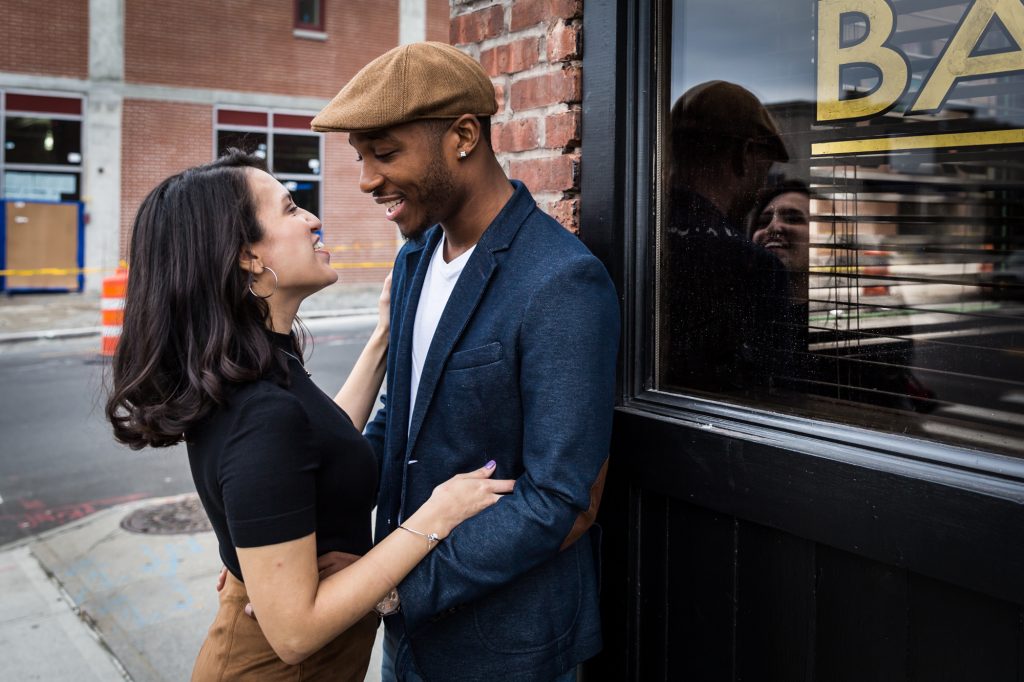 For Samantha and Cameron's Gantry Plaza State Park engagement shoot, we began at 46th Avenue and Vernon Boulevard, right in front of the LIC Bar. There's a bit of construction going on at Vernon Boulevard at the moment, but that should be done shortly. The bar window has a total old school, retro look to it, and you know how I love my window reflections. If you're into graffiti, walk along Vernon Boulevard towards the Queensboro Bridge to see some interesting graffiti.
For the next part of your shoot, walk towards the waterfront along 46th Avenue. The street has some unique features, including the brick, walled patio behind the LIC Bar, a few interesting alleyways if you're looking for an industrial feel for your shoot, and some colorful, fun graffiti at the corner of 46th Avenue and Fifth Street, right in front of the Rockaway Brewing Company. It's on this corner that I made Samantha and Cameron get their groove on. I should note that we were joined on the shoot by Julia, Samantha's mother. She was such a delight to have along for the ride! Most importantly, she had my back for this particular shot. What you can't see is that I am lying in the road in the middle of the intersection, shooting from the ground up on the couple. While I have never had a couple get hit by a car during a photo shoot, I have nearly been hit myself a couple of times.
The Waterfront
Next up is walking to the waterfront. When you arrive at the waterfront, you will be find the Pepsi-Cola sign directly to your left. While this will probably be the highlight of your shoot, don't let it be the only part of your shoot. There's lots of waterfront and other great spots to visit. Take note that there is some landscaping in process just to the right of the sign, so as of October, stay to the left of the Pepsi-Cola sign for photos.
I'm a huge fan of making use of an environment's unique features. At Gantry Plaza State Park in particular, the park has several interesting benches. Take notice of the square, wooden benches as you walk around the park's boardwalk, and also make sure to use the curved benches at the end of the pathway. I found these benches in particular to be a fantastic way to add an interesting element of shape and texture to the shoot.
At this point on the waterfront you're going to get your best view of the New York City landmarks, including the Empire State building and the Chrysler building. You've got quirky shapes all along the water, but these will be the buildings that people can pick out of a crowd.
Main Entrance Area
You will now find yourself at the main entrance to Gantry Plaza State Park. This will put you directly in front of the ruins of the dock facilities that were originally in operation when the area was an unloading dock for the Long Island Railroad in the 1920s. You can get your best shot of these disintegrating metal dinosaurs by standing on the platform or stairs directly in front of the structures. Also, don't forget that if you go out on the dock and turn around, only then can you see the 'Long Island' sign. For those of us who live in Queens, it's a little gem of a detail that most people don't know about if they're just walking past.
Additional Spots to Visit
My photo shoot with Samantha and Cameron only lasted an hour, but if you'd like to add more time to your portrait session then I would tack on the following: more photos out on the pier in front of the old dock facilities structures, and a few more photos within Long Island City itself. One beautiful, tree-lined street to include in your shoot is 45th Avenue. That said, it kind of depends what your connection with Long Island City is: are you just a fan of the park, or do you live here and want to show off your favorite bar, restaurant, and bodega. Samantha and Cameron live in Forest Hills, and have always been fans of the park, so that's where we concentrated the bulk of my shot list.
As a big finale, I'm always a fan of ending a photo shoot with a celebration. Keep it local with a glass of wine, or keep the adventure going and take a ferry ride into the wild blue yonder. The ferry service is going gangbusters down on Long Island City, and I'm dying for someone to take me up on the offer of a boat ride. Please?
Permit Peril
One note about setting up a photo shoot at Gantry Plaza State Park: you are technically not allowed to shoot here without a permit. And if you're going to show up to the park wearing a big white dress, expect to be shut down promptly. In past years, I have been chased out of the park by security guards. The state wants it's money, and unless you pay the $30 permit application fee, the security guards will not allow you to photograph a bride and groom here, much less a large bridal party.
That said, as long as you show up without the wedding attire, you should be fine. On my last three trips to Gantry Plaza State Park, I did not any security guards. I don't know if it's just a matter of state cutbacks, but they don't seem to be enforcing the permit rule as stringently. For my engagement shoot with Samantha and Cameron, I saw no guards, and we weren't hassled at all. It's just something to bear in mind. I always have back up locations at the ready so that if we do in fact have to leave the park, we could then head into to Long Island City and take photos there.
I think these photos are a great sign of what's to come with Samantha and Cameron. These two love birds met while in college at St. John's University, and they're planning to get married down in my home state of Florida. If you can't get married in New York, your next best bet is Florida, in my humble opinion.
Want to see more Gantry Plaza State Park engagement photos? Check out images from Rupa and Ian's engagement shoot.
Drop me a line if you'd like to talk about setting up a Gantry Plaza State Park engagement shoot or for information about further adventures in Queens.
Just in case you need it: Gantry Plaza State Park photo permit link
If you would like to see more images from my engagement portfolio, then please visit my website – KellyWilliamsPhotographer.com