I don't get asked to photograph that many senior portraits, so it was a pleasure to photograph Tom and Kristine's sons in October. Initially, this was going to be solely a Central Park senior portrait session for Tom's oldest son who will be heading off to college. But why should one son have all the fun? The photo shoot quickly turned into a super fun family portrait session that got everyone involved in front of the camera. Find out all the details in today's blog post!
Central Park Senior Portrait Session — The Planning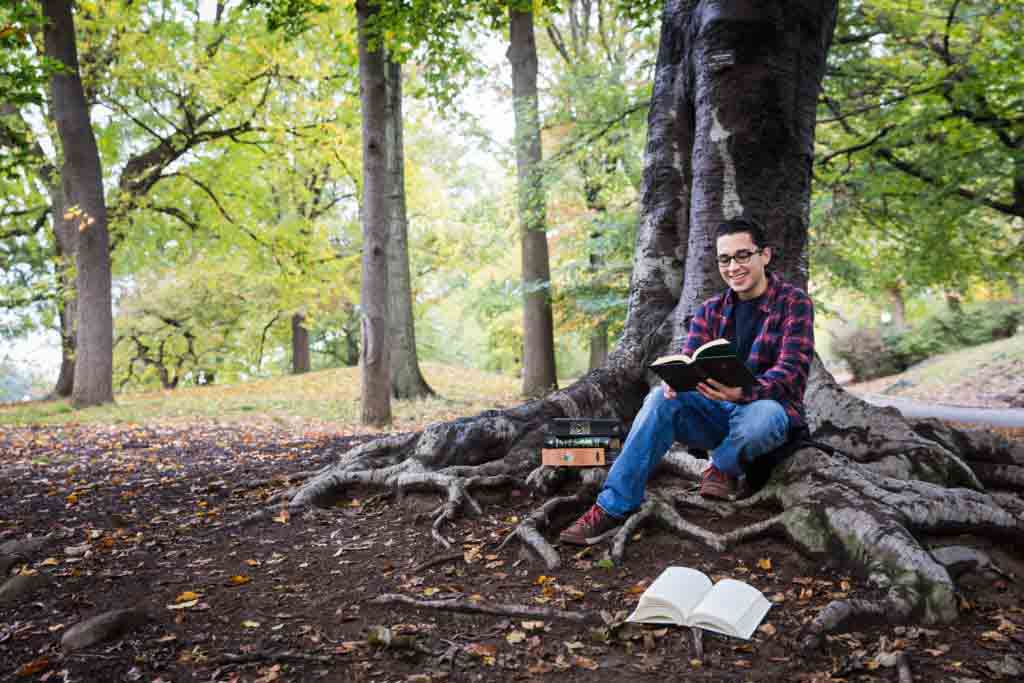 Back in my day, senior portraits looked something like the infamous 'Glamour Shots' you found at the mall. I'm really showing my age here, but I have always associated senior portraits with these stiff, overly filtered photos of yore. Kristine remembered these photos all too well, and she didn't want to have the same type of photos for her two sons. As such, we planned the perfect anti-'Glamour Shot' senior portrait session in Central Park…no filters allowed.
Let me start by introducing you to Tom's son who will be heading off to college in the fall. He is interested in books and is quite a talented artist. The plan for the day was to have a photo session focused on him specifically, with photos of the rest of the family – Tom, Kristine, and their younger son – as time allowed.   The photo shoot was to begin on the steps of the Metropolitan Museum of Art, and then progress into a walk through Central Park – two of Tom's son's favorite locations in New York City.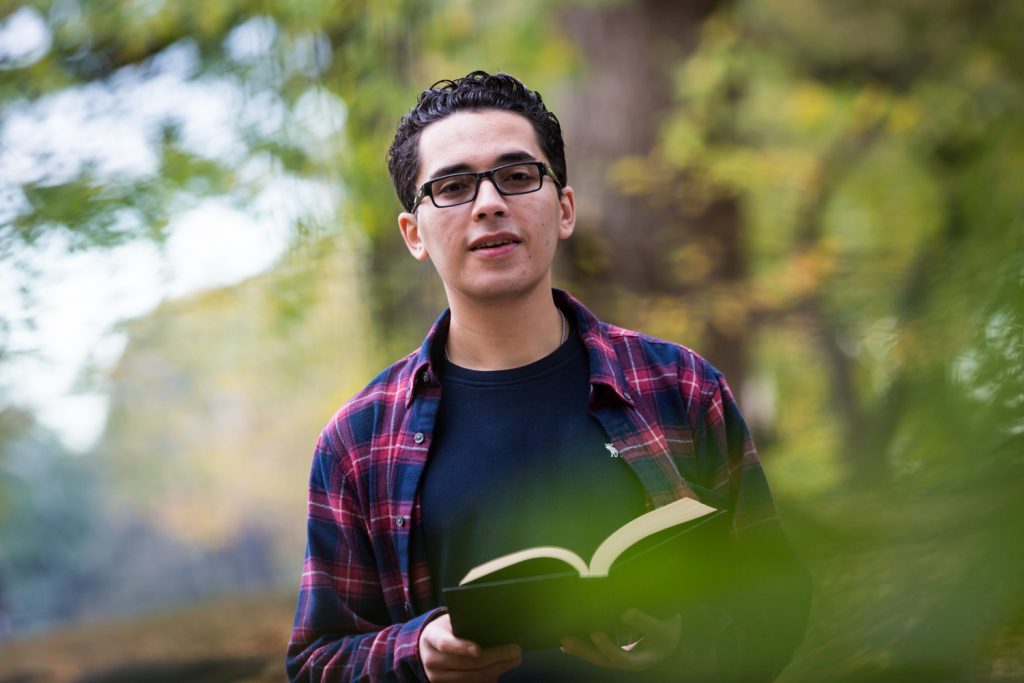 The photo shoot resulted in fantastic images, mainly because we started out on the right foot with a well-planned Pinterest page. Photographing older children can sometimes be a challenge just because of, well, teenagers. None of those challenges played out, however, as both of Tom's sons were great sports in front of the camera. The visual mood board that Kristine created for me was instrumental in giving me a solid idea of the look and feel she wanted for the portrait session. Her Pinterest page incorporated both her sons' interests, as well as other examples of senior portraits that the entire family liked.
I had a clear handle both on the look that the family was going for, as well as the things they wanted to do during the photo session. For instance, books play a big role in her son's life, so we made sure to include a photo of her son reading. Likewise, her other son is a big fan of the dramatic arts, and he is especially fond of the play Hamilton. So of course, we had to get a photo in front of the Alexander Hamilton statue in Central Park.
Tom and Kristine wanted me to concentrate on the kids, but once they saw how much fun their sons were having in front of the camera, they felt relaxed enough to jump in front of my lens as well. It was such a pleasure to photograph Tom's family, and I hope we get the chance to come together for her younger son's graduation as well.
Senior Portrait Session Photo Tips
I've gone over the basics of photographing older children in a recent blog post, so check out the link here. The highlights of the article are as follows:
Treat teenagers as adults and respect both their suggestions and their limitations
Make your photo setups as quick and painless as possible
Prevent boredom by having a variety of backgrounds and locations on your shot list
Know that public embarrassment for older children is a very real fear
Have your locations planned out well ahead of time
Put together a Pinterest page or visual mood board with the kids' involvement
Ask your kids directly if they have any special photo requests
In addition, here are my senior portrait photo tips:
Showcase your senior's hobbies. Senior portrait sessions are a step above a normal family portrait, and focus almost entirely on the interests of the teenager in question. It's tough to distill someone's personality into one photo session, but if you can narrow it down to a few hobbies, these are great angles to think about for your photos. Sports and artistic endeavors – including dancing, drawing, and playing music – can easily be translated into great photos with the right props. So plan out your props ahead of time and get creative. If you can do it, I can photograph it.
Get that cap and gown ready for the camera. In addition to hobbies, a senior portrait normally also showcases the graduation cap and gown. Tom and Kristine brought a whole wagon full of props for the day, including their son's neatly steamed cap and gown. Tom's son wasn't a fan of the dangling tassel so I had him hold it out for a close-up. He looks great in his gown, and if only the pandemic hadn't happened, then he could have proudly worn it on stage at his graduation.
Senior portrait = family portrait. Finally, don't hesitate to turn a senior portrait session into an all-inclusive family portrait. It's rare that you find a kid who wants to hog the spotlight, so sharing the camera with other family members will make everyone more comfortable. After all, this is one of the last times you can all get together before your senior flies the nest so take full advantage.
Enjoy the photos, and I'll have more adventures for you next week!
---
Interested in scheduling your own Central Park senior portrait session? Drop me a line and let's chat.
If you would like to see more images from my family portrait portfolio, then please visit my website – KellyWilliamsPhotographer.com