Go Beyond Belly-Cupping
For most moms-to-be, the maternity portrait session is a tricky affair. How do you take a good photo when you are not feeling the most comfortable?  Further, how do you strike a balance between showing off the miraculous state of your body without making your stomach the entire star of the show?  In today's blog post I tackle these questions and offer a few modern maternity portrait tips to help you glow in front of the camera.
Allow me to introduce to you mother-to-be, Swapna, whose maternity portrait session at the Brooklyn Bridge Park was one of my all-time favorite shoots. Swapna wanted to schedule a photo shoot that showed off her tummy in a more subtle manner. As she put it, she wasn't really a 'belly-cupping' kind of a girl. The portrait session was a family affair and included her husband, Johny, and their precious fur-baby, Nobu. So with Swapna as my beautiful model for this article, here are my top maternity portrait tips:
Maternity Portrait Tips: Planning
Schedule your session for your seventh month. The reality is that you may be feeling uncomfortable in your eighth or ninth month of pregnancy. So plan ahead and schedule your maternity session when your belly is at its roundest but you still feel your best – which is probably in your seventh month.
Your stomach doesn't need to be the star of the show. Granted, the whole reason behind a maternity portrait session is to show off your exquisite curves, but your tummy doesn't need to be the entire focus of every photo. This should be a session that should be more properly framed as a family portrait shoot before the baby arrives. As such, a little bit of belly-cupping goes a long way. The poses we do together will hint at what's to come, but the main focus is how beautiful you look and your beautiful family.
The more, the merrier (in front of the camera). The first half of the photo session will focus on you, the mother-to-be. But after that, everyone should join in. Your partner and other children (including pets!) should actively be part of the portrait session and show how excited they are for the newest member of the family to arrive. In addition to getting photos of the entire family together, it's important to show the relationship between you and individual members of your family. So that means including photos of you and your partner alone and you and each individual child alone.
A little bit of belly goes a long way. We have all seen that are truly cringe-worthy. Any blatant sexual imagery or the use of too much nudity is simply out of line for a maternity shoot in my opinion. Remember: this is a family photo shoot. To make sure you and your photographer are on the same page, you need to discuss with your photographer beforehand how much nudity you are comfortable with, and how much you expect for the shoot.
Maternity Portrait Tips: Details
What to wear: fitted vs. flowy. The epic question for maternity portrait shoots is always, 'what do I wear? I'm of a mind that subtlety is your friend. You can certainly wear a top or dress that hugs your curves, but a body conscious dress that fits too tightly all over might be a bit too much. You want your clothes to make you look your most attractive rather than simply pointing out the obvious fact that you are pregnant. Conversely, you also don't want to wear something that is too baggy and swamps your frame.
The best maternity portrait clothing options are a compromise between these two extremes and include a maxi dress, t-shirt or sweater and jeans (check out Alexandra and Matthew), or a sweater dress. And while most women choose an item of clothing that showcases their curves, you can also go in the opposite direction as Swapna did and wear a flowy dress with lots of fun movement. Don't for a second think that you have to stick to something long — why not show off those gams!  Solid colors are fantastic, but avoid any prints or textures that might detract from the baby bump. Finally, pay attention to the neckline of your outfit as most of your photos will be shot from the waist up. And don't forget to include statement accessories such as earrings, a necklace or a belt.
Include props. If you have anything with the baby's name or any special toys, by all means bring these props along to the photo shoot. Toys and shoes are excellent props, as are ultrasound photos. On the other hand, clothing and blankets aren't the best items to bring since it is tough to best show off these items without a hanger or model. Finally, balloons are never a good idea for photo shoots as they will never line up perfectly – especially on a windy day.
Maternity Portrait Tips: Day of the Shoot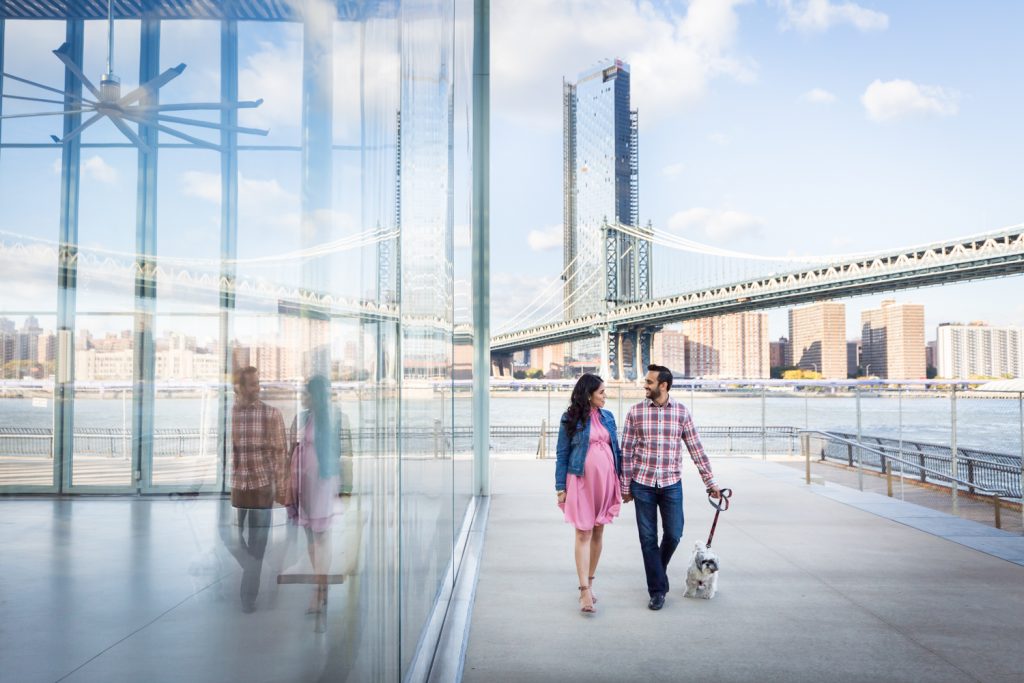 Pamper yourself. Being pregnant is a true miracle, and this photoshoot is a way to celebrate that fact. As such, why not treat yourself to a relaxing day of pampering before the shoot. You deserve a day at the salon, so get your hair and makeup done professionally and enjoy the 'me' time. (You'll have precious little of it once the baby arrives.) Most importantly, make sure you enjoy a good night's rest before the shoot so you are ready to greet the camera.
Posing basics. Rules were meant to be broken, but here are the basics for posing: elongate your neck, and tilt your chin down just a bit. Posture is everything, so do not slouch. Keep your shoulders back and turned slightly so that they are at an angle. Lean slightly toward the camera and angle your face and/or body. Make sure always that the lens is above you. If the photographer is shorter than you or if shooting from below, you will most definitely have a double chin in the photo. Project your chin forward and down in order to give yourself a clean jawline and eliminate the chance of a double chin.
Whew, that's a lot to remember. The bottom line for looking good in front of the camera is that you want to project your happiness through the lens. That's it. So relax and enjoy your photo session.
Mother's Day is coming up this weekend, and you know a family portrait makes the perfect gift! If you are a mother-to-be and looking to arrange a maternity portrait, drop me a line and let's schedule a session.
If you would like to view more images from my family photojournalism portfolio, then please visit my website – KellyWilliamsPhotographer.com