It was a busy weekend for Natasha and Chris, whose Columbus Citizens Foundation wedding was truly a dream come true.  The couple, who randomly met at a dinner years ago, got engaged over a romantic dinner their first day traveling in Toulouse, France.  Natasha and Chris are world travelers, and their honeymoon — starting this week! — will take them around the world, from Mexico and Hong Kong to Beijing and Europe.  Maximum adventure for maximum air miles — that's Chris' motto.
I started the day meeting Natasha, her godmother and her bridesmaids at the W Hotel in Union Square where they were all getting ready.  New York hotel rooms are notoriously small, but this suite had enough beautiful light for a room twice its size.  Couple that with lots of reflective surfaces, including the bathroom door, and you have some truly unique photos.  Natasha and Chris did all of the planning for this wedding themselves, and I need to take a moment to say thank you, Natasha, for giving me the gift of time — both in being on time and in scheduling enough time to take the perfect photos.  I think it shows in the images we captured.
Next on the day's agenda was the first look, which we held at Stuyvesant Square.  If you haven't been here, it's a precious little park with beautiful flowers.  The park is never crowded, and this gave the couple all the privacy they needed.  Indeed, because there were so many fewer people at this park we decided to do most of the bride and groom portraits here.  Compare this with the next stop, which was Madison Square Park.  Though there were lots of tourists getting lunch at Shake Shack, there is a cute little fountain that merits a few photos.  Also, Madison Square Park is perfectly located to take photos in front of the Flatiron Building.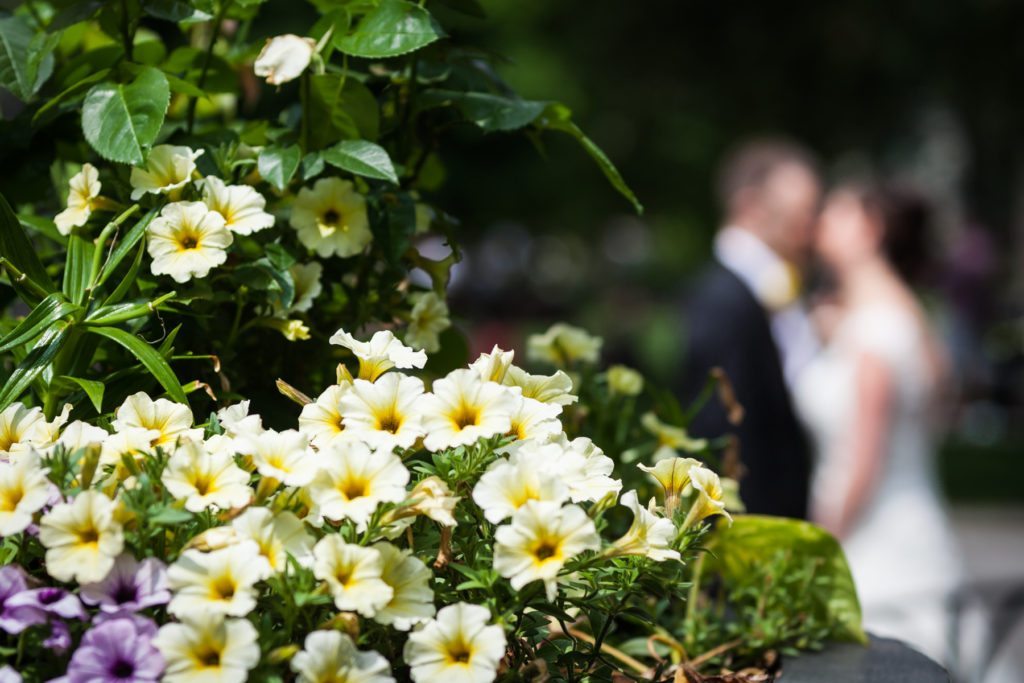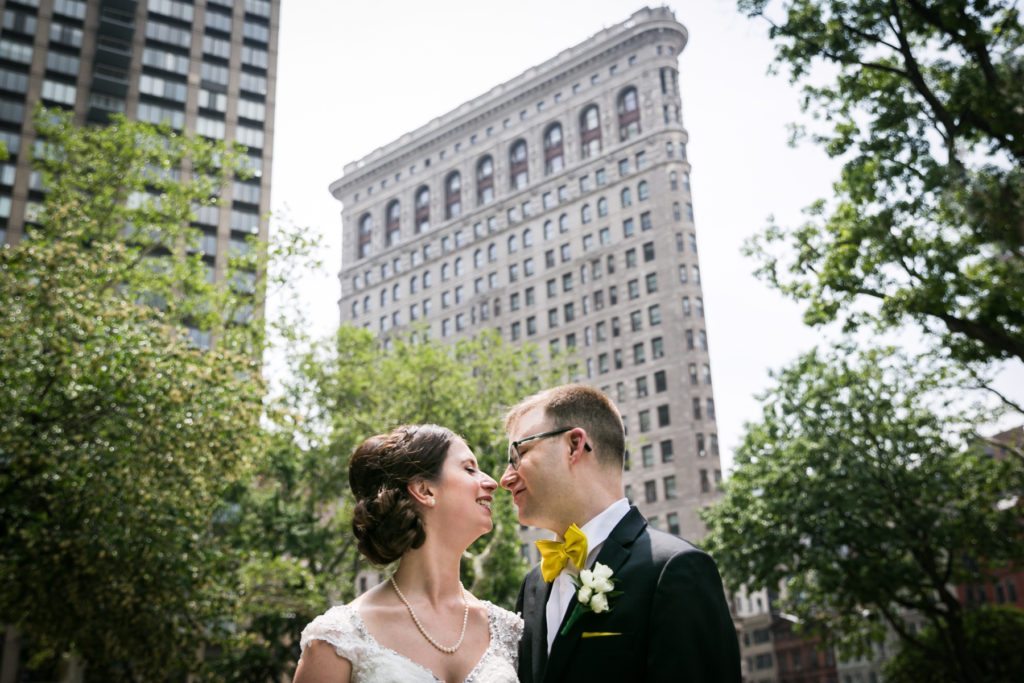 The biggest photo risk/reward for the day was to capture the bridal party in the subway.  This was Chris' top request, photo-wise, and I was determined to make it happen.  It was really hot on Saturday, and the MTA was not cooperating.  While the MTA gate keeper was kind enough to let the entire bridal party through without having any of us swipe a card (thank you!), there were train delays.  The R train finally arrived, however, and I got the shot I had been wanting of Chris and Natasha in front of the moving subway train.  It was worth the wait.
The ceremony venue, the Church of St. Francis Xavier on 16th Street, absolutely has to be seen to be believed.  It is one of the most awe-inspiring churches in New York.  Built in 1878, the founding of the church was truly a miracle (read about it here).  The homily delivered by Father Peter Fink was very touching, especially as this was his final wedding at this church.  He will be moving to Atlanta soon to take another congregation under his wing.  After the ceremony, all the guests welcomed the newly married couple with a torrent of bubbles.  Bubbles beat rice any day in my book for a ceremony finale.
We next headed into the limo for a final set of bridal party photos along 69th Street between Park and Madison Avenues.  We stopped for a few other pure NYC photos (note the tourists taking photos of the bridal party in the background!), before walking over to Central Park for some shots.  These Central Park photos were taken at the Dene Shelter at 69th Street and Fifth Avenue, which offers some spectacular views over the entire park and of the New York skyline.
Finally, it was time to get to the Columbus Citizens Foundation for the cocktail hour.  This was my first time shooting at this venue, and it is an undiscovered gem.  This is a private venue, and you basically need to know someone in order to hold your event here.  The building is stunning inside, with all of the old world charm indicative of the other private clubs in New York, such as the Yale, Harvard, or University Clubs.  You can read more about the history of this beautiful building on the foundation's website, here.
One unique aspect of this reception was a tarantella dance, which is essentially an Italian hora dance where all of the guests dance in a circle around the new couple.  At this point the drinks had been flowing, so I can't say it was an orderly procession, but it was fun nonetheless.  The dancing was fierce throughout the reception, as you can see from the photos.  Enjoy the rest of the images, and I'll have more news this week about which is better for your wedding schedule a first look, or a traditional first view down the aisle.  #Natella
Getting ready venue: W Hotel Union Square
Ceremony venue: Church of St. Francis Xavier
Reception venue: Columbus Citizens Foundation
Bride's hair and makeup: Jessica Grey
Cake: Hooked on Sweets
---
If you would like to see more examples of my work, such as these Columbus Citizens Foundation wedding photos, please visit my website.
Save
Save
Save
Save
Save