Got a big family that needs to be photographed? Well then this blog post is for you! Kristen contacted me recently about bringing her family in Middle Village, Queens together for a reunion in front of my camera. Challenge accepted, and I am happy to report that her Juniper Valley Park family portrait session produced some lovely memories. I have all the details below, plus some tips for your own family reunion photo shoot – so let's dive in to the post!
In case you are not familiar with my borough, Middle Village is a beautiful residential neighborhood located in central Queens. This sleepy little suburb is one of my favorite communities in New York City. Most notably, Middle Village goes all out when it comes to decorating during the holidays and I always love taking walks here to see the grand light shows on almost every front yard.
Juniper Valley Park Family Portrait Session —
Location Choice
We chose Juniper Valley Park as the location for the family portrait session. Juniper Valley Park is a beautiful, and quite expansive, bit of green space located smack dab in the middle of Middle Village.   The park features numerous outdoor sports facilities, lots of ballfields, and some festively colored trees during the fall season.
The park has a lot to offer, and accordingly, it is very popular with the neighbors. In scoping out the park during a walk one weekend, I found the eastern side of the park to quite crowded. The western corner of the park, by contrast, is a lot quieter.
I had everyone meet for the portrait session at the corner of Juniper Boulevard South and 71st Street. This side of the park includes the main baseball field, but with COVID-19 in full effect, I knew there wouldn't be any weekend games causing crowd interference. In addition to having less foot traffic, this side of the park has the added benefit of a public restroom in case any family members needed to change clothes during the session.
The Approach: Several Mini Family Portrait Sessions In One
Kirsten had one request for her family portrait: that I photograph many different family groupings. The plan was to have several mini family portrait sessions within the 90-minute time frame. Indeed, the guest list included five couples in total, three of which were engaged to be married! That is a lot of people and combinations to photograph, but what helped immensely was the complete list provided by Kirsten of each person's name, family connection, and comfort level in front of the camera.
As with all of my family portraits, I started with the money shot: a group photo of everyone together. From here, I split the shot list into smaller groupings. I knew I had to take special consideration for Kirsten's parents, and scheduled their photos next so that they could simply smile for the camera and then relax for the rest of the session.
We began the photo shoot in front of a row of trees along the edge of the park on 71st Street, and then worked our way just around the pathway loop using a different background for each family member group shot. In the end, every family member group was photographed at least twice and happy engagement photos were created for each of the three couples.
Family Portrait Fashion Tips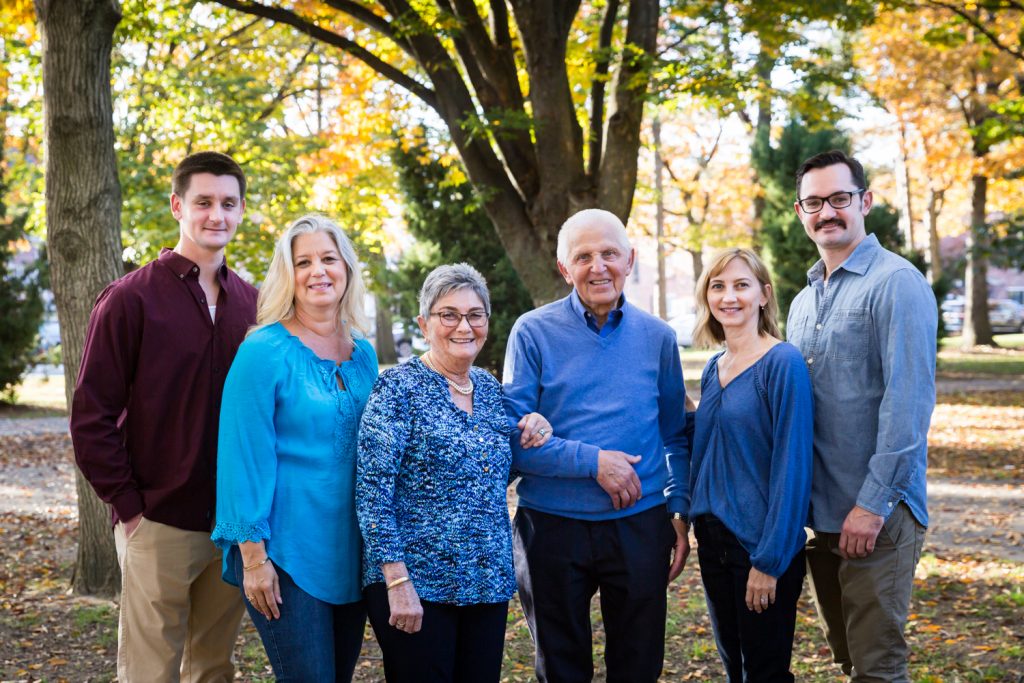 By the way, everyone looked great during the portrait session. I recommended to Kirsten my article on family portrait clothing tips, and everyone came ready in complimentary colors. No 1990s, matchy-matchy looks for this family!
Let's hope we can all get together again soon for family reunions – this time without masks. Enjoy the images, and I'll have more photo adventures for you next week!
---
Interested in scheduling your own Juniper Valley Park family portrait session?  Drop me a line and let's chat.
If you would like to see more images from my family portrait portfolio, then please visit my website – KellyWilliamsPhotographer.com