In this week's blog post, I will be sharing Jasmine and John's joyful Astoria Park engagement photos.  These two were such a pleasure to photograph, mainly because they are so comfortable with one another in front of the camera.  So, let's take a trip to Queens, and travel from one side of the park to the other with two people who are definitely in love.
Meet Jasmine and John
Let's begin this post – as always – by meeting the happy couple.  Jasmine and John met all the way back in 2007 as practitioners of Nichiren Buddhism.  They saw each other regularly through various community activities.  But it wasn't until a chance encounter at Astoria's Diamond Dog Bar in the summer of 2016 when their love story began.
Both Jasmine and John were at the bar to attend separate birthday celebrations for each other's respective friends.  At the end of the night, Jasmine and John exchanged phone numbers.  However, it would be two months until John finally mustered the courage to call Jasmine.
Their First Date
After a glorious first date at a Middle Eastern restaurant, John asked Jasmine if she wanted to go on a 'DATE date.'  Sadly, she declined.  It turns out that Jasmine was recovering from a recent heartbreak and had no desire to fall into another relationship so soon.  They hung out as friends for the next six months.  Luckily, Jasmine woke up and realized that the person she needed most in life was standing right in front of her.
And so, the next relationship milestone for Jasmine and John happened on April 28, 2017 with a walk along the High Line.  There is no one better than Jasmine to tell the story of that day, so here goes: 'On April 28, 2017, Jasmine and John went to the High Line to go on a walk.  About midway through, she stopped and said, 'I have to get rid of this emotional Mexican standoff.  I have feelings for you.'  You'd think a guy would be ecstatic over hearing this from someone, but not John!  HE JUST SAT THERE.  He didn't say anything or show any emotion for two minutes.  (Jasmine swears she clocked it!)  Finally, she waved her hand in front of John's face saying, 'I think I broke him.'  To which, John finally snapped to reality and immediately gave Jasmine the 'terms and conditions of the relationship: if we want to do this, we're going to be very deliberate about it because we're 'too damn old'; we're not going to tell the Buddhists until we know this is a thing because everyone is going to lose their minds with happiness; etc.  And surprisingly, Jasmine was like, 'OK.' April 28th will always be known as 'Feelings Day.'
The Proposal
After that dramatic tale, you can trust that Jasmine and John's proposal was equally theatrical.  Indeed, John popped the question to Jasmine while they were both attending the holiday party of the Playground Experiment Theatre Company on December 17, 2021.  Here is Jasmine to tell the story: 'John, who has no experience in theatre but has supported Jasmine and her theatre friends all these years, surprised Jasmine by submitting a monologue as his proposal.  In answer to the question, Jasmine replied, 'It's about fucking time!''  Shakespeare could not have written more poetic dialogue if he tried.
Astoria Park Engagement Photos – The 'First Look'
For Jasmine and John's wedding, the couple wanted every point of the process to be meaningful – from the engagement to the reception.  The couple live close to Astoria Park, and make regular visits there together.  They have a particularly favorite spot at 21st Avenue and Shore Boulevard.  This is where they wanted to have their 'first look.'  So, I suggested we start their engagement session here for a dry run of for their wedding day photo shoot the next day.
In case you haven't been down to this far edge of Astoria Park, 21st Street and Shore Boulevard has a great view of the Queensborough and Hell Gate bridges in the distance.  In addition, you have the Manhattan skyline coming into view.  With very little direction from me, I let these two just have fun in front of the camera and this is the magic that resulted.
Astoria Park Engagement Photos – Waterfront Views
If you are going to be taking photos in Astoria Park, there are two main focal points of interest: the waterfront with a direct view of the Queensborough and Hell Gate bridges, and the arches underneath Hell Gate Bridge.  We took care of both of these points of interest in quick fashion.  First, after Jasmine and John's 'first look,' we walked along the waterfront towards the main part of Astoria Park until we came to a break in the railing.  Here we were able to access some grassy terrain besides the water while avoiding the ugly fence.  The light was beautiful that afternoon and I basically just let Jasmine and John do their thing.
Astoria Park Engagement Photos – Flower Bed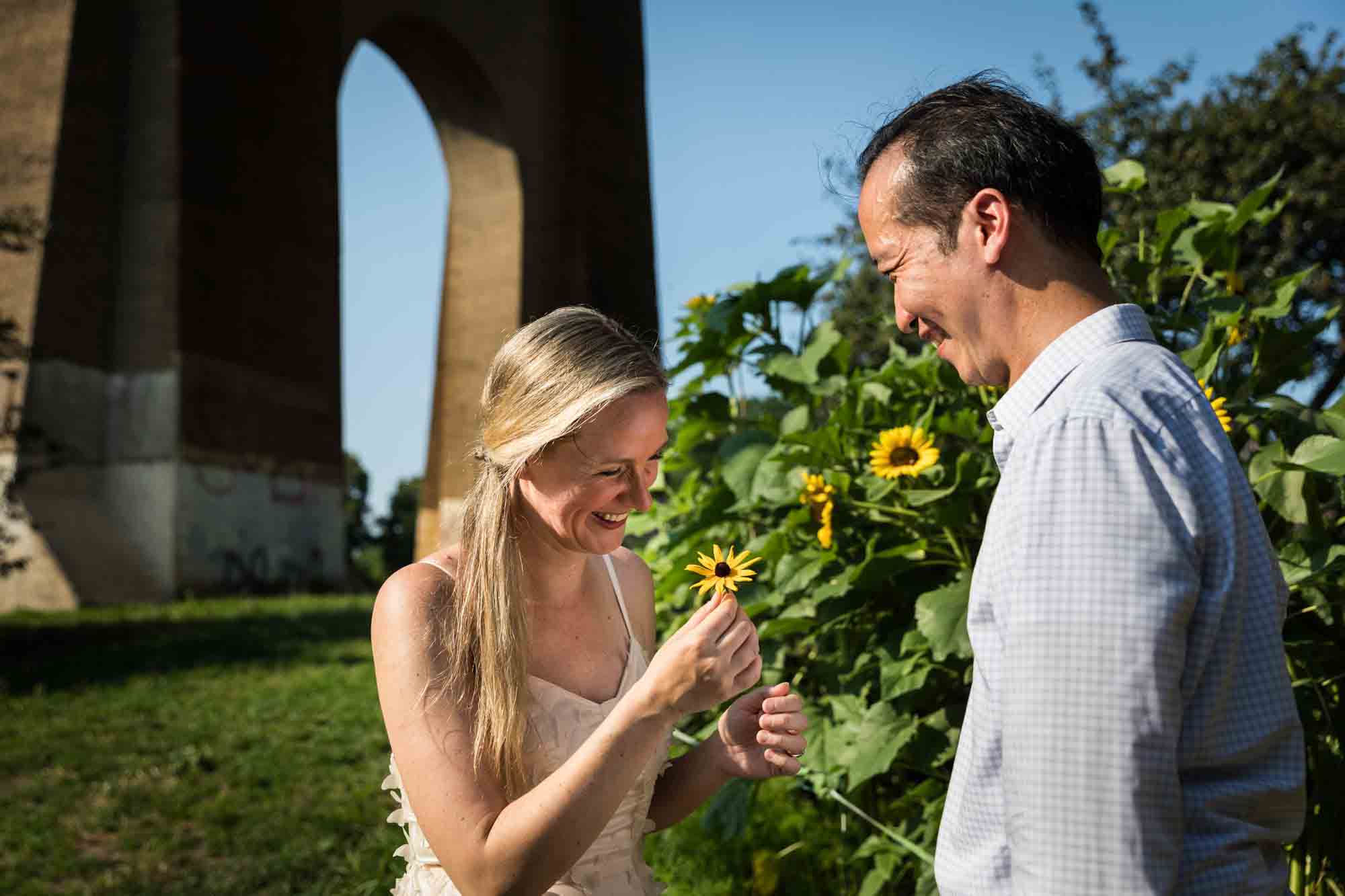 Our next stop was the arches underneath the Hell Gate Bridge.  But first we stopped by the little neighborhood garden.  In this little planted bed, there is normally always something in bloom.  For Jasmine and John's photo shoot, there were beautiful sunflowers, which we used as props in a few photos.
Astoria Park Engagement Photos – Hell Gate Bridge Arches
We ended the shoot underneath the Hell Gate Bridge.  Here I took photos of Jasmine and John skipping, dancing, and just overall having fun underneath the bridge arches.  These arches are probably the most prominent feature of Astoria Park.  Note, however, that the arches are increasingly becoming covered in ugly graffiti.  I removed all of the ugly marks through the magic of Photoshop.
The Rehearsal Dinner at Macoletta
We only spent an hour taking photos in and around Astoria Park, because Jasmine and John were due for their rehearsal dinner at Macoletta restaurant.  I have had quite a few couples like Jasmine and John who simply weren't in the mood, or didn't have time for, a full engagement shoot.  So, we split the two hours of photography provided in their wedding package with a one-hour portrait session and one hour of rehearsal dinner coverage.  This was the perfect equation because their rehearsal dinner was an easy, breezy casual affair that did not require extensive coverage.  The food was great, and the service was even better.  If you are in the neighborhood, you should definitely stop and have a slice while you listen to a jazz band play on the corner.
Enjoy the images, and I will have more photo adventures from Jasmine and John's Terrace on the Park wedding for you next week!
___________________________________________
Are you interested in taking your own Astoria Park engagement photos?  Drop me a line and let's talk about your photography needs.  I am in NYC until December 10th before I blast off to San Antonio, Texas.
If you would like to view more photos from my engagement portfolio, then please visit my website – KellyWilliamsPhotographer.com