How about a little touch of glamour to get your weekend started?  Jill and Ed are two of my favorite clients from this year whose Waldorf Astoria wedding was brimming with elegant and unique details.  To start with, they were married in a suite that was the the luxurious former residence of the Crown Prince of Saudi Arabia.  I mean, if you're going to do a small wedding, why not make it spectacular?  The opulence of the suite and its sweeping views of midtown were matched with a cozy intimacy which was perfect for the small guest list.
Waldorf Astoria Wedding Ceremony
After the ceremony — officiated by none other than the fantastic Rev. Annie Lawrence — the couple were toasted with champagne.  Check out the bride's cheeky nephew who enjoyed a glass (of cider) or two!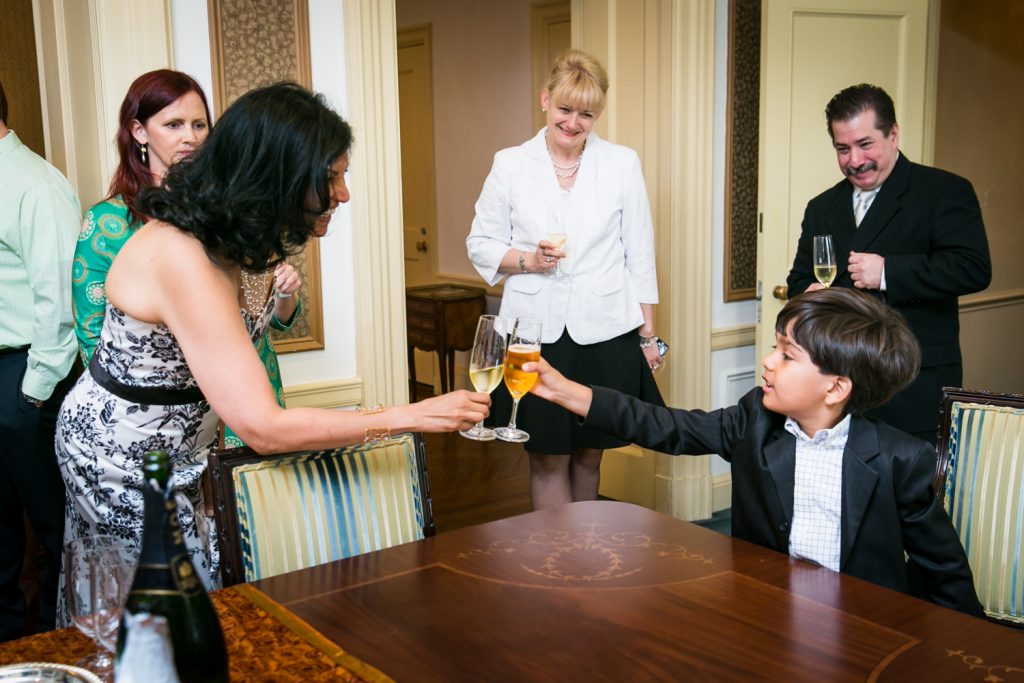 Gramercy Tavern Reception
Guests enjoyed a great ride to the Gramercy Tavern reception on a trolley. The food at Gramercy Tavern is always spectacular, and the table was overflowing with lush flowers and vegetation.  Speaking of good eats, check out the cookies and cream wedding cake from Amy's Bread.  As noted by Jill, she and Ed purchased the cake from the Amy's Bread location in Chelsea Market — the original home of the National Biscuit Company factory where the Oreo cook was invented.  Enjoy the pics!
Vendors
Ceremony Venue: The Waldorf Astoria
Reception Venue: Gramercy Tavern
Officiant: Rev. Annie Lawrence
Cake: Amy's Bread
Interested in other happy couples who have tied the knot in a hotel?  Check out Brenna and Phil's wedding at the Four Seasons Hotel or Mary Beth and Jon's wedding at the Wythe Hotel.
If you would like to view more images from my portfolio, then please visit my website — KellyWilliamsPhotographer.com.