If rom coms are your first love, then you will be giving two thumbs up to today's blog post.  Michelle wanted to ask her girlfriend, Alex, to marry her in a unique, yet personalized fashion.  How better to propose, she surmised, then to recreate her beloved's favorite movie scene.?  Read on to find out how to produce a movie-themed surprise proposal as I pay homage to the quintessential comedy, You've Got Mail.
Meet Michelle and Alex
These two lovebirds met cute online, and happen to live in Hollywood.  Thus it seems fitting that Michelle's proposal to Alex would be just as entertaining as her life with Alex in La La Land.  And since You've Got Mail is the go-to film that they have watched together over and over again, Michelle knew this film was the key to winning Alex's heart.
How to Produce a Movie-Themed Surprise Proposal – The Script
The plan for the day was to visit several of the film's pivotal locations on the Upper West Side.  The proposal itself would happen in the same location as You've Got Mail's climactic ending.  I am a huge fan of movies and unique photo shoots, so you know I was game to search out the locations and put a shot list together.
How to Produce a Movie-Themed Surprise Proposal – The Preparation
I started by doing some online research.  In today's digital age, researching the locations of your favorite films turns out to be quite easy.  However, lots of things have changed, especially after Covid.  Several of the spots we wanted to visit were either no longer in existence or had been completely faked for the movie.
How to Produce a Movie-Themed Surprise Proposal – The Opening Scene
The start of the shoot, and the site for Michelle to get down on one knee, was located in Riverside Park at approximately 91st Street (you can find it marked as 'Garden People' on Google maps).  I sincerely wish more people will use Riverside Park for portrait sessions, regardless of the nature of the shoot.  From family portraits to engagement sessions, Riverside Park has so much to offer.  You have the waterfront, wide open avenues to walk down, and a gorgeous, fenced-in garden that is almost always overflowing with colorful blooms.  In comparison, I personally think Central Park is overrated and tends to be so much more crowded.
How to Produce a Movie-Themed Surprise Proposal – The First Act
I am happy to announce that the proposal went off without a hitch.  The crowd levels were quite low, and we pretty much had the garden all too ourselves at 5:30 p.m. on a Friday afternoon.  This spot in Riverside Park, in case you are not familiar with the movie, is the location where Meg Ryan meets Tom Hanks.  Here, in front of the garden's gates, she realizes he is the love she has been looking for all along.
More You've Got Mail Locations
After taking photos on a nearby bench in Riverside Park, we headed to our next film location, which was the steps of the brownstone that served as Meg Ryan's apartment in the movie.  The apartment is located at 328 89th Street, and it has a lovely double staircase.  As always, I encourage fellow photographers to be respectful of local residents and spend as little time as possible on the stairs.  But that said, I can't believe we are the only ones who have stopped and taken a photo in front of this beautiful apartment building.
New York City Ambience
New York City has a lot to offer in terms of photo opportunities on the streets.  After our brownstone shot, it was time to take some photos showing the passing traffic, a canyon-view towards downtown, and just a few 'in the moment shots' showing the commotion of the surrounding neighborhood.  There's really no way to have the streets all to yourselves in this part of town, so you might as well soak up the atmosphere and take some photos while you're doing it.
Times Have Changed
Our next location was originally supposed to be Café Lalo.  Unfortunately, the café seems to be in the middle of an eviction dispute at the moment, and is currently closed.  Café Lalo is a classic NYC institution, and I do hope they reopen soon.  In the meantime, we were 'forced' to go inside for ice cream.  As a sidenote, it was incredibly hot and humid during Michelle and Alex's photo shoot.  They were both troopers for putting up with the New York City humidity.  Our quick stop inside the Van Leeuwen ice cream shop was a welcome relief.
Verdi Square & Gray's Papaya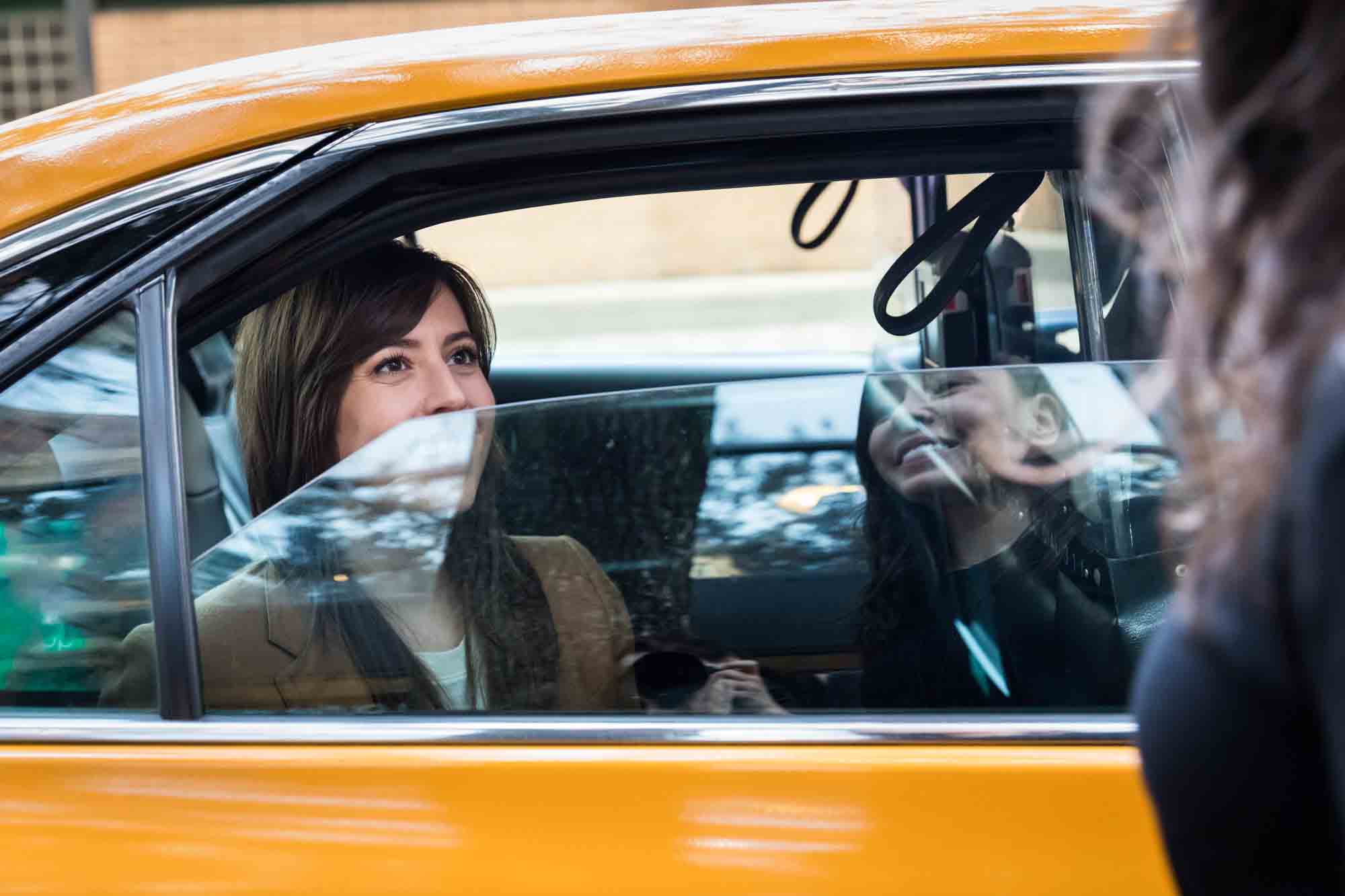 Our last location was Verdi Square and Gray's Papaya located at 72nd Street.  There wasn't much to photograph between the ice cream shop and 72nd Street, so we opted for a quick cab ride downtown.  If you are recreating your own New York City movie, I personally feel that either a taxi cab or a subway ride needs to appear somewhere in the mix.
We arrived at Verdi Square, and it was chockablock with people, as expected.  The Ansonia apartment building at the corner is an architectural gem which we had to capture in photos.  We then hopped over the street to Gray's Papaya – the only remaining Gray's Papaya in the city – for a fun photo in front of Mr. Franks.  I mean, how can you say no to this adorable mascot?
Movie-Themed Proposal Photo Tips
So here are my tips in case you are looking to reimagine your favorite films in photos.
Do your research online.  In researching You've Got Mail, I was able to come up with quite a few websites that listed virtually every location, shot-for-shot, from the movie.  The question to keep in mind is, how recent is the information?  That leads me to tip number two…
Visit your locations ahead of time.  Things do not remain the same, and depending upon the age of the movie, a location may have seen better days from it movie heyday.  I recommend you do as I did, and take a walk around the neighborhood to visit your sites in person.  Some places may look great on film, but that's just movie magic.  In person, a location may be lackluster, or even be something entirely different.  Case in point, the children's bookstore featured in You've Got Mail is now a laundromat.
Make sure your locations are close to one another.  My photo shoots last an hour and a half because, quite honestly, most people lose their energy in front of the camera after about an hour.  If you have to spend a great amount of time going from one location to another, then you are going to lose the energy in your shoot.  It is better that you select a general area, even if it only has one or two specific movie locations, and take photos in that close-knit section of town.  This is far preferable over having to spend all of your photo shoot time traveling from point A to point B.
Think about the journey, not just the location.  In You've Got Mail, as well as in other, New York City-centric movies, transportation is always a factor.  Jumping in a cab or on the subway is a great way to add a unique touch to your photo shoot.
Expect things to be a bit different.  In the case of Michelle and Alex, we nailed the proposal in the exact same spot as in the movie.  The sign on the garden gate is not there, and there were lots of bees (plus a rat) that crossed our path, but the flowers were lovely and the feeling was just the same
Expect crowds.  The streets of New York are super crowded with people from all walks of life.  Pack your patience, and know that half of your photo time will be spent waiting for people to get out of your shot.
So, there you have my tips for capturing a bit of movie magic and mayhem on the streets of New York.  I wish Michelle and Alex the best, and I am thankful to them for coming up with such a unique photo shoot concept.
Enjoy the images, and I'll have more photo adventures for you next week!
___________________________________________
Are you interested in creating a little movie magic when you pop the question?  Drop me a line, and let's dream up the perfect script for your proposal.
If you would like to see more images from my surprise proposal portfolio, then please visit my website – KellyWilliamsPhotographer.com