If you are going to tie the knot down at City Hall, the reality is you don't have a lot of obvious options for portraits in the area. Just walking into the Marriage Bureau office, you'll notice you are surrounded by construction and scaffolding. While you do have locations such as the Little Wedding Garden, Foley Square, the Brooklyn Bridge, and even Chinatown, which spot is best?  In today's blog I assess all of your City Hall wedding portrait locations and let you know the pros and cons of each option from a photographer's perspective.
City Hall Wedding Portrait Locations:
Inside the Marriage Bureau Office
Most of the photos you take inside the Marriage Bureau Office will be documentary in style. There simply aren't any outstanding points of architecture – or lighting – to make taking photos inside worth your time. There is a super cheesy mural of City Hall just past the gift shop, but if you look long and hard enough, you'll notice the horizontal line is off by just a hair. If you enjoy humorous photos, then by all means take a goofy shot here.
When you emerge from the Marriage Bureau, you do so through the back exit. The back exit has some beautiful bronze doors that are worth a photo or two. Note, however, that this is a busy exit, and you may have people coming and going in your photos. Just move quick and you should get plenty of good images. This is the spot most people use to throw confetti or rose petals on the newly married couple.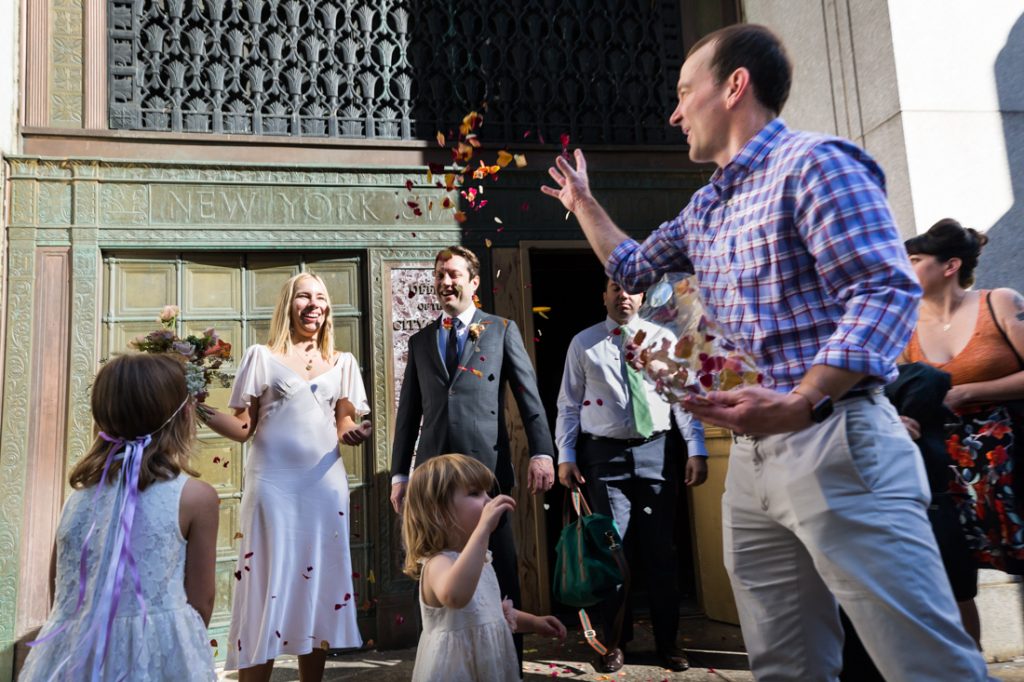 City Hall Wedding Portrait Locations:
The Little Wedding Garden
Ah, the sad state of the little wedding garden. At one point in time, the foliage in the garden was quite nice. I remember stepping behind the main hedge of the wedding garden when the bushes were lush and full and taking lots of photos of happy, smiling couples. Those days are gone, and the wedding garden has disintegrated into a sad state. It seems to be crumbling into the ground and the few flowers that are left are gasping for sunlight. The ugliness started when the City put up a hideous, chicken-wire fence around the back of the park. No one looked after the grass, and the whole area went to seed. Now when you take photos in the wedding garden, you have to watch to make sure that there are no remnants of the fence, bums, or city workers creeping into the back of your photo because there is not enough foliage to cover the background.
The only benefit to the little wedding garden is the fact that it is located directly across the street from the Marriage Bureau. This area will work in a pinch, especially for photos if you have family members with mobility issues. My personal preference, however, is to move over to Foley Square where you have a bit more space, or to try a different location all together.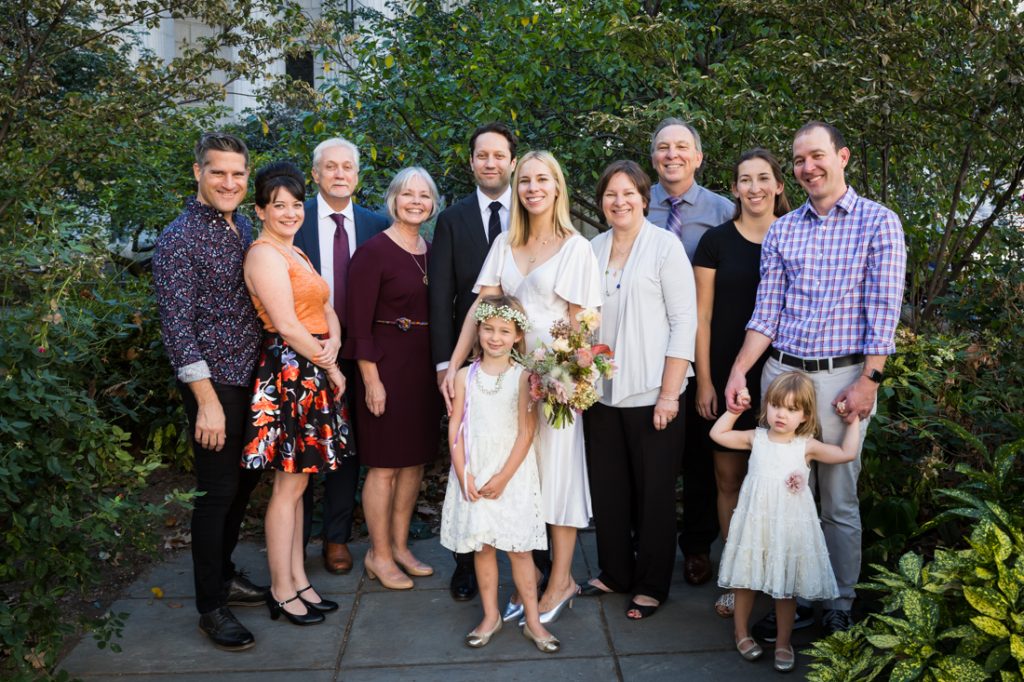 City Hall Wedding Portrait Locations: Foley Square
Foley Square is the little dot of a park located diagonally opposite from the Manhattan Marriage Bureau. There is an odd, dagger-shaped granite fountain in the center of the park, and you can get some fantastic views of the downtown skyscrapers. In short, it's a great spot to get a taste of Manhattan. In addition to wide angle views which integrate the urban skyline, I have also used the buildings surrounding Foley Square for several photos. Most notably, the glass walls of the United States Court of International Trade are great for reflections.
Please note, the steps of the New York Supreme Court building to the left of Foley Square are lovely — but are now off-limits. The courthouse steps make a regular appearance in episodes of Law and Order, but for the past few years the barriers are always up. When I first started taking photos down at City Hall, you could actually pose on the steps and get some beautiful wedding photos. Sadly, those days are gone. A few things to watch out for in the park include ugly fencing around one side of Foley Square and hideous scaffolding that has been present for about a year along Worth Street. The sooner the City gets done with construction, the better.
City Hall Wedding Portrait Locations:
David Dinkins Manhattan Municipal Building
The David Dinkins Manhattan Municipal Building is one of my favorite buildings to photograph. The architecture is majestic, with soaring ceilings. The archways invite in a lot of light, making these great spots for backlit shots. Best of all, I never find the building to be too crowded.
To the far south of the building is the old entrance to the Chambers Street subway station, and I love the antique feel of the signage. Directly behind the building is a gigantic, red sculpture that quite frankly needs a new paint job. The sculpture was a spectacular background for Jillian and Jay's wedding portraits, as you can see here. You can also take some epic shots looking back at the building.
City Hall Wedding Portrait Locations: City Hall Park
City Hall Park is actually quite nice. The park has a large fountain, and lovely trees all around the park. There are also 'Do not step on the grass' signs everywhere. I didn't see any guards patrolling the park, so I would be willing to risk the wrath of the local security guards and step over the barriers for a client. You know how I always say it is better to ask forgiveness rather than permission when it comes to venues in NYC.
The park is a bit small, and can get crowded depending upon the time of day. In particular, the park gets crowded at lunch hour with city workers and spillover tourists from the World Trade Center. In case you were curious, City Hall itself is walled off by steel barriers and you cannot take a photo in front of it.
City Hall Wedding Portrait Locations: Brooklyn Bridge
Oh, Brooklyn Bridge: such a beautiful piece of architecture and such an iconic emblem of New York City…but so horrifically clogged with tourists. I regard the Brooklyn Bridge as I do Central Park: if you want to get great photos here, you need to schedule the photo session on an off-hour when there are less tourists and commuters. The photos you want of an empty bridge making it seem like you have the whole place to yourself are just not possible unless you schedule your shoot for 6:00 a.m. on a weekend. After that there are too many tourists, joggers, and bikers to make it worth your time.
Case in point: the photo above is what a typical Tuesday afternoon looks like. In addition to the number of bodies on the bridge, there are also light poles and signs on both sides. In order to get past most of the signs and poles, you have to walk about five minutes towards the center of the bridge in order to get a less cluttered view. I really, really would not encourage anyone to take photos on the Brooklyn Bridge. If you need to include photos of the Brooklyn Bridge in your portraits, then check out the area underneath the FDR Drive in the South Street Seaport area. It's lovely, and you can get a much less crowded view of the Brooklyn Bridge.
City Hall Wedding Portrait Locations:
Battery Park & the Staten Island Ferry
If you plan on heading towards Battery Park, then be prepared for a lot of tourists and very little shade. There are breathtaking views of the Statue of Liberty all along the waterfront, however, it's a crowded  platform along the edge of the park. My recommendation is to grab a few grand shots of the waterfront, and then move to the smaller, or lesser-known areas of Battery Park including Robert F. Wagner Jr. Park and South Cove Park. On the upside, there are some lovely gardens within Battery Park. If you visit when the leaves are still on the trees, then you should have enough shade just inside the park, but come prepared with patience to deal with the tourists and office workers who frequent the area. By the way, there is a sea-themed carousel in Battery Park, if you want to add an extra touch of cheesy romance to your photo session.
A fantastic way to finish your portrait shoot is with a ride on the Staten Island Ferry. You could also duck down into the subway at the South Ferry station and take some shots there.
City Hall Wedding Portrait Locations: Wall Street
I'm a huge fan of the work of photographer Paul Strand and his grand photos of Wall Street. I would love to do a photo shoot in Wall Street that concentrates on big vs. small, shadows, and texture. The main spots to photograph in the Wall Street area are the front of the New York Stock Exchange, Trinity Church, and the US Custom House steps. You are surrounded on all sides by skyscrapers and there is a heavy presence of cool public art that shouldn't be missed.
As for the infamous bull and little girl statues, I would just say no to taking photos here. These two statues are located on a very small plot of land with busy roads on either side. When I was there on a Tuesday afternoon, there were so many tourists that it was impossible to get a shot. Pose here at your own risk. As for Wall Street itself, the area in front of the stock exchange is quite small and swarming with tourists. You can't get a clean shot anywhere. This is not my favorite area to shoot in, except when you get lost among the skyscrapers and the smaller streets behind Wall Street. Other hazards – besides the crazy tourists and angry office workers who do not suffer photographers lightly – are constant construction and ugly scaffolding that seems to be omnipresent.
City Hall Wedding Portrait Locations: The Oculus
Personally, if you are interested in the downtown area I would recommend heading to the waterfront on the west side. The marina and park in front of Brookfield Place is beautiful. Another interesting choice for portraits would be to shoot in the Oculus, at the Fulton Center Subway Station. The area is chockablock with people, but it's a fantastic feat of architecture that just might be worth tackling the crowds. The space is one of the most creative modern pieces of architecture I've seen in a long time. When I walked into the space for the first time on Tuesday – previously I had only seen it under construction – it took my breath away. There are a few places to duck in and out of to take photos, a great elevator with glass walls, and two main platforms so that you can get a view of the entire space. Again, you will encounter lots of people because this subway station is such a transportation hub, but that said, the Oculus is pretty freaking cool.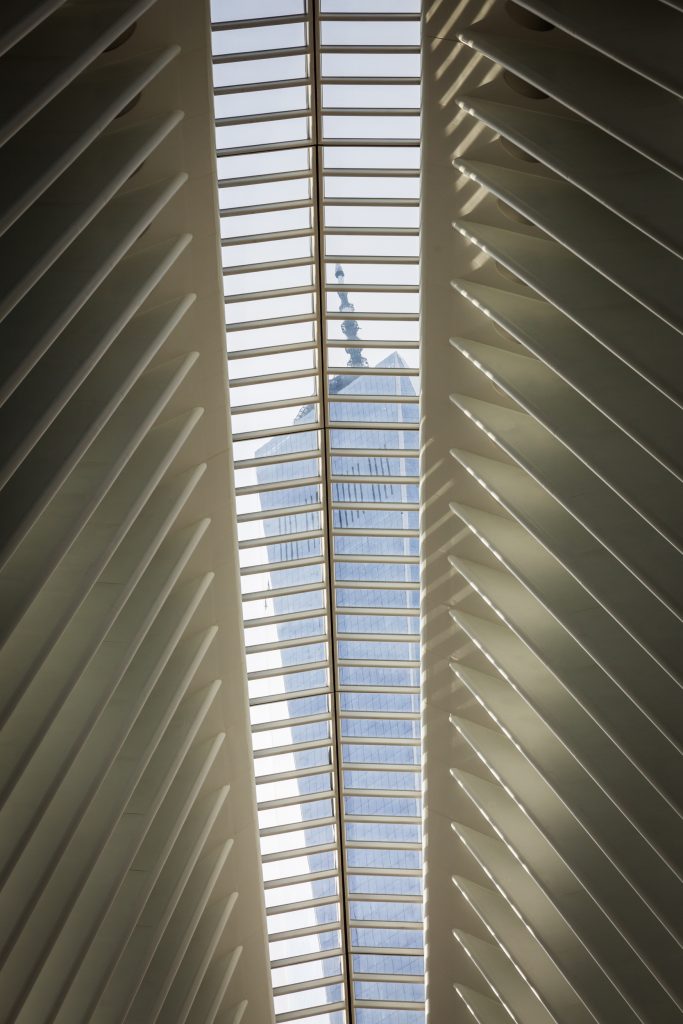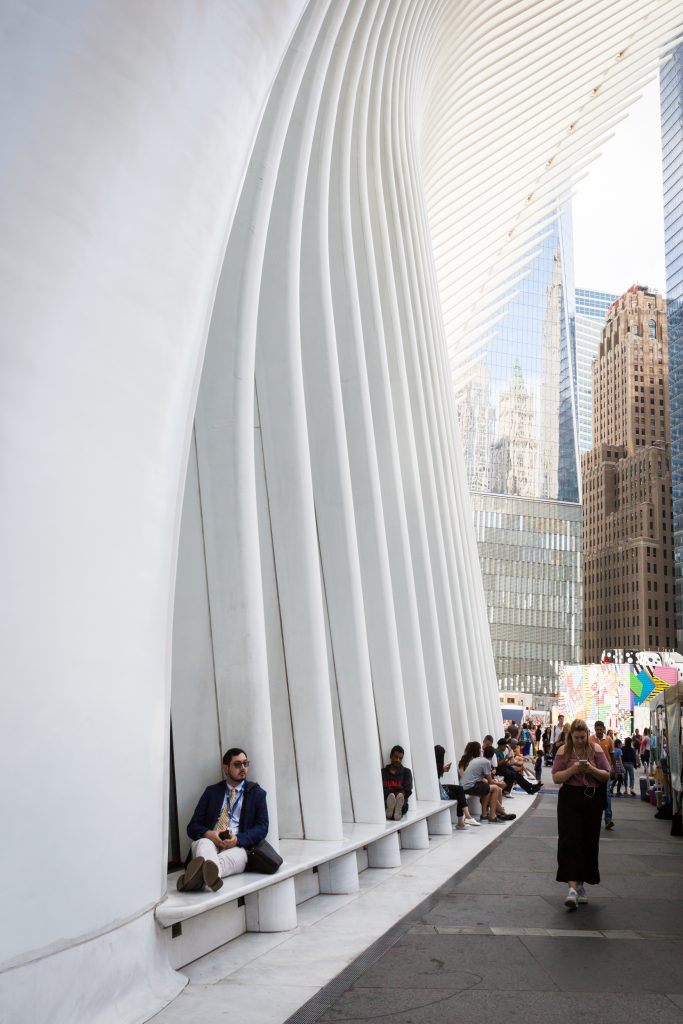 City Hall Wedding Portrait Locations:
South Street Seaport
For so many years the South Street Seaport area was in horrible decline. Crime could be found at every corner, thanks to the Fulton Fish Market and the mob. Nowadays, the area is being revamped, and every time I go down here it seems like the streets are undergoing perpetual construction. Stores are going in and leaving, and there are always promises of new and improved restaurants. I haven't seen any of these promises materialize, but the area is a great location for photos for many reasons.
First, South Street Seaport is your best, and closest way to reach the Brooklyn Bridge. You get the great view from Woody Allen's movie, Manhattan, but without all the crowds found on the bridge itself.
Second, if you are a history buff or a nautical nerd, this area is for you. There are tons of cool backgrounds, antique shops, and details that make photos in this area truly unique. There are cobblestone streets everywhere, and lots of windows for reflections. Furthermore, you also have a lot of industrial backgrounds to choose from with FDR Drive overhead. For potential pirates, you have the ye old Wavertree ship. There are drinks to be drunk down on Stone Street. And if you want to go crazy, there are even ferries that can take you on a trip around Manhattan…or to IKEA. In addition, if you walk down to the Pier 15, there is a beautiful park. It's an interesting piece of architecture and the space gives you a bit of green plus a fantastic viewing platform for the skyscrapers. Check out an engagement shoot I did in the area a few years ago. I love the South Street Seaport area and would be thrilled to shoot here again.
City Hall Wedding Portrait Locations: Chinatown
If you ever want to feel like you are in a different world while remaining in the middle of Manhattan, then get lost down the streets of Chinatown. No matter how much the city has changed, Chinatown remains steadfastly the same.
Well, almost the same. My favorite street in Chinatown – Pell Street – is now a public art exhibit, complete with distracting tables and chairs. You still have Nom Wah Tea House, however. While I am not a fan of their dim sum, the outside of the restaurant is beautiful.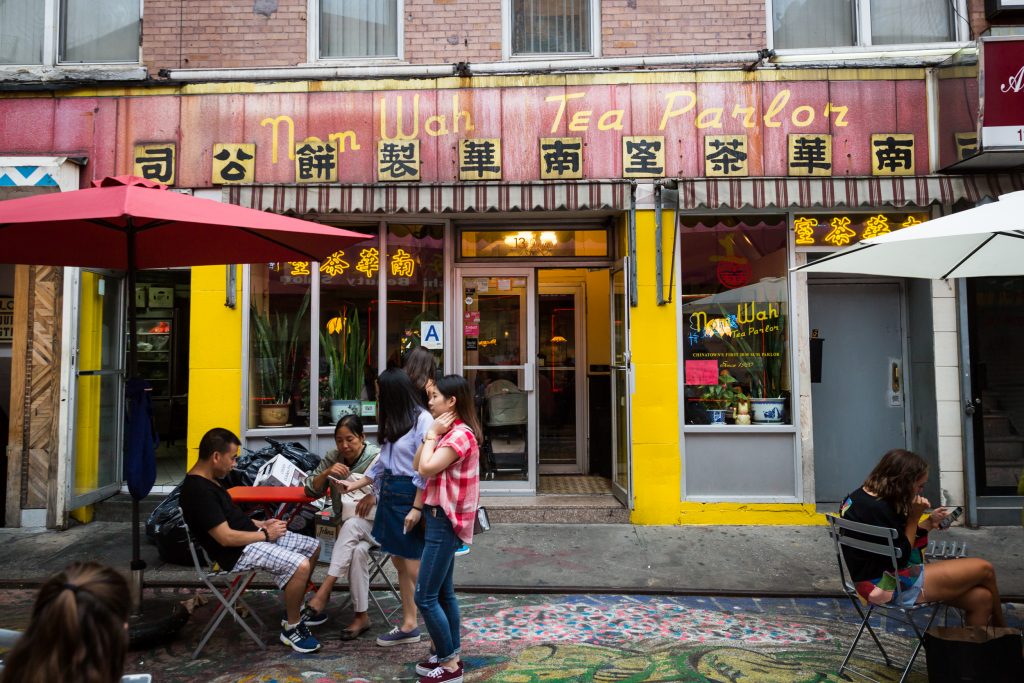 More great photos can be found on the other side of Bowery in Chinatown where time has stopped and you can still find the old Chinatown in Robert DeNiro movies of yore. I would aim for taking photos along Broadway and then mosey on over to the East Village where you can end your shoot with a walk over the Williamsburg Bridge. The Williamsburg Bridge has stunning views of the NYC skyline and is one of my favorite walks in the city.
So these are your closest options for portraits after a City Hall wedding. For your photo shoot, I recommend you select one or two spots max. All things are possible with time, however, and you can include as many locations as you want within a two-hour portrait session.  As with all my portrait shoots, I recommend that clients wear comfortable shoes, because walking is the easiest way to get around this part of the city. The subway doesn't get that close to any of these areas around the edge of Manhattan, and thus hoofing it is your best bet.
If you are planning on getting married at City Hall and want to discuss your wedding, then give me a call!  I would love the opportunity to work with you.
If you would like to see more images from my wedding photojournalism portfolio, then please visit my website – www.KellyWilliamsPhotographer.com