With darkness descending all around us – and I'm referring to daylight savings time, not the fact that today is election day – I think we could all use some bright, sunny photos to cheer us up.  So in today's blog post I'll be sharing with you the springtime images from Talia and Fahad's Brooklyn Bridge Park engagement photo shoot.  These two tied the knot in June of this year.  I'll have all the details from their wedding coming up soon, but in the meantime, let's think back to earlier in the year when we had sun aplenty and it didn't start getting dark at 5pm.
Meet Talia and Fahad
As always, let's start by meeting the couple.  Talia and Fahad met many moons ago in high school through mutual friends.  Yes, that makes them childhood sweethearts.  Fahad proposed to Talia in Brooklyn Bridge Park on a particularly rainy day in 2021.  The weather put a damper on the proposal, so Fahad re-proposed to Talia on Valentine's Day.  While Talia and Fahad consider this the 'real' proposal, they were still looking forward to reenacting the first proposal – albeit with much better weather.
Brooklyn Bridge Park Engagement Shoot – Where to Go
If you are a follower of my work, then by this point you have seen countless photo shoots from me in Brooklyn Bridge Park.  The park is one of the most popular destinations for photo shoots in the city.  I would venture to say it is the number two most popular spot – second only to Central Park.
I personally favor a photo shoot in this area that starts at the York Street subway station on the F line.  From here you work your way towards the Brooklyn Bridge.  With a Brooklyn Bridge Park engagement photo shoot in particular, starting the session in front of a large mural that says 'Yes' seems rather appropriate.  From here you can take a photo in front of the now infamous Manhattan Bridge before entering the park at Main Street Park.
Your day will end with photos in the St. Ann's Warehouse garden, and if you are lucky, a spectacular sunset on the waterfront.
Brooklyn Bridge Park Engagement Shoot – Avoid the Crowds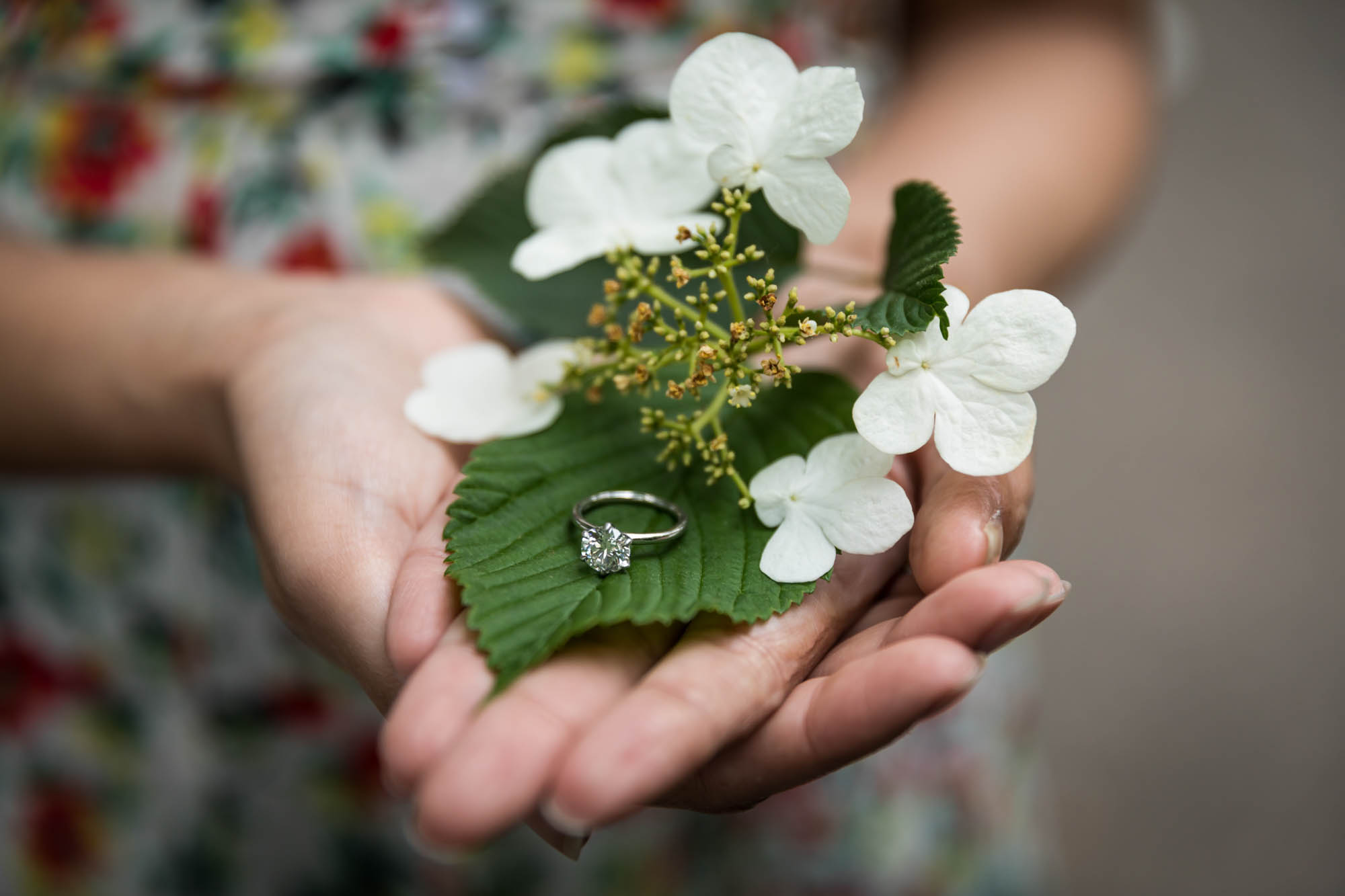 The park is busier than ever.  I had the pleasure of photographing Anna's family in Brooklyn Bridge Park this past weekend, and I was shocked at the volume of the crowds.  Granted, it was 70 degrees in November and an exceptionally lovely day, but it was still really intense.  If I had one tip to give anyone, it would be to schedule your session so that you avoid the crowds at all costs.  Seriously, it was just not pleasant.  Weekends are to be avoided.  As with Central Park, I recommend hitting Brooklyn Bridge Park on a weekday morning to give you more privacy.
Brooklyn Bridge Park Engagement Shoot – The Best Views
Another Brooklyn Bridge Park engagement photo shoot tip would be to take advantage of two particular views in the park.  With construction complete between St. Ann's Warehouse and the Brooklyn Bridge Promenade, this area now offers the best view of the Brooklyn Bridge.  This is definitely a shot not to be missed, and the area just to the side of St. Ann's always seems to be pretty much crowd free.  Additionally, this view up to the bridge doesn't have as many ugly light poles in the way.
The other view is that of the Manhattan Bridge in Main Street Park.  Everyone tries to capture the iconic view of the bridge from Washington Street.  But this street is always overflowing with tourists.  Instead, check out the walkway to the left of the Brooklyn Bridge Park administration building (corner of Plymouth and Adams's Streets).  If you play your cards right and no one is sitting on the benches, then you can have a view up to the bridge all to yourself.
For my money, the best view of the NYC skyline that includes the Brooklyn Bridge is the view from the top of the Main Street Park hill.  As you can see in the photo of Talia and Fahad dancing above, you get an open view and the bushes hide the crowds from the beach below.  This is also a great perch for family and group photos.
So that's it for today's quick blog post.  Enjoy the images, and I'll have more photo adventures for you next week!
__________________________________________
Are you a Brooklyn bride-to-be looking for a NYC engagement photographer?  Drop me a line and let's talk about your photography needs.
If you would like to view more images from my engagement photography portfolio, then please visit my website – KellyWilliamsPhotographer.com