Angii & Paul's Long Beach Engagement Photos
With the end of summer drawing near, I thought it might be a good time to offer a few beach engagement tips drawn from Angii and Paul's recent Long Beach engagement session. While this couple scheduled their engagement session AFTER they walked down the aisle (and I'll have photos from their Montauk Lighthouse wedding soon!), the lessons learned from their photo session will help you plan the perfect seaside photo shoot, no matter when you book your session.
7 Beach Engagement Tips
Timing is everything. Make sure you schedule your engagement shoot to begin just before golden hour, that is to say, either an hour after sunrise or an hour before sunset. The beach may be a beautiful location, but it offers no shade to photographers. Lighting-wise, there is a threat of having your highlights blown out (i.e., losing image detail and instead having white spots in your photo) due to the fact that the beach is so bright during the day. It is thus imperative that you set the time of your shoot to be during golden hour. This ensures that you have soft rays of the sunlight to work with and that your highlights will not be so intense. Furthermore, by working within this timeframe your appearance will have the warm glow you want, but without the harsh overhead rays which will cause dark shadows under your eyes.
Have more than one activity or location lined up. Truth be known, a beach shoot is kind of boring. You're walking along the beach hand-in-hand, maybe some seashells here and there, or maybe even playing in the waves if the water is warm enough. But that's about it. For Angii and Paul's engagement shoot I made sure we had several options to stave off visual boredom. We started the photo session just east of Long Beach in the sand dunes of Lido Beach to incorporate a different, natural background. We then progressed to the beach itself, drove to the boardwalk in central Long Beach, and finally ended the shoot with sunset over the Long Beach Municipal Fishing Pier. There is a beach theme throughout Angii and Paul's engagement session, but there are also a variety of poses and backgrounds. A few options you might try during your own shoot are to incorporate an outfit change with a day-to-evening shoot that ends with a more fancy waterfront dining experience. You could also include activities such as a picnic, fishing, boat excursion, or even a beachside game of frisbee. Whatever it is, just make sure you're doing more than walking hand-in-hand and making kissy faces at each other.
Dress down and don't be afraid to get dirty. When I originally spoke with Angii and Paul about their engagement shoot, she had expressed an interest in doing a 'trash the dress' session by wearing her wedding dress on the beach. I thought it was a great idea. But when we met, she and Paul were both dressed super cute and casual. Her outfit was still perfect because it allowed her and Paul to play in the waves. In contrast, if they were dressed to the nines and Angii was wearing heels they both would have looked completely out of place on the beach. For any sort of outdoor shoot – beach or otherwise – you need to look like you belong in the environment. No heels, major jewelry, or heavy make up. Make it look natural so that your movements in front of the camera will in turn feel natural.
Keep it creative with different angles. When I was doing research for Angii and Paul's Long Beach engagement, I mainly came across shots of people walking along the beach. But that was about it. I decided to freshen up the shoot with shots from behind the couple, go sand level for their ring shot, and for a complete change of perspective, use the reflection in Paul sunglasses. All of these add visual creativity to the overall story of the shoot. By the way, that reflection shot is a Photoshop magic act: I copied the reflection in one eye piece and pasted it to the other eye piece.
Bring your own props. Long Beach is notorious for not having much in the way of seashells. I knew, however, that I wanted to incorporate shells for Angii and Paul's engagement ring shot. As such, I contributed seashells of my own that I brought back from Vietnam. Those cylindrical shells came all the way from Cat Ba Island.
Finish your shoot with a beautiful sunset. In the case of Angii and Paul's Long Beach engagement shoot, sunset was a tad disappointing due to overhead clouds. Nonetheless, the sky was still filled with beautiful colors. It was a fitting end to their engagement session. Note that for these sunset photos we had to leave the beach proper and go over to the Long Beach Municipal Fishing Pier. Long Beach is situated such that the sun actually goes down behind the buildings directly on the beach. (This I discovered on a venue visit to the area the week prior to our shoot.) As a result, you get no sunset if you remain on the beach. Indeed, the boardwalk was already a tad dark when we arrived. But it is easy to get a beautiful sunset with the New York City skyline in the background. Simply move to the pier located at the corner of West Bay Drive and Magnolia Blvd.
Beware rogue waves. Finally, learn from my mistakes and make sure not to leave your camera bag on the sand where a rogue wave can come up and get all of your equipment wet and sandy. During Angii and Paul's session, a wave did just that and ended up killing both my 70-200mm lens and my 5D Mark III camera. Though a complete bummer, both pieces of equipment were from 2012 and were due to be replaced this year anyway. So, for all of my photo sessions coming after July of 2018, I'll have a fresh new camera and lens for you! Always look on the bright side (and have insurance).
Enjoy the last days of summer…it seems like the season has gone by far too quickly.  Coming up in the blog: a family reunion portrait in the Poconos. Or, how I photographed 21 people in six hours.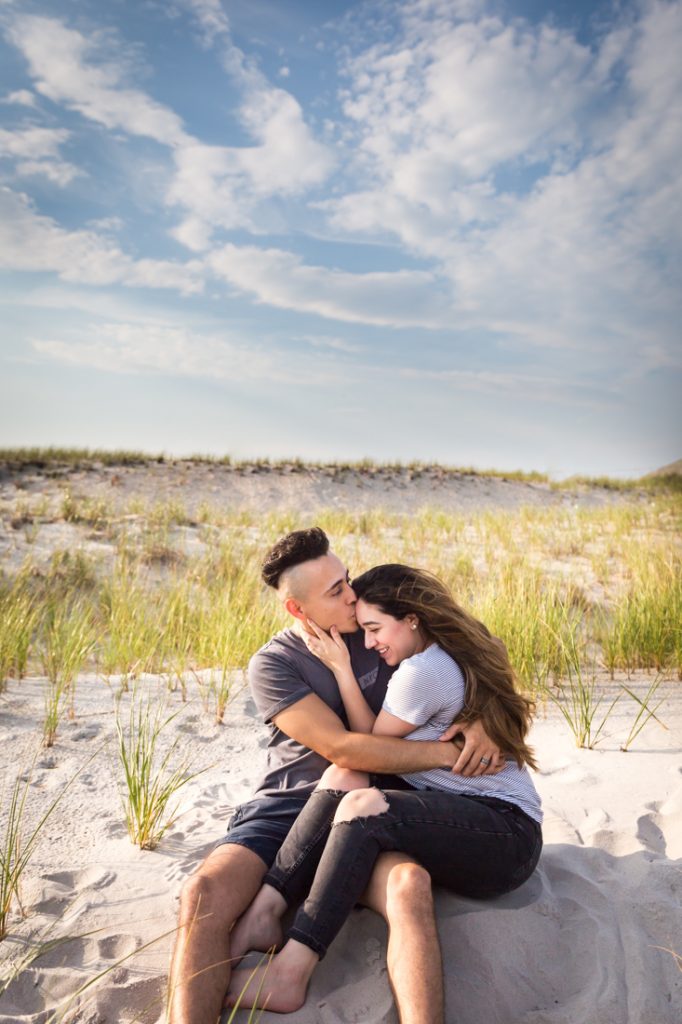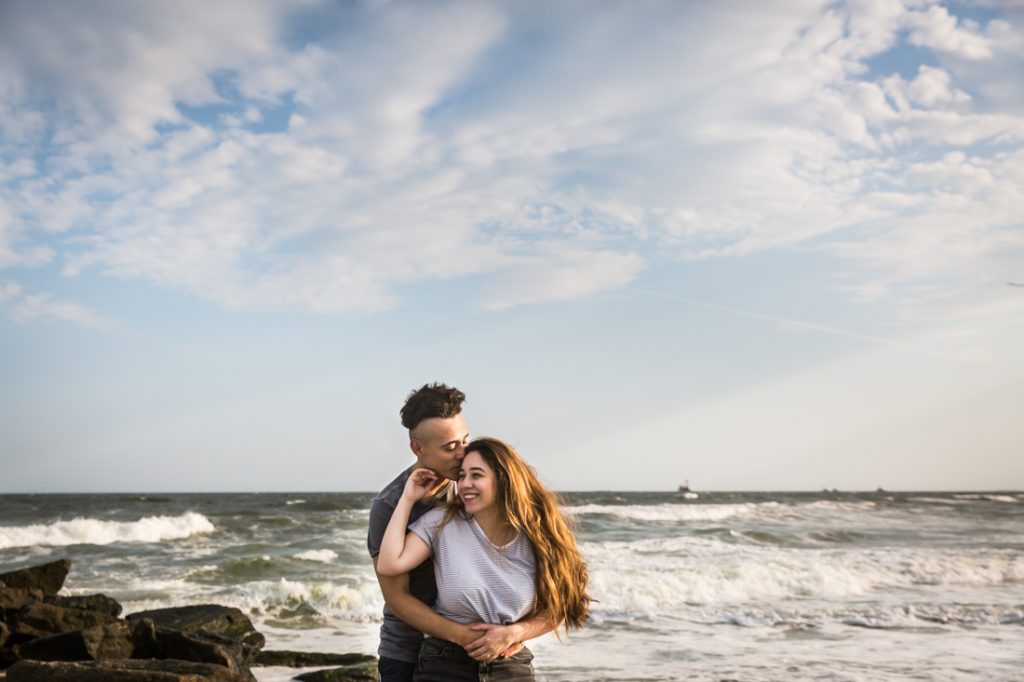 If you would like to see more images from my engagement portrait portfolio, then please visit my website – www.KellyWilliamsPhotographer.com