It's been a fun wedding season, and one of the highlights was the recent wedding of Erica and Geff.  How often can you say that the family cat took part in the wedding? Well, Frosties the cat was proudly present at Erica and Geff's nuptials. Along with some memorable photos, I am pleased to share with you my top tips for including your pet in your wedding.
First, assess the temperament of your pet and its familiarity with strangers. Not all pets are comfortable being outside the home and surrounded by strangers. Even if a pet is ok with guests at your home, your pet may get a bit skittish at a wedding when engulfed by the full-scale sensory overload of noise and guests wanting to pet your fur baby. In the case of Erica and Geff, Frosties was very comfortable in his own lair but started mewing loudly during the ceremony because of the onslaught of strangers. He calmed down after he climbed into his carrier, but was not at all happy to be outside. In his carrier, however, Frosties was a model wedding guest.
To see if your pet will be ok in a new environment, I recommend taking your pet for a walk in a crowded area. Sit with the pet as strangers pass by and watch your pet to see what happens. Does your pet cower and look scared? Is your pet barking or acting aggressively towards strangers? What you see now is a hint of what you will see during your wedding. Also, make sure that you think about the events at your wedding and how these will affect your pet. If you are having fireworks (literally) at the end of your reception, how will your pet react?
It goes without saying that your next concern should be to ask if pets are allowed at your specific venue. Believe it or not, historic Trinity Church in downtown New York City was perfectly ok with having Frosties be present at Erica and Geff's wedding. Other venues, however, may not feel the same mainly due to insurance liability concerns, or in the case of catering, health code issues. In any case, make sure you get it in writing (via email) that your venue is ok with having your pet present. Some venues may require an extra insurance rider be signed or require you to have proof of insurance to cover any damage caused by the pet. This goes for pets in the limo ride as well, so check with your transportation company to make sure it is ok to get Fido to the church on time.
If your venue gives you the green light, your next step is to tell your guests and your photographer that your pet will be participating in your big day. Some guests may be allergic to animals or even afraid of your pet, so make sure you inform your guests on the actual invitation that your pet will be present. Nothing would be worse than to have a guest arrive at your wedding happy to celebrate with you and then launch into a sneezing fit because s/he is allergic to your fur baby. And speaking from personal experience, please, PLEASE tell your photographer up front if you want photos with your pet. Erica and Geff were great about letting me know how important Frosties was to them. I made sure to include photos of Frosties in my shot list and we got a great family portrait (see below).
For the actual wedding day, make sure that you have a pet sitter designated to take care of your pet so that you can enjoy your wedding. This should be someone that the pet is very familiar with and whom you can trust to pay attention to your pet at ALL times. If your pet is going to be with you for only part of the day, make sure you have figured out transportation and timing into your overall schedule so that your pet sitter can get back to celebrating with you at your wedding.
Even with a pet sitter, you still need to have a carrier on hand in case your pet needs somewhere to retreat (case in point: Frosties). When things get tough, your pet can escape to the comfort and familiarity of its little home away from home.  Also, make sure you have treats, water, and a water dish with you to keep your pet comfortable and hydrated.
Finally, if your pet is going to wear a special 'outfit' for the day (check out the sassy bowtie on Frosties!), do a dry run by dressing your pet in the outfit a few days prior to your wedding. You may think the outfit is cute, but if your pet obviously can't stand wearing it then it is time for a wardrobe change.
Lest I forget, here is a little information about Erica and Geff's wedding. We started the day with photos of Geff and his family getting ready at Erica and Geff's apartment. You can see for yourself that Frosties is king of his domain. Geff had some issues learning how to tie a bowtie, but the puzzle was solved by the time he got to the church. This was also the time that we tried out the bowtie on Frosties (he seemed to think the tie was a new chew toy).
Erica & Geff's Trinity Church Wedding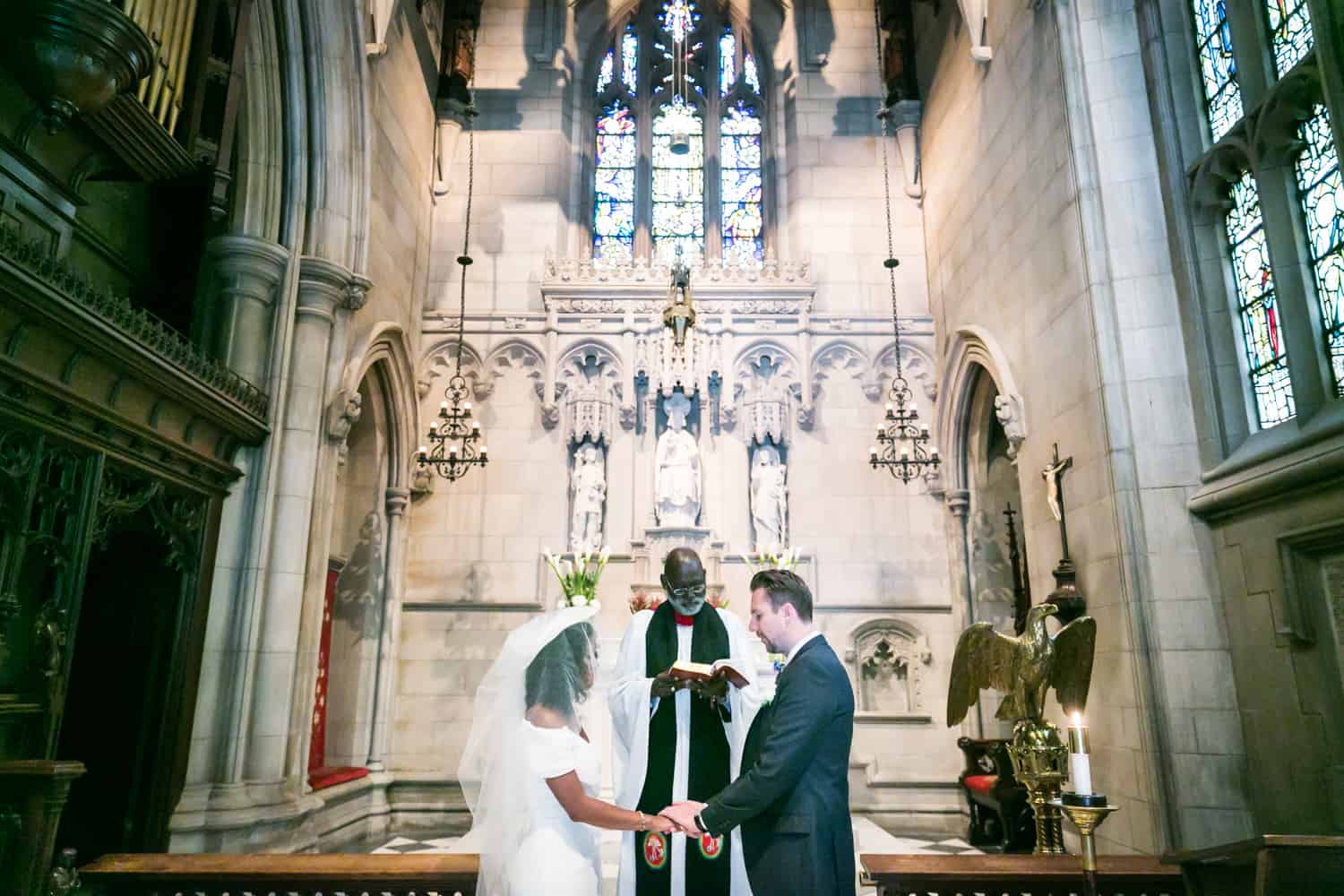 Erica got ready at the Andaz Hotel on Wall Street. Her dress and veil were both worn previously by her mother and amazingly still stylish. With makeup and hair finally done, we rushed to Trinity Church where the couple said 'I do' in the small side chapel. If you have never been to Trinity Church, you definitely should – it is steeped in national history, has a gorgeous graveyard outside, and you never know who you might see getting married (see the tourists sneaking a peek).
After the ceremony, it was a fun walk back to the couple's apartment. Several tourists wished Erica and Geff congratulations and took photos of the couple. We took a few family photos on the roof of the apartment and then had a photo session in front of the place where Erica and Geff first met – at Deutsche Bank. Erica and Geff met in 2005 at an analyst class training program, and it has been love ever since. I did not join the couple for their brunch reception, held at the Castle on Hudson in Tarrytown, but I did get to go with them to pick up their croque-en-bouche cake at Mille-Feuille Bakery. The croque-en-bouche is the traditional wedding cake in France, and a wonderful nod to Geff's heritage. Enjoy the photos!
Vendors
Ceremony venue – Trinity Church
Bride's getting ready location – Andaz Wall Street
Wedding dress and veil – bride's mother
Wedding gifts for female guests – bracelets from Things Remembered
Wedding gifts for male guests – Swiss Army knives
Flowers – Florisan
Wedding cake – Mille-Feuille Bakery
---
Are you planning on including your pet in your wedding?  Drop me a line and let's talk about your photography needs.
If you would like to see more images from my wedding photojournalism portfolio, then please visit my website — KellyWilliamsPhotographer.com.