Saturday was a complete washout, here in New York City.  Friday, on the other hand, started off beautifully, and it was a great day for Nicholas' first birthday portrait. Find out all the details from our Central Park shoot, plus get some tips on using props in your family portrait.
Nicholas and his parents, Alexandra and Matthew, live on the upper east side, so Central Park is pretty much their backyard. When I originally scouted out the park for our portrait, I tried to keep within the perimeter of the east 60s and 70s. Unfortunately, once you go much below 72nd Street, you run in to crowd control issues. While the more iconic parts of the park – Bethesda Fountain, Mosaic Arch, etc. – are located below 72nd Street, so are all the tourists. To keep the crowds to a minimum, I recommended we start at 76th Street and walk down to the sailboat pond at 72nd. The plan worked like a dream.
As with all my family portraits, I concentrated on banking the most important photos first because the temperament of the littlest member of our photo session would be assured to be best at the start of the shoot. I selected a grassy area close to Fifth Avenue with the wall of the park behind us so that I could close off any people from walking into our photos. Nicholas was a wonderful little model, and smiled warmly for the camera. We started the shoot at 2:00 p.m., just after Nicholas had woken up from a nap. As always, baby dictates the time of the shoot, but this also meant dealing with bright overhead sun. Luckily, 76th Street has plenty of areas of shade, and we captured some great moments.
Coming away from this shoot, I have two bits of advice for family photos. The first is to always come prepared to problem solve. Have that bottle, binky, and jacket at the ready because you can be assured that the 'talent' will get hungry, cranky, or cold at some point during the shoot. Matthew and Alexandra were johnny on the spot whipping out Nicholas' bottle when he got hungry midway through the shoot. This calmed him down, and he was good to go for the rest of the hour-long session. Make sure to also have some go to 'moves' to make baby happy. Nicholas is a huge fan of playing airplane with mommy and daddy, and this simple move made him giggle with joy. Know what works for your baby.
Secondly, let's talk about props. Alexandra and Matthew had some precious props for this portrait: balloons, a pail with Nicholas' name on it, a stuffed blue hippo, and a pinwheel. I am definitely on board with incorporating props into a family portrait if the props bring significance and whimsy to the image. These props definitely did the trick, and most importantly, the pinwheel kept Nicholas occupied almost the entirety of the shoot. With this in mind, here are a few tips:
Remember more is not better. Keep your props simple and as few as possible. A little goes a long way, and too many props in a photo is a distraction to the viewer.
Keep the props small, unless you mean to make a statement. In other words, if you want a photo of your child dwarfed by a huge stuffed animal (like something you could win at Coney Island), then go for it. Otherwise, keep the props in proportional size to the subject. Again, you want the viewer to first notice your child, not the prop. Also, you don't want the prop to get in front of anyone's face in the photo. In a few instances, Nicholas kept raising up his pinwheel, thus obstructing my view of mom and dad. Such a little diva, that one.
Color coordinate if possible. All the props Alexandra and Matthew selected work perfectly with the blue/yellow colors of the photo shoot. This helps to bring everything in the frame together, and does not distract from little Nicholas.
Use your props as tools during the portrait session. We had a hard time prying the pinwheel from Nicholas' little hands. Sometimes children don't really know where to look, and they will stare blankly at the camera. The toy was a way to keep Nicholas happy and get some natural shots of him occupying himself.
Ah, balloons. I love balloons, but balloons can be tricky – if for no other reason than they are tough to manage. During out portrait session, the wind kicked up, and it seemed the balloons always wanted to blow right in the face of Alexandra, Matthew, and Nicholas. With multiple balloons, trying to manage these props was even more difficult. Better to go with one balloon, or better yet, stick with stuffed animals. You can't ever go wrong with a blue hippo.
So there you have it: some wonderful memories captured for Nicholas' first birthday portrait. I should also mention that Nicholas had another first during our session: his first wave! Here you have Nicholas waving joyfully to the crowd in Central Park. Such a doll – I can't wait to see him grow up! Enjoy the photos, and get in touch with me if you are interested in scheduling your own family portrait.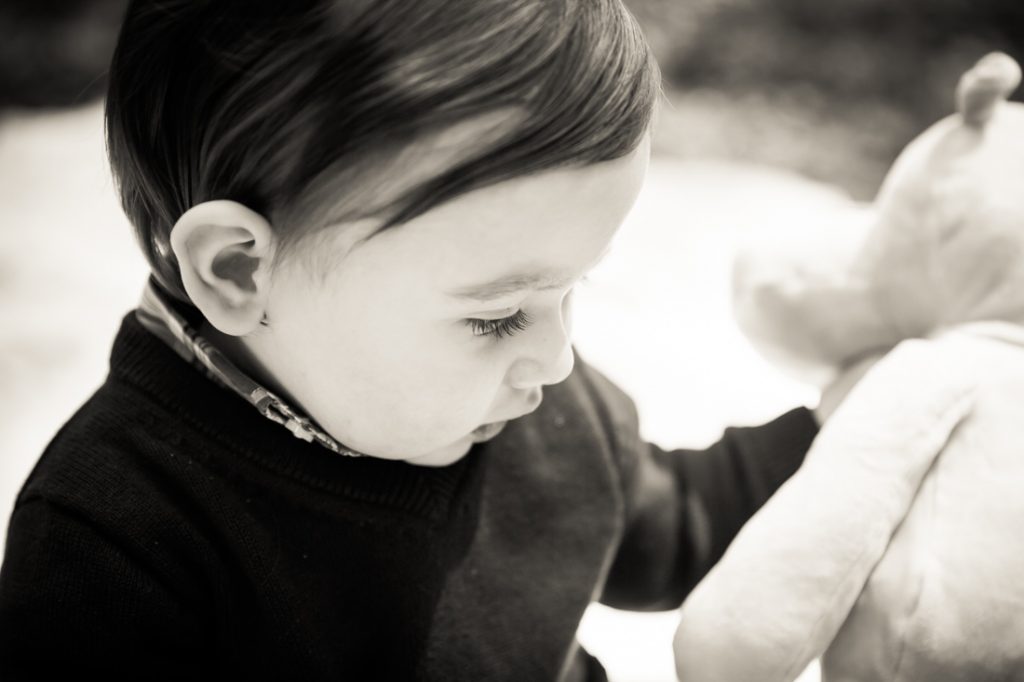 If you would like to see more images from my portfolio, such as this first birthday portrait, then please visit my website – www.KellyWilliamsPhotographer.com
Save
Save
Save