You're engaged, now what???
Did you know that the most popular time of the year to get engaged is from Thanksgiving through Valentine's Day? Yes, folks, we are at the height of engagement season. As such, I thought I might pass along a little advice on what to do first after you have said 'Yes.'
Set a date. Picture it: you and your beloved are in your living room sitting on the couch and getting ready to call all your family and friends to give them the good news about your engagement. You know the first question they are going to ask is, 'When are you getting married?' Best that you have an answer at the ready, even if it is just a general idea for now. Most couples are engaged for six months up to a year. If you have in mind that you are going to want a wedding on a grand scale, go for a long engagement so you have as much time to plan as possible. Looking to elope at the county courthouse? Then why wait? If you would like family and friends to visit from out of town, give them at least a month's notice so they can get the best price on airfare.
Pick a location. Speaking of airfare, if you are planning a destination wedding, now is the time to start investigating the logistics involved with such an epic event. If you are looking to do a very small-scale wedding on a beach in Maui, there are event planners that specialize in these types of weddings and can handle all the details for you. One word of advice: make sure you check out each of the vendors these package deals offer. Usually you can break from the herd and bring in your own vendor (a photographer, for instance), if you aren't satisfied with the level of expertise or service. You will no doubt have to pay extra, but it is worth it in order to customize the package to your tastes. And one more thing: if you are planning a destination wedding, remember that this is a big economic sacrifice for friends and family. They love you and want to be there for you, but plane tickets, a rental car, hotel room, fancy dress, and wedding gift are a lot to swallow for most people. Finally, if you have your heart set on a specific venue, go ahead and make a call to see if the venue is already booked. Most venues are booked for one to two years in advance, and in New York, the wedding season lasts from April through the first week in November. It's a short window of time, and most venues book up very early (especially for the months of June, August, September, and October).
Think about style and scale. Dream big, as now is the time to brainstorm ideas to make your wedding unique. Economic reality may burst your fantasy soon enough, but now is the time to think about how big (or small) you want your wedding to be. Make sure you and your betrothed are on the same page and share the same dream for your wedding.
Set your budget. Ultimately, financial wherewithal may make the final decisions for you about your wedding. Did you want to arrive to your ceremony on a barge pulled by swans, only to be able to afford a sled pulled by pigeons? Your wedding, though an important day, is just that: one day of your life. Your marriage is not and will not be determined by getting the exact shade of peach napkin you want or finding the perfect mason jar. Set an overall budget and select a few key items that are of most importance to you. Then spend the money on these items with any leftover funds going to additional things on your list. Do not go into debt over your wedding. Also, make sure to ask your vendors about paying in installments. I always work with my clients and try to be as flexible as possible when it comes to financing.
Draft a guest list. The number of guests you invite will all boil down to your final budget. When you invite someone to your wedding, it is expected that you will be paying for everything. That means no cash bar or expecting anyone to pay for their own meal. With this in mind, keep your guest list to a number that you can afford to feed. If your parents have a number of business colleagues they need to invite, stay firm and tell mom and dad that you have a budget and are sticking to it. They will be impressed with how responsible you are!
Select your wedding party. Choosing your bridal party can be a tough decision. Tradition states that you have an even number of bridesmaids and groomsmen, but that was yesterday. Feel free to have an uneven number in your bridal party or to have a 'best woman' or 'Mr. of Honor' of your best friend is of the opposite sex. Rules were meant to be broken.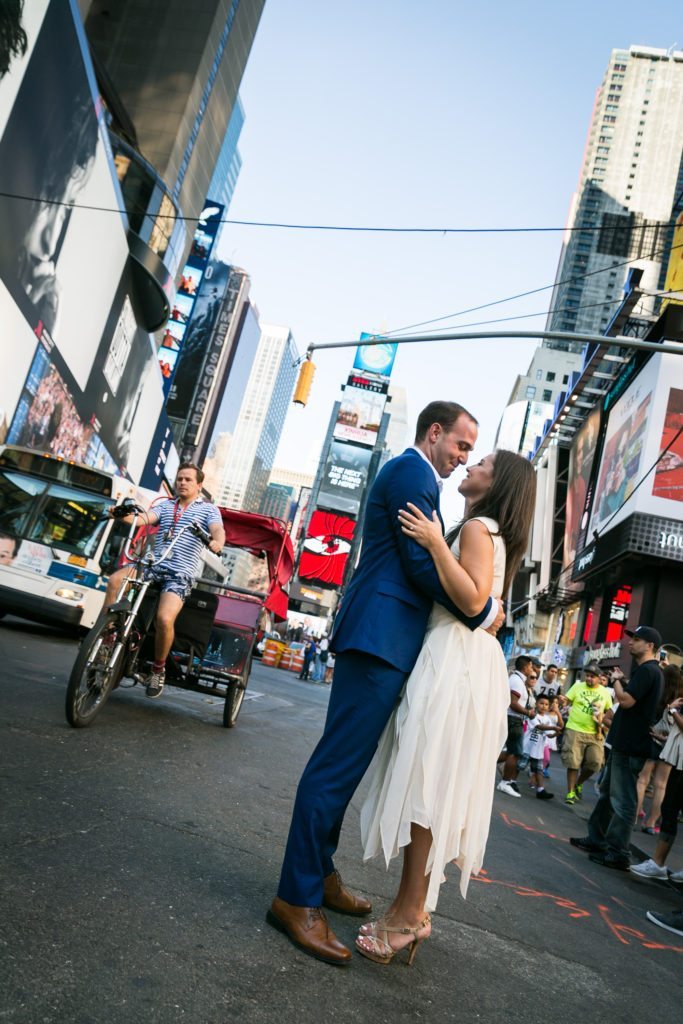 Insure your engagement ring. For most couples, you should be able to simply add your engagement ring to your renter's insurance or homeowner' policy. Don't have renter's insurance? Now is the time to get it to cover all of the wedding gifts you will be getting.
Consider an event planner. I love planning, but not everyone is as 'Type A' as I am. With this in mind, now is the time to consider utilizing the gifts of an event planner. You can hire someone to handle all of the details for you, or to simply handle the logistics for the wedding day alone. Be prepared: planning a wedding is basically like taking on a second job. Talk to a wedding planner now before it gets to be too much to handle. Handing off your wedding to a planner when things have started to go downhill is not advised. Also, a wedding planner is a great source for creative ideas that you may not have considered. Use your planner as a resource and you are guaranteed to have a spectacular event without the headaches.
Book a venue. Have you always wanted to have your wedding in the rose garden of the Brooklyn Botanic Gardens? Well, guess what – they are booked two years in advance. Put your dibs in now for the spot you want to say 'I do.'
Hire priority vendors. Along with your venue, certain vendors – photographers and popular wedding bands, especially – book up fast during the wedding season. Once you have locked down your date and venue, start searching for your priority vendors. If photography, catering, or music are of special importance to you, then make sure you get your first choice for your wedding.
Shop for a dress. It's not so much the dress as the alterations that will take an insane amount of time. I have heard horror stories of brides who found a dress and then had to wait months to finalize the alterations. Ideally you will have your dress altered and done with time to spare so that if – heaven forbid – there be a problem with the alterations, you can have the dress fixed or at least find a back up gown.
Register for gifts. Once word has gotten out that you are getting married, your guests are going to want to put their dibs on your gift registry. Have your registry be easy to find, and if you have a wedding website set up, have a link to your registry included. Saying no to gifts? How about setting up a charity option instead.
Plan an engagement party. How about a girls-only pow wow to talk wedding planning strategy? Include champagne and make it a party.
Plan any DIY projects. You have dreams of making all of your floral arrangements, eh? Now is the time to think about all the many steps involved in these DIY projects and to put the deadlines on your calendar. There is nothing worse than having bags under your eyes on your wedding day because you had to stay up all night making guest favor bags. Don't be that bride.
For the ultimate wedding planning to do list, check out this list from Real Simple magazine: http://www.realsimple.com/weddings/weddings-planning/wedding-planning-checklist
And check out this article from the website, A Practical Wedding, that includes a lot of details to consider when planning your wedding, such as the number of invites vs. the number of guests who actually attend: http://apracticalwedding.com/2013/06/where-to-start-wedding-planning/
Accompanying this article are photos taken during the engagement shoot of Mark and Marissa. This lovely couple hail from Montreal, but like most of us, they love every thing Manhattan has to offer, and are particular fans of Broadway. Where else to celebrate their love, then in New York City? Our shoot started in Times Square and ended in Central Park. Enjoy the photos!
__________________________
For more tips and photos by NYC engagement photographer, Kelly Williams, please visit my website: http://kellywilliamsphotographer.com/