Happy Friday, everyone! With the weekend about to begin, I thought might share some colorful photos from an Indian wedding I shot in November at the Manhattan Marriage Bureau. This couple has got a lot on their plate at the moment: Nirosha is finishing up medical school in Chicago and about to move to NYC to be with her beloved, Bhakee. In addition, the couple is planning a grander, traditional wedding in their home country of Sri Lanka.
We started the day waiting for the most auspicious hour to arrive. At promptly 10:30 a.m., we all went into the City Clerk's office and the process of getting married began.
Since the couple was getting married on a Monday morning, the wait time was almost non-existent. (Compare this with a two-hour wait for anyone getting hitched at City Hall on a Friday afternoon.)
The ceremony was simple, but lovely, and the couple exchanged rings and flower garlands. After the ceremony, traditional Sri Lankan sweets were given to everyone (including our officiant and me – thank you!). The day also included a festive bouquet of balloons that simply would not cooperate.
After the wedding, I took the couple right outside of the City Clerk's office for a few photos. This time of the year the little wedding garden is a bit barren, but you get a real feel for the city with the surrounding architecture that makes any photo perfect.
Congratulations, to Nirosha and Bhakee! Their wedding was a perfect mix of tradition and modernity, and I wish the couple all the best.
Ceremony: City Clerk's Office, Manhattan Marriage Bureau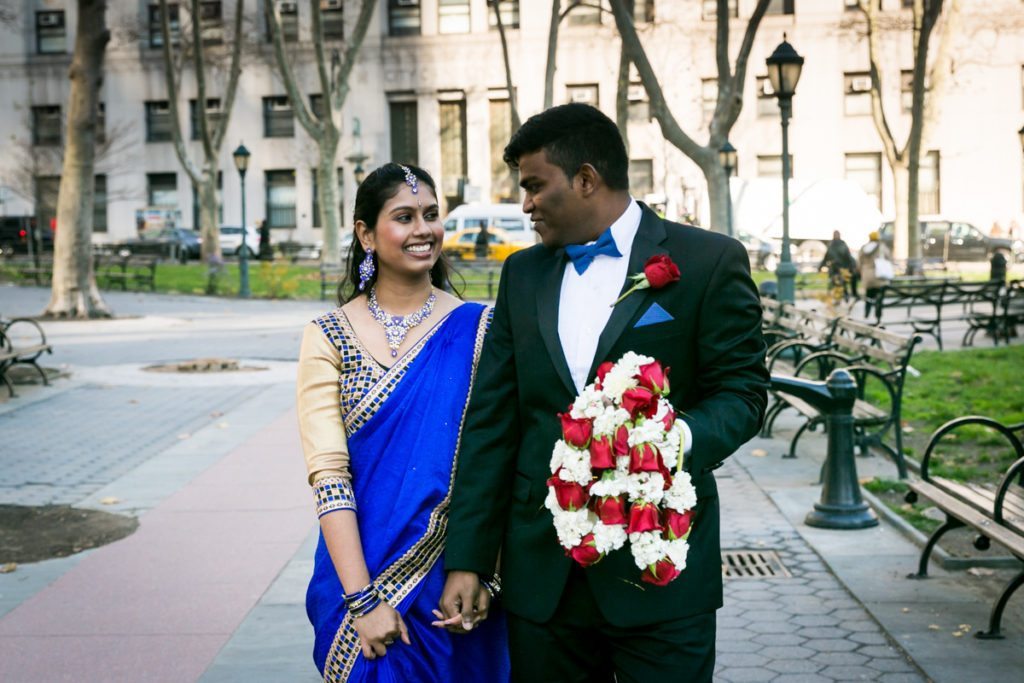 _____________________________
For more photos and tips by NYC City Hall Indian wedding photographer, Kelly Williams, please visit my website.