You are ready for your portraits, and you have your dance moves mastered for your first dance.  But how about some wedding ceremony photo tips to help you look good when you walk down the aisle?  Today's blog post has everything you need to help you take your photo game to the next level as you say, 'I do.'
It's the little things that distinguish between a 'good' and a 'great' photo.  And while you might not think you need to do much during your ceremony besides not trip as you walk down the aisle, today's blog post has a few things to consider as you say your vows.
Wedding Ceremony Photo Tips – The Most Important Points
Ignore the camera.  As a documentary photographer, I am trying to get real moments at the altar.  We will take plenty of photos where I need you to stare into the lens.  The ceremony, however, is the one time during which you and your bridal party should absolutely ignore my camera.  First off, focus on where you're walking and make sure you don't trip.  Secondly, look at your guests, look at whoever is walking you down the aisle, and absolutely look at the person at the end of the altar.  These are the real moments I want to capture.  I don't need you looking into my camera; I need you looking at each other.
Eye contact is the most important thing.  During the ceremony, I am trying to capture authentic emotion between people.  You can't see emotion when you are staring down at a page or a cell phone.  Look at each other when you are saying your vows and during the ceremony as much as possible without engaging in a staring contest.
The same eye contact consideration goes for any speakers during your ceremony.  I completely understand that you may be nervous, and I myself am not a good public speaker.  But ask your readers if they can have at least a few sentences well enough rehearsed so that they can visually engage with other guests.  A photo of someone reading is never going to be as interesting or as eye-catching as one where the reader looks up and interacts with the audience.
Watch your pace, and no bunching.  When I take photos of you and the bridal party walking down the aisle, no one needs to be running to the altar.  This is your moment.  Take your time and walk slowly down the aisle to let everyone see you and soak in the joy of getting married.  I am a personal fan of having the bride and bridal party stop at the end of the aisle before the procession begins so that I can get a solid photo before walking towards the altar.
Most bridal parties can handle the procession.  It's the recession that normally turns into a race track.  I know you are nervous from having to be center of attention during the ceremony, but there is no reason to run down the aisle to the cocktail hour.  We will make sure you get a good spot at the bar.  Please take your time walking out of the ceremony, and don't bunch up.  I cannot take a good photo of the people behind you when they are right on your tail walking out of the ceremony.
Wedding Ceremony Photo Tips – The Planning
Know the house rules ahead of time.  In general, I always move around during the wedding ceremony to try to get different angles.  I never want to be obtrusive, but standing in one spot only gets you one angle.  That said, one of the best ceremonies I ever photographed was at a Methodist church in Brooklyn where the rules of the house were that I could not move during the ceremony.  All photos had to be taken in one spot.  I could pivot and turn around, but that was it.  I had to get creative, and ended up taking some fantastic photos.  The reason the photos came out great, however, was that I knew the house rules ahead of time and planned the best place to stand during the ceremony.  If your ceremony is going to be in a restrictive environment, then make sure your photographer knows ahead of time.
Tell your photographer about any ceremony surprises. I have had quite a few Catholic ceremonies recently where the kiss happened not at the end of the ceremony, but midway through.  This is not the norm when it comes to ceremony schedules.  If you have any other surprises, such as the fact that your backs will be to the audience all during the ceremony or if you are going to have a special performance or ritual, then make sure you tell your photographer.  These are wonderful moments that your photographer definitely wants to capture.  The trick to getting a good photo is to always be in the right place at the right time.  Help me help you get great ceremony photos.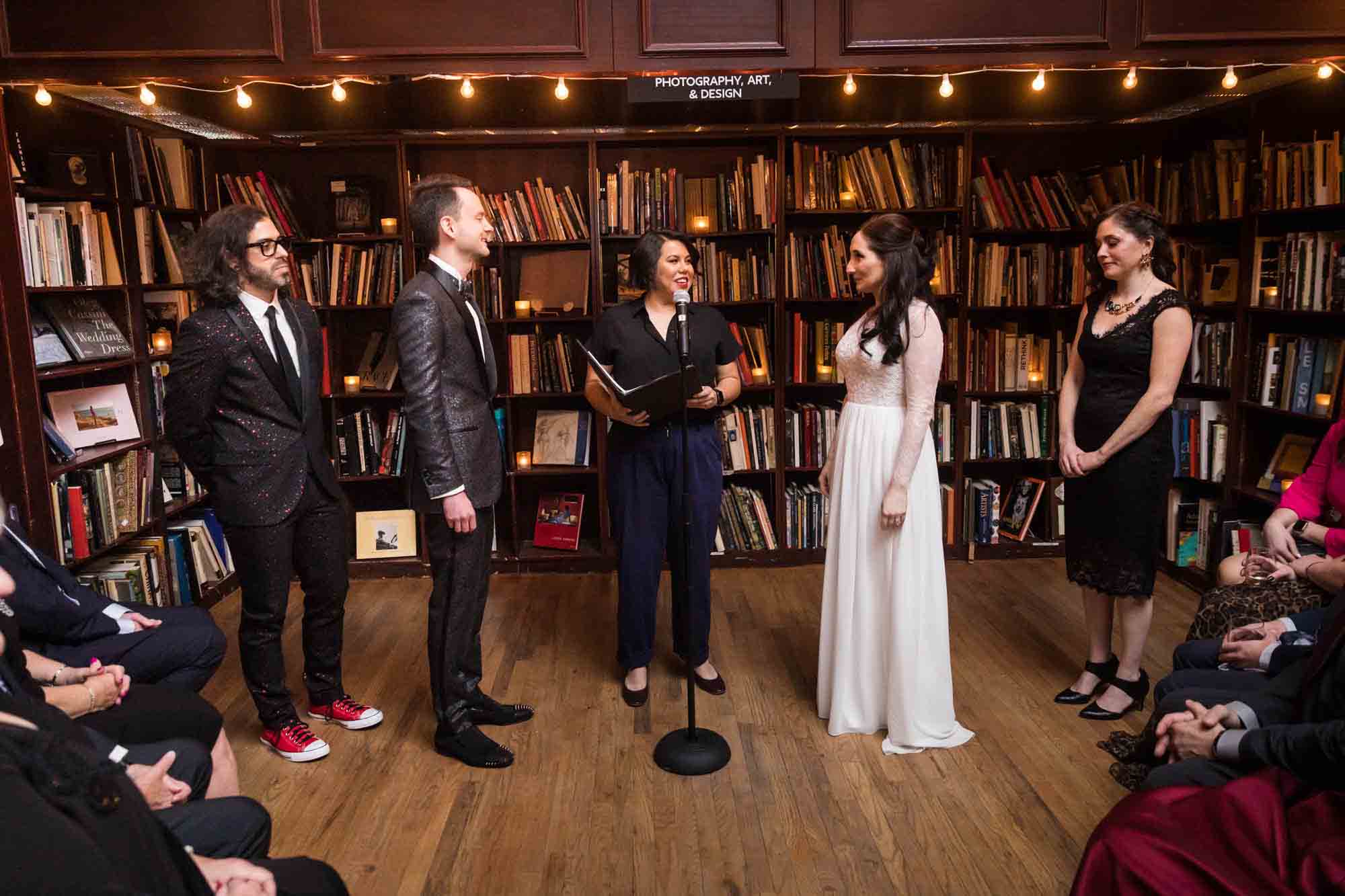 Definitely do a rehearsal.  The photo choke points during a ceremony are normally the handoff from the parents to the groom and whether or not the bridal party sits or stands after approaching the altar.  Know where everyone is supposed to be and physically do a rehearsal ahead of the ceremony.  If possible, do the rehearsal with your photographer present because the photographer will be at the front taking photos.
Make sure you can fit down the aisle.  The common trend these days is to have both parents walk the bride down the aisle.  This is a great trend, but quite often families underestimate the width of the aisle. Make sure everyone can fit three across, or at least have a plan ahead of time for how you want to walk up the aisle.
Know what you're going to do with your veil, train, and flowers once you arrive at the altar.  Make sure your maid of honor for someone in the front row can hold your flowers for you.  Also, if you have a long train, know how to move and how to get your train out of the aisle.  No one needs to see the bride falling over at the altar.
Wedding Ceremony Photo Tips – The Details
Say no to candles along the aisle.  I have seen countless numbers of near misses with guests almost setting themselves on fire.  Someone is going to trip and fall and you don't want to start your ceremony with a bonfire.  Candles are lovely, but stick to the fake alternatives.
Have someone to handle your train and veil to make sure it is spread out smoothly.  You should look as lovely from the back as you do from the front.
Make sure your chuppah is well lit.  If you are going to be going under a chuppah at a Jewish wedding, make sure you have sufficient lighting underneath.  As the photographer, I will be shooting from outside the chuppah.  Some chuppahs are structured so that they are basically caves, and it's hard to get a good photo from outside.
Hold the initial kiss for the count of three. The kiss at the end of the ceremony is always the money shot.  You want to make sure I get the photo, so hold that kiss.  Practice if you need to.  I'll let you get creative.
A second kiss halfway down the aisle is even better.  When most couples kiss at the end of the ceremony, they smash their faces together due to nervous energy and it's just not that attractive.  You also have the officiant standing behind and probably a microphone or two.  To get your most photogenic kiss, plan to do a second kiss in the aisle just as you recess.  Picture it: you have just kissed your beloved and your ceremony is now complete.  You pick up your flowers and people are cheering as you walk halfway down the aisle.  You then stop and do a dramatic kiss in the middle of the aisle.  This is always going to be your most epic kiss photo.  For even more photo brownie points, do a big cheer at the end of the aisle with hands raised just as you leave the room.
Consider having an unplugged ceremony.  I am all for guests taking photos and video during the ceremony, but if you think there is going be anyone pushing me out of the way in the aisle in order to take photos, then you might consider an unplugged ceremony.  I doubt you'll get everyone to turn off their cell phones and be present, but it's a nice dream.
Meet Jiordan and Jerrod
Accompanying this article are photos from the January 2022 wedding of Jiordan and Jerrod at Housing Works Bookstore.  These two met the old fashioned way…through Craigslist.  That is to say, Jiordan was looking online for a roommate in 2013, and it was Jerrod who answered her ad.  It is a 'meet cute' story that defies the odds.  Only five months after moving in together they went on their official first date: dinner and a movie.  And even though it's a love story told backwards (from moving in together to first date), it's an epic love story nonetheless.  As Jiordan puts it, 'Maybe I always knew. I at least knew since the moment we met that Jerrod was going to be a fixture in my life.'
On their sixth anniversary, Jerrod proposed to Jiordan.  '"He took me up to a suite in the hotel where we'd just eaten. I was told it was to see the view from the roof, overlooking Madison Square Park, and when I realized we hadn't just broken into someone else's room, he got down on one knee and proposed with the world's coolest vintage ring.'
She said yes, and the result is their wedding at Housing Works.  As you can tell from their photos, this is a fun couple and their wedding was anything but traditional.  We started the day at the Greenwich Hotel, where Jiordan was getting ready.  The first look happened in the suite.  And while this was Jerrod's first opportunity to see Jiordan in her dress, it was also his chance to reveal that he had a slight 'wardrobe malfunction' with his pants.  Fear not, all was easily fixed with a few safety pins and none of the guests were the wiser.
Thanks to Covid, Jiordan and Jerrod had actually tied the knot a year earlier.  As such, their wedding at Housing Works was a big party to celebrate with friends and family.  They just wanted to have fun and this took all of the pressure off of their big day.
Here are a few details from their wedding.  First, due to inclement weather in January, all of the photos were taken at Housing Works Bookstore – both upstairs on the mezzanine level and down in the stacks.  The ceremony itself involved a hilarious recitation of vows and ended with Jiordan breaking a glass.  The 'guest book' was a Jenga building block set.  Guests were treated to the artistry of two caricature artists and the favors for the evening were Korean sheet masks.  Finally, check out the bride's fabulous tuxedo which she changed into after the speeches.  And by the way, the couple decided to dispense with a bridal party, cake, DJ, videographer and florist.  This is how everyone should get married!
Enjoy all of the images, and I'll have more photo adventures for you next week!
________________________________________________
Looking for more examples of Housing Works Bookstore & Cafe weddings?  Check out Chris & Rob, Genny & Blaine, Joanna & Ruben, or Sarah & David.
Will you be walking down the aisle soon?  Drop me a line and let's talk about your photography needs.
If you would like to view more images from my wedding photography portfolio, then please visit my website – KellyWilliamsPhotographer.com
Vendors