Without a doubt, May has been the most popular month to get married in 2017. As proof, let's take a look at the SoHo wedding of Genny and Blaine at the Housing Works Bookstore Cafe. Their fun-filled day was a thrill to photograph, but there is one lesson to be learned if you are going to host a wedding in the area: the tourists are out in force, so be prepared.
If you will recall Genny and Blaine's engagement shoot in north Central Park, these two are a low-key couple that love to laugh and couldn't be less diva-ish if they tried. It was no surprise that Genny was laid back and relaxed when I met her at her suite in the Broome Hotel. Rather than feeling frazzled about her wedding day, Genny spent her time enjoying a glass of champagne with her friends on the terrace. When the moment finally came to jump into her dress, she had some quick help from her girlfriends and that was it –Genny became a bride! For any fans of Project Runway (like me), you might recognize the name of her wedding dress designer: none other than season six finalist, Carol Hannah.
I was not going to let Genny's terrace with such a beautiful view over the SoHo rooftops go to waste, and we successfully knocked out all the family photos plus a 'first look' well ahead of when Genny and Blaine were due to walk down the aisle. By the way, I can't say enough good things about the Broome Hotel. This was my first time in the space, and I witnessed first hand how the staff went out of their way to make Genny and her family comfortable. In addition to being a chic hotel with a convenient location, the hotel also has a precious, hidden courtyard that is perfect for photos.
The 'hidden' part of our photo session, however, ended once we walked out of the hotel. If you are reading this from outside New York City, or perhaps you just aren't familiar with the area, SoHo is a very upscale, 'see-and-be-seen' part of town. I would put it on par with the Meatpacking District in popularity. There are tons of tourists here, albeit tourists with fat wallets that are there to spend money on expensive fashion. Accordingly, if you are walking down the streets of SoHo you can often see photographers staging photo shoots haphazardly on the sidewalks. In addition to the proximity to high-end fashion retail, you can get great shots of a gritty, graffiti NYC that is slowly fading away – hence the popularity of the area with photographers. This assures that all eyes will be on you if you are, say, walking down the street with two large cameras and a beautiful bride and groom in tow.
In comparison, while Genny and Blaine enjoy the cobblestone streets and old-school architecture of SoHo, they are quite shy in front of the camera. They were not prepared for the fact that walking with a bride and groom down Crosby Street is akin to waving a red flag in front of a bull. Everyone stopped, stared, and of course offered their congratulations. That's all well and good, but if you are not a professional model, then having hundreds of eyes on you is an uncomfortable situation. There are little streets and alleyways where you can duck away from the maddening crowd, but you need to be prepared that this area in general is heavily trafficked by tourists. I think most people only associate Times Square, the Empire State building and the like as major tourist areas. If you are getting married here, be prepared that SoHo is also a very popular destination for tourists and fashionistas alike.  I recommend the following areas to avoid the crowds: the alley across from Housing Works Bookstore, the park between Chrystie and Forsyth Streets, the small streets around old St. Patrick's Church, and the back end of Mott and Elizabeth streets. Ultimately for Genny and Blaine, the number of tourists was overwhelming (as it would be for me as well), and they elected to have the rest of their photos taken inside the Housing Works Bookstore. I think this was the right decision because it cut down on the couple's stress levels, which no one needs right before you say 'I do.'
Speaking of the ceremony, it was a short and sweet affair officiated by a friend of the couple. He told lots of great stories, and the only nod to tradition was Blaine breaking a glass to commemorate his Jewish heritage.
After the ceremony, the party began. Josh and his staff at Housing Works did a fantastic job on the food and service; I have never had an event go wrong at Housing Works. As with the getting ready photos, the reception was totally low-key. No bouquet toss. Certainly, no garter toss. And not even a cake cutting. The cake, by the way, was an ice cream cake from the Chinatown Ice Cream Factory. It was cut in the back and served to guests without fanfare. Personally, having ice cream cake at any event is fanfare enough!  Seriously – all brides should serve ice cream cake at their weddings.
The reception did include some wonderfully touching toasts, but the main action happened on the dance floor. All hail the hits of the 90s: NSync and the rest were loud and proud at this shindig. Even Blaine's father got down on the dance floor with the bride.
I want to make special mention of the florist, India Faso, who provided the exquisite flowers for Genny and Blaine's wedding. She is new to the business, but sources a good chunk of her flowers from a farm upstate (Rocksteady Farm).  Genny was specifically looking for a locally-sourced florist for both environmental and cost reasons. Along comes India with the best, and most unique, bouquets I have seen since working with Sprout in Brooklyn.  From the colorful cloth used to wrap the bouquet, to the brass tacks on the handle, these flowers were on point from top to bottom. Note that India precisely complied with Genny's request for original flowers that poked out in unusual ways. Check out the corsages India made for the mothers: those are flowers glued to real metallic cuffs. Genius idea, and one I will be stealing for my own jewelry box.
Finally, let me wrap up this blog with the best part: Genny and Blaine's love story. These two met in law school. And in keeping with their laid-back personalities, the proposal happened on the couch while they were both wearing pajamas and watching Netflix. Genny said yes, and the two went back to watching Law and Order SVU. Sometimes over-the-top proposals are overrated. Enjoy the photos!
Vendors
Ceremony & reception venue: Housing Works Bookstore Cafe
Catering: Housing Works Bookstore Cafe
Wedding dress: Carol Hannah
Groom's suit: Suit Supply
Makeup and hairstylist: Jolie Mane
Wedding cake: Chinatown Ice Cream Factory
Florist: India Faso
DJ: Sean Marquand
Painting of the bride and groom: Allan Jackson
'Getting ready' venue: The Broome Hotel
If you would like to see more images from my portfolio, such as these SoHo wedding photos, then please visit my website – KellyWilliamsPhotographer.com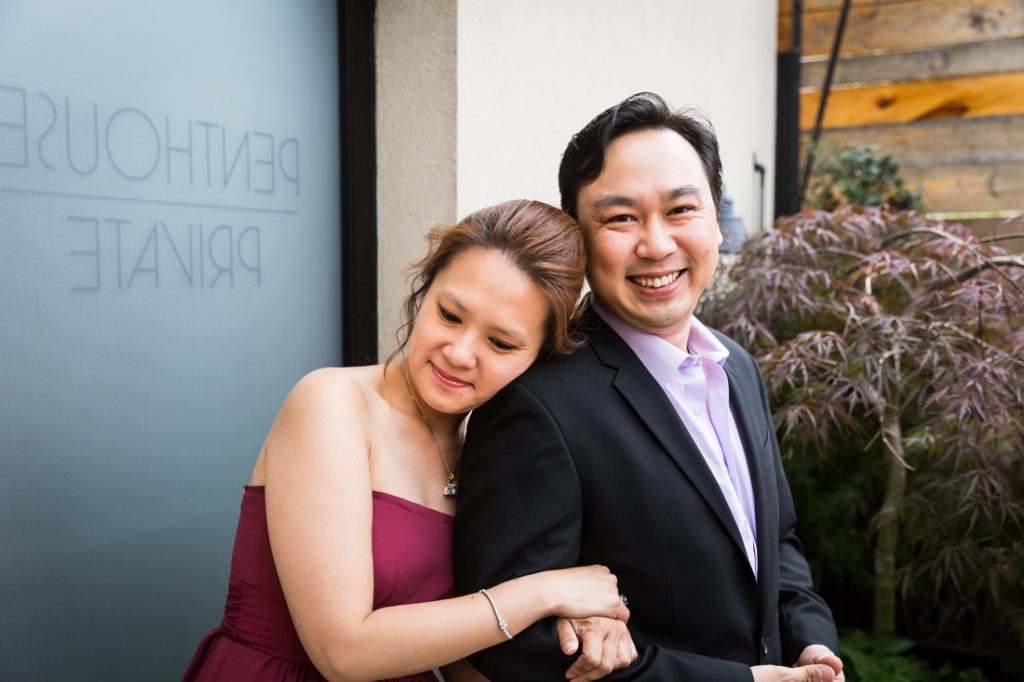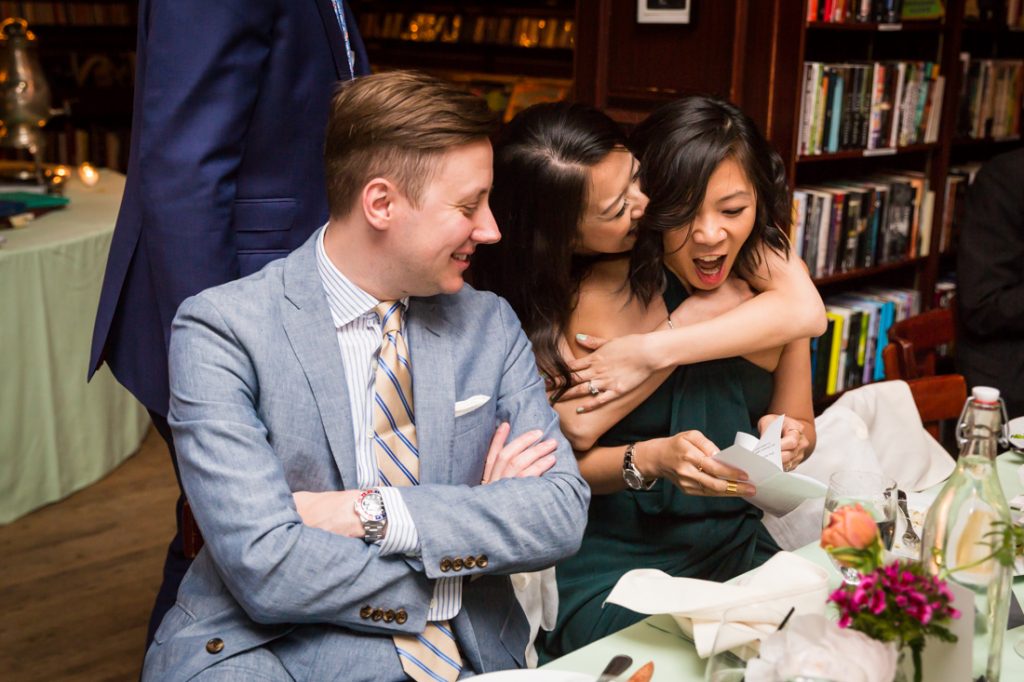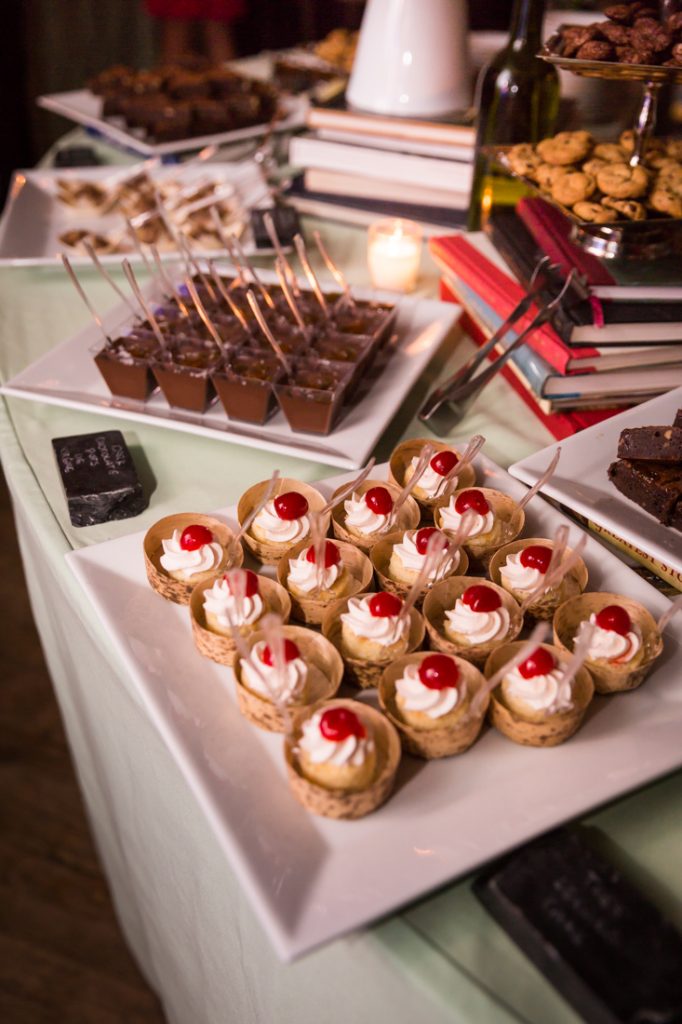 Save
Save
Save
Save
Save