Everyone knows you need to tell your wedding photographer when to arrive for the ceremony, but did you know there are a number of smaller details that may affect your photos? In today's blog, filled with photos from Stephanie and Shane's rehearsal dinner at the Smith, I give you a list of the 11 details your wedding photographer needs to know — but that you might have overlooked.
Let's start with the obvious big guns: the schedule for the day, and when and where to arrive for each venue. You should always work with your photographer and event planner well ahead of time to map out a schedule of the day that takes into account transportation and traffic. Beyond this, there are other details that I take into account as they help me decide my lens choice, if I need to bring in additional lights, and if I have time to run up to the balcony for an overhead shot or not. So, in order by how these events happen in a typical wedding, here are eleven details your wedding photographer needs to know.
Details Your Wedding Photographer Needs to Know – About You
1. Body image issues. Most everyone has something about them they would prefer not to be photographed. Be it your self-perceived 'fat' arms (they aren't), you prefer one side of your face over the other, or a random pimple that showed up the night before your wedding – let me know so that I can work with you to minimize the issue. I want my photos to showcase you at your best. And if you hate how you look in profile, then I need to know so that I cut out any profile poses from my shot list. The idea that photographers can fix any issue with a little Photoshop technology is only partly true. I will fix it any glaring issue in the bride and groom portraits, but to fix every photo requires a considerable amount of time (and overcharge fees).
2.  Nerves. The best way to overcome wedding day photo jitters is, of course, to schedule an engagement shoot as a dry run. An engagement shoot gives you the chance to find out how comfortable you are in front of the camera and so can see what it is like to work with your photographer. If you did not schedule an engagement shoot, don't worry. From my end, this just means I will instead craft a shot list with more 'activities' upfront – walking, dancing, hugging – in order that you expend all of your nervous energy and get comfortable in front of the camera more quickly.
3.  Restrictive clothing. Mermaid-style wedding dresses are beautiful, but they can sometimes make for limited movement. If you will be wearing such a dress – or if you have a sizeable train or a heavy skirt – then tell your photographer. I like my couples to visit a few locations for their portraits. If your dress restricts the amount of walking you can do, then I will need to limit the locations and select spots closer to the ceremony venue. Along the same lines, if you are nervous about your dress getting dirty – and I should interject that I always take great care with my brides and their wedding dresses – then this will mean I need to be extra concerned about the ground cover for your portraits. Think less grass, more pavement. I will also need to bring a sheet with me to protect the underside of the dress and may need to pull in a bridesmaid to help take care of the dress during the portrait session.
4.  Veil or no veil? I love a good veil and the wonderful photos that can result when a veil flows into the frame. Note I said PHOTOS. I have a whole separate shot list for veil photos that I want to include if you will be wearing one. The details I need to know are how long is the veil, and for how long will you be wearing it (only through the ceremony, or maybe extend wearing the veil to the first dance).
Details Your Wedding Photographer Needs to Know – About the Ceremony
5.  Ceremony rituals or changes. Most wedding ceremonies last thirty minutes and include the usual suspects: procession, a reading or two, vows, rings, and a big kiss at the end. If you are going to add any extra rituals or if you are going to change the order of events, then let your photographer know. In my seven years of being a wedding photographer I have never missed a ceremony kiss. There was one year, however, when a bride and groom moved the kiss from the end to mid-ceremony. I was there and captured the moment, but it was a scary near-miss. I always want to be in the right place at the right time so help me be there. Some of the variations in wedding ceremony format I have photographed include:
Wine box ritual
Candle lighting
Salt/sand pouring ritual
Ring warming ritual
Special gift to a child or other family member
Full mass (Catholic)
Flowers to the Virgin (Catholic)
Glass breaking (Jewish)
Both parents walking the bride and/or groom down the aisle
Having your back to the audience the entire time
One more thing: a big trend now is for the bride and groom to kiss at the end of the aisle as they leave the ceremony. I think it's a nice photo opportunity. If you want to do this, just let me know ahead of time so that I am prepared.
Finally, if there are any photo restrictions during the ceremony, then let me know. For orthodox Jewish ceremonies, photos are normally severely limited and several churches request no movement during the ceremony. I check all of my venues beforehand, and always like to meet with the venue manager or officiant in order to learn the house rules. And note I will never use flash during the ceremony – only during the procession, final kiss, and recession. Anything else is just obnoxious.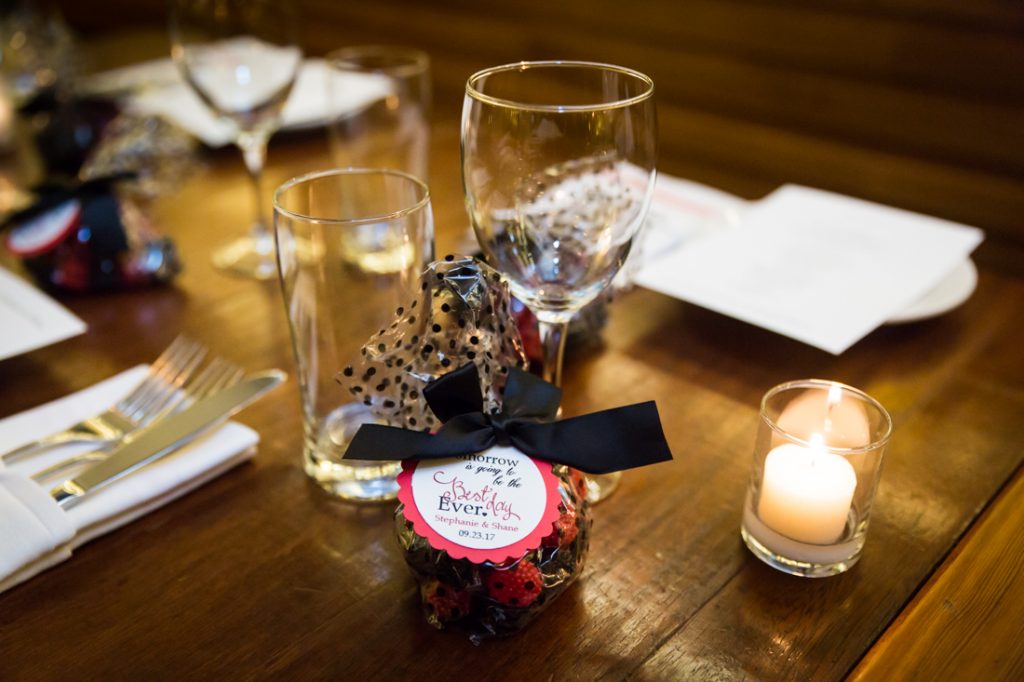 Details Your Wedding Photographer Needs to Know – About Your Reception
6.  Song length for special dances. I like to use a variety of angles when photographing anything, but in particular a first dance or parent dance gives me the opportunity to take a dramatic wide shot from the floor. Another particular shot I love is to take a wide shot of the dancers from the balcony, if one is available. But to do either of these shots takes time: time for me to switch lenses and run up the stairs. If your first dance song is particularly short – some couples simply feel self-conscious dancing in front of others (I know I do) – then let me know. I'll stick with two lenses and still get you some wonderful shots.
7.  Quirky dance moves or a big dip. I always want to be in the right place at the right time, and I definitely don't want to miss any dips. If you have one planned for your first dance, then I want to be positioned directly across from you for the perfect horizontal shot. If you are going to start out with the waltz and shift into a fast-moving merengue then let me know. I love first dances that include a surprise, as long as it's not a surprise to me!
8.  Performances or gifts to other family members. Speaking of surprises, I have shot two weddings recently that morphed into surprise birthday celebrations for different family members. I adore the idea of sharing the celebration with others. Let me know if you have a special presentation or toast planned. Likewise, if you plan to serenade your groom or bring out a surprise belly dancer to perform, then let me know.
9.  Family drama. If your family puts the fun in dysfunctional and you think you need to make me aware of the situation because it will affect the dynamic of your family portrait time, then please do. I never want to unintentionally make anyone uncomfortable. I have photographed many, MANY weddings where the divorced parents of the couple couldn't be photographed in the same room together. It might be wise to designate a family member as a 'wrangler' to point out specific people and to let each family member know when s/he is being photographed.
10.  Videographer style. I have great working relationships with videographers. The only time a conflict comes into play is when I, a documentary-style photographer who never does retakes, is saddled with a grand artiste of a videographer who wants to do three retakes on every frame. It's not a problem, and ultimately those retakes help to get me even more fabulous photos, but it does add much more time to the portrait schedule. If you have hired a videography crew who does not adhere to a documentary style, just give me the heads up.
11.  Anyone who does not want, or should not be photographed. Three years ago I photographed a beautiful military wedding. There was nothing out of the ordinary about the wedding except for the fact that the groom – In full military uniform – could not have his photos made public due to the sensitivity of his profession. I have also had clients who had religious stipulations on photos taken or simply did not want photos released because their nuptials had not been announced to the world. I fully understand, and always have my client's needs at the forefront of my mind. If you have any issues with publicity, let me know well ahead of time so that I know your privacy concerns. While I have to be able to publicize my work and only show the best photos, I am happy to change names and not tag you on social media so that your photos are harder to search.
Bottom line: if your wedding or event consists of anything out of the ordinary – and I hope it does because variety is the spice of life – then let your photographer know.   Enjoy the photos accompanying this article from Stephanie and Shane's rehearsal dinner at the Smith in the East Village. The dinner was a wonderful precursor to their wedding at Gallow Green atop the McKittrick Hotel in Chelsea which I will share with you on Thursday. As far as details for the event, each guest was given a sweet little bag of candy as a favor, and there was a wonderful bottle of Veuve Clicquot champagne for guests to sign. The bottle of champagne will be opened one year from now on the couple's first anniversary. The staff and food at the Smith are fantastic, so definitely check out the private room downstairs for your next event.
And don't miss Stephanie and Shane's engagement portraits, where we started the shoot at Green-Wood Cemetery and then took a tour of their Windsor Terrace neighborhood in Brooklyn. Very fitting with Halloween approaching!
If you would like to see more rehearsal dinner photos from my portfolio, then please visit my website – KellyWilliamsPhotographer.com
Save
Save
Save