With the winter weather and COVID-19 keeping us all indoors, what's a mother-to-be to do for her maternity photo shoot? The answer is to make the best of a bad situation and explore all the opportunities your apartment has to offer. In the case of Elizabeth and Jeffrey, they wanted to celebrate this blessed milestone with an indoor maternity photo shoot before the birth of their child in January. Their pictures turned out absolutely lovely, and I have all of the indoor maternity photo shoot tips to help you get the same great results.
Meet Elizabeth and Jeffrey
First, let me introduce you to Elizabeth and Jeffrey. These two met online and knew very quickly that theirs was a match made in heaven. While timing couldn't have been better for them to fall in love, the pandemic threw a wrench into their plans for an epically glamorous maternity photo shoot. But fear not! Elizabeth and I hatched a plan to get the best photos possible within their limited amount of real estate.
My Top Nine Indoor Maternity Photo Shoot Tips
Indoor photo shoots require more planning ahead of time. Since I can't do a venue check to your apartment ahead of time, I always like to get the insider info on a client's apartment before I arrive. This way I'm ready to start shooting the minute I stepped through the door. I had Elizabeth provide me with as much visual information as possible. This included an extensive Pinterest board to make sure we were on the same visual page, a video of her apartment, photos of both the lobby and roof of her apartment building, and photos of her planned outfits. As it turns out, Elizabeth and Jeffrey had some great locations at their doorstep.
Take advantage of any natural light you have. Elizabeth wanted to start the shoot with photos in their bedroom. The room had a large window, and Jeffrey kindly moved a TV from on top of the dresser to the floor so that it did not block any available light. If you will be shooting in a similar location, then have the windows open, pull back any drapes or blinds, and remove anything blocking the window light.
With indoor photos, you don't need to worry as much about turning on the lights. My flash can surpass any indoor lighting and take care of all your interior illumination needs. Indeed, my flash will also offer a more pleasing blue-hued light over the yellow-hued, tungsten light of your average lamp. However, indoor shots are never going to be as good as natural light. But the mix of the two forms of light can bring out some brilliant photos. Take a look at this shot of Elizabeth simply posed against the wall of her bedroom looking out to the window. The mix of natural light and light from my flash lit her perfectly.
Concentrate your cleaning efforts only on the areas where we will be taking photos. Elizabeth and Jeffrey just moved into their one-bedroom apartment, so I told them to only concentrate on the areas where we would be taking photos. The bedroom looked great, and they made sure to decorate the area behind the bed and to keep the nightstand neat since these spots would be in the frame.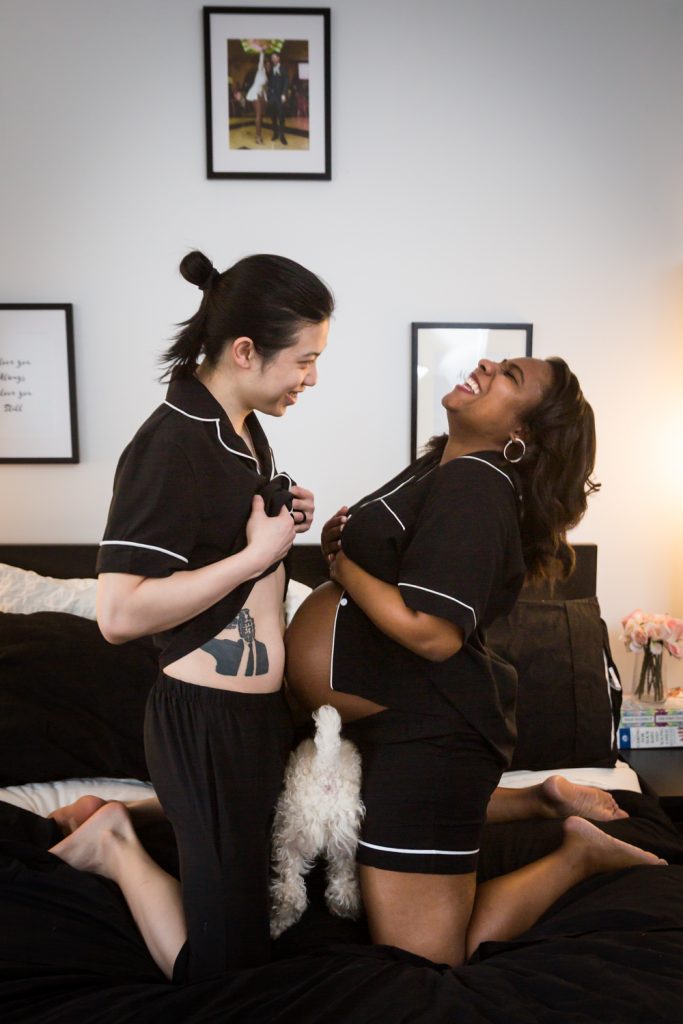 Restrict your fur-baby to interior shots and keep it humans-only for any outdoor photos. Elizabeth and Jeffrey's bedroom provided some great shots in an intimate setting. Most importantly, it was the perfect location to photograph their little dog, Sanford. If you are planning on having your fur-baby be part of your indoor maternity shoot, then I recommend following in Elizabeth and Jeffrey's footsteps and leaving the outdoor photos for the humans. This way you don't need to have a wrangler to handle the dog and you can concentrate on getting your best shots.
Head outside where possible for photos. From the bedroom, we next moved to the large window in the living room. But as it turns out, Elizabeth and Jeffrey have a fantastic terrace. While small, the space was big enough to bring in some natural light as well as a view of Brooklyn.
Use that roof! From the terrace, we next moved up to the roof. If you are lucky enough to have an apartment with any roof access, by all means take advantage of it for your photo shoot. You'll need to check with your building management to make sure photos are allowed. Often there may be liability issues or the building management wants to restrict photo times to not inconvenience other residents. Elizabeth and Jeffrey's roof space has a beautiful view overlooking the skyline of Manhattan and we hit the roof just as the sun was setting.
Switch up your indoor backgrounds if at all possible. If you don't have roof access, it is then simply a matter of switching up your indoor backgrounds and making sure you have enough variety within your apartment.  Blank walls are great because you can focus on the subject alone. So, be ready to take some art down just for the sake of the photo shoot. In general you will need to cut down on any clutter on the walls, and watch for reflective surfaces such as framed art with reflective glass or mirrors. Also, check for scuff marks and any paint discolorations.
Distance makes the camera grow fonder. By far the biggest problem with shooting in apartments is that the photographer needs to have enough distance from the subject in order to narrow the lens focus. Most apartments in New York don't provide enough distance between the subject and a telescopic lens (any lens narrower than 50mm). Most of my portraits are shot using a 70 to 200mm lens. If I am forced to use a wider lens, say a 50 mm, then everything in the lens is going to be in the picture. With a telescope lens, I can narrow in on my subject and dismiss anything on the side, like the rest of your apartment.
Bottom line, get outside if you can, have as much access to natural light as possible, and provide enough distance for your photographer's camera. Shooting inside New York City apartment requires creativity, but as these photos from Elizabeth and Jeffrey show, you can pull off a miracle.
---
Looking for more maternity photo shoot tips?  Check out this link to my other articles and past photo shoots.
Interested in scheduling your own maternity portrait session?  Drop me a line and let's chat about your photography needs.
If you would like to see more photos from my family portrait portfolio, then please visit my website KellyWilliamsPhotographer.com
Finally, if you are interested in getting out your frustrations on the year 2020, then check out Jeffrey's company: The Rage Cage