In keeping with this week's destination wedding theme, I thought I might turn my attention to your guests. No matter where your wedding is located, you no doubt will have out-of-town visitors in attendance. As such, I have put together a list of creative wedding gift bag ideas to have ready at the hotel as a warm welcome to all your family and friends.
The more information you give your guests, the more independent and self-entertaining they will be. Don't want to get bogged down in constant texts asking where and when something is happening? Then make sure to put the information in the gift bag. With this word of warning in mind, let's start with a list of the basic logistic information that should go in every bag:
Full itinerary of all the events for your wedding (rehearsal dinner details, ceremony and reception locations, morning-after brunch details, etc.); if guests have an entire day to themselves, then make sure you state that on the itinerary
Contact information (phone and email) for a wedding point person (event planner, maid of honor, best man) in case of emergency. Note that this person should NOT be either the bride or groom (who will be very busy). If you have foreign guests coming in from afar, look into using WhatsApp, a free texting app, as your method of communication.
Wedding hashtag or other social media information, including your wedding website URL
Map of the city marked to indicate points of interest for your wedding, subway stops, etc.
Subway map or information on local public transportation; if public transportation is not an option, then a list of local taxi companies or Lyft/Uber options
Information on city wi-fi spots
Time Out Magazine or another local paper giving a rundown of what's going on in your city
List of last-minute shopping options and locations: Duane Reade, Target, Macy's, 24-hour deli
List of nearby restaurants with recommendations
Information on where to print your boarding pass if this is not an amenity provided by the hotel
Now that you have the basics in the bag, here is a list of optional niceties that will truly make your guests feel welcome:
Random snacks
Water bottle
Mints, gum
Something special specific to your wedding: an extra wedding favor or treat with your initials printed on it – for ideas, check out this list of creative wedding favors
Consider dropping off your bridal party gifts early
Slippers (I always seem to forget mine at home)
Mini cocktail kit, complete with mini bottle of liquor and drink recipe – perhaps a special cocktail that will be served later at the wedding?
Drink coupons at the hotel bar
List of nearby happy hours
Hangover kit (aspirin, pepto bismol, alka seltzer, eye drops, saltines)
A mini umbrella, if you are getting married in the rainy season
Personalized luggage tag
A souvenir (tacky or otherwise) that is specific to your town
Cell phone battery charger
A nice toiletry item – soap, hand lotion, chapstick – that you love, or that is from a local shop
Accompanying this article are photos from Rachelle and Brice's destination engagement, whom I had the pleasure of photographing in Jupiter, Florida one year ago this past weekend. Enjoy the Florida photos – spring might actually be here, New Yorkers!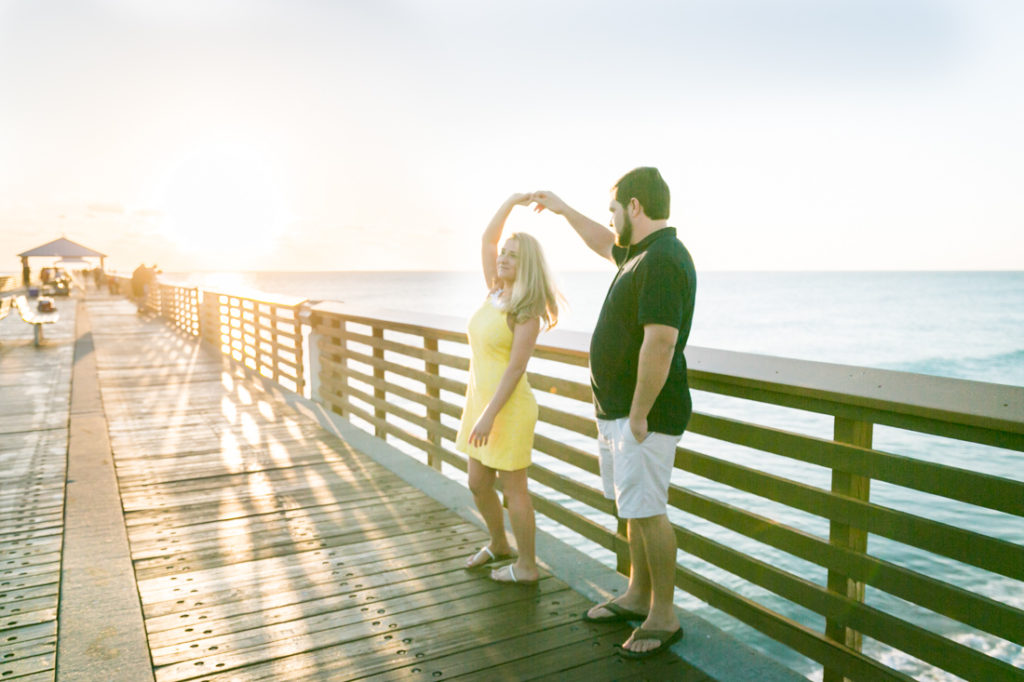 If you would like to see more images from my portfolio, please visit my website – www.KellyWilliamsPhotographer.com
Save