Boo!  I'm sure you all are busy getting your costumes ready for tomorrow, so what better time than today to share a spooktacular, Halloween-themed wedding reception?  Please meet Alyssa and Mohan, who share a love of Halloween and each other.  They wanted to do something completely different for their wedding, and I can officially say…mission accomplished!  In today's blog post I have all the details of how Alyssa and Mohan's reception came to be as well as a bevy of tips for how to plan a Halloween wedding.
Meet Alyssa and Mohan
If you read my blog, you have already met Alyssa and Mohan, who tied the knot down at City Hall last year. These two are adorable together, and best of all, they have the greatest New York 'meet cute' story out there.  It may sound like something straight out of a romantic comedy, but they met on the Long Island Railroad.  Alyssa and Mohan commuted daily into the city on the LIRR, and as New Yorkers are prone to do, they sat in the same train car every day.  After a while, the same foursome of commuters, including Alyssa and Mohan, became friends and started to save seats for one another.  What at first was just a friendly flirtation became a romantic relationship when Alyssa solicited Mohan for barbecue advice.  He kindly offered his services as grill master at one of her upcoming parties, and the rest is history.
That summer picnic led to love and the Halloween reception which I am sharing with you today.  Thanks to being swamped with work at the time of their wedding, I didn't post a blog about their reception.  As the calendar continued, I decided to save their special Halloween treat for this year. My timing worked out perfectly, because Alyssa and Mohan's wedding was declared so fabulous that it has been featured in the latest issue of New York Magazine Weddings.  The issue is on stands now, so pick up your copy.
How to Plan a Halloween Wedding – Idea to Event
How long did it take you to plan your wedding?
We got engaged on my birthday, April 30th, and we were married on October 28th.  We spent about six months planning with the bulk of the work done within 3.5 months.
Why did you decide to go to City Hall for the ceremony?
Neither of us are very religious, and we hadn't found a joint spiritual home at that time.  We both love NYC and wanted to exchange vows in a non-traditional setting and use the amazing backdrop of the city as the scenery for our wedding album.
Was your event planner full service or day-of?
Absolutely full service! Cindy Zloof of Tower Productions was amazing.  She was a true partner during the planning process and handled it all during planning and the day of our reception. We only needed to show up, smile and dance our hearts out with the ones we loved.
How did your event planner help?
Cindy was great because she provided honest feedback during the planning process. You could see she had experience with event planning and brought perspective that was very credible. Even if we thought the addition of a detail would be great, she was the voice of reason that said…" you've gone elegant…. keep it that way." We loved that.  On the day of the wedding reception, she was on hand to deal with all of the vendors, set up room, work with the venue and liaise with any additional parties we needed her to. She was also the time keeper…which was a good thing.
How did you get all of your guests to come in costume?
We strongly encouraged that they wear a spooky costume but didn't mandate it. We only required a mask so that it would give everyone an opportunity to partake in the theme of our reception while being comfortable.
Did you suggest where people could go for costumes or make suggestions on the taste level of the costumes?
We provided some suggestions but given the time of year, it was easy for everyone to find costumes and masks.
**Note: I have to interject here to say that the one aspect of Alyssa and Mohan's party that most blew me away was the high taste level of every guest's costume. This party was no low-rent costume bash. Rather, every guest was dressed to the nines and looked truly elegant. I was impressed, and frankly, felt underdressed.
How to Plan a Halloween Wedding – The Venue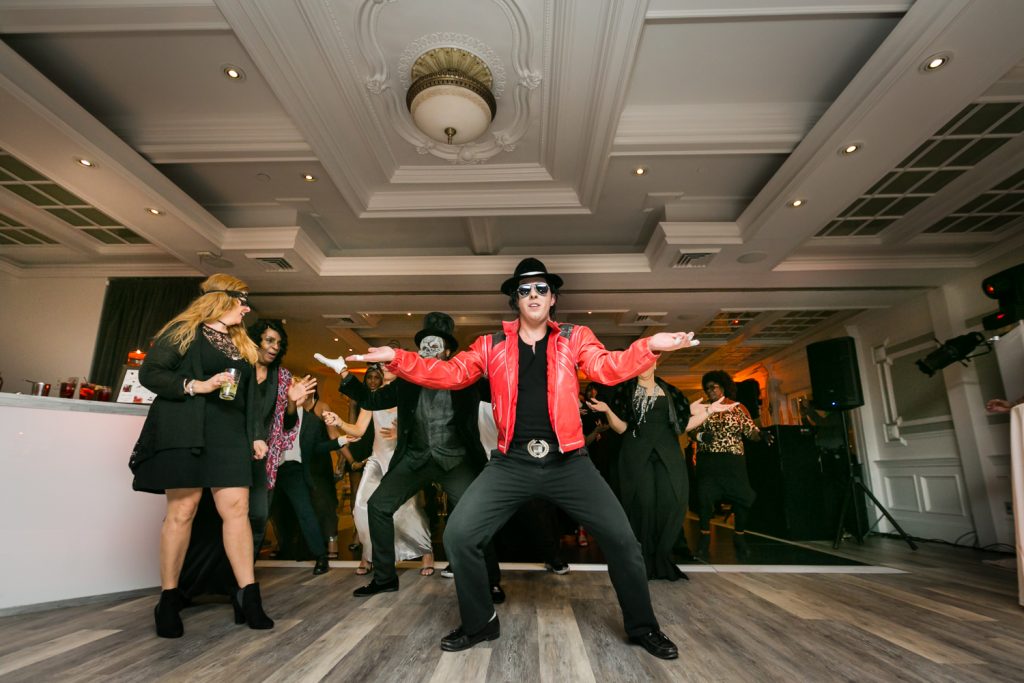 How did you select your reception venue?
It was a referral from an acquaintance that goes to the same hairdresser as I do. She hosted a small wedding and reception at the Inn at New Hyde Park and only had wonderful things to say about it.
How many visits to the venue did you make to plan the event?
We made about three or four visits before our reception.
Did you do a tasting at your venue?
Yes; we opted for a buffet style dinner menu so it was important that we sample the options. We also got reinforcement from online reviews and those we knew who attended events at the venue.
Did you use any extra lighting?  If so, why?
Yes; we opted to use uplighting. We opted for amber lighting as it helped us create the ambiance needed for a Halloween-themed reception.
How to Plan a Halloween Wedding – The Vendors
How did you find your main vendors (event planner, photographer, DJ, photo booth)?
We visited the traditional wedding websites, but Google was our main friend.  We also took referrals from friends and consulted the long list of vendors we've worked with in the past.  If you find great vendors, hold onto their contact details for future reference…it makes life easier when planning big events.
Did you do a tasting for your cake?
Yes; we brought my parents (Alyssa's) with us. Both of us have very different palates when it comes to desserts/flavors. The tasting was super helpful as it allowed us to make cake decisions keeping the varying tastes of our guests in mind.
How did you design the cake?
We googled some cake designs and put a few things together. Since our wedding theme was "big party with Halloween inspiration," it was important that the cake represent who we are and the vibe of the night. No plain layers for us…"Til Death Do Us Part!"
How did you find your wedding dress?
I found my wedding dress at a bridal boutique the next town over from where I live. I would always admire the dresses they had in the window and knew I would be visiting the store if I had a big event to go to. Since I wasn't going for the traditional wedding dress, but more of a champagne laced gown, Bridal Reflections was my first and last stop.  The staff was very warm, helpful and willing to go the extra mile to help. I also encouraged and appreciated their feedback when helping me find a dress.
My black reception gown was the result of me playing junior fashion designer. I was just lucky to find someone who could sew really well and read my stick figure examples.
How long did it take to make the wedding reception dress?
Since my wedding day dress was an evening gown, it only took about two to three weeks to arrive at the boutique. My wedding reception gown took about the same amount of time.
The Final Verdict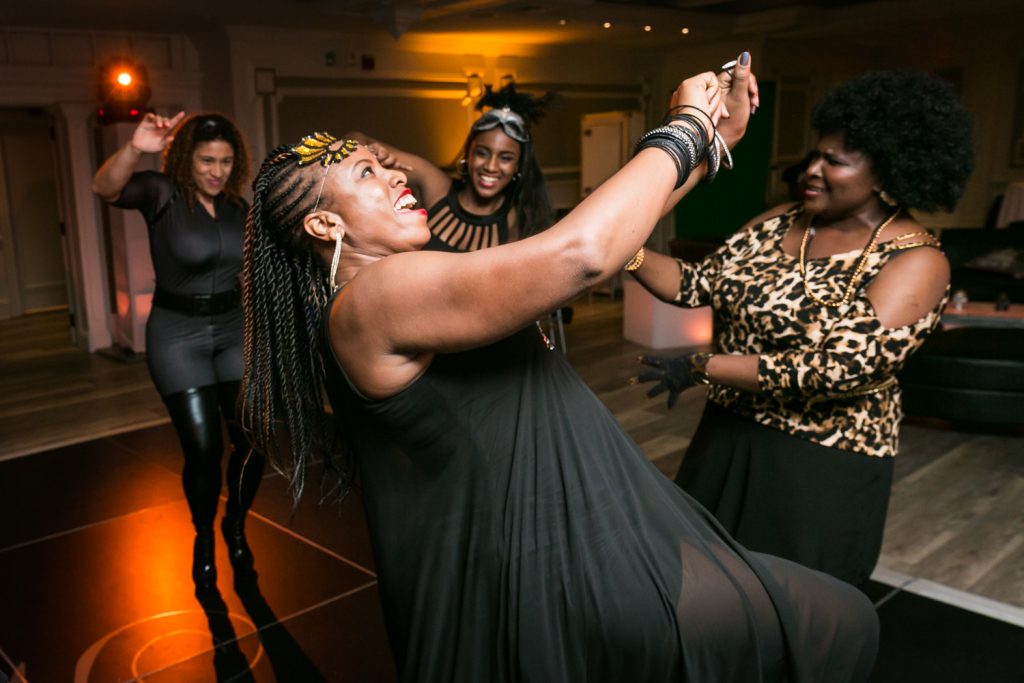 Did anything not go as planned?
We only wished it wasn't so chilly on our wedding day so that we could have made it to the Brooklyn Bridge for the iconic backdrop. Otherwise, we loved both days.
What was your favorite part of the reception?
We loved everything!  If we had to pick one, the Michael Jackson impersonator getting everyone on the dance floor to perform Thriller was definitely amazing.
Was there anything you would have changed or done differently for the wedding?
Nope. Both days were great.
How will you be celebrating Halloween this year (your anniversary!)?
We are still figuring it out, but something spooky will definitely be in our plans.
Bear in mind, dear readers, that Alyssa (with Mohan's input certainly), conceptualized this entire event herself. Personally, I think Alyssa has a second career as an event planner ahead of her. Indeed, I think a lot of what Alyssa went through in planning her day can be applied to any type of event, regardless of theme or season.  A few more details you should know about the wedding: the reception was also a birthday celebration for Alyssa's daughter, and the couple presented a cake to her near the end of the evening.  There were special cocktails for the night that included ghoulish candy as garnishes.  The guest book was fantastically fall-themed, as guests wrote notes to the couple and tied them on a tree.
Seriously, this was one of my favorite weddings to photograph of all time. Alyssa and Mohan's big day was a 'bucket list' wedding for me, and I am so pleased to have been part of their joyous day. So who's next? If you are thinking about tying the knot in an unconventional fashion, give me a call.
Ceremony
Reception
---
Interested in seeing photos from a spooktacularly beautiful engagement shoot in Green-Wood Cemetery?  Check out images from Stephanie and Shane's Windsor Terrace engagement session here.
Are you planning on throwing your own Halloween-themed wedding?  Drop me a line and let's talk about your photography needs.
If you would like to see more images from my wedding photojournalism portfolio, then please visit my website — KellyWilliamsPhotographer.com.