A classic maternity portrait focuses on the momma-to-be and her expanding waistline — but how much belly cupping can you do in one photo shoot?  If you are expecting creative photos, I have a full list of maternity photo shoot ideas in today's blog post that will really deliver.
Maternity Photo Shoot Ideas –
Clothing & Grooming

Mama-to-Be Clothing
The good news is that you now have lots of options for looking great while pregnant.   You can always choose to go for a casual, natural look.  You can also go in the opposite direction and become a full-on fashionista as Niya did at her recent maternity portrait session. A more high fashion look can mean showing off your curves with a body-conscious outfit, or going for flowy drama with a sweeping dress that both shows off your new outline and uses the extra fabric for dramatic effect. One request: don't show too much skin. Leave a little mystery, please.
A few other clothing and grooming tips:
I recommend wearing comfortable shoes or at least bringing comfortable shoes to wear between locations.
Remember that accessories are what separate us from the animals. An eye-catching necklace can jazz up the plainest of outfits.
Make sure you get a manicure. There will be plenty of 'hand on bump' shots, so you want to have your hands and nails looking good. (This tip goes for partners as well.)
Always remember for any type of portrait session, you should still look like you, but with the volume turned up a bit.
Partner Clothing
There is no need to be matchy-matchy with your baby mama, but do choose coordinating colors.
As always, focus on clean, well-pressed clothes. Nothing will ruin a photo more than wrinkles and stains. These immediately draw the viewer's eye to any imperfections, rather than the family.
If you would like more details on family portrait clothing do's and don'ts, then check out this article: 'Clothing Tips for Family Photos'
Maternity Photo Shoot Ideas –
Portrait Compositions & Posing
Maternity portraits are no longer just about the mother and partner. I recommend that you include the entire family, and set the parameters for your maternity portrait however you want.  Of course you want to include any other children and pets. For that matter, feel free to invite the grandparents. Get the whole gang together and have a mini-reunion.
For that matter, everyone defines family differently these days. Are you expecting via surrogate? Have a best friend who will be there with you in the birthing room?  It's your family, and you decide who is in the frame.
For the order of photos, my general rule for maternity portraits is to first focus on mom, then mom and partner, and then add in the rest of the family.
In terms of posing during the portrait session, aside from 'hand on bump' and its close cousin, close up of 'hand on bump,' here are some options:
Classic portraits of mom, including a full vertical shot and profile
Mother backlit, with light showing off her curves
Hands of both the mother and her partner on her stomach
Partner getting close to/kissing mother's stomach
Vice/versa photos: partner focuses on mom, mom looking into camera, then reverse
Shoot from above, showing stomach and couple together
Siblings: little ones listening to, or kissing, mother's stomach (pets too!)
Couple walking together
Partner hugging mother from behind with both hands on mother's tummy
Close up of both hands on mom's tummy and a prop – baby's first shoes, for example
Both partners standing front to camera, sharing a prop in between them such as baby's first outfit
Same photo of mother, before and after. If you have a newborn photo shoot planned, then do this: expectant mother against a wall in profile, or some spot that can be duplicated with baby. Then when the baby arrives, simply position the baby where the mother's tummy was, and voila! Instant before and after photo.
Humorous options: blowing balloon with 'ready to pop' sign, or have every family member in the photo showing their tummy
Maternity Photo Shoot Ideas – Locations & Activities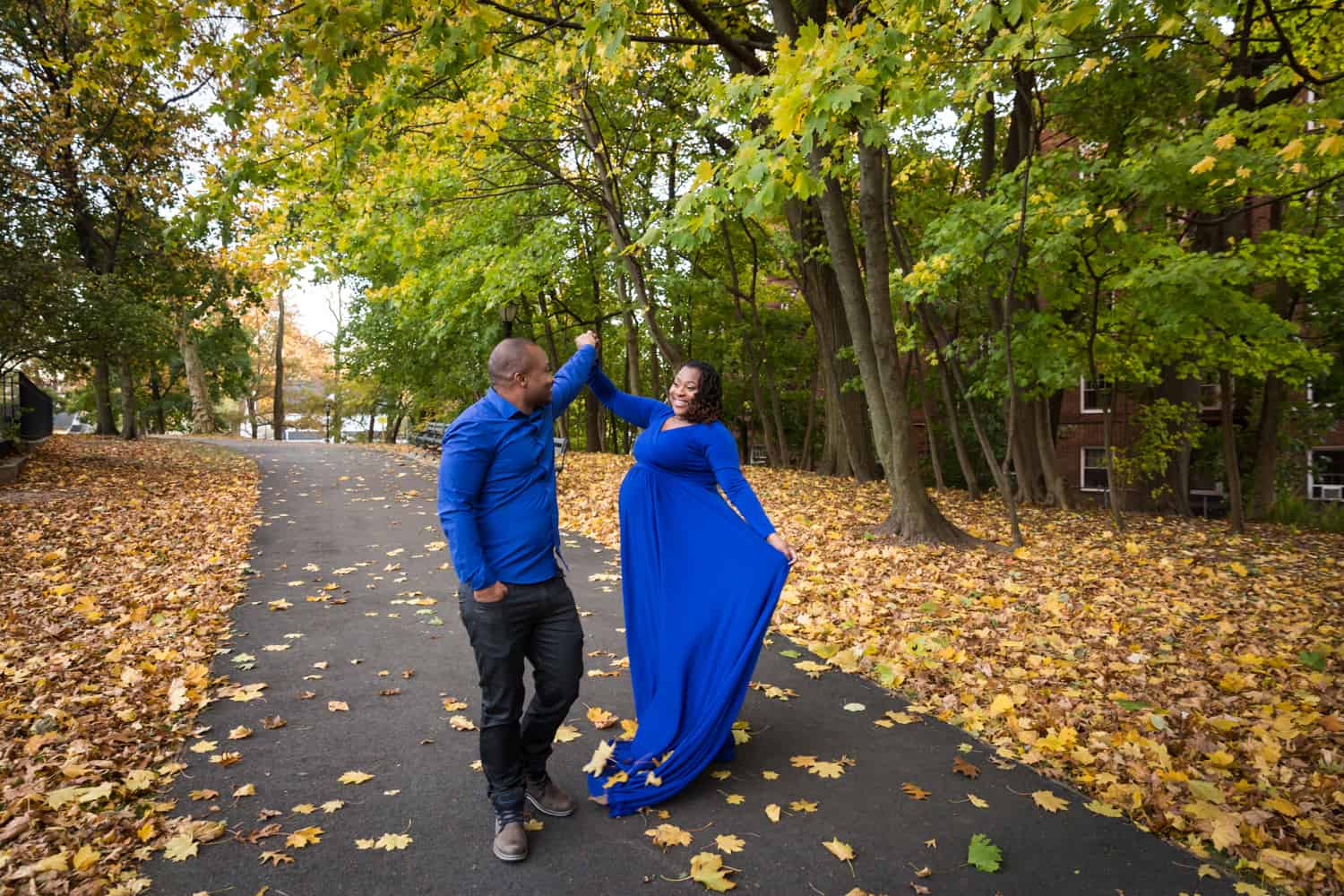 I generally recommend that any maternity shoot location be one that doesn't require much walking and has a bathroom nearby.  Other than these qualifications, feel free to get creative with your location choice.
Furthermore, don't feel like you have to limit yourself to just standing and posing during your maternity photo shoot.  Especially if you are nervous in front of the camera, an activity during your photo shoot is the perfect solution.  You get to do something that looks good on camera and will also disperse your nerves.  So with that in mind, here is a list of good locations and activities to choose from for your maternity photo shoot.
Parks.  Parks are always a good location, because you can get a variety of backgrounds. As shown in Niya and Gladimir's photo shoot in Forest Park, you have the option of tree-lined pathways and then more fall-like foliage.
The beach.  The beach is always a great location, but just make sure you time your photo shoot so that you are avoiding any harsh overhead light. Check out photos from Jessica and Dan's maternity shoot on Long Beach that was shot during 'golden hour,' (i.e., just before sunset).
Rooftop decks. Here in NYC, there are plenty of garden oases right on top of our apartments. Not every apartment has this option, but for those that do, these gardens offer plenty of privacy plus stunning views. As with a beach location, you just need to make sure you have enough shade, or to schedule your shoot during golden hour to avoid any harsh light.
Your own apartment and nursery.  I always like starting a portrait session in the nursery. Home is where the heart is, and it is also where the cutest toys and little shoes live. The nursery is going to change rapidly once the baby arrives, so get a solid shot of it now before the chaos erupts.
A location that resonates emotionally with you and your partner.  Revisiting locations that were meaningful to you when you began your relationship take on a new 'circle is complete' meaning when you return for your maternity shoot. Here are some options:
Where you met
Where you had your first date
Where you proposed
Where you got married
Your neighborhood
Schedule a Baby Moon. Think beyond the limits of your neighborhood and take a road trip for your photo shoot. Why stay put?  You likely won't be traveling for a while once the baby arrives, so take a trip to some place fun. Options include a local theme park (Coney Island!), vineyard, or one of the beautiful mansions out on Long Island.
Make it a date. You can stay at home and cook, put together the crib, go shopping for baby clothes – do whatever you want to do; just bring your photographer along. Some activities, and locations, are more apt for photos than others, so discuss your ideas with your photographer beforehand. Case in point, photos in private stores are off limits – so no photos in Babies R' Us.
Make it a full fashion shoot. You are looking fabulous, so why not flaunt it? When else are you going to get to wear such dramatic clothes? Rent a few, fun frocks from Rent the Runway and make it a fashion shoot. A Pea in the Pod has a selection of dresses just for maternity photo shoots and Motherhood Maternity has a wide selection of outfits as well.
Maternity Photo Shoot Ideas – Props
In general, I think less is more when it comes to props. I recommend you select a meaningful item and then get great photos with it.  If you want to bring baby's first cute pair of shoes, then great. But don't bring a whole closet worth of items. With that tip in mind, here are some suggested props:
Baby shoes
Baby's first outfit or a cute onesie
Toys or books
Something special from the grandparents
Something with the baby's name on it
A calendar or something indicating the day the baby will be born
Thank you or birth announcement sign. If you plan to send out a thank you or birth announcement card, bring signs with you and let your photographer know what you have in mind for the card.
Seasonal or holiday items, especially if the baby's birth is going to happen close to a particular holiday. This is also a great planning idea for the birth announcement card.
A globe.  This is a great option if you are adopting a baby and want to do a family portrait before the baby arrives.
Something to show your family's cultural heritage
Sports memorabilia.  Any little Mets fans in the house?
Custom t-shirts – because, why not? This works especially great if you are going to be including little siblings in the family photo.
Pet props. How about a sign or t-shirt that says 'big brother' on your furbaby?
Something signifying a hobby or location the entire family loves. Are you a Disney lover like me? Have a trip to the Magic Kingdom planned for baby's first vacation? Bring Mickey along to the shoot.
Something for your partner. Mom has a big tummy, so why can't her partner have one too?  Basketball if a fan, globe if a traveler, or a balloon.
Paint or henna. Make it an activity of painting on mom's stomach. This is great if you have artistic little ones.
In addition, the one item I always recommend is to bring the ultrasound print out. The photo of the ultrasound on mommy's stomach is a classic for a reason – it gives just a hint of what is to come.
What doesn't work: Baby blankets are tough to work with because they don't really have any defined shape. A blanket tucked around a cute baby? Great. A baby blanket on it's own? Meh. If you want the blanket photographed, get a shot of the nursery and include the blanket in the photo.
The photos you see here are of Niya's maternity portrait session in Forest Park. Niya and Gladimir were very brave souls because on the day of their shoot it was about 30 degrees with a significant wind chill. They hid their chattering teeth well, no?
So that is my exhaustive list of maternity photo shoot ideas. Did I leave anything out?  Drop me a line to let me know, or if you have a little one on the way and want to talk about scheduling your own photo shoot.
---
Want to see photos from Niya and Gladimir's epic elopement? Take a gander at their William Vale Hotel wedding photos here.
If you would like to see more images from my family portrait portfolio, then please visit my website – KellyWilliamsPhotographer.com