It has been a busy few months. It seems like New York City is back in business, at least in terms of people wanting their photo taken. One of my most memorable sessions this year is the Central Park engagement photo shoot of Lester and Nick. I have all the behind-the-scenes details of their portrait session to share with you in this week's blog post.
Meet Lester and Nick
I was introduced to Lester and Nick through the incomparable Aldrin and Mike. (In case you have forgotten these two, check out photos from their fantastic Lighthouse at Chelsea Piers wedding.) Hands down, Lester and Nick win the award for best proposal. Rather than simply get down on one knee, Lester decided to ask Nick to marry him with a special tag designed for their fur-baby, Sydney. The tag reads, 'Will you marry Papa?' And of course, Nick said yes.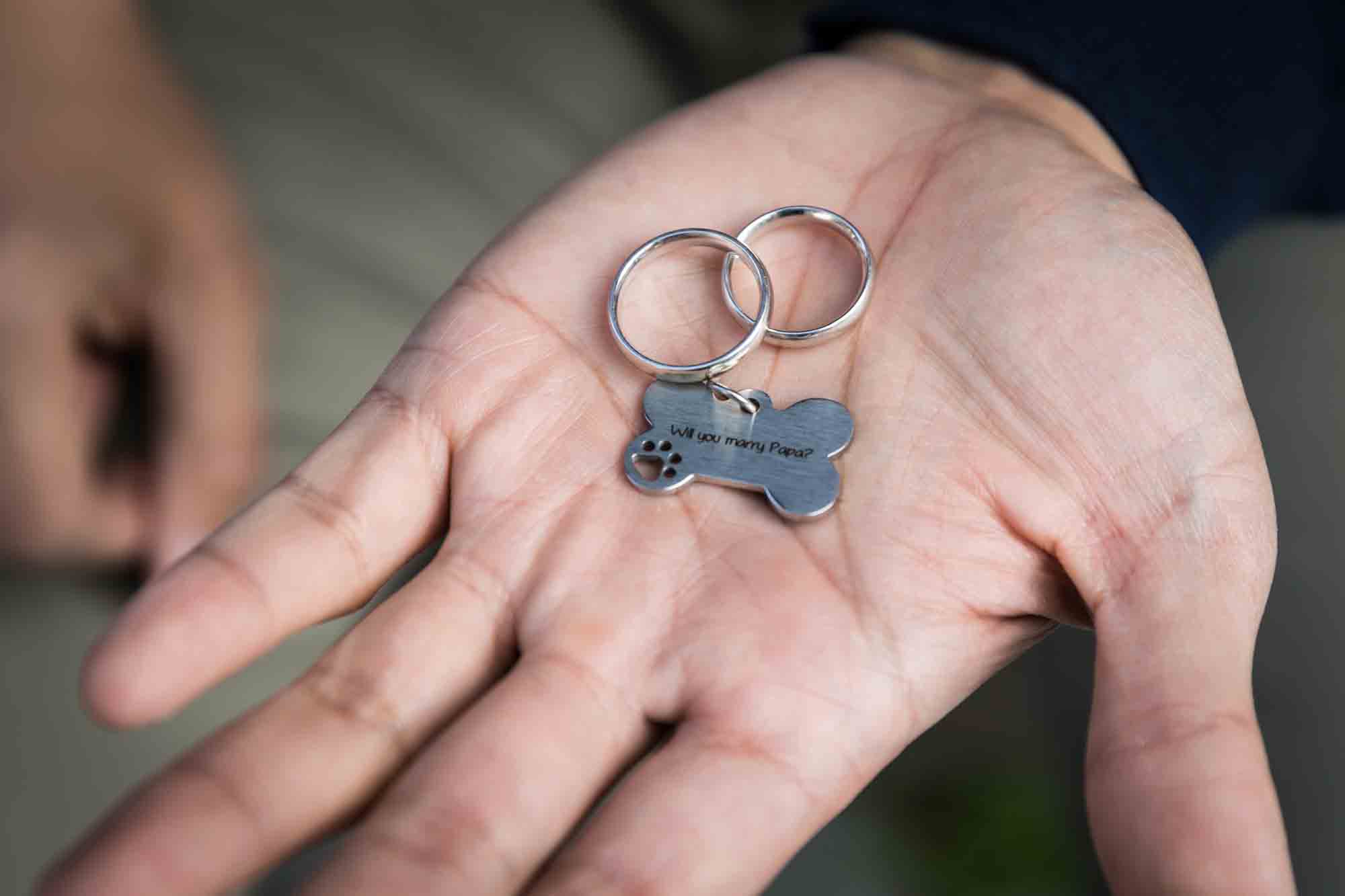 These two will be getting hitched next year in San Francisco. They have a great group of friends and family out west, and I wish them all the best when they finally say 'I do.'
Central Park Engagement Photo Shoot Tips: Timing
If you have a Central Park engagement shoot coming up soon, I have some basic tips and tricks to make your session just as special as Lester and Nick's. First, let's talk about the timing of your session. As everyone knows, I am a huge fan of scheduling your Central Park photo session early in the morning on a weekday. If you are going to be taking photos anywhere near the 72nd Street corridor where all of the iconic Central Park architectural gems are located (Bethesda Fountain, Bow Bridge, etc.), then you need to crowd control strategies. Weekends in the afternoon are just too crowded to be able to get photos without having a million tourists in the background.
Second, think about the seasonal timing of your session. As illustrated by Wendy and Joseph's Central Park engagement photo shoot that was originally scheduled for early March, you want to instead select a time when the park is at its prettiest. Early spring is a great time mainly because of the cherry blossoms. While there's usually always something in bloom in the Shakespeare Garden, early spring is again the best time to take photos here. And fall is a fabulous time in Central Park, but you need to hit it just right so that you don't fall into nuclear winter (mid-November onwards) when all the leaves are off the trees. Of course, you can always go for snow on the ground in January or February, but you have your own challenges there.
Central Park Engagement Photo Shoot Tips: Background Choice
Next, think about your background priorities. For Lester and Nick, Central Park is right in their backyard. They live just around the corner.  As such, we started our photo shoot at their apartment in order to include Sydney in the session. With photos of the dog complete, puppy went back inside the apartment and we ventured over to the park.
Central Park is where Lester and Nick go to get away from the chaos of New York City.  So for their photo shoot, we selected the path through the park that they walk almost every day. For your own shoot, think about what's important to you. Are you looking for those architectural edifices that signal Central Park? Or, are you more interested in the natural wonders of the park?  In this case, you should concentrate on the waterfalls, hidden caverns, and beautiful forests that Central Park can offer. If you are more interested in nature, then do yourself a favor and head north of 72nd Street to avoid the crowds. Personally, I can't recommend the Pool at 100th Street enough for photo shoots. Here you have a beautiful lake, fantastic trees, and a pathway leading to more than one hidden archway.
So that's it for this week. Enjoy the tour through Central Park, and I'll have more photo adventures for you next week!
____________________________________
Interested in scheduling your own Central Park engagement photo shoot?  Drop me a line and let's talk about your photography needs.
If you'd like to see more images from my New York City engagement portfolio, then please visit my website, KellyWilliamsPhotographer.com