A Dream Wedding for Two Opera Lovers
The love that was present at Denise and Steve's rehearsal dinner was in full bloom at their 632 on Hudson wedding. It was a night that brought all of their favorite things together: opera, swing dancing, art deco style, and of course, each other. Such a unique and interesting couple needs a unique and interesting venue, no? Let's check out all the details from their 632 on Hudson wedding in today's blog post!
Meet Denise and Steve
Let me first introduce you more properly to the couple. Denise and Steve met at a NYC housewarming party of an Italian couple who had recently moved to New York City. These two are constantly on the move with shared interests that keep them in step with one another. Steve asked Denise to marry him on New Year's Eve in Vienna. Denise said 'yes,' and they both headed off to an opera and New Year's Eve ball to celebrate.
632 on Hudson History
The fanciful atmosphere of the night Steve proposed to Denise was present from beginning to end at their wedding, starting with their venue choice. This was my first wedding at 632 on Hudson, and to be honest, I had never heard of the space before this shoot. The entrance is inconspicuous, and no doubt you, like me, have walked past the West Village space a million times without ever knowing. But 632 on Hudson is magical inside. Built in 1847, the building is a former chorizo sausage factory. When the present owner purchased it over 20 years ago it was not much to look at, but she transformed the venue over time, filling it with art deco antiques and unique baubles that give the eye something to see at every turn. The venue includes a magnificent roof deck as well as a hidden speakeasy that opened this year (more on that later).
Denise and Steve's 632 on Hudson Wedding
Denise and Steve's wedding began with them getting ready on different floors. This couple is a huge fan of 1920s attire, and they are not so coincidentally frequent visitors to the Jazz Age Lawn Party on Governor's Island. Denise designed her wedding dress with a designer she found on Etsy. And in case you're wondering, I am happy to report that her dress turned out just as she imagined. As you might remember from their rehearsal dinner, Denise's bouquet came from the couple's roof terrace garden.
Thanks to the art found throughout 632 on Hudson, the space needed very little decoration for the wedding. But Denise and Steve's friends did add one special touch: a garland of postcards that had photos of the couple on the front and kind wishes for Denise and Steve on the back. This DIY project is easy to make: you can get your postcards printed with Moo Cards and have up to 10 different designs in each packet of 20 postcards. Then just get contact guests ahead of time to add a note on the back for the couple. Use clothespins to attach the cards to colorful string to display. Voilà! Your DIY photo postcard project is done.
Ceremony
Denise and Steve's love of opera is what actually introduced them to 632 on Hudson in the first place. They had visited the venue to attend an immersive opera performance, meaning that rather than simply sitting in a chair and watching an aria be sung, the performers walk throughout the space and perform in each room while guests move about the performers and follow them. For their ceremony, Denise and Steve recreated the immersive experience and had opera singers posing as guests throughout the space. The officiant for the evening – a friend of Denise and Steve's – would cue the performers after the vows, rings, etc. and the performers would break into song. I have to admit that I am not a huge fan of opera, and still I loved this experience. There was something about seeing the performers in front of you that brought the performance to life in a way I have never experienced watching opera on stage.
We were originally going to do a first look for the couple on the roof of the venue, but time got away, and so Denise and Steve saw each other for the first time as Denise made her dramatic walk through the crowd and down the staircase to Steve. Her father met her at the bottom of the staircase and walked her down the aisle. Throughout the ceremony it was cute to see Denise and Steve singing along to the music – she's Italian and he is an Italian literature professor, so of course they sung along to the opera. Finally, in a nod to their shared love of swing dancing, Steve kissed Denise with a Balboa dip move. Guests cheered by showering the couple with rose petals, tossed from mini cones created by curled pieces of vintage sheet music.
Cocktail Hour & Reception
The cocktail hour and reception that followed was free form, and guests were encouraged to wander throughout the venue, including up to the roof. Hors d'oeuvres were passed, the dinner was buffet: one room served Italian food (of course) and the other served lobster rolls and ribs in reference to Steve's Kansas City roots. Desserts were again passed and Denise made sure a special espresso from Italy was served. Dancing erupted late in the evening, and the party continued downstairs. The guest favors for the evening were beautifully hand-painted gourds from Mexico, filled with Italian candy almonds called 'bomboniere.' These gifts were especially significant for Denise whose mother is Mexican and father is Italian.
After Party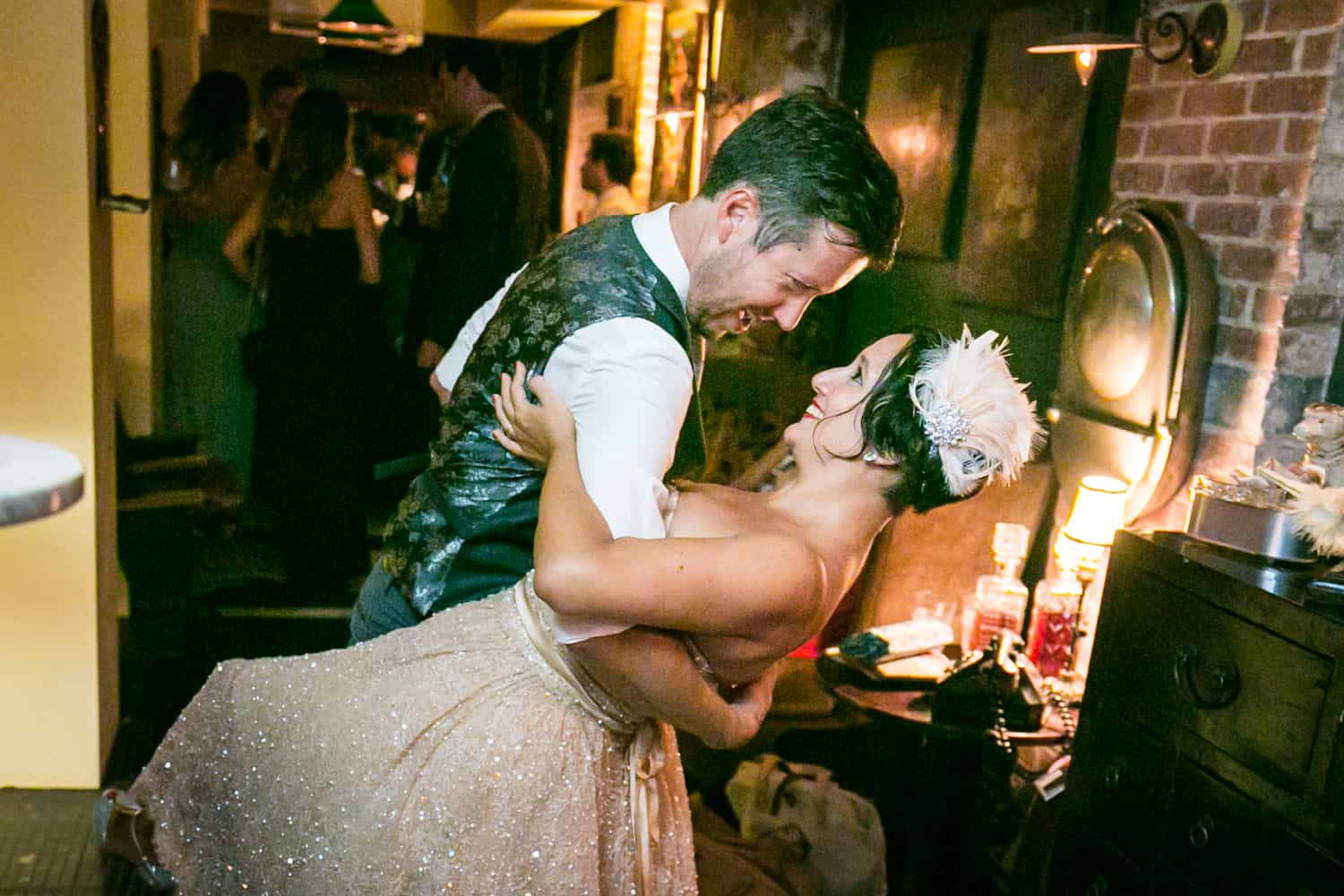 The speakeasy in the basement of 632 on Hudson is perhaps the most unique area of the venue. Note that this is a recreated speakeasy, not an original part of the building. Nevertheless, it is authentic in every detail from the bar in the back to the player piano and decorations. This was the perfect setting for photos of the couple, dressed to kill as if they walked straight out of the era. The celebration continued long after I left to catch a plane to Florida. Enjoy the photos, and I'll details from my trip to Florida next week. Happy Labor Day, everyone!
Vendors
---
Want to see where it all began?  Check out photos from Denise and Steve's laid back rehearsal dinner here.
Are you planning on throwing your own 632 on Hudson wedding?  Drop me a line and let's talk about your photography needs.
If you would like to see more images from my wedding photojournalism portfolio, then please visit my website — KellyWilliamsPhotographer.com.