The spooky Halloween season is almost upon us, so for this week's blog post I am treating you all to a little road trip to Green-Wood Cemetery in Brooklyn. While not the first stop on most tourist itineraries, the beautiful grounds of this historical landmark are definitely worth a trip in my (spell) book. So without further ado, enjoy these tips for visiting Green-Wood Cemetery. Happy Halloween, everyone!
Green-Wood or Greenwood Cemetery?:
A History of the Place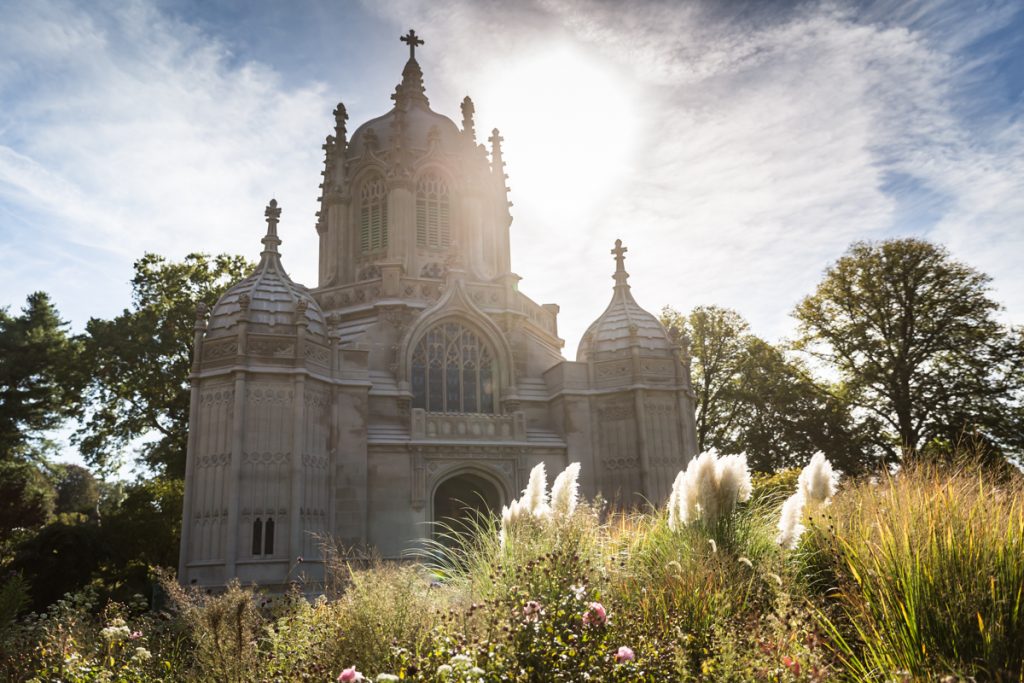 First, let's address the name issue. The correct name of the graveyard is Green-Wood Cemetery. It all goes back to the founding of the cemetery in 1838 as one of the first rural cemeteries in America. By the 1860s, Green-Wood became incredibly popular as a tourist destination because of both its stunning natural beauty and the fact that it was the 'in' place for everyone who was anyone to be buried. Indeed, by the 1860s Green-Wood Cemetery had gained so much international notoriety that it was ranked as the second most popular tourist attraction in America – losing out only to Niagara Falls. Its popularity continues to this day, and on September 27, 2006, Green-Wood was designated a National Historic Landmark in recognition of its national significance in art, architecture, landscaping and history.
Events at Green-Wood Cemetery
Green-Wood Cemetery has always functioned as something of a public park, rather than simply as a place to bury the dead. Since its inception, coming to Green-Wood was seen as a fun excursion for picnics, carriage rides, and sculpture viewings. The Green-Wood Cemetery of today has embraced this storied past and until recently hosted a broad range of educational and entertaining events.   One of Green-Wood Cemetery's most popular events was the annual Halloween 'Nightfall' whereby the cemetery opened its gates in the evening and had all sorts of eerie entertainers performing throughout the graveyard. Visitors would enjoy an adult beverage or two, walk the grounds, and soak in some seriously spooky ambiance.
Even with a raging pandemic all around us, Green-Wood Cemetery continues to provide events for the community and has increased its hours of operation. The cemetery is still a popular destination, even more so now for families looking to get out of the house. While I was there, I saw several parents with kids in tow simply walking the beautiful grounds. There were also quite a few other tourists, like me, taking in the sights. In case you're curious, Green-Wood Cemetery has an active calendar of Zoom events and there are always art exhibits on the grounds.
How Big Is Green-Wood Cemetery?
The cemetery covers 478 acres that includes a wide variety of natural attractions. There are hills to climbs, tons of paths to hike, and four ponds for calm reflection. Nestled in between the graves and trees is one of the largest outdoor collections of 19th- and 20th-century statuary and mausoleums. In addition, the grounds of Green-Wood Cemetery serve as research reserves for universities looking to study local flora and fauna. The cemetery even has a beekeeping area.
But What About The 'Residents'?
Yes, there are plenty of graves in Green-Wood Cemetery. The 560,000 permanent residents include such notable folks as Leonard Bernstein, Boss Tweed, Charles Ebbets, Jean-Michel Basquiat, Louis Comfort Tiffany, and Horace Greeley, as well as a whole host of Civil War generals, baseball legends, politicians, artists, entertainers and inventors. It is a historian's dream come true to see so many famous names in one spot.
If you are looking for a specific someone, you can do a quick and easy burial search on the Green-Wood Cemetery website here.
Visiting Green-Wood Cemetery: Logistics & Tips
Green-Wood Cemetery is always free to the public. There are four entrances to the cemetery. Hours may change as the pandemic situation ebbs and flows, but currently the hours are as follows:
Main Entrance (Fifth Avenue and 25th Street): 8:00 a.m. to 6:00 p.m. (vehicles & pedestrians)
Sunset Park Entrance (Fourth Avenue and 35th Street): 8:00 a.m. to 6:00 p.m. (vehicle entrance closes at 4:00 p.m.)
Fort Hamilton Parkway Entrance (Fort Hamilton Parkway and Micieli Place): Monday through Friday, 10:00 a.m. to 6:00 p.m., Saturday and Sunday, 8:00 a.m. to 6:00 p.m. (vehicle entrance closes at 4:00 p.m.)
Prospect Park Entrance (Prospect Park West and 20th Street): Monday through Friday, 10:00 a.m. to 6:00 p.m., Saturday and Sunday, 8:00 a.m. to 6:00 p.m. (vehicle entrance closes at 4:00 p.m.)
You can drive through the cemetery, with limited entrance hours (as stated above). For my money, however, the subway is the easiest way to reach Green-Wood Cemetery. There are subway stations dotted around the graveyard.
The free map provided by Green-Wood Cemetery has all the celebrity dead marked accordingly. In addition, the map also includes all a self-guided tour plan of the famous architectural and natural sites. Plan to spend a significant amount of time during your visit because of the vast distance between notable locations within the cemetery. During my trip to Green-Wood, I visited the famous architectural sites (all 23 of them), and it took me three hours. I left Green-Wood with only seven minutes to spare before they closed the gates. (Green-Wood Cemetery, no matter how lovely, is not a place where you want to be locked inside for the night.) Make sure you wear comfortable shoes because getting from grave to grave can be a hike across rolling hills. During pre-pandemic times, there was a lovely trolley to take you on a tour, but the trolleys are no longer running.
Finally, note that restrooms are available at the Main Entrance, Sunset Park Entrance, and Prospect Park West Entrances.
Visiting Green-Wood Cemetery: The Rules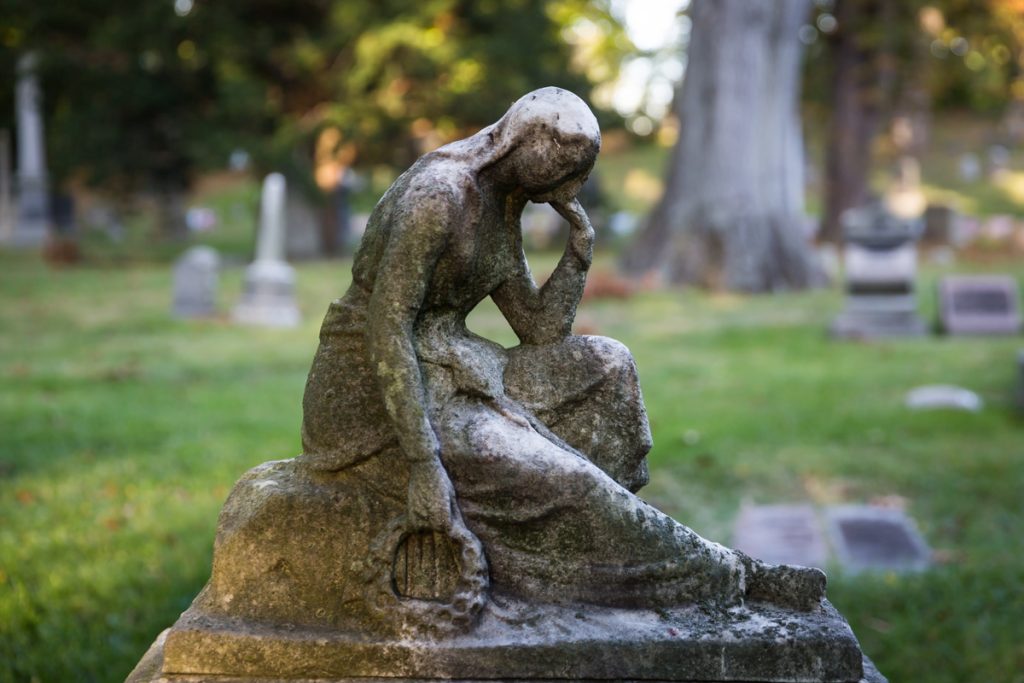 Always keep in mind that Green-Wood Cemetery is an active cemetery. This is not a historical relic, and families still come to mourn their loved ones. As such, visitors to Green-Wood Cemetery should always first and foremost show respect. Here is a link to the complete list of rules when visiting Green-Wood Cemetery. A few to note:
No bicycles, scooters, toys, running, or jogging permitted. This is not a park, though it may look like one.
No shouting or picnicking.
No grave rubbings allowed, and never sit or walk on a monument.
Don't pick the flowers or climb the trees.
No pets are permitted.
Photography is Encouraged
To my fellow shutterbugs, note that photography is actually encouraged at Green-Wood Cemetery. I have been to many other graveyards where the attitude is definitely not as welcoming. Here at Green-Wood, as long as you show respect to the site and to other visitors, you can take as many photos as you like.
Green-Wood has a strong social media presence, and they encourage visitors to post images with the #GreenwoodCemetery hashtag. You can also check out the Green-Wood Cemetery Instagram page, @historicgreenwood, or Facebook.
The only restrictions are regarding commercial or editorial photography that must have prior written consent from Green-Wood Cemetery. Any shoots involving live models or video cameras are prohibited. Drones are also illegal.
A Green-Wood Cemetery Engagement Photo Shoot
I had the pleasure of photographing my clients Stephanie and Shane at Green-Wood Cemetery for their engagement photo shoot. It was not your typical engagement session, but then of course, my clients are always far from typical. Stephanie and Shane lived in Windsor Terrace, right next door to Green-Wood, and they had fond memories of walking the grounds together. The photos turned out great, and I would be thrilled to do a similar shoot in the future (hint, hint).
So there you have it: my spectacularly spooky road trip to Green-Wood Cemetery. If you are in New York City, or are planning to visit, I highly encourage a trip out to Green-Wood Cemetery. It is definitely worth the commute to Brooklyn.
---
If you would like to see more images from my travel photography portfolio, then hop on over to my other website – Kelly-Williams.com. Even better, check out my stock gallery of images if you are interested in purchasing a fine art print, calendar, postcard, or even puzzle of my work. The holidays are right around the corner, folks…
Finally, as always, drop me a line if you are interested in scheduling a portrait session or have an upcoming event to be photographed.