Terrace on the Park pretty much has it all: a history dating back to the 1964 World's Fair, majestic interior decoration, and a professional staff that can't be beat.  Best of all, you never need to leave the premises to take some great portraits.  In today's post, I'll be sharing my top Terrace on the Park wedding photo tips to help you get your best images.
Meet Seethal and Jonathan – How They Met
Let's start off by meeting the bride and groom, Seethal and Jonathan.  These two first graced the pages of my blog last year with photos from their Battery Park engagement session.  But let's roll it back even further and let Seethal tell you how she first met Jonathan: 'We first met on a trip to Washington DC with both of our sister high schools, although that encounter was brief.  Our first one-on-one interaction was at the Dizon Summer Bash when Jonathan started snacking on some fruit snacks from his pocket, enflaming my indignation at his lack of sharing. I chased him, wrestled him, and eventually robbed him of his snacks.  Little did he know I had also begun the heist of his heart.'
'After that event we both went back to our respective colleges, but Jonathan kept in touch with funny and thoughtful queries. The next time we met in person, Jonathan seemed quite keen on speaking to me. It was really the text the next day that got me: "Seethal 🙂" – no three-day rule, no fuss, no games; just a simple message, genuine interest, and that awkward smile emoji.  And we haven't stopped talking since.'
The Proposal
That, my friends, is an inspiring 'meet cute' story.  So how did the proposal go?  Again, here is Seethal to tell the tale: 'The proposal plan was a "Marry Me?" sign at sunrise made of seashells sneakily gathered the day before.  Jonathan made the sign in secret and we awaited the rise of the sun while Jonathan awaited his moment to shine. A giant cloud in the sky had other plans though, so sunrise was blocked for over an hour as more and more people entered the beach. The sun finally broke through the clouds; the time was now!  Except a beach ranger on an ATV rode through and accidentally buried the seashell sign and all hopes of the sunrise engagement.  Was this a sign? Jonathan covertly picked up the seashells, concealed his panic, and we had a lovely morning on the beach while he secretly plotted a second opportunity to reveal his intentions with the woman of his dreams.
After one of the loveliest days with Jonathan, I was ready to pack for their flight back home. Jonathan saw the window of opportunity collapsing and took me to one last beach.  In a secluded spot he wrote in seashells 'Marry?' (the "Me" was still buried in the sands of the first beach).  By the time she looked back up at him, he had a knee in the sand, a passionate declaration of love on his tongue, and the ring she wanted in his hand.  I happily accepted his proposal!'
Seethal and Jonathan's Portrait Schedule
Let me start off by giving a bit of background on Seethal and Jonathan's schedule for the day.  The couple was getting ready at the Sheraton LaGuardia East Hotel in Flushing, but their ceremony was to be held in Elmont.  It is an hour-long commute, from the hotel to the church.  Time was a precious resource, and since Terrace on the Park was located exactly in the middle between the hotel and the church, I suggested we make Terrace on the Park our portrait destination.
Thus, a plan was put into place.  We ended up taking all of the couple's bride and groom and bridal party portraits at Terrace on the Park, with the family portraits shot at the church.  So here is what we learned from the experience.
Terrace on the Park Wedding Photo Tips – The Planning
Make arrangements with your venue coordinator ahead of time.  Normally, you would only be allowed access to a venue during a specific window of time.  However, we were able to take photos at Terrace on the Park outside of the time allotted for Seethal and Jonathan's event because we had asked permission well ahead of the couple's event.  Since there were no competing parties at the time of our portrait session, we pretty much had the entire venue to ourselves, from the roof down to the elegant ballrooms.
Begin your photo session early in the day.  The timing of our portrait session was key to the Seethal and Jonathan being allowed to take photos in the venue.  We began our portraits at noon.  The rooms were free at this time since all client parties would begin later that evening.  We also made sure to steer clear of any staff preparing the ballrooms to allow them to work uninterrupted.
Terrace on the Park Wedding Photo Tips – Interior Locations
Use the roof.  The penthouse roof of Terrace on the Park offers a unique opportunity to get a bird's eye view of Queens and Flushing Meadows Corona Park.  From the roof you can also see the glittering skyline of Manhattan.  The space is great for a first look or group photos, though note that there is no shade up top if your photos are scheduled during the middle of the day
Even better, see if you can access the roof at night.  This tip may be a bit tricky if another party has booked the space.  But if the roof is available, see if you can steal away for a few minutes and get a photo with the World's Fair globe lit at night.  The roof also has fairy lights in place, which would make for a wonderful photo of a bride and groom dancing underneath the lights at night.
Use the Louis XIV-style ballrooms in all their glory.  Seethal and Jonathan got to live out their Palace of Versailles fantasies with portraits staged inside one of Terrace on the Park's ballrooms.  The gilt molding, wall mirrors, and immense chandeliers are sumptuous to behold and add a fantastical aura to any photo.  Don't forget you also have nearly floor to ceiling windows in each ballroom which allow in a huge amount of natural light.  Finally, if you find a ballroom that is set up for a party, take a few photos using the glassware for a nice bokeh effect.
The ballroom lobby area is perfect for photos of all types.  There is a little seating area just across from the Crystal Ballroom that is the perfect amount of space for any type of portrait, small or large.  There are two movable chairs in front of a fireplace, and the space works wonders not only for bride and groom portraits, but also bridal party and family portraits.  It is the perfect rain backup location or a great spot in case you need to take photos during the reception and want to simply step out of the room to take portraits.
Terrace on the Park Wedding Photo Tips – Exterior Locations
Don't forget to go outside.  There are some 'secret' photo locations outside of Terrace on the Park that you may not know about: the little wooden gazebo right at the front of the venue, the bottom floor patio, and the outdoor garden.  While we didn't have time to make use of the outdoor garden or exterior patio during Seethal and Jonathan's wedding, both spaces are great for large group photos.
Don't overlook the main entrance.  Furthermore, the main entrance has two wonderful photo opportunities, especially in times of inclement weather.  The stone bench is decorated with hanging flowers along the top.  This spot is good for a group photo in a pinch, especially if it's raining outside.  In addition, the stairs leading from the parking lot down to the main entrance is surrounded by flowers.  During Seethal and Jonathan's wedding, there were beautiful tulips planted on either side, and we got some great shots of Seethal on the stairs.
Flushing Meadows Corona Park
Plan on extra time if you are going to Flushing Meadows Corona Park.  Sure, it may look like the park is right next door to Terrace on the Park, but it takes about ten minutes to walk to the prime location next to the World's Fair globe.  There is no way to drive to this spot, so make sure you have time to get there and back.  Also, make sure that everyone in the bridal party is wearing comfortable shoes.  It is quite a hike, but worth it.  Just make sure you have enough time.
Flushing Meadows Corona Park has a lot to offer besides the globe.  Other World's Fair architectural icons to photograph include the 'mushroom tower' theater and the Queens Museum of Art.  Though the theater is currently undergoing construction, it will soon be back to its former glory.  You also have long pathways surrounded by immense trees along Avenue of the Americas. Also, don't forget that Flushing Meadows is one of the best locations for cherry blossoms if your event is held during late March or early April.
Locations Beyond the Park 
If you really want blooms, Queens Botanical Garden is right next door.  If the little flower garden in front of the Queens Museum of Art isn't enough for you, then you can  always head over to the Queens Botanical Garden for photos.  Note that there the venue does requires a photo permit and separate admission, especially if you walk in the front door wearing a white dress.  The photo permit costs $200 and should be requested well ahead of time.
If flowers aren't your thing, then you always have the animals.  One other unique photo opportunity is the Queens Zoo, located directly behind Terrace on the Park.  Again, this venue requires a photo permit and separate admission.
Seethal and Jonathan's Terrace on the Park Wedding
Seethal and Jonathan's wedding was a whirlwind, but I actually learned a thing or two during their big day.  Taking photos of Seethal and Jonathan is always an easy, breezy process.  Her bridal party was equally relaxed in front of the camera.  This crew knows how to turn it on, so we finished at the portraits within an hour and hopped in the car to the church.
The Ceremony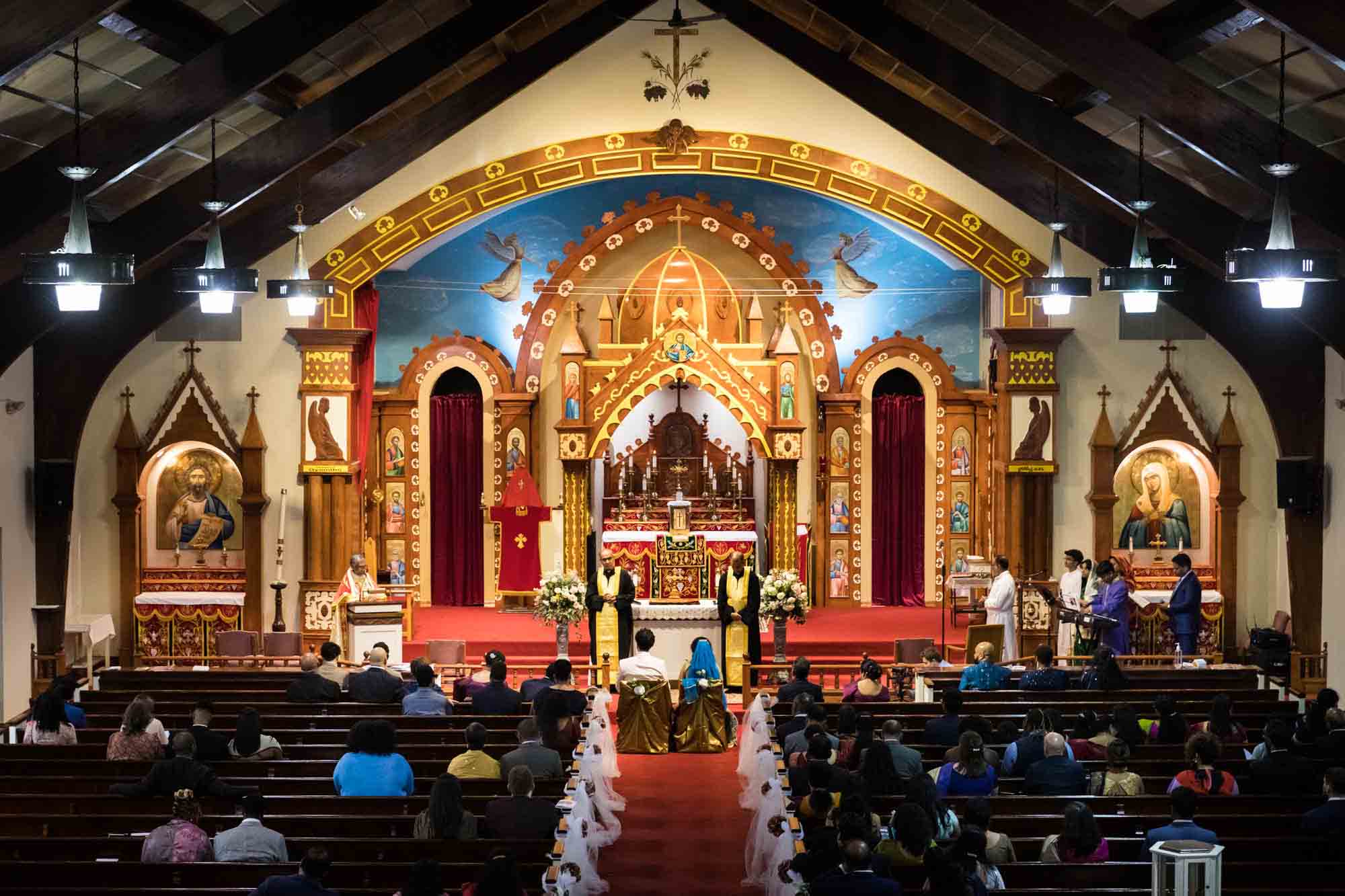 This was my first time photographing Syro-Malankara Catholic ceremony.  The ceremony is similar to that of an Eastern Orthodox wedding ritual.  In this case, instead of crowns, the priest blessed the bride and groom with a gold necklace.  The altar area was beautifully decorated, and the choir loft gave me a fantastic overview shot of the ceremony.  I pretty much stayed in one place to the left of the priest for the entire ritual.  I had prepared ahead of time by watching a video of a similar ceremony, so I knew exactly where the action would be happening.  Since the bride and groom would have their back to the audience, for the entire ceremony, it was important to be stationed up front so that I could see everyone's faces during the ring and necklace blessing ceremony.
Family Portraits
After the ceremony, all of the family portraits were taken in the church.  Again, planning ahead of time saved us lots of time.  One of Seethal's relatives served as the 'wrangler' for the family portrait session.  He had a microphone in one hand and a list of family members to be photographed in the other.  He called off the names and we whipped through the family portraits in exactly 30 minutes.
Terrace on the Park Wedding – Details & Staff
Upon arrival back at Terrace on the Park, I immediately started taking reception detail shots.  The Terrace on the Park staff does such a lovely job setting up the room.  It is always a pleasure to photograph weddings here, and I have to say the staff went above and beyond during Seethal and Jonathan's event.  Jocelyn and Jordan on the waitstaff team were so kind to look after me during the wedding.  Unfortunately, I did not have time to eat, but they very kindly boxed up dinner for me.
Terrace on the Park Wedding – Cocktail Hour & Reception
The cocktail hour segued seamlessly into the reception.  It was a jam-packed itinerary, full of first time events for me.  We had a milk ceremony, which was a really touching moment when the bride and groom's respective mothers serve the bride and groom a glass of milk. It signifies how the mothers will continue to take care of each child.  We also had, of course, a first dance, parent dances, speeches, a moment of remembrance, and a private cake cutting.  Oh, and did I mention the traditional song sung by the father of the bride plus the Bible verses shared by the mother of the groom?  This wedding was entertaining start to finish.
Terrace on the Park Wedding – Table Shots
On top of all of these events, the bride and groom also wanted to do table shots.  In general, I am not a fan of table shots.  Basic table shots involve crowding everyone around one side of the table with used dishes and uneaten food on display.  In short, table shots are never going to produce your best group photos.  But that said, I totally understand wanting to take photos with all of your guests. My recommendation is always to have people called up to the dance floor to quickly snap photos and go from there. This alleviates the problem of having dirty dishes in the photos or having people try to fit all around one table.
I have to say, though, I was completely proven wrong at Seethal and Jonathan's wedding. They swore they could do it in 10 minutes, and with the fantastic DJ's help, we did just that.  The DJ announced that the table shots process would be a game and each table had 10 seconds to pick a pose with the bride and groom. The bride and groom, then ran from table to table, jumping right in with the group, and wham, bam, the photo was taken.
Of course, this was a real challenge with tables of, shall we say, age-challenged guests not really understanding the process.  Also, because we were taking the photo so quickly, so some guests were spread out too far and weren't included in the photo.  Also, this became quite the event so everyone whipped out their cell phones.  As a result, there are a few photos with everyone looking everywhere, instead of directly into my camera as I constantly requested.  So, is this the perfect photo solution?  No.  If your guests are mainly over the age of 50, mobility challenged, or simply not a room full of performers as Seethal and Jonathan's guest list were, then this might not be a good option for you.  It sure was fun though. It also produced some fantastic photos that we wouldn't have gotten otherwise.  If your reception venue has space, you've got a super fun crowd, and a helpful DJ playing some fast music and announcing which table would be next, then this is a great reception game that will get you some very original photos.  Ten out of ten; would recommend.
Terrace on the Park Wedding – Vendors
It's at this point that I have to give a shout out to one of the best DJs I've worked with, Sonic Solutions NY.  Not only did the MC have a clear, confident voice, but the entire team was incredibly professional.  They showed up super early to set up, and even had a print out with the wedding schedule.  These might seem to be very basic standards, but in my 13 years of business, unfortunately not every DJ team has met these standards. Oh, and on top of that, this DJ knew how to start the party. With a mix of Latin, Indian and house grooves, everyone was on the dance floor quickly.
Finally, I would be remiss if I did not mention the videographer for this evening, Kristi Sanxhaku.  He was a delight to work with and his modus operandi, like mine, is pure documentary style photojournalism.   You can find links to all the vendors below.
I turned into a pumpkin at 9:50 p.m. and left the party, but not before taking some fun photos of Seethal with her friends. This wedding was a blast, and it was as fun to be there in person as it was to photograph.
Enjoy the images, and I'll have more photo adventures for you next week!
____________________________________________________
Are you interested in more Terrace on the Park wedding photo tips?  Check out images from my Kathryn and Barry's wedding here which includes bride and groom portraits in Flushing Meadows Park.
If you would like to see more images from my wedding photojournalism portfolio, then please visit my website — KellyWilliamsPhotographer.com
As always, drop me a line if you would like to chat about your wedding photography needs.
Vendors