It was a perfect day on Thursday for a morning wedding in my home base of Kew Gardens, Queens. Surrounded by their dearest loved ones, Dayna and Tarrell took advantage of the beautiful weather to say their vows on the patio of Austin's Ale House. Find out all the details!…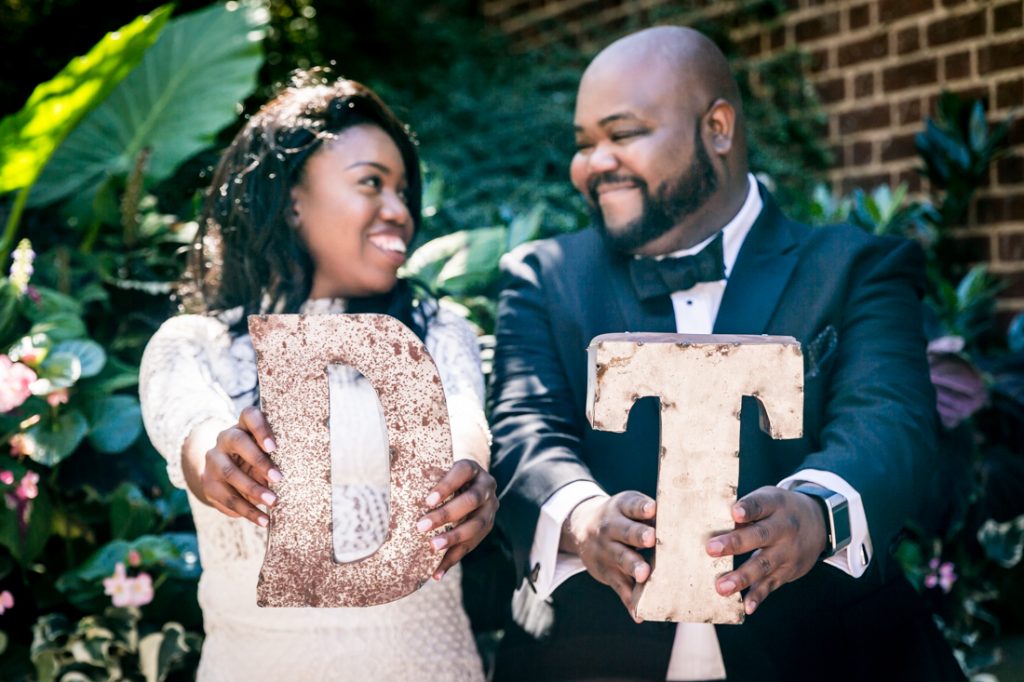 Who says you have to hold your wedding at night? Or even spend hours getting married? In just one hour, Dayna and Tarrell set up their wedding, said their vows, got some great photos, and got on to celebrating! Nothing slow about these two, who originally met on Facebook and got to know each other through mutual friends. Dayna and Tarrell's beautiful wedding is the first of many adventures as they begin their lives together. Their next journey is to open a travel agency together. Any couples need some help with their honeymoon plans?
A few tidbits to note: first, check out Kiki, the impromptu ring bearer, who did a great job at the wedding.  This is my second time working with a bride who used Rent the Runway for a dress (the first being the fantastic dress Derrica wore during her engagement shoot) — I think this is a terrific idea.  Dayna not only found her dress online, but her flowers as well through The Bouqs.  Finally, you got to love a friend who sees to it that the bride always has her mimosa nearby.  Enjoy the photos!
Ceremony and reception venue: Austin's Ale House
Officiant: Rev. Andrew Altenburg
Wedding dress: Alexis, Rent the Runway
Florist: The Bouqs
Metal initials: Etsy
'She Leaves a Little Sparkle Wherever She Goes' flask: Francesca's
Are you planning on throwing your own Kew Gardens wedding?  Drop me a line and let's talk about scheduling.
If you would like to see more images from my wedding photojournalism portfolio, then please visit my website — KellyWilliamsPhotographer.com.