If you are a proud pet parent, it's only natural that you would want to include your fur baby in your engagement shoot.  Sometimes this can go perfectly according to plan, and sometimes not.  In today's blog post, I have a list of pet engagement photo tips that will keep everyone – human and animal alike – looking good in front of the camera.
Pet Engagement Photo Tips – Before the Photo Shoot
Be realistic.  Let's start off with a frank assessment of your pet.  You may think your fur baby is Instagram-worthy, but that doesn't mean the dog has the personality for a full photo shoot out in public.  Unless your photo shoot is going to be held in the privacy of your own home, then consider what a strange person approaching with a clicking camera is going to do to your animal.  Some animals will respond by becoming very shy, and some will become very aggressive.  Couple this with the fact that your photo shoot will likely be held in public.  This means your pet will be surrounded by even more strangers often with pets of their own.  The end result is a distracted pet.  Some animals are up to the challenge, but as the pet parent, only you know how your animal will react.
If you really want an engagement photo with your pet and are worried about how your pet will react in public, then consider starting or ending your engagement shoot with a private session in your home.  This could be photos of you and your beloved playing with your pet in the living room or in your backyard.  In either case this will keep your pet in an environment in which the pet feels safe.  The resulting photos will be much more intimate and relaxed for everyone involved.
Practice a mock photo session in public.   Use the words 'sit' and 'stay' to see how your animal reacts in front of the camera.  This is a good test to see how your dog deals with distractions and commands.
Pet Engagement Photo Tips – Planning the Photo Shoot
Consider how the weather will affect your pet.  Heat and humidity will melt even the most professional model.  But hot weather can have an even more adverse effect on pets, especially since they'll be walking on hot pavement.  Furthermore, certain dogs, such as French bulldogs and pugs, are especially affected by the heat.  If you need to reschedule your session so that your fur baby can be a bit more comfortable, then do so.  The same considerations should be taken during the winter months when snow and salt on the pavement can also be a detriment to your pet's health.
Consider hiring a wrangler.  Let's assume that your pet is ready for a photo shoot.  There will be plenty of photos of you and your beloved interacting with your pet.  But there will also be times during your engagement session where your pet will not be in the photo.  Make sure you have a plan in place.  This might be a simple as tying the leash off to the side.  In which case, know how your pet will react.  You may want to go one step further, however, and look into having a friend or hiring a pet sitter who can watch your pet during these moments.  Even better, schedule your shoot such that you begin or end your engagement session with your pet and then send the dog home or have a minder look after the dog.  Thus you can be free for the rest of the photo shoot to concentrate on photos without your pet.
Good luck with those head shots.  If you are going to be putting anything on your pet's head, like an engagement ring or a bowtie, then practice at home so the animal gets used to the item.
For that matter, if you are planning on having your pet wear an outfit, then try it on at home so that your pet can get used to it.  As with children, I never recommend springing a new outfit on a pet during a photo session.
Pet Engagement Photo Tips – The Details
Bring a water bottle, bowl, treats, and a toy with noises that can distract the dog. Tasty snacks are incredibly motivating to pets and humans alike.  Bring a snack for yourself as well.
Feed your pet before the photo shoot.  No one needs to be photographed hangry.  And a hungry pet is a distracted pet.
Exercise your pet before the photo shoot.  Get the 'zoomies' out ahead of time by taking your pet for a walk.  The dog shouldn't be exhausted, but you are trying to get the nervous energy out before the photo shoot.
Try to make the toy and leash photogenic.  There's nothing worse than having a beautiful photo of a couple and their cute little dog marred by an ugly leash.  You don't need to buy new items, but you also don't want any items in the photo to distract the viewer.
I am a huge fan of animals and always encourage my clients to include their fur babies in their photo shoots, be at an engagement session or a family portrait.  I was 'mom' to Daisey, a miniature dachshund. She lived to be 19, and she was the love of my life.  I couldn't imagine taking a family portrait without her.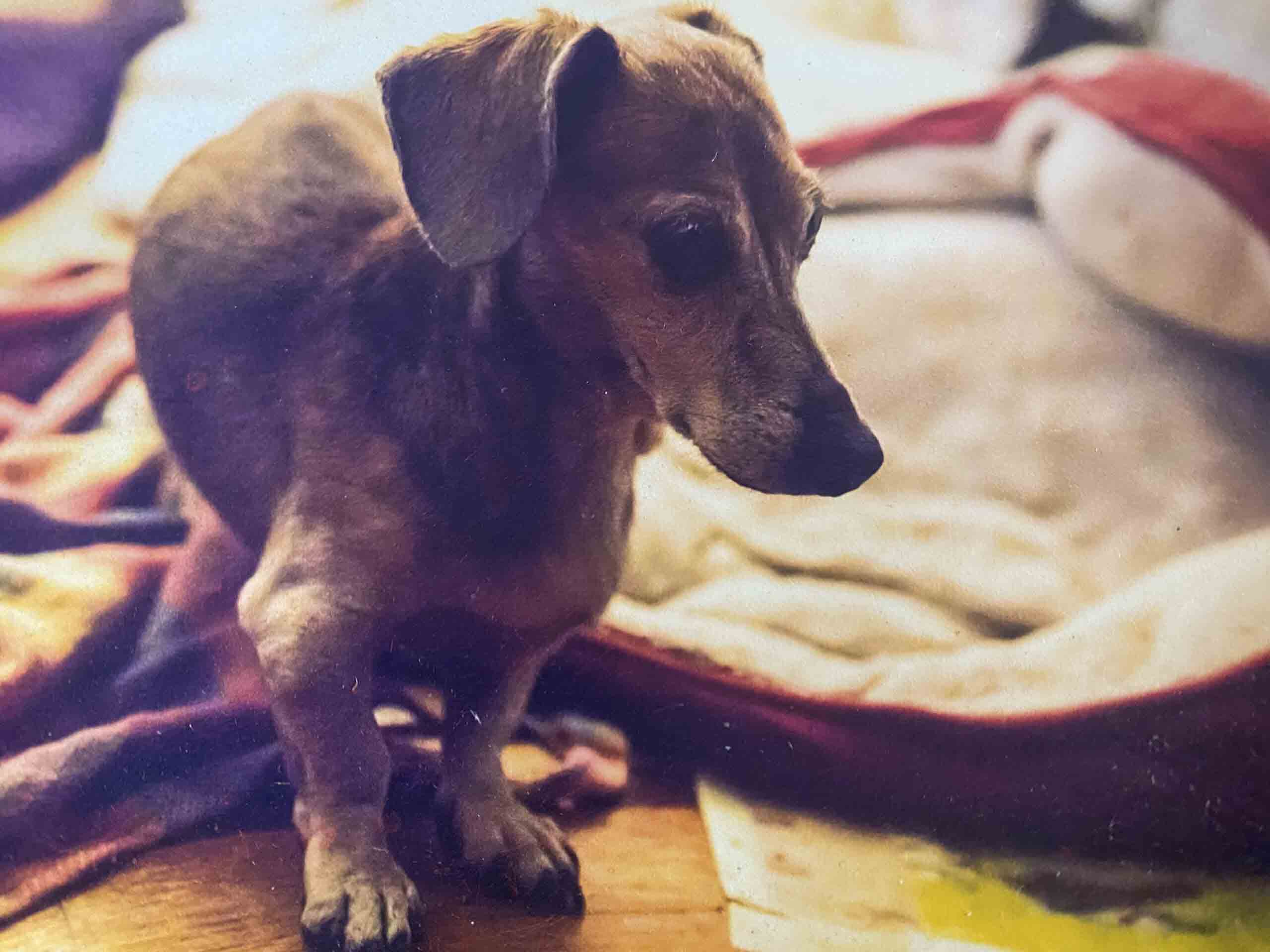 That said, most animals have a limit of time in front of the camera.  As with human children, you can make any photo happen but you simply have to plan ahead of time and be realistic about what you can achieve in front of the camera.  So bring on the pets!  And don't think for a second you have to just be a dog owner to include your pet in your photo session. And what is still my most infamous pet friendly photo shoot, here is a link to photos from Erica and Geff's wedding featuring Frosties, their cat.
Meet Laura and Sam
Included in this article are photos from Laura and Sam's engagement session on Roosevelt Island.  Laura and Sam were a delightful couple who tied the knot in Philadelphia in 2019. Their family included their precious little dog. I am happy to report that their fur baby was well behaved and did a fantastic job in front of the camera.
By the way, I've said it a million times, but Roosevelt Island is a fantastic spot for a photo shoot.  For all the details on planning a Roosevelt Island engagement photo session, check out this article.  Laura and Sam's session focused mainly on FDR Four Freedoms Park at the southern end of Roosevelt Island, while Melody and Michael's session was during cherry blossom season and concentrated on the main section of  Roosevelt Island.
Enjoy the images, and I'll have more photo adventures for you next week!
______________________________________
Interested in scheduling an engagement photo shoot?  Drop me a line and let's talk about your photography needs.
If you would like to view more images from my engagement photography portfolio, then please visit my website – KellyWilliamsPhotographer.com