In all honesty, just about anything could be defined as a centerpiece for a table. The purpose of a centerpiece is to provide a focus for the table setting and illustrate the event theme in terms of color or style. And while most people opt for floral arrangements, I've had clients who are allergic to flowers or simply don't want to go to the expense. I think you'll find that after food and the venue, flowers are the most expensive item in any event budget. With that in mind, I have put together a list of some non-floral centerpiece ideas as illustrated by Rokaya and Keith's fantastic Housing Works Bookstore Café wedding this past weekend.
A Housing Works Bookstore Café Wedding –
Rokaya and Keith
Let me start this week's blog by introducing you to Rokaya and Keith. They met 10 years ago in college and bonded as friends over a shared love of board games and British TV. They finally decided to tie the knot while on vacation in Tulum, Mexico. On their first night on the beach, Keith surprised Rokaya with a proposal and she, of course, said yes.
A Housing Works Bookstore Café Wedding –
The Details
The day began with a 'first look' in the alleyway across from the Housing Works Bookstore. If you have ever been to this stretch of SoHo, you will find that the area has retained the grittiness of old New York, even though you are surrounded by some of the most expensive real estate in the city. This particular alleyway is Instagram heaven, and you will find full blown model shoots as well as amateur influencers taking photos here.
After the first look, we continued with the bride and groom portraits along Crosby Street. The good news is that you don't have to go far to get a great photo in this area. While there are no nearby, publically accessible parks, this street does have tons of different backgrounds to offer including artistic graffiti and reflective windows. The area is, however, undergoing constant construction. The building across from the Housing Works Bookstore has just been unveiled after about two years of construction and it has beautiful windows that I made sure to make use of in Rokaya and Keith's portraits. I also took them to the pedestrian island in the middle of Houston Street for some unique photos. If you are not a fan of having your photo taken in public, then you need to know that this is a highly trafficked area for both locals and tourists – Soho has become one of the biggest shopping areas in town. But that said, I found for Rokaya and Keith's portrait session we pretty much had Crosby Street all to ourselves.
After their portraits, it was time to get ready for the ceremony. Rokaya and Keith wrote touching and hilarious vows for one another. The entire audience was laughing and crying at the same time. One thing to note if you will be having your wedding at Housing Works Bookstore is that the interior is quite dark. I'm not a fan of using my flash during the ceremony, but in order to keep the ambience with the overhead lights turned down low I had to use my flash. Without my flash it would have been like taking photos inside a cave.
Their cocktail hour and reception was a wonderfully low-key affair. The highlight of the evening were the toasts, complete with a 'keynote speaker.' They did not have a cake cutting, and instead pie was served – because of course, Pies n' Thighs was caterer for the evening. As always, I can't say enough nice things about the staff at Housing Works. Their wait staff and management are top-notch.
Non-Floral Centerpiece Ideas –
Things to Consider
Now for the décor: everyone knows how expensive flowers are, and non-floral decorations are quite the rage right now. From brides making their own bouquets out of paper to dispensing with flowers all together in favor of stuffed animals, you shouldn't feel like you have to be traditional with your decorations. So let's take a look at some things you should keep in mind when planning your centerpieces.
First, consider the venue. In the case of Rokaya and Keith's wedding inside a bookstore, books were the perfect choice of centerpieces. Whatever you choose as your centerpiece it should make sense within the environment of your venue. If you are hosting an event at a hotel or banquet hall, then you pretty much have a blank slate to work with, but if you are in a lighthouse or having a wedding on a beach, then try to stick with the theme.
If your event happens during a holiday, then consider a holiday-themed centerpiece. For Halloween, think Day of the Dead skulls with flowers or giant cauldrons filled with hocus-pocus goodies.
Likewise, keep it seasonal. If you're getting married in October, think gourds. Pumpkins take up an awful lot of room on a table. A seasonal centerpiece is going to save you money. Bringing in fall branches and leaves for a November wedding is much more friendly on the wallet then having to fly in peonies in from Madagascar.
Don't necessarily limit yourself to up and down centerpieces, but think laterally. If you're doing a long table at your event, then think about using a colorful runner with vines and a series of small, low centerpieces.
Have your centerpiece do double duty as a guest favor. Unless you have paid an event planner or florist to take it all away at the end of the night, it is you who is responsible for collecting the centerpieces. Make your job easy and have your guests take your centerpieces away as gifts. Succulents or small plants in a variety of decorative planters are a great way to say thank you. Other options include mini-terrariums or fairy gardens.
Live flowers are overrated; do what all the hip, Brooklyn brides are doing this year and opt for paper flowers or dried flowers. Try including moss balls, dried herbs such as lavender, or even bunches of wheat if you are having a fall event.
Another option is to have your food displayed as your centerpiece. Platters of snacks or desserts raised up on cake platters are a practical, and delicious, option. If it's a kids' birthday party you are hosting, try candy towers.
If your party is themed by location, then you have license to go nuts with touristy tchotchkes that represent your specific place. Think mini Empire State Buildings or Statue of Liberties along with some apples for a New York event or bottles of wine and tiny Eiffel Towers for Paris.
Remember that you don't have to get rid of flowers all together. Instead, by incorporating the above ideas into your centerpieces you will cut down on the amount of flowers necessary, thus cutting down on your floral budget. Also, don't be afraid to use small items but boost them with height, such as using a small globe on a stack of books, etc.
Non-Floral Centerpiece Ideas –
A Creative List
Here are a few more non-floral centerpiece ideas:
Instead of flowers, think about using other botanical garnishes which are much cheaper (and plentiful) such as bowls of fruit, vegetables (colorful cabbages), or gourds
Books
Mini-globes or maps
Photos in frames
Mini houses like those collected for Christmas (which they now seem to have for every holiday, including Halloween)
Quirky antiques like decorative bottles or clocks
Small sculptures, art, ships, or even Lego creations
Feathers – poofy or peacock feathers
Ocean-themed items including coral, driftwood, or seashells
Wine bottles
Candles, candelabras, or even wine bottles with candles dripping down (shout out to the 70s!)
Hurricane lamps or lanterns
Fairy lights in a mason jar
Birdcages
Fish bowls with live fish (just make sure the fish go to a good home after the party)
For birthday-themed events, try mini papier-mâché piñatas
For kids tables, think about a tower of art supplies with a coloring book at each place setting
Toys and games work for adults as well: a stack of board games with toys up and down would make a great centerpiece
Non-Floral Centerpiece Ideas – What to Avoid
Finally, here's what I would avoid as a centerpiece: anything that obstructs your guests' view from one another. If you're going to go tall for your centerpieces, then try alternating every other table, or make sure that the middle of the centerpiece is see-through so that people can actually talk to one another. From a photographer's perspective, tall centerpieces are a huge pain because I can't get a view across the room. Also, avoid any centerpieces that take up too much of the table and get in the way of people reaching their food. You don't want a cluttered table.
So there you have it – my somewhat exhaustive list of ideas for your next event. Need someone to photograph your next shindig? Then by all means drop me a line and let's talk about your party.
Vendors
Ceremony and reception venue – Housing Works Bookstore Café
Caterer – Pies 'n' Thighs
Wedding dress – Sareh Nouri
Bride's shoes – Stuart Weitzman
Flowers – the groom's mother, Michele Jacob!
Rings – Adel Chefridi
DJ – Expressway Music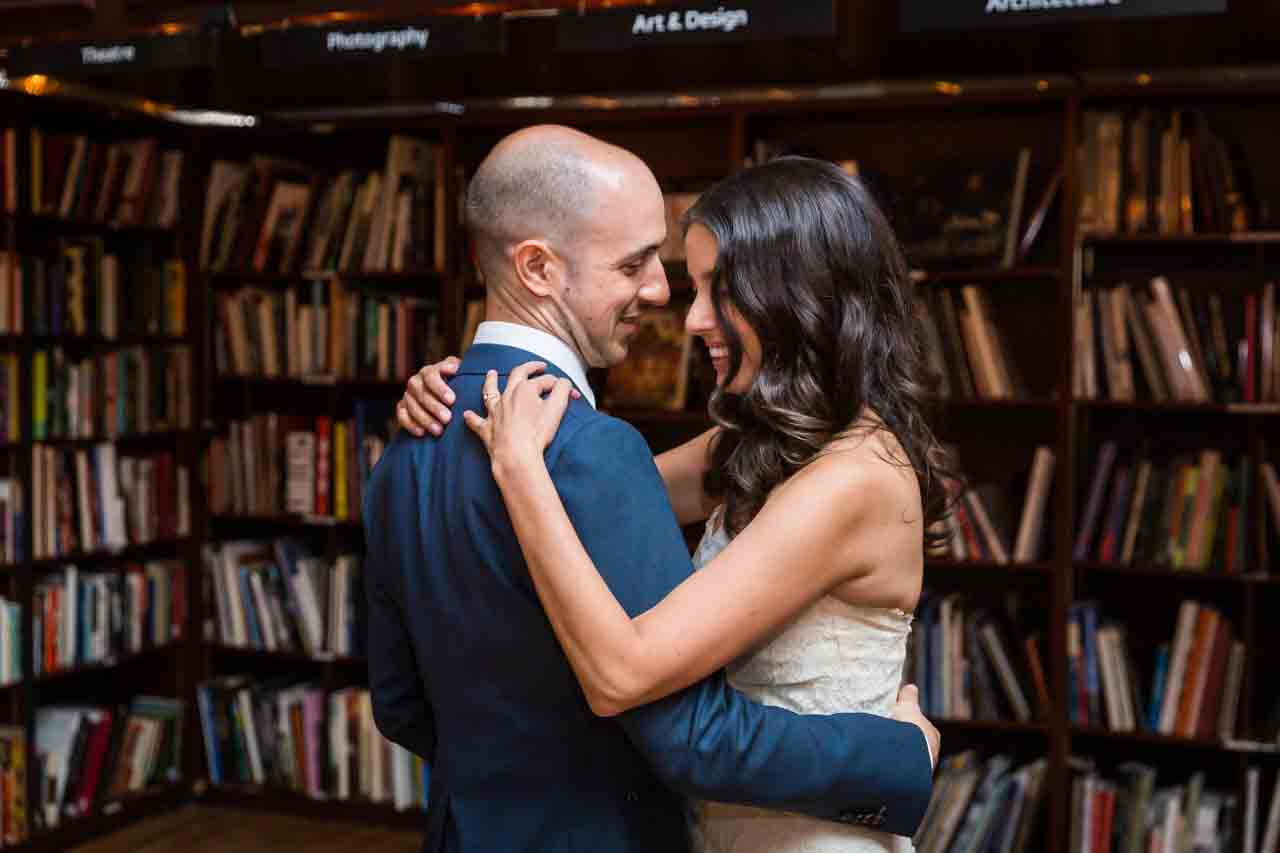 If you would like to see more images from my wedding photojournalism portfolio, then please visit my website – www.KellyWilliamsPhotographer.com