Last October I was contacted by a delightful couple from the UK, who wanted to get hitched while on shore leave from their cruise.  The premise sounded zany enough (and right up my alley), but the reality was even more wonderful.  Ladies and gentlemen, I present to you Emma and Paul — my craziest wedding of the year!
Picture it if you will: after being on a week's cruise in Canada, pick up the bride and groom (along with son and daughter) from the Manhattan Cruise Terminal by old fashioned trolley, travel to get both flowers and champagne, say vows at the Ladies Pavilion in Central Park, and then get back on the trolley to jump on the ship and head out to the Bahamas.  Yes, that was my Saturday, and I loved every minute of it.  From start to finish, this couple's wedding truly reflected their own personal tastes, yet there were just enough touches of tradition.  Everyone was dressed to the nines with a nod retro classicism, and the flowers they got from Flowers by Richard were gorgeous.  But that's where the tradition ends.
More than anything, Emma and Paul wanted the day to be a lively, three-hour adventure.  Setting the music for the day was a four-piece jazz band that traveled with us for the entire time.  Dave and his group set up on the trolley and played continuously as we rolled from the cruise terminal to Central Park and back again.  (Reynaldo, our wonderful trolley driver, made sure the trip was a pothole-free, smooth ride.)  Even better, Dave picked up his piano and took it with him into the park for a Beatles solo during the ceremony.  Calum, Emma's son, played roadie and even helped carry the amp.  As a jazz fan myself, I can't say enough good things about Dave and his group.  The music was truly outstanding, and when I get details of where these guys are playing next I will make sure to pass it on to you (as well as show up in the front row myself).  By the way, Emma was the one who introduced Paul to her love of jazz music early on in their relationship.  The first year they were together, Paul arranged for Emma to spend new year's at the Jazz at Lincoln Center New Year's Ball.  Coming back to New York City with a jazz band in tow was the perfect way to both celebrate both their love for each other and their shared love of music.
Wade, the officiant, and his husband, Sunny, were instrumental in making the ceremony a touching and moving moment for the couple.  One unique aspect of the ceremony was a whiskey ceremony.  Emma is from Scotland and Paul is from Northern Ireland, so of course the brown liquor had to be featured prominently in the ceremony.  Emma found the box and whiskey set online at Etsy, and in it is contained whiskey from Ireland and from Scotland which are mixed in two little vials.  Also contained in the box are poems Emma and Paul wrote to each other.  During the ceremony Paul locked the box, only to be opened again one year from now on the couple's anniversary.
And in case you were wondering, here is a bit of background on the couple: Emma and Paul met at work four years ago in Inverness, Scotland (home of the Loch Ness Monster).  In January of 2014, Paul planned a surprise trip to Paris for Emma to see one of her favorite singers, Michael Bublé.  As Emma puts it, 'As all of the Xmas decorations were still on display, it was magical and like a fairy tale.  The first night we arrived, we went for dinner at Maxim's and Paul proposed with a Tiffany necklace (not a ring).  The necklace was a padlock pendant.  The next day Paul arranged for us to lock an engraved padlock on the bridge over the Seine.  It was a complete surprise and wonderful weekend.'
Whiskey, jazz, and whirlwind romance.   What's not to love about this ceremony?  Couples everywhere, please take a note from Emma and Paul and put your own personal stamp on your wedding day.
Ceremony venue: Ladies Pavilion, Central Park
Officiant: Wade Trefethen
Jazz band: Dave Kay
Florist: Flowers by Richard
Trolley: New York Trolley Co.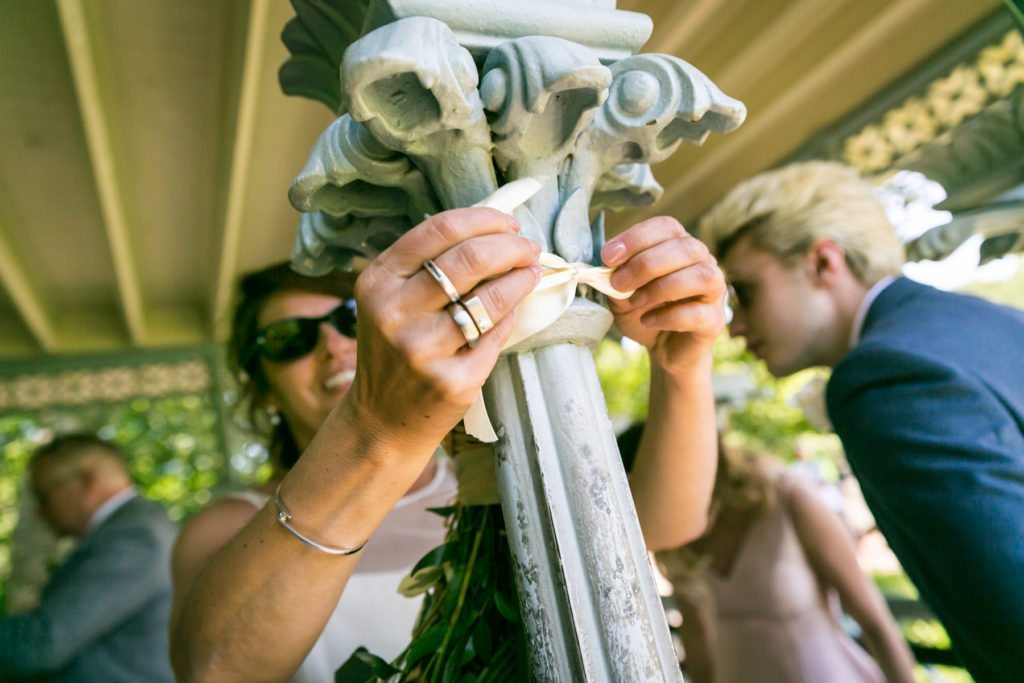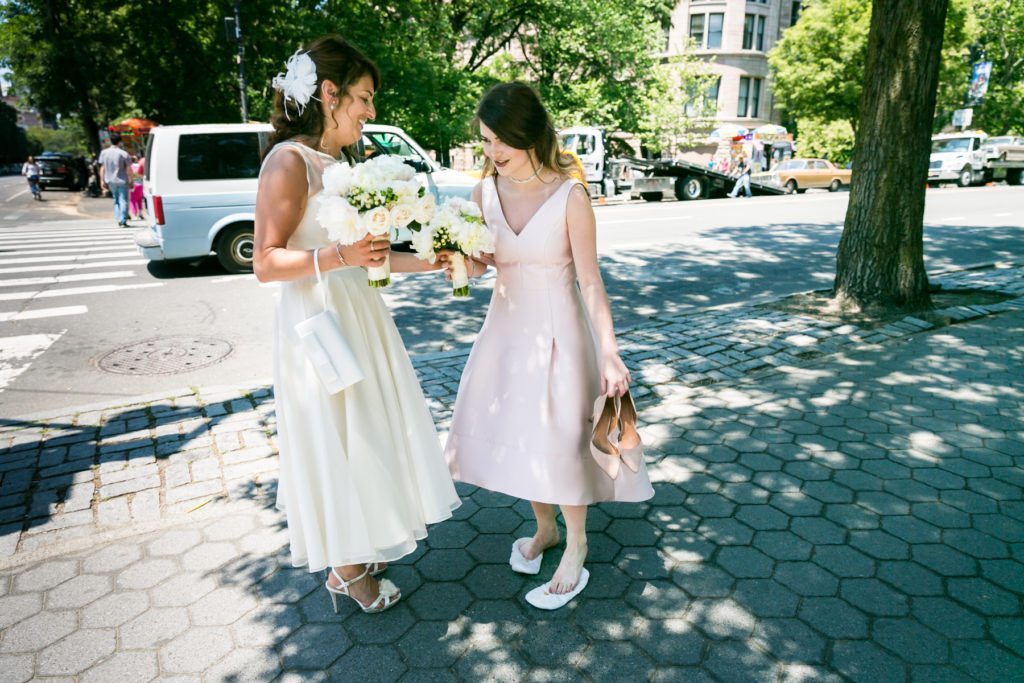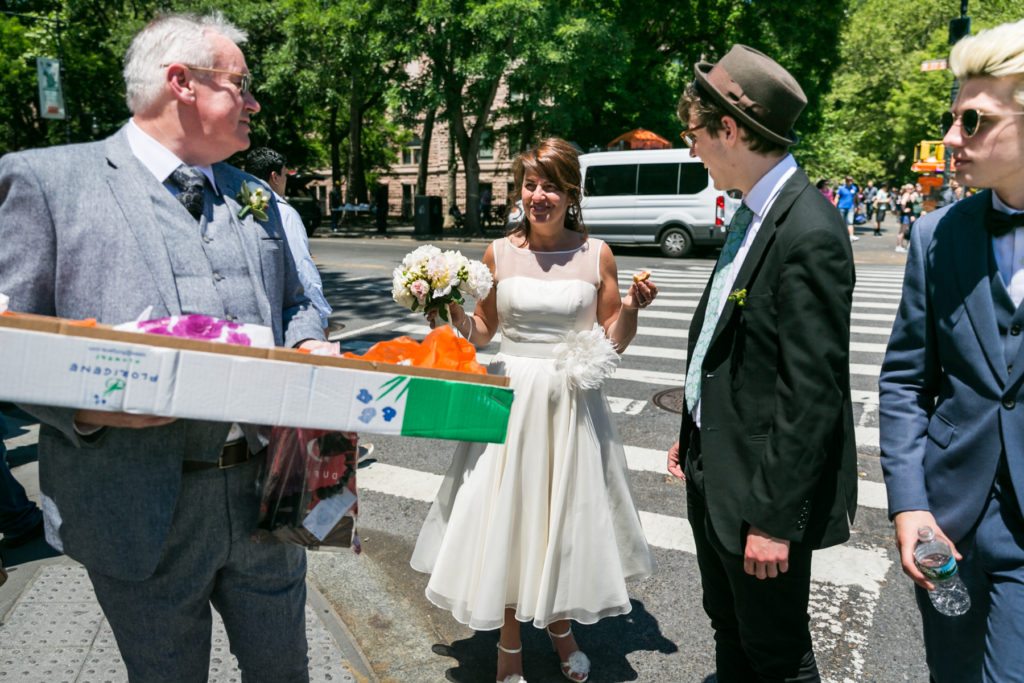 ---
If you would like to see more examples of my work, such as these photos from Emma and Paul's Ladies Pavilion wedding, please visit my website: www.KellyWilliamsPhotographer.com.
Save
Save
Save
Save