Happy St. Patrick's Day, everyone! With all that's been going on in the world, it seems like a distraction is very much needed. As such, I am pleased to share with you all the details of Kerry and Patrick's Water Club wedding. Not only was this one of the most fun weddings I photographed this past year, but a good percentage of the attendees were Patrick's family from Ireland. Though we may not be able to enjoy the St. Patrick's Day parade today here in NYC, I wanted to make sure you got your daily dose of Irish.
Kerry & Patrick
I'm serious when I say this was one of the best weddings I photographed in 2019. Kerry and Patrick are so lovely together, and their wedding was a fantastic celebration of the fact that they finally tied the knot.
How did you two meet? Kerry: 'Well, it's a long story. We met in high school. We were friends and briefly went to college together. After college we both lived in NYC and after being friends for a while, then started dating. We both moved away (Patrick to Buffalo and Kerry to Seattle) and broke up. After a few years, we reconnected and realized life would be a whole lot better if we were together. We both moved back to NYC and we moved in together shortly thereafter.'
Where and how did the proposal take place? Kerry: 'We took a trip to Joshua Tree and were driving through the park. We pulled over to walk through some of the park. Patrick kept suggesting we walk further and further. I was admiring the view and turned around to find him on one knee. I was completely surprised!'
Getting Ready
I started the day photographing Patrick at his mother's apartment on the Upper East Side. When I got there, he was already ready so it was just a matter of a few quick family photos before I headed off to see Kerry at the Grand Hyatt Hotel. But before I left, Patrick's mother had generously set up a gourd bonanza. I am a huge fan of keeping your wedding theme seasonal, and since it was the middle of November, these pumpkins fit in perfectly as photo props.
Kerry's bridal suite at the Grand Hyatt Hotel proved to be wonderfully spacious. There was even room for her to jump on the couch with champagne bottle in hand. We did a first look in the suite with Kerry's father, before leaving for Grand Central Terminal to have a first look with Patrick.
I have a few words of advice on wedding attire. Kerry's wedding day was forecast to be incredibly cold. It ended up being much warmer than expected, but she smartly arranged to have a warm wrap on hand for her photo sessions. Cold weather will make you miserable, and this will show on camera. Do yourself a favor and plan for a warm, attractive wrap that you can keep while being photographed outside.
Kerry also had a beautiful veil which she wanted to on for photos. I love a good veil, so I was all in favor. That said, wearing a veil on the streets of Manhattan is a cumbersome chore, so be prepared with extra bobby pins and know how to take the veil on and off if you do need to remove it at some point.
Grand Central Terminal First Look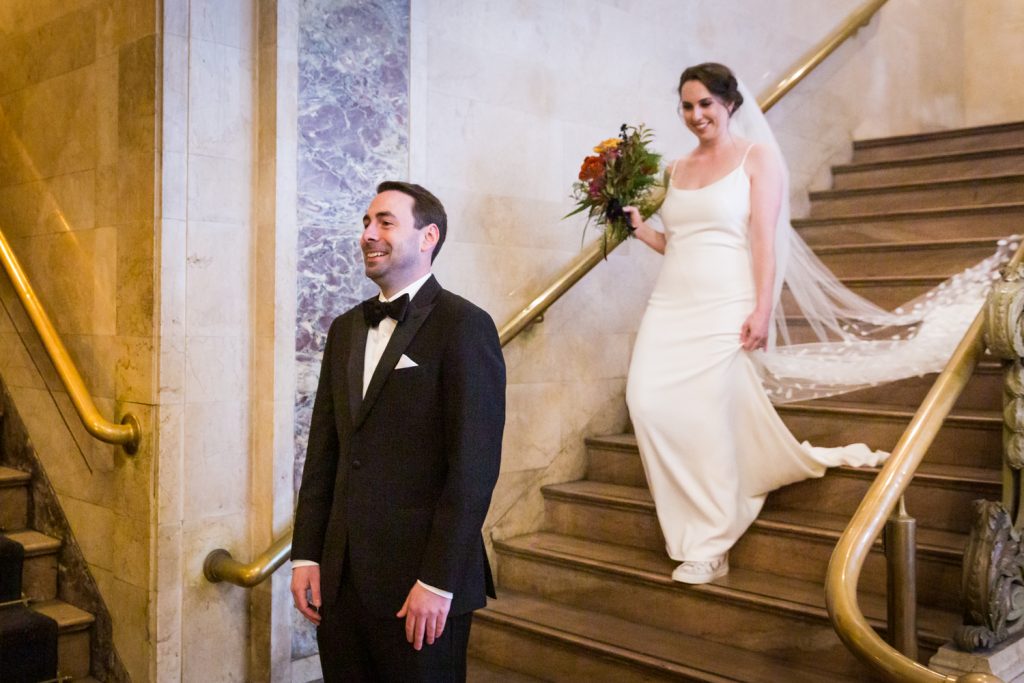 Kerry and Patrick are pretty private people. While they wanted their first look to be at Grand Central Terminal, they didn't want to have a crowd of onlookers. As such, I had to hunt down a more secluded spot for their first look. My solution: the staircase next to the Campbell Apartment. This staircase leads to administrative offices (I think), but it is seldom used. These two had an epic private moment, and I recommend this spot if you are looking for an out of the way location within the iconic Grand Central Terminal.
Grand Central Terminal and
New York Public Library Portraits
We then moved on to bridal party photos in the main concourse. Be prepared for crazy when you come to Grand Central Terminal. In addition to commuters who just want to get to their damn train, you also have tourists who will stop, stare, and get in the middle of your photo. Oh, and add in a heaping dose of interesting characters for some local color. Still, Grand Central Terminal remains a fantastic spot for photos in the city, and it is my all time favorite rain backup location. The spots we chose for photos include right in front of the clock tower, the gigantic windows behind the left staircase opposite the Apple store, and the hallway leading down into the dining concourse. Note that if you are going to be taking photos in Grand Central Terminal close to Christmas time, you will have to contend with the holiday market stall signs.
Our final stop before heading over to the Water Club venue was the New York Public Library. The Stephen A. Schwarzman Building on 42nd Street is near and dear to Kerry's heart, as she used to work there during her college years. Despite the unceasing flow of bodies, we managed to get some great photos. Check out the surprise proposal happening behind Kerry on the steps of the building. Only in New York!
Time was short before the ceremony was to begin, so unfortunately we weren't able to take advantage of the beautiful outdoor space and large windows at the Water Club. I would love to have had at least 30 more minutes to take more photos of the couple out on the deck. I was still able to take some amazing photos of the Queens and Manhattan skylines during the wedding, but my recommendation is that you use every inch of space the Water Club has to offer.
Water Club Wedding – Ceremony
Speaking of large windows, the view during the ceremony was magnificent. The windows allowed for plenty of light. During the ceremony, the couple performed a glass-making rite. In case you are unfamiliar, the couple combine colored sand from two containers into one, which is then fashioned into a new art piece. I saw this ceremony performed at a Westbury Manor wedding, and it offers a unique take on the 'two-become-one' ceremony theme.
Water Club Wedding – Reception
What can I say? Of course this was a fun-loving crowd who loved to dance. They're Irish! There were lots of fun moments on and off the dance floor, including this shot of Kerry and Patrick recreating that scene from Titanic. (They suggested this, by the way.)
A few other details to note: the wedding cake was a tiramisu cake. Kerry and Patrick gave their guests little bottles of hot sauce to say thank you at the end of the night. Finally, if you don't want to change your dress, at least change your shoes. Both the groom and the bride changed into wedding-appropriate kicks at the end of the evening.
I would like to give a special shout out to Joanne O'Connor, the event manager at the Water Club. She and her incredibly professional staff ensured that this wedding went off without a hitch. It was a pleasure to work with her team.
Enjoy the photos, and I'll be back next week with some adorable photos from a newborn shoot. Spring is almost here!
Vendors
Ceremony & reception venue: The Water Club
Caterer: The Water Club
Wedding dress: Theia Couture, bought at Lovely Bride bridal shop
Bride's shoes: Badgley Mischka
Bride's hair stylist: Laureen at Styles on B
Groom's attire: Couture Groom at The Black Tux
Wedding rings: The Clay Pot
Florist: Brooklyn Blooms
Ceremony glass piece: Unity in Glass
Guest favors: 718 Heat Factory
DJ: James Mulry
Invitations: Zola
P.S. If you are interested in seeing photos of what you would normally be missing at a St. Patrick's Day Parade, then check out my photos from 2016 here.
Drop me a line if you would like to discuss your upcoming shindig. This pandemic has to end soon, and I am certain happy times are ahead.
If you would like to view more photos from my wedding photojournalism portfolio, then please visit my website – KellyWilliamsPhotographer.com