Not everyone likes to have their photo taken. Children in particular may not understand the importance the annual holiday card. So in today's blog post, I will tell you how to solve family portrait challenges. You'll learn how to prepare your children, the right mindset to have when scheduling a session, and most importantly, gain the tools necessary to turn that frown upside down.
Meet Netty and Sundeep's Family
First off, let's meet Netty and Sundeep. I had the pleasure of photographing them in Prospect Park not long after their baby was born. Their little daughter has plenty of personality and during our last session was absolutely a doll to photograph.
On the morning of our most recent portrait session, however, the baby had woken up at 3 AM. No real reason; it was just time to get up. So when the time for our photo shoot came later in the morning, the baby was exhausted. Needless to say, the poor little thing was having none of camera antics.
Further complicating things, Netty and Sundeep's daughter is going through a "daddy phase." As such, hugs and kisses from any other parent or grandparent were not appreciated. But this is just a baby being a baby. Her behavior is no reflection on her parents, but simply the result of her lack of sleep.
Our session took place at 10 AM in Fort Greene Park. This is Netty and Sundeep's local park. Joining us for the session were Netty's parents, who were in town from Australia. Because Netty's parents would only be in town for a few more days, the session could not be rescheduled. But fear not, we ended up getting quite a few smiles out of this little lady by the end of the shoot. So, here are the lessons learned.
How to Solve Family Portrait Challenges – How to Approach a Session
Face reality. First off, I have to let you know that Netty is one of my favorite clients. She has the best attitude about photo shoots and goes into every session with down-to-earth positivity. She let me know early in the session about her little girl's interrupted sleep schedule, and said she would be happy just to have one or two good photos. Challenge accepted. And while I was definitely going to endeavor to get her more than one good photo, managing expectations is the key point here.
If you know your child is not feeling well, or is just not going to perform well in front of the camera, then accept the situation. In general, the more pressure you build into a portrait session, the worse the outcome will be for both yourself and the model. This is not to say that you should always go in with low expectations, but a dose of reality is always on order.
Stay positive. To that end, a positive outlook should also always be on the menu. Netty and her family were bright and cheerful throughout session. When the baby did not want to have her photo taken, we instead focused on the adults and still got some bright smiles out of everyone. Netty's positivity is infectious, and by the end of the day, her little girl was smiling as well.
How to Solve Family Portrait Challenges – Structuring Your Session
Participate with your children. I've had quite a few portrait sessions this year where the parents did not want to be photographed. The parents only wanted me to take photos of the children. The lesson here is that children learn by doing. When children see that their parents do not want to be photographed, then children internalize the same mantra. If you want your children to smile in front of the camera, then it helps if you take a few photos with them. Play together, run together, and then smile together. If a session starts with everyone smiling together, then you are guaranteed quality images.
Timing is everything. Little ones have the attention span of a gnat, so it is always best to concentrate on the children at the beginning of the session. The way I schedule my portrait sessions is normally to focus on the children alone first, followed by a full family portrait which includes everyone. Only then do I focus on individual portraits with parents and children. If there is going to be a meltdown, it is going to happen at the 20- or 30-minute mark. But if you follow this session scheduling tip, you will already have bagged your best photos. Bottom line, use your portrait time wisely and schedule the kids ahead of any adults.
Peer pressure is magic. In the case of Netty and Sundeep, the baby reached a point where she just did not want to be held or be photographed. Period. So instead I concentrated on the adults and took photos of Netty's parents alone, then Netty with her parents, and finally, Netty and Sundeep together.
Switching my attention from the baby to the adults had an interesting result. Thanks to 'peer pressure,' if you will, the baby came around and even smiled for a few photos. If I had kept my attention solely on the baby, then I guarantee she would continue to cry.
I find this peer pressure effect to be particularly magical when it comes to siblings. Let's say you have an older child who does not want to be photographed. Focusing on the younger child will usually make the older child want to jump in front of the lens.
How to Solve Family Portrait Challenges – What to Bring and Wear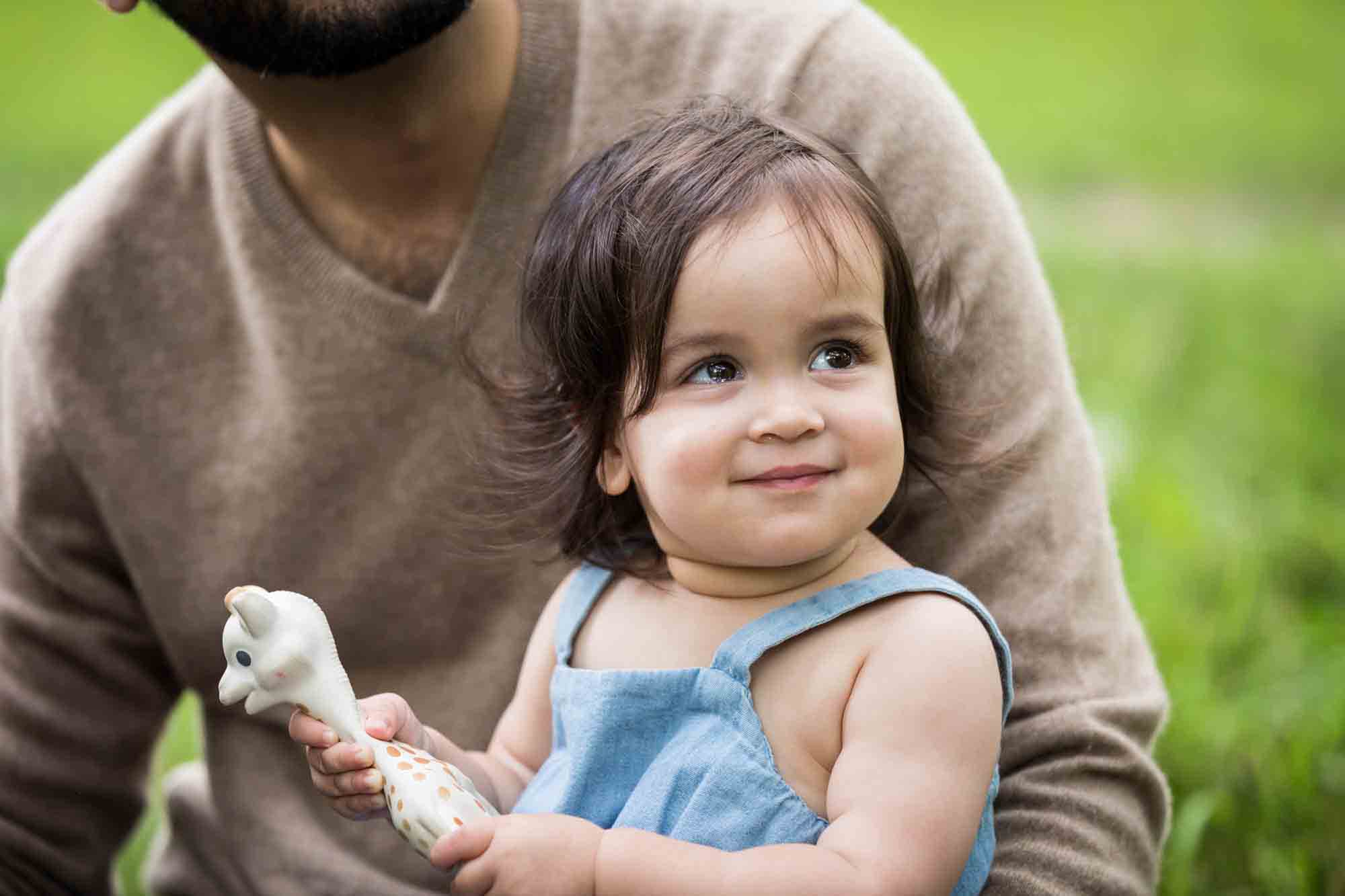 Use distractions to your advantage. Just standing and smiling for the camera will exhaust anyone, child or adult. I often try to build my photo shoots around activities so that we capture documentary-style action shots as well as traditional portraits. The idea is that you are doing an activity that you enjoy, and every so often you look up at the camera and smile. Smiling for the camera is thus just one more activity, not something to be dreaded. Examples of excellent photo shoot activities include art projects, reading with mommy and daddy, and playing with a toy or bubbles.
To this end, have a battle plan in mind for your photo shoot. You as the parent know your child's favorite activities, so bring along some mobile versions of these activities for the session. Maybe a coloring book and crayons, a favorite book, or some toys. I always bring bubbles with me, but anything that your child likes is always going to be great in front of the camera.
Make sure your child is comfortable. No one is going to smile for the camera if they are wearing clothes that itch and scratch. For any portrait session where you are going to have a child wear a new outfit, make sure you have tried the outfit on the child well before the session. This gives you enough time to buy a new outfit or perhaps decide to wear an old outfit if problems arise. This tip is especially true in the case of hats and headbands. I have had many a tantrum started by a parent trying to put a headband on the head of a child. This always ends in tears, by the way.
Also, make sure the child will be warm enough (or cool enough) for your outdoor photo session. No one of any age looks good in front of the camera if their teeth are chattering. If you know your winter session is going to be outdoors, then, make sure you have a warm – but cute – outer garment for the child to wear.
Bring snacks. I always say that a handful of goldfish crackers can solve a multitude of problems. Sometimes a little one just needs to take a break, and having some snacks and drinks readily at hand works wonders. This tip applies to models of any age.
Final Tips
Use bribery as a last-ditch effort. I am not a fan of using bribery as a means to achieve something. The message it sends is that a photo session is something that must be endured. I would rather the portrait session be framed in terms of a fun activity where you get to play (in front of the camera) and meet a new friend (your photographer). If you do have to use bribery, then the best option is to use a trip to the playground or another activity as the reward. I don't recommend bribing with candy or toys.
Sometimes rescheduling really is the answer. You know your child best, so only you can determine if rescheduling is the solution. For my clients, I'm always happy to reschedule as long as we make the new plan at least four hours prior. I want you and your family to look your best in front of the camera. If today is not the day, then my calendar is open.
Enjoy the images, and I'll have more photo adventures for you next week!
______________________________________
Interested in seeming more of my Fort Greene Park family portraits?  Check out photos from Sarah and Jomy's session here.
I would love to hear from you to schedule your spring family portrait session. Drop me a line, and let's discuss your photography needs.
If you would like to see more images from my family portrait portfolio, then please visit my website – KellyWilliamsPhotographer.com