If I had to give one trick for how to get the best beach photos, it would be timing.  In today's blog post, I will be sharing the Spring Lake, New Jersey family portraits of Francesca and her clan.  Our photos at the shore were amazing, and one of the primary reasons was the time of day that we started shooting.  Get all the details and find out when to schedule your family photo shoot at the beach in this week's post.
Meet Francesca and Her Family
It has been such a pleasure to photograph Francesca through the years.  It started in 2015 with her wedding to Rory at the W Hotel in Hoboken.  They said 'I do' at the beautiful St. Anthony of Padua Church and we took some lovely photos all along the New Jersey waterfront.
In 2017, her beautiful twins were born, and I started taking their family photos.  I have been thrilled to see how the little ones have grown, and this year was no exception.  Francesca and Rory, I might add, have stayed exactly the same.
How to Get the Best Beach Photos – A Spring Lake Family Portrait Session
Francesca is one of my most creative clients, and this year she wanted a change of venue for her annual family portrait.  (She is also one of my smartest clients, because she scheduled her holiday card session so early in the year to avoid printing delays.)  The family has been renting a house in Spring Lake, New Jersey for the past few years, so she figured, why not take some photos on the beach?  I love a good road trip, so you know I was game for the adventure.  I hopped on New Jersey Transit, and was there in about two hours.
In case you have never been to Spring Lake, the beach here is beautiful – and the homes are even more lovely.  There is a quaint little main street, and beach access is a breeze.  There is no charge to get on the beach, but there are some rules, such as no tents, dogs, or picnicking.
How to Get the Best Beach Photos – It's All About Timing
The one trick that made our session such a breeze, however, with the fact that we scheduled the shoot to begin at 6:30 p.m.  The sun was setting on August 1st at 8:11 p.m.  I calculated the session to begin at 6:30 p.m. in order to take advantage of 'golden hour' plus allow an extra cushion of time.  Francesca had to make a few arrangements to give the kids' their dinner a bit earlier than usual, but other than that, everyone was on vacation time so starting late wasn't a problem.
The problem with beach photo sessions is that you have very little shade at the shore.  As such, you are at the mercy of the sun and need to schedule your session to begin at a time when you have optimal light.  You do not want to schedule your session during the main part of the day when the sun is directly overhead.  If you time your session for noon then you will have shadows underneath your eyes.  You also do not want very intense sunlight, because this will blow the highlights out on your photos.  Instead, you want the softest light possible, which is found either early in the morning just after sunrise, or right before sunset.  (You can read more scientific details here in my article entitled, 'What is Golden Hour?')
How to Get the Best Beach Photos – Clouds are Your Friends
Helping us out during Francesca's photo shoot were roaming clouds in the sky, which further filtered the sunlight.  While most people think a bright sunny day is going to be the optimal weather for a photo shoot, the reality is that a few clouds in the sky will give you your best photos.  In addition to filtering any harsh sunlight, clouds also add visual interest in the background.  Check out this photo of the family against the waterline to see exactly what I mean.
How to Get the Best Beach Photos – Things to Do at the Beach
For our activities during the photo session, I basically just let the kids run amok and enjoy themselves in the water.  You can read this article for more beach family portrait tips, but here's a summary:
The main goal of a beach photo shoot is to have fun; plan to run around in the sand and surf
As such, dress in casual attire
Go, barefoot
It never hurts to bring some games, sports equipment, or sand castle tools to liven up your session
Foofer!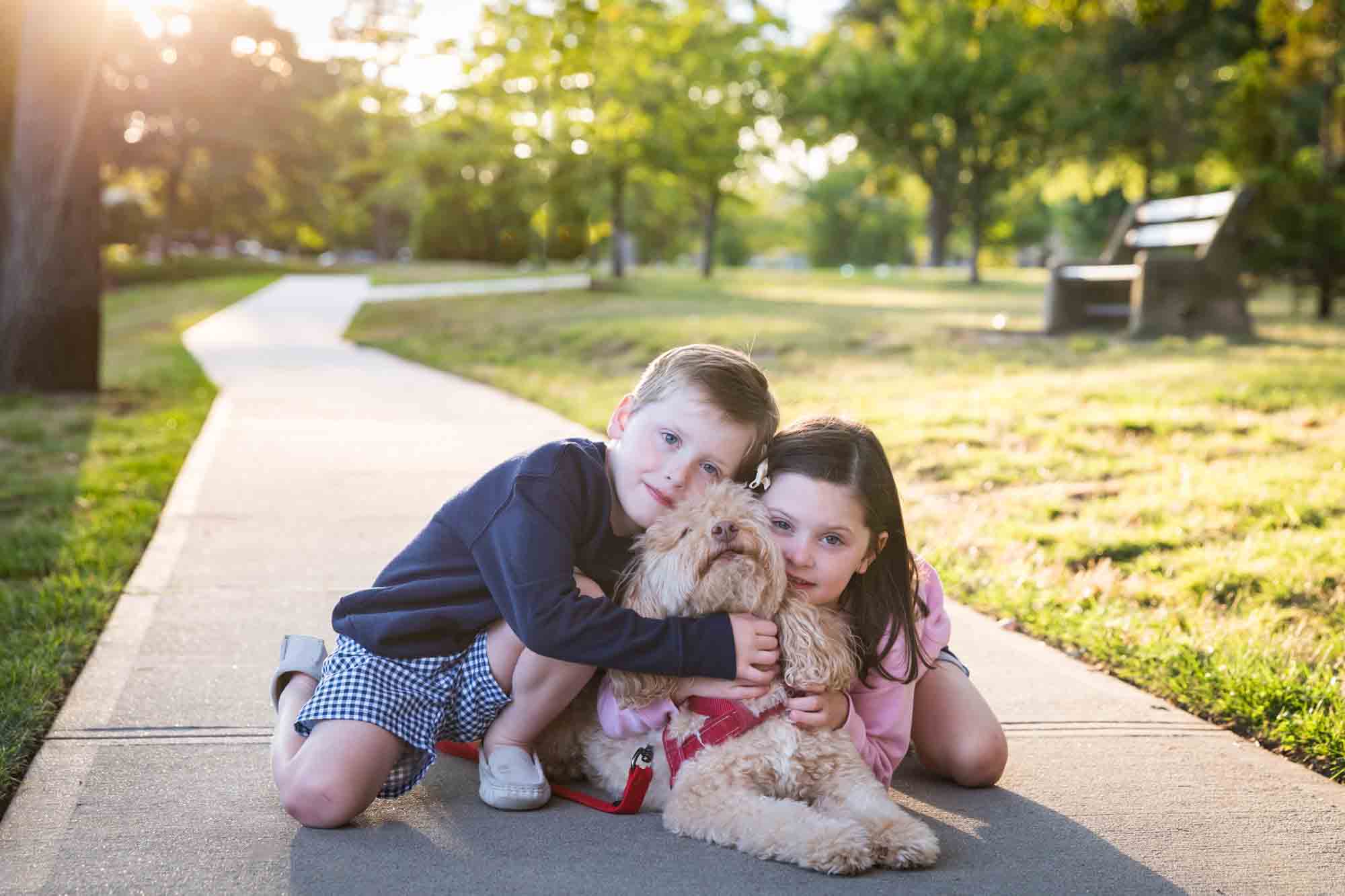 The main part of our Spring Lake family portrait session was spent on the beach.  But after about an hour, it was time to move locations because we had to include the other member of the family – their fur-child, Foofer.
Sadly, dogs are not allowed on the beach at any time in Spring Lake.  But this isn't a problem, because Spring Lake has one of the most gorgeous public parks in all of New Jersey.  I highly recommend this park.  The layout of the park is picturesque and includes unique bridges plus plenty of trees, ducks, and playground space for any photo.
A Final Photo on the Front Porch
We ended the family portrait session back at Francesca and Rory's home for a quick shot on the front steps.  I will miss the sessions with Francesca and Rory's family, but I am so glad we got to have one last photo shoot before my move to San Antonio.
Enjoy the images, and I'll have more photo adventures for you next week!
_____________________________________________
If you are interested in scheduling a beach family photo session soon, then drop me a line.  Quick reminder that I am available for family portrait sessions in New York City until December 10th, before I head south to San Antonio.
If you would like to view more images from my family portrait portfolio, then please visit my website – KellyWilliamsPhotographer.com