Only one week until Thanksgiving! I feel like the holidays have really snuck up on me this year, and that Christmas keeps coming faster and faster. (I'm still in mourning that Halloween – my favorite holiday – is over.) But with the holidays – and specifically holiday parties – right around the corner, I thought I would share some words of wisdom regarding party planning. As one who has attended many a festivity from the outside looking in as a photographer, here is a pretty inclusive party planning checklist to help you put together the best holiday party ever.
Party Planning Checklist
One Month Before:
Think about a fun theme for your party. Consider how many guests, the complexity level of the menu and decorations, as well as the expense involved with making your theme a reality.
Create a guest list for your party.
Finalize the party date and start time.
If you are going to be hosting a party at a location other than your own home, now is the time to make your reservation and check out the venue costs. One thing to consider is that some venues require to use their on-site caterer. If you are set on making your own food or selecting your own caterer, then these venues might not be for you. Also, most venues have a minimum (and maximum) head count, so keep that in mind for your guest list.
Take a look at your space: where would you put a bar? Do you have enough seating for your guests, or do you need to rent chairs? Now is the time to think about any major furniture rentals.
Along the same lines, what is the lighting like in your space? Nothing ruins a party like sterile, overhead lighting. Dimmers are always appreciated, but if that's not possible, try soft light bulbs for your lamps which will cut down on the glare. Also, if you are having a holiday theme, a string a light adds a touch of color and whimsy.
Order or buy party supplies and decorations. Fine china or disposables? If you are working with a caterer, will they supply all the necessary plates, cups, napkins, etc.? Also, what about chairs and tables? A card table or a TV tray can be a treat space saver for small apartments. If this is a birthday party, what about balloons which need to be ordered (or at least blown up) beforehand?
Do you need help at your event? If you need a waiter or a bartender, now is the time to find the perfect helper.
If kids are invited to an otherwise adult event, plan some events or at least a separate area where the kids can entertain themselves. Do you need to hire a sitter for the party? Do you have enough crayons, etc.?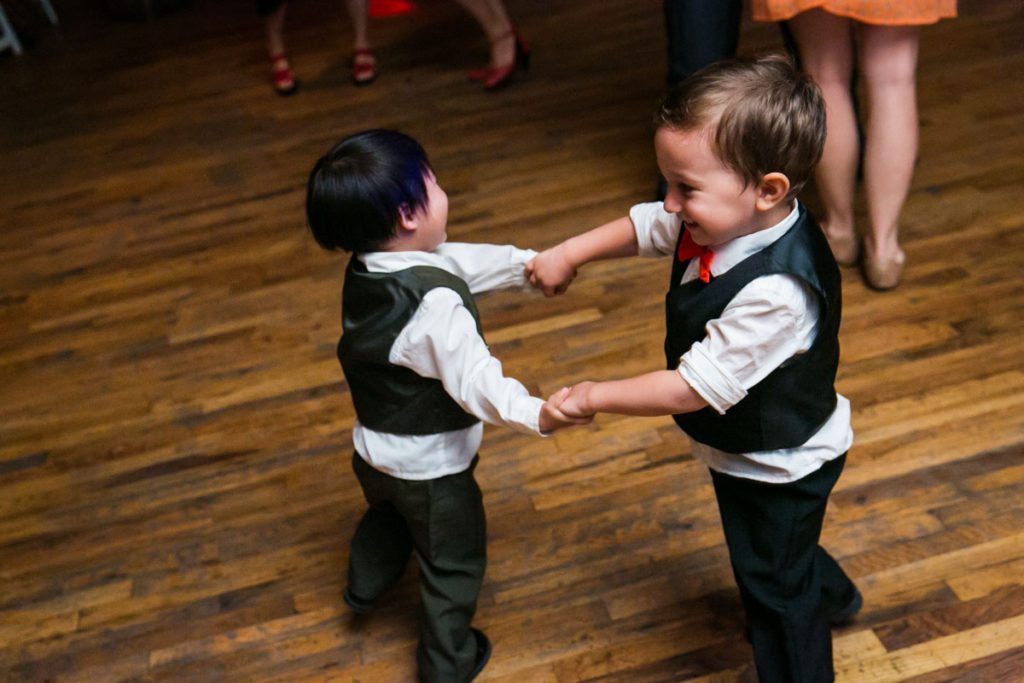 2-3 Weeks Before:
Send out invitations either via email or the post office. Make sure you ask for RSVPs and be clear if guests are allowed to bring a '+1' guest. Online programs, such as Evite, can help you keep track of your RSVPs.
Plan your menu, activities and any games. Make sure that you have some vegetarian options available, if necessary, not to mention a non-alcoholic beverage choice.
Clean any crystal, china, or silverware you may be using.
1 Week Before:
Contact any guests who have not responded to your invitation.
If there are any items on the menu you need to order (such as a cake) do so now. Note that for major holidays, such as Thanksgiving or Christmas, where everyone wants to order the same thing on the same day (turkey!), put your orders in at least three weeks in advance to assure that you get what you want, when you want it. If you are making food for your event, see if there are any items you can make ahead of time and freeze until the big day.
If you plan on ordering wine by the case, now is the time. Also, buy any major liquor or mixers you need for your bar.
Clean your house thoroughly, paying special attention to bathrooms and the areas that first catch your attention when you walk in the door.
2-3 Days Before:
Buy any remaining food or supplies for the party, including decorations.
If you are going to be the in-house photographer, check the batteries in your cameras and video recorders to make sure you are good to go when the action starts.
Take out any food you have made ahead of time from the freezer. This allows sufficient time for the food to defrost.
Make sure your playlist is ready to go, and try a test run of your music set to make sure it is party-worthy.
Notify the neighbors of your party plans. The way to avoid having the neighbors complain about noise is, of course, to send them an invite! For apartment dwellers, make sure to speak with your neighbors below you.
If your party will be during the colder seasons, make sure you have a place ready for coats.
Think about clean up: where will guests put used cups, plates, and silverware? Do you have sufficient trash receptacles and trash bags? If you are using the good china, make sure you have an area to let used plates and silverware soak. [Also, make sure you have enough dish detergent ready.]
Check out your medicine cabinet and make sure you are ready for any minor emergencies. (Probably not a bad idea to remove any embarrassing items as well – we all snoop at parties.)
1 Day Before:
Complete all food that can be made ahead of time, including salad dressings and sauces.
Decorate any indoor areas, including setting the table. If you are going to be having candles, get your matches or lighters ready. If you will be having a gift table, set it up now.
If you are going to be setting up a bar, get this area ready including liquor, wine, or beer, any coolers that are necessary, glasses, cocktail napkins, etc. Make sure you have enough ice.
Give your house a last minute cleaning touch up.
Buy and arrange flowers.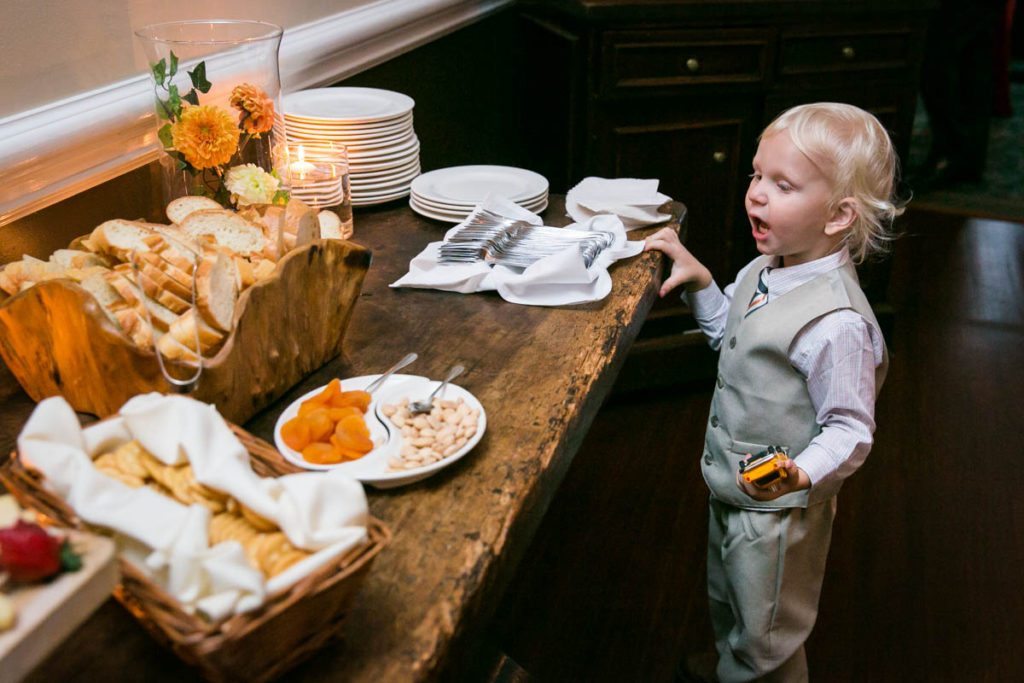 The Big Day:

Decorate any outdoor areas. Do this early in the day, unless there is threat of rain or it is windy.
Place your chairs as you want them to facilitate the most interaction among guests.
Prepare foods and beverages that could not be made ahead of time.
Chill any white or sparkling wine.
Put on some great music, and get in the mood for your party! The best way to ensure that your guests have a great time, is to have a great time yourself. Have your shoes by the door, so that all you have to do is slip them on and greet your guests.
Do you have enough of these?:
Coat rack, including hangers or a separate room to put coats
A place to put boots or umbrellas
Ice, ice bucket, ice tongs, or scoop
Cocktail napkins (2 per person)
Candles and matches or lighters
Paper towels
Extra toilet paper
Plates (appetizer, salad, dinner, dessert)
Glasses (water, wine, mixed drink, beer, soda, coffee); some beverages can use the same type of glass
Silverware (think through each course; a fresh spoon or stirrer is necessary for coffee)
If grilling, check the propane tank, or your supplies of the following: charcoal, lighter fuel, bug spray, and citronella candles
Coffee and an assortment of tea bags
Cream and sugar
Salt and pepper
Wine, beer, and soda chilled
Wine and bottle openers
Bar garnishes (lime, lemon, olive)
Charged camera battery
A rockin' music playlist
Garbage bags
Dishwashing soap
Club soda (for any thing that may spill, a great spot remover)
Space to chill beverages. It takes beer, wine, and soda 20 minutes to chill on ice. A large tub or cooler can be used in a back room.
Finally, here's a handy spreadsheet of how much food to expect per guest:
---
If you would like to see more images from my portfolio, please visit my website — KellyWilliamsPhotographer.com
Save