Happy Memorial Day, everyone! Thank you to all our service women and men, and I hope everyone is enjoying a great weekend. I am going to go a bit out of order for this week's blog and skip over my two biggest weddings of the past week to give you a NYC City Hall elopement follow up report with photos from Karen and Terence's nuptials. I am happy to report that things went much better this go round at City Hall.
Karen and Terence contacted me last week about photographing their City Hall nuptials. These two are living proof that you can plan a wedding at the last minute and have everything go right. It was eight years ago to the day they said 'I do' that Karen and Terence met in fencing class in high school. No matter what, they had to celebrate their anniversary by getting married. The plan is to visit their respective families in Taiwan (Karen) and Korea (Terence) sometime later this year before hosting a much bigger reception for all their family and friends.
For my last wedding at City Hall (on Tuesday!), I noted an increased level of security. Sadly, I did not take my own advice, and forgot that I was carrying a Leatherman tool in my backpack that I always bring with me in case of emergencies at larger weddings. My Leatherman tool has been useful for such things as cutting tags off bridesmaids dresses, and as you will see in the coming weeks, used to cut cheese for a couple's cocktail hour. Though useful, you cannot bring such tools with you to the City Clerk's office. Learn from me, grasshoppers, and leave the sharp, shiny things at home. Thankfully, the City Clerk's office allows you to leave your knives and other weapons at an office across the street (125 Worth Street) to pick up later. I did just that, and the crisis was averted. This is why I always get to any shoot at least fifteen (if not 30) minutes ahead of time. You just never know.
Aside from me trying to smuggle a knife into City Hall, everything worked out perfectly for this super cute couple. Andre at the Information Desk could not have more pleasant checking the couple's paperwork. The officiant for the day was new to me, but she was absolutely lovely and sincere. Unfortunately I did not get her name, but she is definitely worth requesting. We did not feel rushed, and she seemed thrilled to be hearing Karen and Terence say their vows to one other.
After the short, but sweet, ceremony we took family photos in the little wedding garden just outside the City Clerk's office. Please note that this couple, much like Zoe and Chris before them, had originally scheduled an hour of photography coverage. Both of these weddings on a Tuesday (Zoe and Chris were married at 10:00 a.m., while Karen and Terence got married at 2:00 p.m.) took – from start to finish – approximately 45 minutes. That leaves precious little time for photos afterwards, and both couples elected to add on an additional 30 minutes of time. If you are planning to get married at City Hall, you should budget 1.5 hours of photography, not one hour. The extra half hour allows you to take not only family photos, but some wonderful bride and groom portraits. In the space of just 20 minutes, Karen and Terence were dancing under the arches of the Manhattan Borough President's Office and walking hand-in-hand across Foley Square. This photographer can do a lot in 20 minutes. And please note that these couples got married on a Tuesday. If you are planning to tie the knot on a Friday afternoon, you can expect a wait of two hours just to say 'I do;' no extra portrait time included.
Bottom line: Karen and Terence logically did not want to splash out on their ceremony because they are planning a much grander celebration down the road. One aspect of their ceremony on which they did want to spend money, however, was their rings. I found it very interesting that this couple was looking for gender neutral rings. As is common with wedding rings, the man gets a huge chunk of gold, while the woman's ring is dainty little thing. As Karen put it, she wanted her own hunk of metal, and so they chose rings that were more equal both literally and figuratively. The jeweler they chose was Cartier.  One other note on jewelry: in a nod to Karen's Taiwanese heritage, her mother presented her with gold bracelets emblazoned with the phoenix and dragon, both of which are a sign of good luck.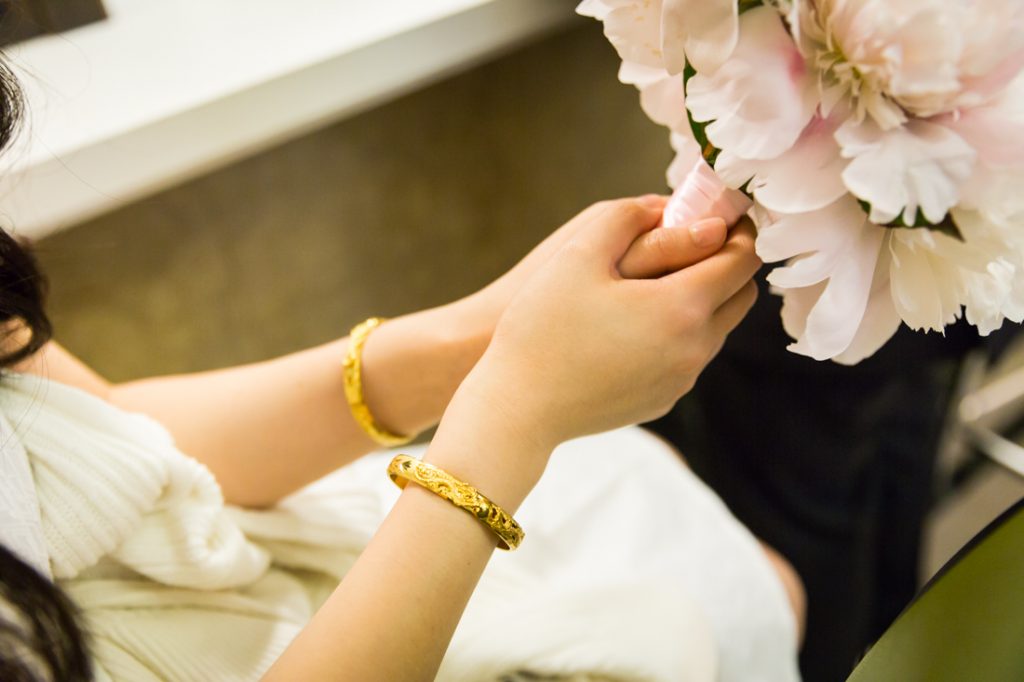 Finally, let's talk about my love for video games. I was happy to note that the bride's brother was a Pokemon nut like I am. I was able to point him to some of the best Pokemon hunting grounds – located conveniently nearby to the City Clerk's Office. The love of video games also runs in the family: Karen and Terence are big gamers as well, and Terence asked Karen to marry him by changing the start of a video game to read, 'Will you marry me?' Simple coding leads to lasting love.
Enjoy the photos, and to all New Yorkers out there – did you know that Pearl River Mart has opened up again? This fabulous store selling a variety of things that I cannot live without, including pottery, scarves, and stationery, sadly closed last year. But in walking back from Karen and Terence's wedding, I noticed that the store has re-emerged at the corner of Walker and Broadway. You can't keep a good store down.
Ceremony venue: Manhattan City Clerk's Office
Wedding dress: Nordstrom Rack
Groom's tie: Groom's dad
Rings: Cartier
Florist: cart selling flowers right outside the City Clerk's office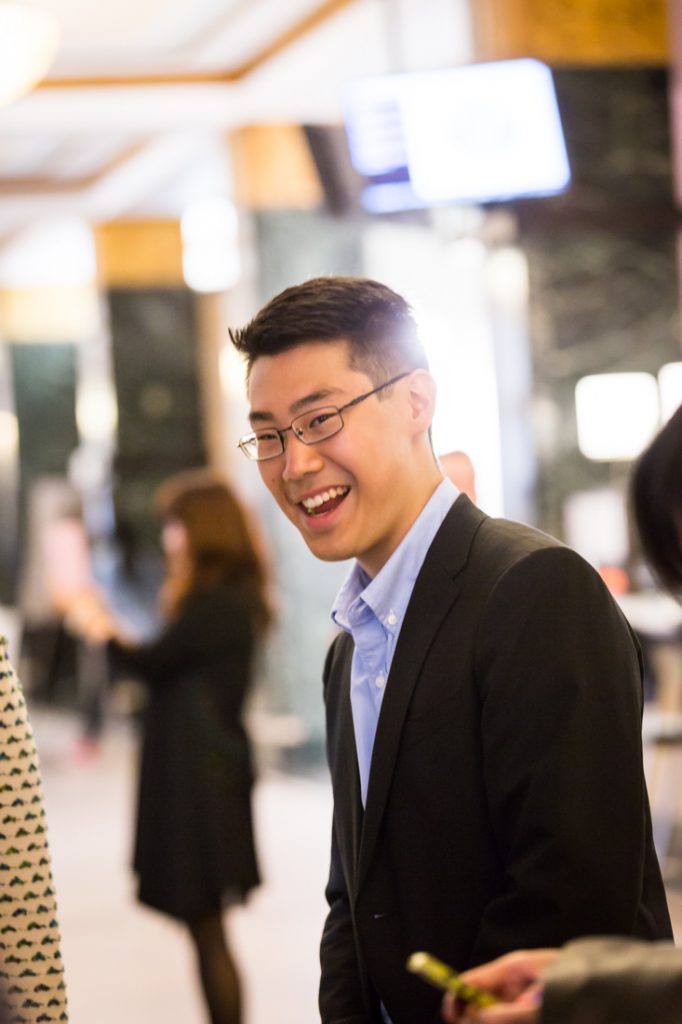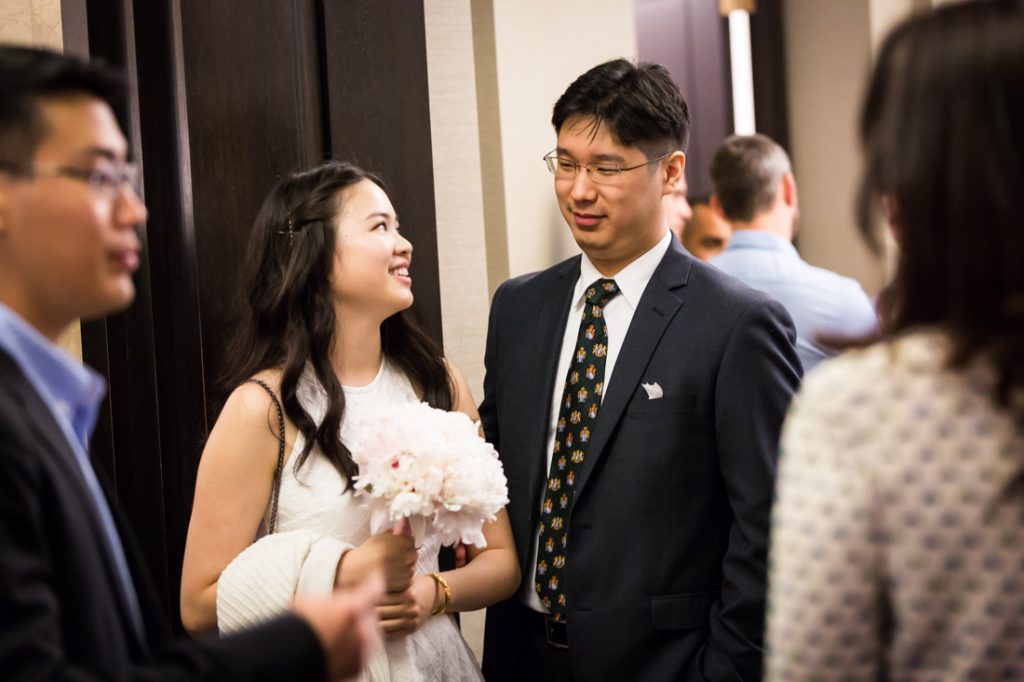 If you would like to see more images from my portfolio, such as these NYC City Hall elopement photos, then please visit my webstie – www.KellyWilliamsPhotographer.com
Save