Destination Weddings from the Photographer's Perspective
In last week's blog you heard from bride, Ariel, about the rigors of planning a destination wedding. In today's blog, you get the photographer's perspective. Getting married in an exotic locale sounds like paradise, but there is actually a lot more planning that goes on behind the scenes versus your local nuptials. Find out how I go about planning to photograph a wedding from a million miles away with these destination wedding photography tips.
Tell me what you know about the place. If you've been reading this blog for long, you know that I like to do a venue check before any shoot. That's not possible when your wedding is in Thailand. As such, I will be doing all of my research online. Google earth maps are incredibly helpful, but I will still be guessing about the portrait locations up until I arrive onsite. Since you have probably visited the location already and know the venue staff, I need to know any information you can provide that will make our trip go smoothly: special locations where you would like to shoot portraits, local things you want photographed, the helpfulness of the venue staff, etc. In the case of Ariel and Jeremiah's wedding, Ariel sent me a link to the hotel website and Jeremiah mentioned he would like to get a shot of the boats in the bay next to the beach. I went through the website page by page, and also searched online to see similar weddings on the beach. These photos were immensely useful in helping me put together my shot list for the day. Any wedding involves surprises of some sort, but you only get married once and I want to be as prepared as possible.
Give me an exact schedule. Since I'm going to hit the ground running when I get to your venue, I need to have a game plan in place. That means that I need to know the time of the ceremony, the schedule for the reception, and what time you have allotted for portraits. In all likelihood, you will have visited the location before hand, so any details about how long it takes to get from place to place will be helpful. You are my eyes and ears for what it's like on the ground. And if you don't know, then put me in touch with someone who does by providing the contact information for the venue manager, or even better, a local event planner.
Put me to work. As far as I'm concerned, a destination wedding is not a vacation. It may be a beautiful location, but I want to get you the best wedding photos possible. As such, make sure you use my time wisely. When I was with Ariel and Jeremiah in Thailand, I honestly felt like I was under utilized. I was ready to take photos of them from morning till night. My typical 'Classic Novel' wedding package includes 10 hours of coverage plus an additional two-hour photo session. With destination weddings, however, I throw the rules out the window. If you take me with you across the pond, expect me to work hard for the privilege of photographing you in such a wonderful location as Thailand. If you are awake and want to be photographed, then I will be there…camera in hand. So plan for lots of photo sessions, either documentary style sessions of you and your family getting ready or a few portrait sessions during your stay.
Jet leg is real. If you are going to be traveling to Southeast Asia or any place where where the time difference is extreme, then consider your first day at the venue to be complete downtime. You will be exhausted from your travels, and no one needs to have bags under their eyes for a portrait session. The best bet for your first day is to relax and get a good night's sleep so you're ready to go in the morning. I need that first day to check out the venue for portrait locations anyway.
Schedule some time for yourselves. While I am ready to go morning, noon, and night with my camera, make sure we have a schedule mapped out so that you can take some private time alone and I don't disturb you. Seriously, I am more than happy to photograph you 24/7, but I understand having your wedding photographer as a third wheel is probably annoying. To avoid any awkwardness, set the schedule for the entire length of my stay so that I know when I'm on the clock and when I'm not.
Packing list. Because of the distance, I'll probably be packing light in terms of my equipment. I will indeed have with me all of the usual professional gear that I would take to any wedding, but I probably won't be bringing things such as an additional set of lights or special props unless you request them. So if you are a fan of artistic photos that require special props or lighting techniques, then go over these details with me before I leave New York City. It's doubtful that I will find in B&H Photo Superstore on the streets of Chiang Mai.
What to wear. Ariel and Jeremiah decided to go all out in terms of style for their wedding day. As such, I wanted to be equally dolled up – but because their wedding was on the beach, I modified my outfit slightly and was barefoot since it was much easier to move around in the sand. If you going to be getting married on the beach or have any special requirements such as wanting everyone to wear white, then just let me know ahead of time. I'm happy to get out of the monkey suit.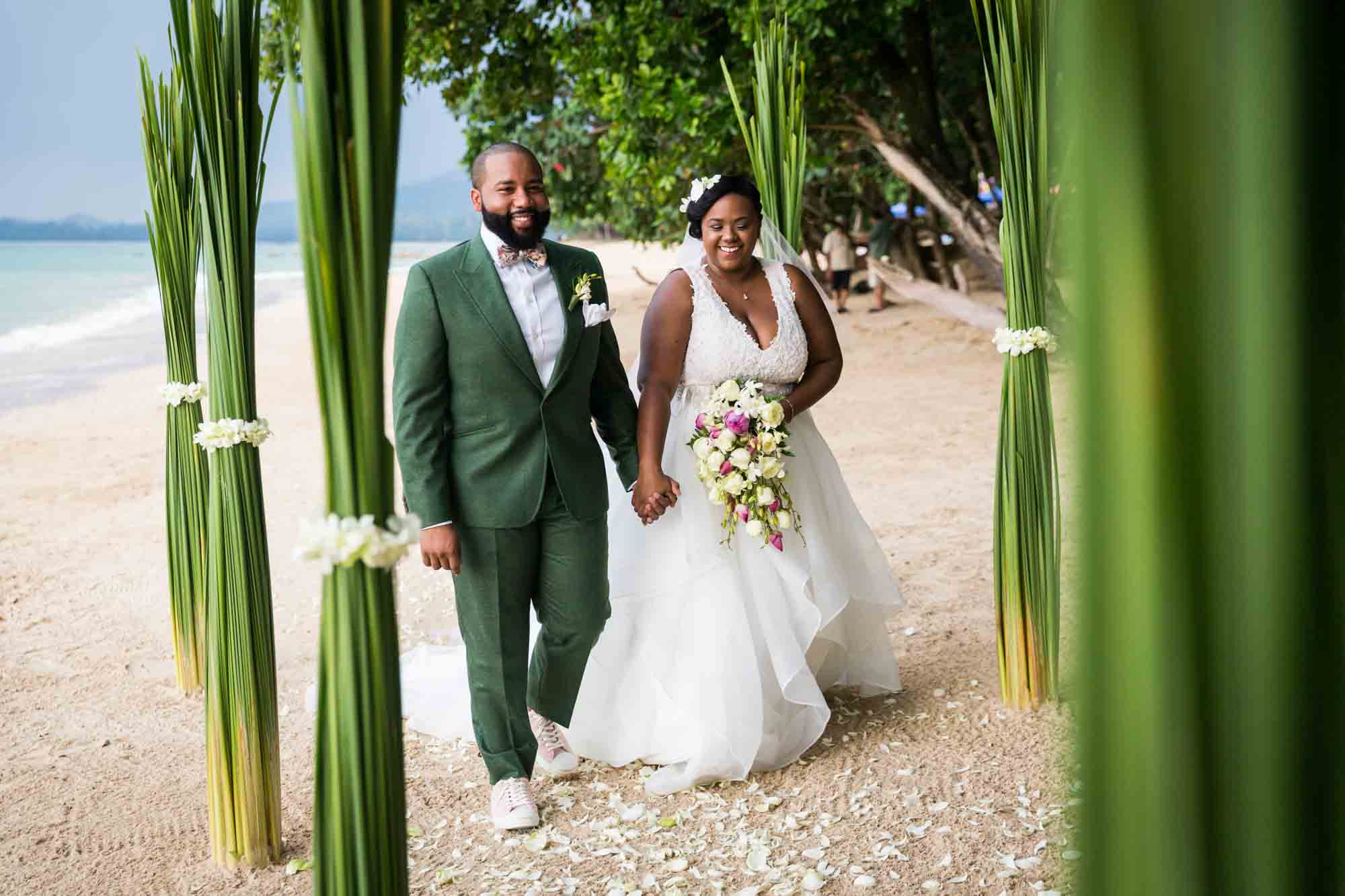 Don't worry about technology. After Ariel and Jeremiah's wedding, I traveled through Southeast Asia for three months and only had one electronic catastrophe – ironically, I fried my power surge protector strip. On my first day in Thailand, I plugged in my outlet strip thinking it would protect my electronic items, and I blew the fuse in my hotel room. Let that be a lesson: you don't need a surge protector. My 2015 MacBook, my battery chargers, and my phone charger all worked fine with 220 volts. My battery charger was a little wonky during the trip, but I always bring multiple chargers so I was fine. Also, there was a slight hissing sound when my laptop was plugged in. That said, everything worked perfectly and I had no issues when I returned to the land of 120 volts.
Items you should definitely worry about bringing with you include your curling iron, hairdryer, or flat iron, as Ariel found out the hard way. When Ariel was getting ready for her big day, she plugged in her flat iron and fried it. Thai people do not use flat irons, so there was not a local equivalent and Ariel had to make do without one for her wedding. She still looked beautiful, but I'm warning you, no hair appliances will survive the 220 volts.
Get a local SIM card. Being able to reach your photographer in case of emergency is vital.  I have traveled all over the world, and I cannot recommend enough buying a SIM card to give you access to local Internet service. Depending on free Wi-Fi means that you will be out of touch more than you think. When I arrived at the Bangkok airport, I bought a SIM card and had my phone set up so that I could use the phone, email, text, and have 2GB of local data. This turned out to be a smart move because my flight to Phuket was delayed, thanks to Air China's delay in getting me to my connecting flight. As such, I had to communicate directly with my hotel in Phuket to reschedule my airport pick up. It was a hassle, but I got through it thanks to having all the phone data I needed. If you have a SIM card and phone data at your disposal, then you won't have any trouble communicating with me if your flight is delayed or there is some change of plan before or during your wedding. SIM cards are incredibly cheap once you leave the confines of the United States, so take the extra time to make a stop at the airport and get your phone outfitted. And in case you were thinking of waiting until you get into a major metropolitan area to get your phone set up, don't. The best place to buy a SIM card is always at the airport. For that matter, while you're getting a SIM card, go by an ATM and get local currency. Don't bother ordering money from your bank ahead of time, and don't try exchanging dollars. An ATM, and preferably a Charles Schwab banking account ATM with no international transaction fees or ATM fees, is always the best.
With a winter storm now assaulting the Northeast, I'm sure a few of you are dreaming of warmer climates. If you do have a destination wedding in mind in the future, drop me a line.  I would love to tagalong and document your big day.
If you would like to see more images from my destination wedding portfolio, then please visit my website – KellyWilliamsPhotographer.com