Let's next meet Jessica and Dan, whose Riviera Waterfront Mansion wedding I recently photographed in Massapequa.  This tatted-up couple met the modern way…online.  Despite their colorful appearance, Jessica and Dan are an old fashioned couple at heart, and are looking most forward to forming a new family together with Lydia, Dan's daughter from a previous relationship.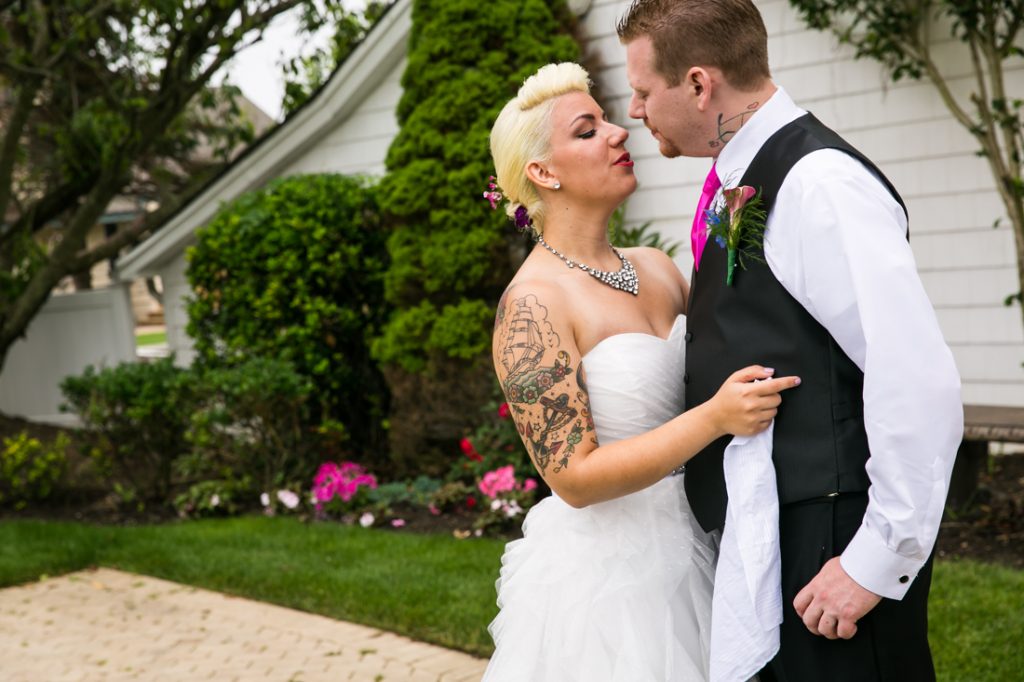 Jessica and Dan's ceremony had a beautiful view over the water.  And while the couple was very modern in reading their vows from their respective cell phones, the heartfelt emotion was timeless.  Jessica burst out crying as she walked down the aisle and it caused a sea of tears among the guests.  Such a sweet ceremony for such a sweet couple.
The reception itself focused on the dance floor action.  Some notable aspects of the wedding include the bride's love of pink shoes, from funky heels for the ceremony to the complimentary pink Converse tennis shoes for the reception.  The couple chose a cupcake tower for their wedding cake, and guests were treated to a candy bar and dessert display at the end of the reception.  And guests of all ages enjoyed the bubbles throughout the reception.
Vendors
---
Want to see where it all began?  Check out photos from Jessica and Dan's Central Park engagement shoot here.  Even better, want to see what happens next?  Check out photos from Jessica and Dan's family portrait session on Long Beach here.
Are you planning on throwing your own Riviera Waterfront Mansion wedding?  Drop me a line and let's talk about scheduling.
If you would like to see more images from my wedding photojournalism portfolio, then please visit my website — KellyWilliamsPhotographer.com.