In this, my final blog about my recent trip to Las Vegas and Death Valley/Mojave National Preserve, I wanted to introduce you to an extraordinary small business owner: Amy Ortiz of Rockin Bettie. Her shop, located in the Arts District of Las Vegas, sells rockabilly clothing in the front, and has a full pinup photography studio in the back. It's a marriage made in heaven that has inspired me to pursue pinup photography more ardently by offering a free pinup photo session. Read on to find out more…
First off, I should begin by letting you know about my love of all things retro. The 1950s/early 1960s, Mad Men-era is what specifically sparks my interest. Browsing through looking though my own closet would lead you to believe I am one dress short of trying to become Doris Day. Oh, and then there is my apartment, which in my mind is going for a 1950s Parisienne boudoir. Let's just say that I spend a significant amount of time trying to turn back the clock.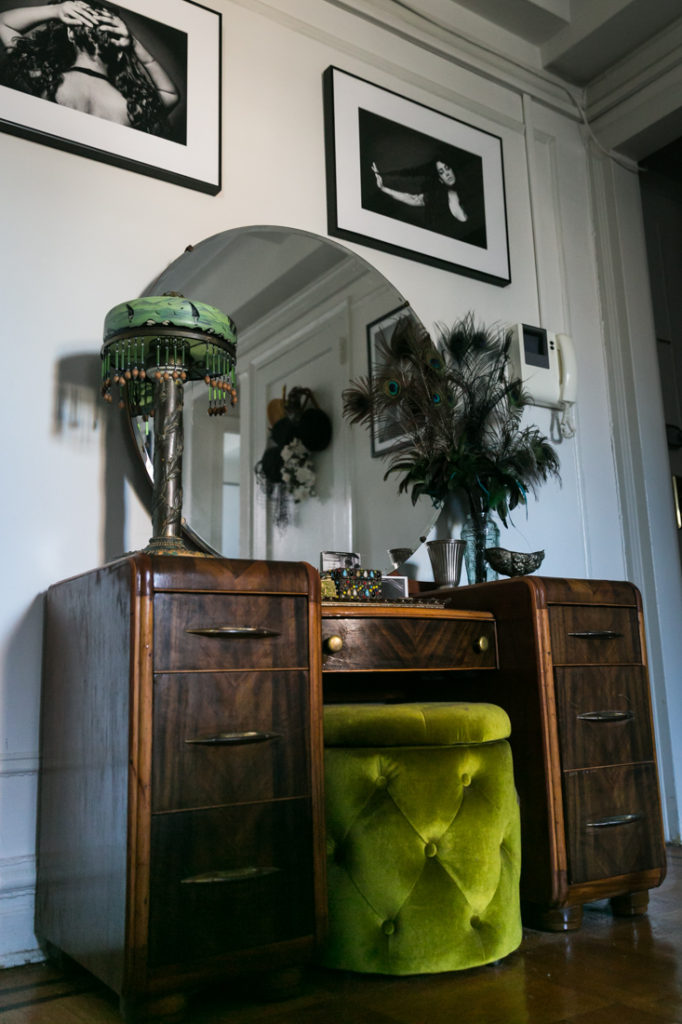 So you can imagine my thrill to find Amy and her shop. She has converted the back room of her retail space into a full studio, complete with professional lights and a variety of sets. These sets include a 1950s kitchen, and she is in the process of restoring a stove from the era. In addition, she is collaborating with a makeup and hair salon that specializes in achieving retro styles in order to offer her clients the ability to fully complete their retro look.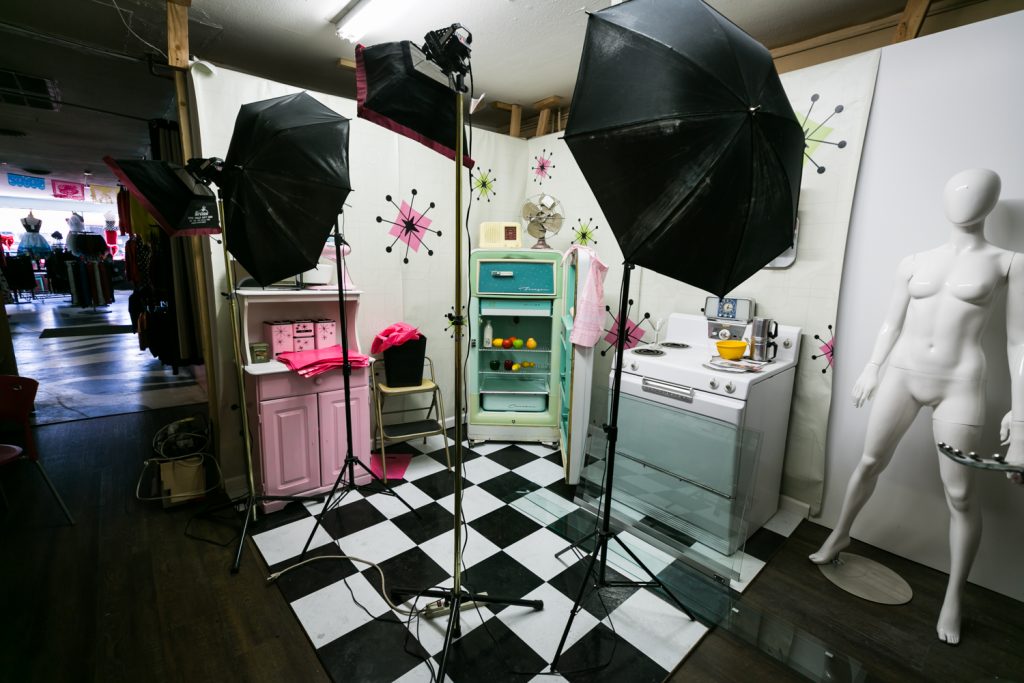 Amy's business concept works because she is capitalizing on the fact that Vegas brings in a lot of people who assume different identities during their stay. There are a ton of brides and bridesmaids-to-be who love bygone eras. (Indeed, Vegas is home to a national Rockabilly Festival.) Why not make it possible for these retro-loving bachelorettes to dress up as their favorite pinups in front of the camera? These women are already customers for the clothing, but are now being further sold on the idea purchasing a full pinup experience. It is a brilliant marketing plan. In today's market, people are no longer satisfied with simply purchasing things, but want to also have unique experiences. Her shop smartly puts the two together. For the women who want just the dress up/photo session experience, no doubt these customers will also purchase a skirt to complete the moment. For the women who came to the store only to purchase a skirt, no doubt they will upsell to a photo session in order to live out a Vegas fantasy. Genius.
So that brings me to my own studio. Life in New York City means dealing with small spaces. Most retail shops in town do not have the luxury of having a back room that can be converted into a photo studio. Likewise, my own apartment is small, and not really conducive to being transformed into a full photo studio. That said, I still want to make this happen. I feel like this is too good of an idea to let pass. I am in the process of researching pinup makeup artists and stylists, as well as retail shops.
In the meantime, I am not wasting a moment. Pinup photography has been something that I have sincerely loved, as a viewer, and it is a genre of photography that I think works well with what I currently do. Instead of the usual posed, stiff pinup portraiture, I would like to add my own documentary-style spin to the photos so that they appear to be a literal moment in time captured on camera.  The way I envision this series, it will be more along the lines of 1950s glamour photography, something along the lines of the beautiful bride and groom portraits that I took of Meredith and Jonathan in the Roosevelt Hotel.
Are you game? Would you like to be part of this fun project? I would love to work with women of any age by offering a free pinup photography session. My apartment in Kew Gardens can be used as a studio, but I am also happy to come to your home. I am a retro-loving girl, so of course I have a few props ready to go. Let's do this. Drop me a line if you would like to be part of this project and be my first pinup model.
If you would like to see more images from my portfolio, then please visit my website — KellyWilliamsPhotographer.com.
Save
Save
Save
Save
Save
Save